After her return to SmackDown two weeks ago, Naomi has drawn enormous attention towards herself.
Fans have been demanding a better run for the two-time SmackDown Women's Champion. As has been said previously, there is no doubt that The Glow possesses a lot of talent waiting to be unleashed. Owing to her terrible booking in 2020, there have been calls to prevent her underutilization.
In such circumstances, the best option for Naomi would be to join the most dominant stable existing on SmackDown–the Bloodline. Here, we are looking at why she should align herself with the trio of Roman Reigns, Jey Uso and her husband, Jimmy Uso.
PAUL HEYMAN'S INFLUENCE
Paul Heyman is certainly one of the rarest gems that Vince McMahon has added to his company. The aura that he brings to the arena can change the atmosphere of any event. He has already shown his potential by turning around the careers of several wrestlers. He is considered to be a wise guide and mentor for many in this bussiness.
Brock Lesnar aligning with Heyman back in 2002 was one of the best decisions of The Beast Incarnate. Heyman's direction can be well illustrated by the way he has uplifted Reign's Tribal Chief persona. With his decades-long experience, Naomi should definitely seek his guidance and stay under his wings for a turning point in her time with WWE so far.
FEMININE POWER WITHIN THE BLOODLINE
The Bloodline has made its mark as the most villainous and subjugating WWE stables in recent history. Headed by the Universal Champion Roman Reigns, the stable also comprises the SmackDown Tag Team Champions, the Usos. Paul Heyman, being the voice of this group, has added to its intimidating depiction.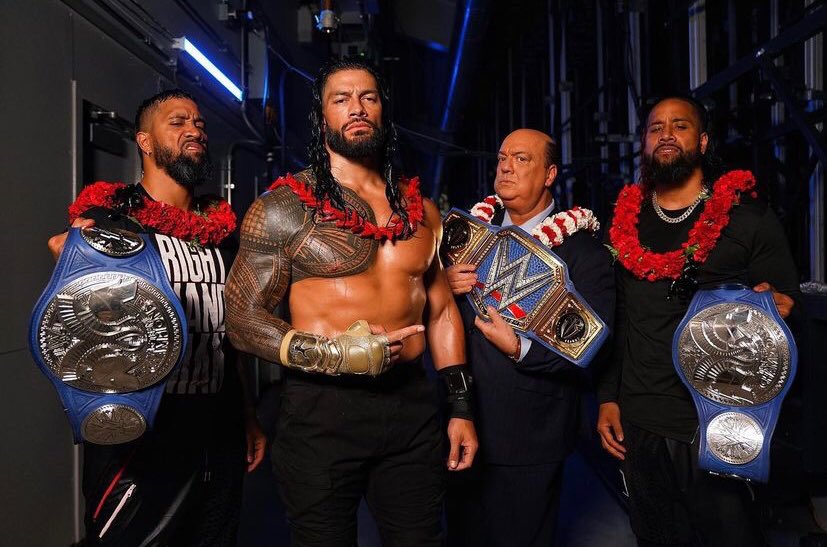 However, there is a lack of some feminine star power within this stable. As a result, the possibility of Naomi making a place for herself is quite high, as she would be the sole female talent associating with the Bloodline. Joining forces with this stable will also help her in crafting her own narrative, as has been said by Reigns himself.
HUGE ARRAY OF OPPONENTS FOR NAOMI
Beginning a new storyline always brings new opponents, new matches and fresh developments. If Naomi makes her big decision, she can treat herself to a long list of rivals available on SmackDown. The immensely talented wrestlers, ranging from Becky Lynch, Bayley, Bianca Belair, Carmella, Natalya, Sasha Banks and many more, add to the probability of setting up some fresh encounters.
Toni Storm and Tegan Nox are also some new prospects that can lock horns with Naomi. Also, the authority figure of Sonya Deville stands as another opponent to cross swords with. The list of intriguing feuds for Naomi continues growing as we talk about it.
IN CLOSING
Naomi had been a victim of bad booking last year when she had to be on the losing end of several squash matches. That had led to the #NaomiDeservesBetter movement, where fans demanded better opportunities for their favourite wrestler and pointed out the poor treatment from the WWE management. Since then, a push had been planned for Naomi, which had unfortunately never come to fruition.
Someone isn't sure if I can "measure up"! I look forward to proving them wrong and glowing while I do it 🤗💚 pic.twitter.com/XfQZbeaufX

— Trinity Fatu (@NaomiWWE) August 28, 2021
Nevertheless, her silent shift to the Blue Brand has added to the speculations of a nearing push.
Even Heyman and Reigns have expressed their approval over the benefits that she could gain by allying with The Bloodline. Whatever the future holds for Naomi, we hope she receives the well-deserved opportunities for the gifted athlete she is.
(cover photo courtesy: wwe.com)
---
More from LWOS Pro Wrestling
Stay tuned to the Last Word on Pro Wrestling for more on this and other stories from around the world of wrestling, as they develop. You can always count on LWOPW to be on top of the major news in the wrestling world, as well as to provide you with analysis, previews, videos, interviews, and editorials on the wrestling world. You can check out an almost unlimited array of WWE content on the WWE Network and Peacock 
---