Following their successful debut show, Wanna Be Startin' Something We Are Wrestling returns for what looks to be another card full of great matches! Prolific has an open challenge for this show and through the exchange of some tweets, it looks as if it might be accepted by The S.A.T.!All that and more when We Are Wrestling presents It Was All A Dream. Let's run down the full It Was All A Dream card.
We Are Wrestling It Was All A Dream Full Card
🚨🚨 BREAKING 🚨🚨

Tickets for #ItWasAllADream are officially on sale now on @eventbrite!! Get yours early and join us in Ridgefield Park, NJ!

Front Row VIP Tickets are LIMITED & come with early entry & a fully signed event poster!!
https://t.co/c5YAca5iEV

— WeAreWrestling (@wrestling_we) November 2, 2021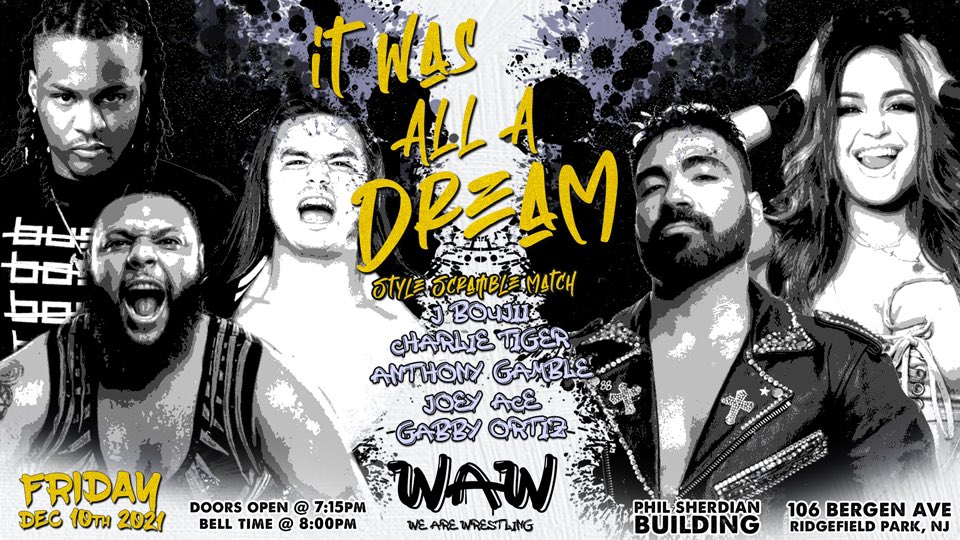 J Boujii vs. Charlie Tiger vs. Anthony Gamble vs. Joey Ace vs. Gabby Ortiz
Everyone in this match seems to be bringing something different to it in this clash of styles. The one thing that they all have in common is that they are all hungry. They are all eager to make a name for themselves and make it to that next level in wrestling. This might be the final event for some of these wrestlers this year and with that, they want to go into 2022 with winning ways. Gabby Ortiz could be the odds on favorite to win this one, but J Boujii might also simply be out to make a statement.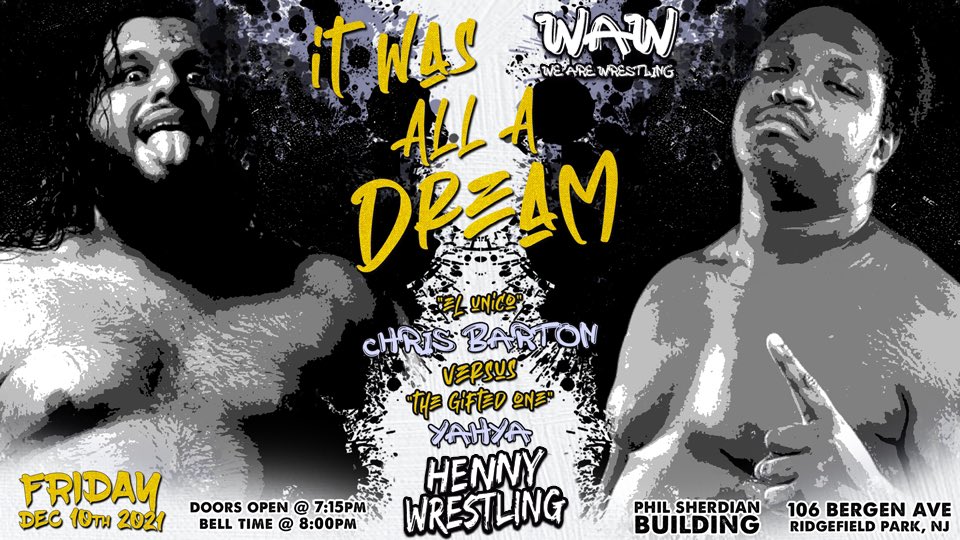 Chris Barton vs. Yahya
This match has been building for a while. Now, these two behemoths will finally collide at It Was All A Dream. A true match of the big men, expect this to be nothing short of explosive, and if there is anything left of the Knights of Columbus after this match it will be a miracle.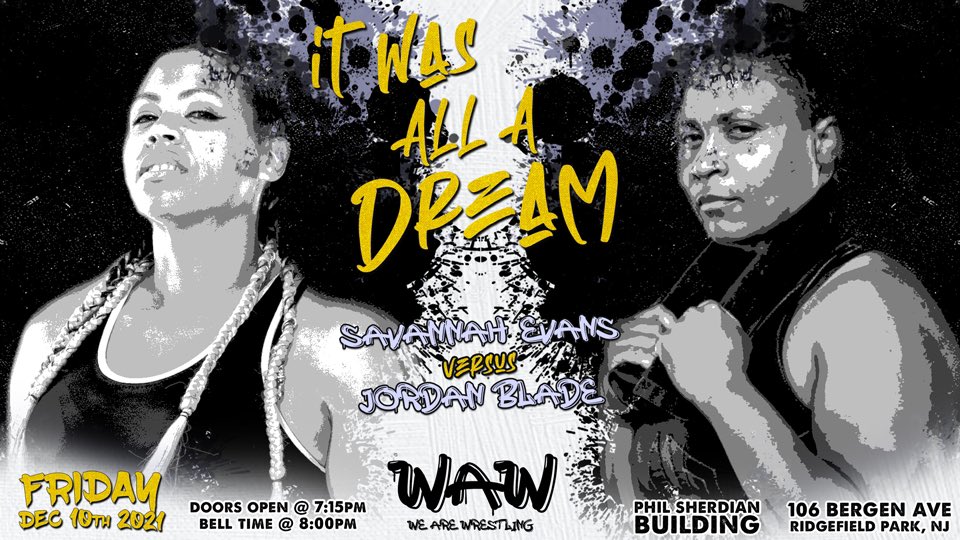 Savannah Evans vs. Jordan Blade
For the majority of 2021, Jordan Blade has been out there taking ankles and making a name that people have come to know. However, Jordan Blade hasn't met Savannah Evans this year. This might just be the toughest opponent Jordan Blade has ever faced. Not one to easily tap out and uses her height as an advantage to grab the ropes. This will be an interesting test for Jordan Blade. Even if this match is kept on the ground, Savannah Evans isn't at the disadvantage that Jordan Blade's other opponents often seem to find themselves in. This match will be quite even in its competitors and for that, it might just steal the show.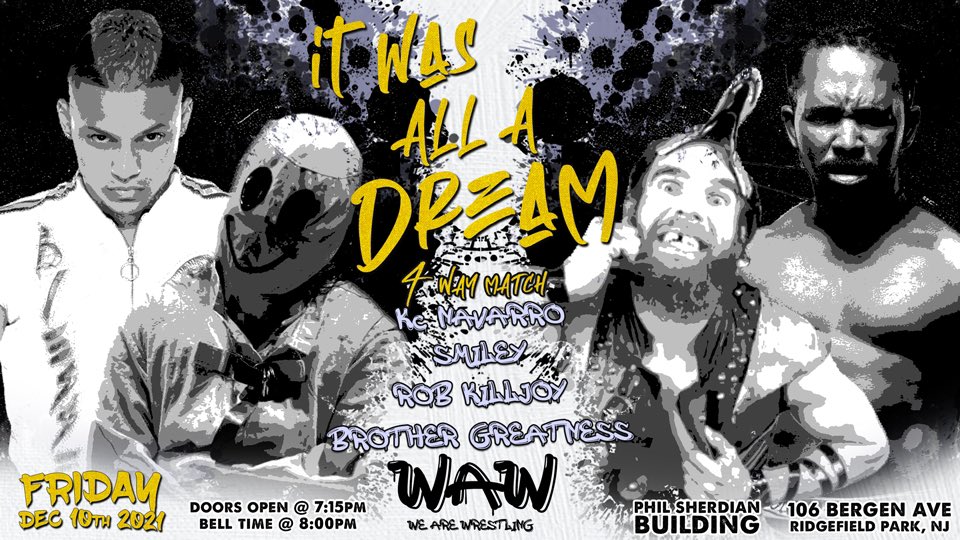 KC Navarro vs. Smiley vs. Rob Killjoy vs. Brother Greatness
When speaking about the best wrestlers out there who are often overlooked, KC Navarro and Rob Killjoy seem to be at the top of the list. Add the sheer unpredictable quality of Smiley into this match and it would be worth the watch. This match will also feature the relatively new Brother Greatness, who will be looking to make a name for himself here. He just might do that with a huge win. This match will feature different components that you might miss if you blink. You'll have to watch it more than once, regardless of who wins.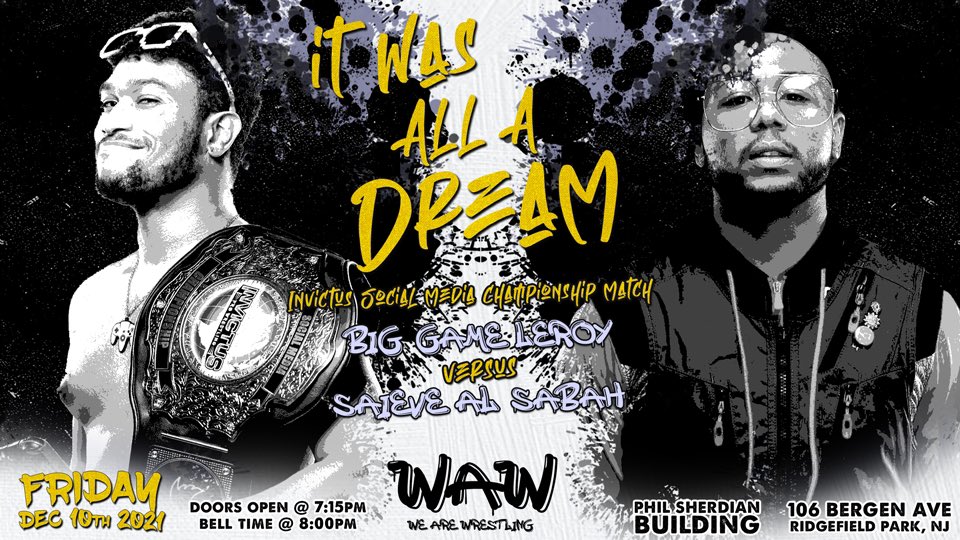 Invictus Social Media Championship Match: Big Game Leroy (c) vs. Saieve Al Sabah 
Throughout his time as Invictus Social Media Champion, Big Game Leroy has faced a variety of opponents. Names like Killian McMurphy, Big Callux, and Danhausen all have been bested by Big Game Leroy throughout 2021. It may not be his biggest opponent in size (that was Callux) or his most popular opponent (that was Danhausen), Big Game Leroy will face his greatest test as a wrestler inside of that ring in Saieve Al Sabah. Saieve Al Sabah is pound for pound one of the best and most critically underrated in there. This match will be something special not just because it is a title match but because it is two wrestlers at the top of their game, doing what they do best, against each other. It doesn't really get any better than this.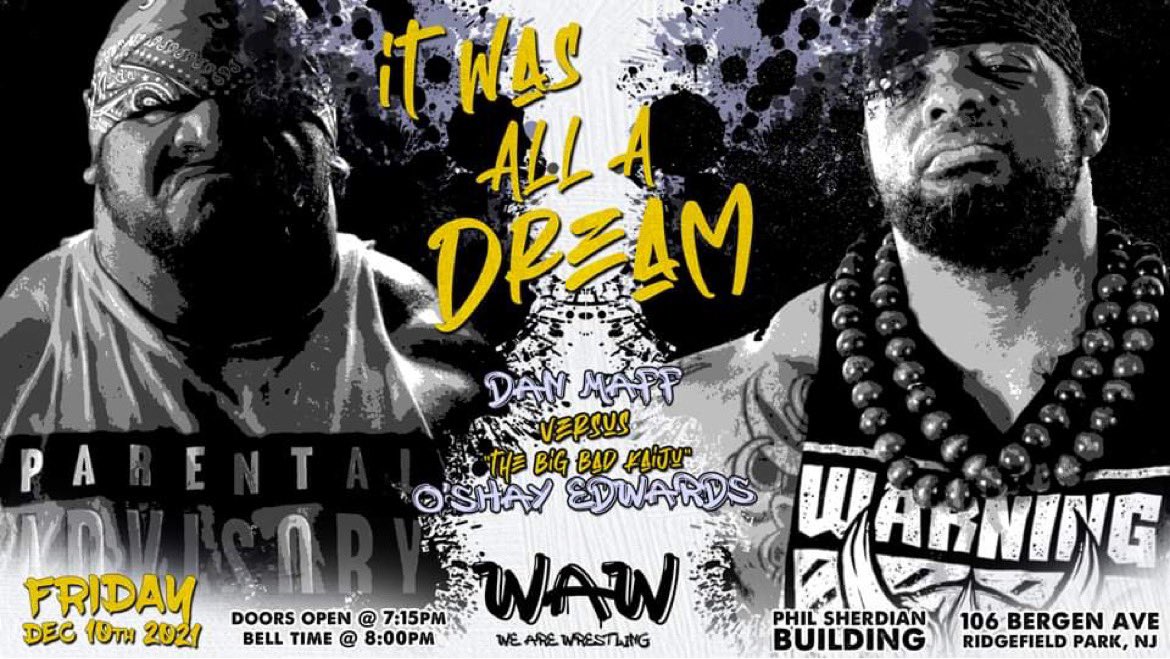 Dan Maff vs. O'Shay Edwards
Thinking about two of the biggest monsters in all of professional wrestling right now and this match will really be like King Kong vs Godzilla. Hopefully, the ring will be re-enforced on this one. It is also possible that the action could spill to the outside and take over the entire state of New Jersey. To say this one will be huge feels like an understatement. Brace for impact with this on at It Was All A Dream.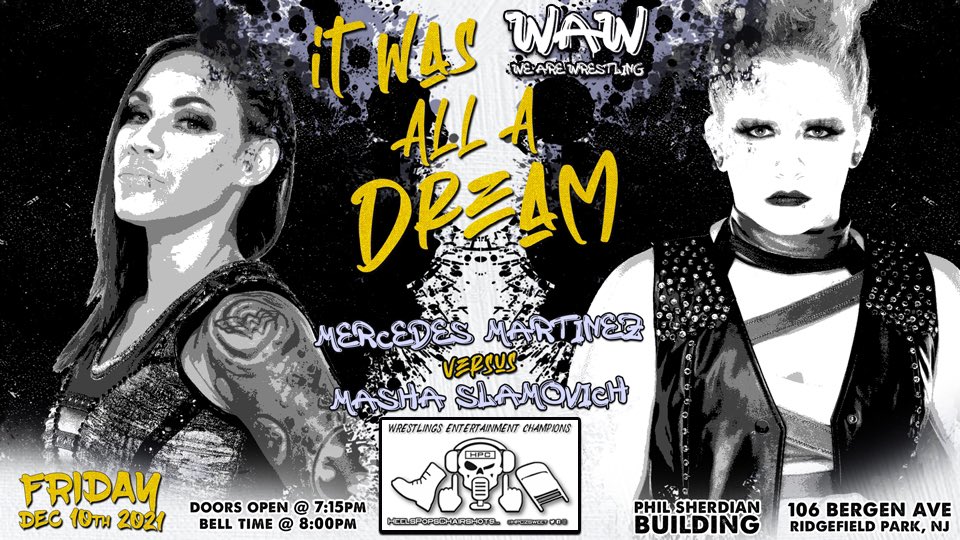 Mercedes Martinez vs. Masha Slamovich
Around a month ago at Hybrid Wrestling, these two met for the first time. Mercedes Martinez picked up the win and now it can only be thought that Masha Slamovich has learned a thing or two since then. She is going into this match and will be looking for some revenge. Masha Slamovich has also been on a hot streak lately and in matches such as versus Slade in Beyond Wrestling even when she hasn't won, Masha Slamovich has survived. This is going to be quite the match and perhaps Masha Slamovich is looking to even the score and force the eventual rubber match.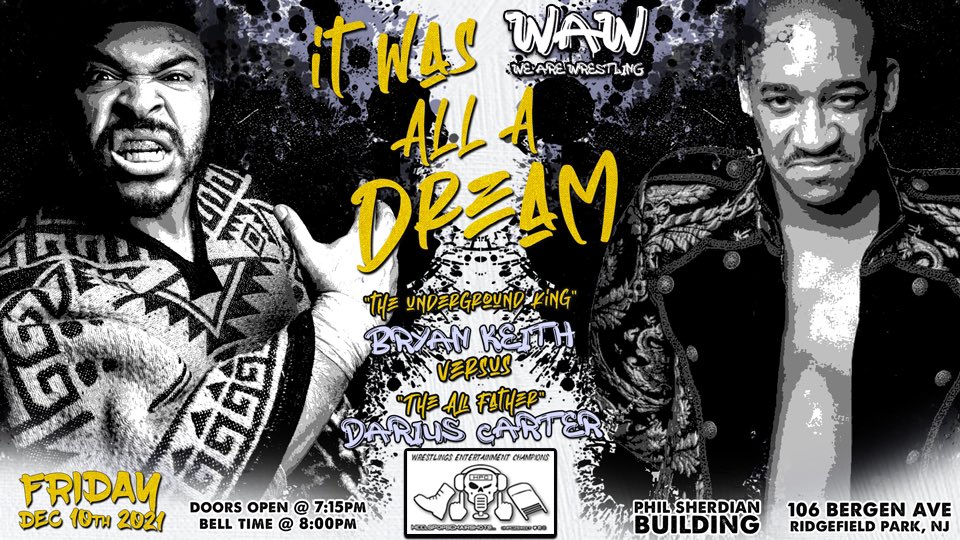 Bryan Keith vs. Darius Carter
When looking for someone to be "Wrestler Of The Year" in Texas or just in general for 2021, there are a lot of reasons why Bryan Keith could be a contender. One thing Bryan Keith has not really done this year is come to New Jersey and face perhaps the greatest modern heel Darius Carter. This match is really going to feel like something from the old territory days. A wrestler from one region would make a name for themselves and then come in to face someone in their own region. A match of this magnitude has not been seen for quite some time and it might not be seen again until some time in 2022.
It Was All A Dream takes place on Friday, December 10th, 2021. Tickets and more information can be found here
Stay tuned to the Last Word on Pro Wrestling for more on this and other stories from around the world of wrestling, as they develop. You can always count on LWOPW to be on top of the major news in the wrestling world, as well as to provide you with analysis, previews, videos, interviews, and editorials on the wrestling world.  Learn more about We Are Wrestling on Facebook and Twitter.