If you're a wrestling fan, you most likely own a piece of wrestling merchandise. Whether it's a shirt, a toy, a game, or anything else in between, wrestling merchandise is always a key part of business success to any promotion or company – especially WWE.
Specifically wrestling toys can become extremely valuable as time goes on. Current day performers like Matt Cardona and Brian Myers have a whole podcast dedicated to talking about expensive and rare to find wrestling figures.  Despite only being introduced to the toy scene in 2010 Funko Pops have skyrocketed in popularity very quickly, which led to WWE entering a partnership with the company in 2012. Together, the two brands have put out over 200 products including Pops, Pins, Keychains, and T-Shirts. 
In this piece, we'll be taking a look at the five most valuable WWE branded Funko Pops in existence. Value is provided by Pop Price Guide, which calculates its value based on resale listings. 
Note: For this article, we won't be including the "Freddy Funko" series. 
5. Rey Mysterio (Light Blue) – 7/11 Exclusive, 2014 
Rey Mysterio will be the only person on this list to have not one, but two Funko pops appear in the top five. This Pop was originally released in 2014 and it could only be purchased in 7/11 gas stations across the globe. 
Due to the Pop being released so early in the Funko/WWE partnership and the unavailability of the 7/11 store in some areas of the country, not too many of these Pops were made. Because of this, the value of the Pop has maintained a steady resale price over the years. 
Current Estimated Value: $490 USD 
4. John Cena (Green Hat) – WWE Exclusive, 2014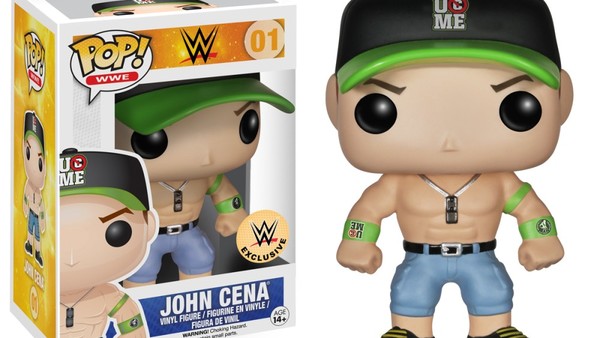 As you'd imagine, the first WWE Pop ever made was a John Cena pop. A few different variants were produced, but the "Green Hat" version of Cena turned out to be the most valuable. 
This Pop was branded as a WWE Exclusive. Back in 2014, this meant you could only purchase the Pop on WWEShop or at a WWE event. Nowadays, none of the WWE pops are branded as WWE Exclusives which makes this one a bit more special. 
For whatever reason, the pandemic sent this Pop skyrocketing in value. In March 2020, the Pop was worth only $280 USD, but now it is worth… 
Current Estimated Value: $710 USD 
3. Zack Ryder (Green) – Funko Shop Exclusive, 2017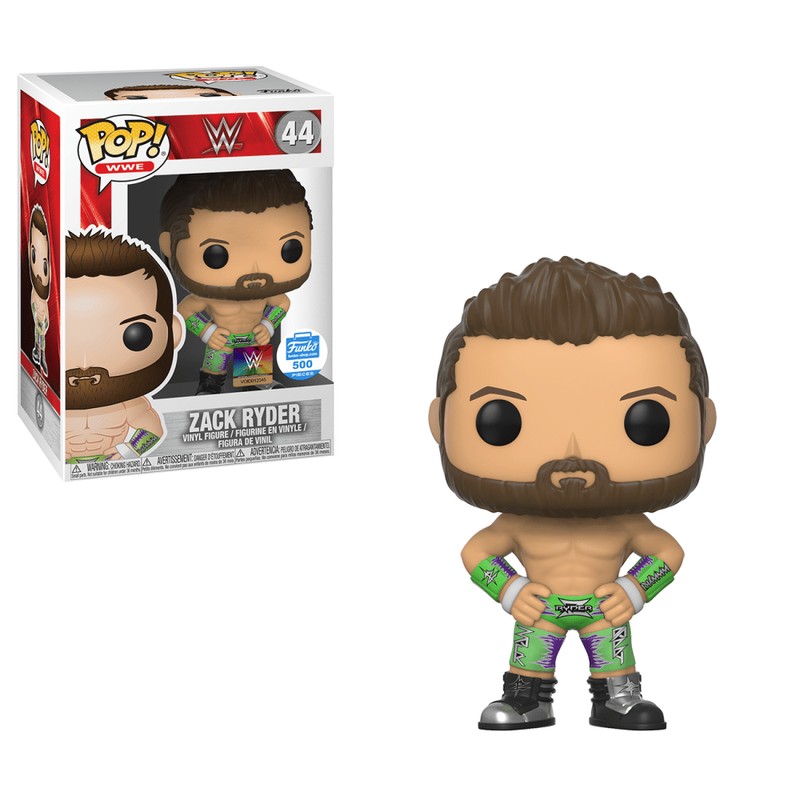 Occasionally, Funko will make a very limited amount of a product in order to produce a "rare" product. With the number of Funko related products growing over the years, overall value has dipped across the board. 
In 2017, Funko produced a variant of Zack Ryder's first Pop and made it a Funko Shop exclusive. This meant you could only buy the Pop on Funko's website. There were only 500 of the variants made available, which meant they sold out quickly.
The Pop was officially vaulted shortly after, meaning Funko plans to never produce another one of that specific Pop ever again. This is one of the few WWE pops that have been limited with a set amount of production. 
It's also extremely fitting that one of the most prolific toy collectors in Zack Ryder got an exclusive like this. We're willing to bet he owns at least a hundred of these and gouges the prices himself.
Current Estimated Value: $780 USD
2. Rey Mysterio (Black) – San Diego Comic Con Exclusive, 2014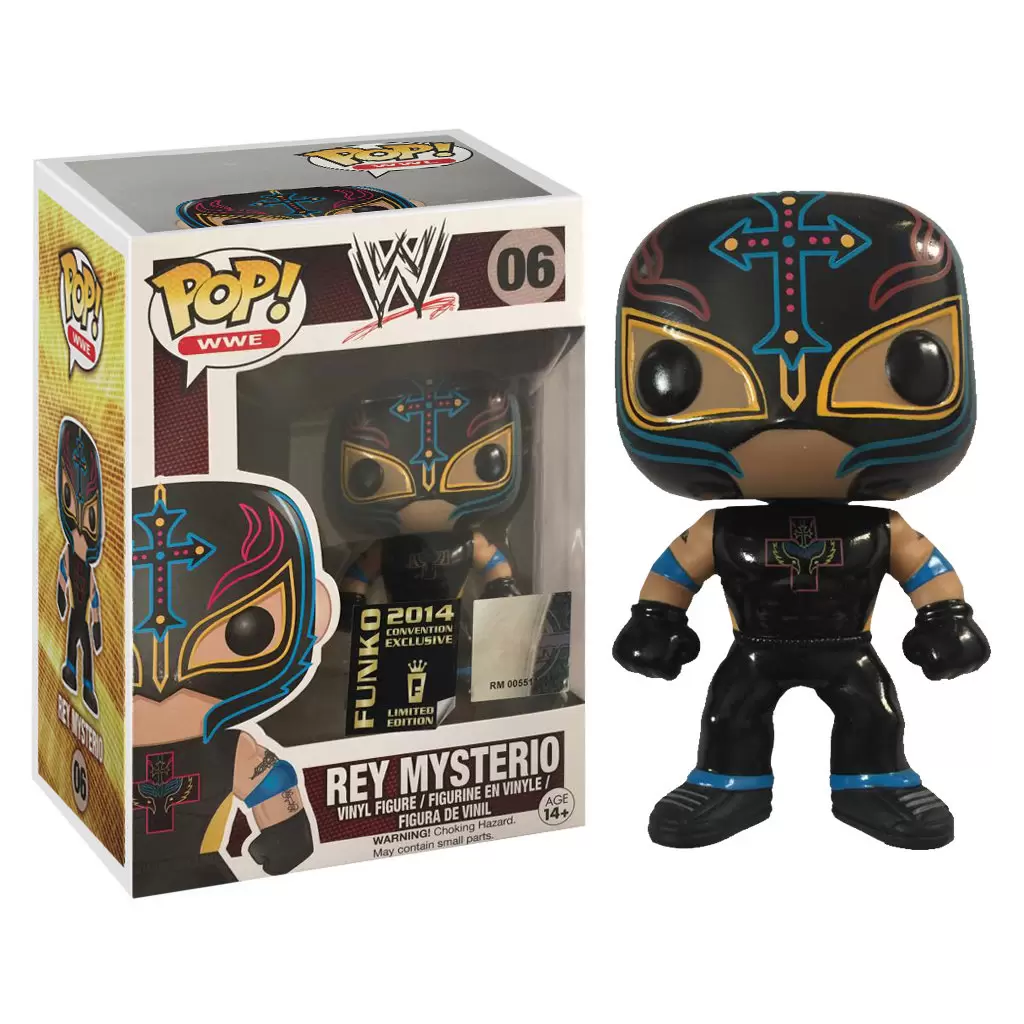 San Diego Comic Con has been the birthplace of some toys that are worth thousands upon thousands of dollars. Funko alone has over 8 Pops from the 2014 edition of the Con that are worth over $1000 USD. 
This Pop has the same model as the light blue edition seen previously on this list, but it features a different set of Mysterio's gear.  Although this Pop's value has fluctuated from time to time, it's recently settled around in the $800 USD range.
Current Estimated Value: $820 USD
Honorable Mentions:
AJ Lee – WWE Exclusive, 2014 – Estimated Value: $480 USD
CM Punk (Pink) – Hot Topic Exclusive, 2014 – Estimated Value: $460 USD
Daniel Bryan (Patterned) – WWE Exclusive, 2014 – Estimated Value: $430 USD
Macho Man (Pink) – WWE Exclusive, 2014 – Estimated Value: $410 USD
1. Hulk Hogan (Yellow Shirt) – WWE Exclusive, 2014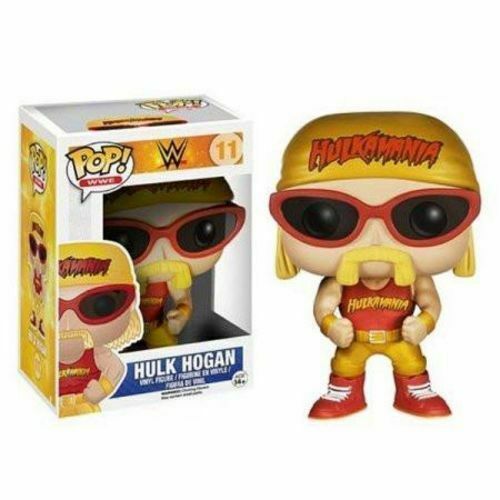 The most valuable WWE branded Pop is… Hulk Hogan.
There are three variants of this model, including an NWO style, a Red shirt, and a Yellow shirt version. While the other two versions are still worth upwards of $200, the "Yellow Shirt" variant narrowly takes the cake as the most valuable Pop in the WWE catalog.
Current Estimated Value: $830 USD
Featured Image