NXT 2.0 finally reared its not-so-anticipated head on tonight's episode of the show. Almost everything about the rebrand is completely different from the previous two iterations of the developmental brand and let's just say, not all of them are good.
In this piece, I'll be diving into my first impressions of the show and the positives and negatives that could affect things going forward. I try to be a positive person, so we'll go with the positives first.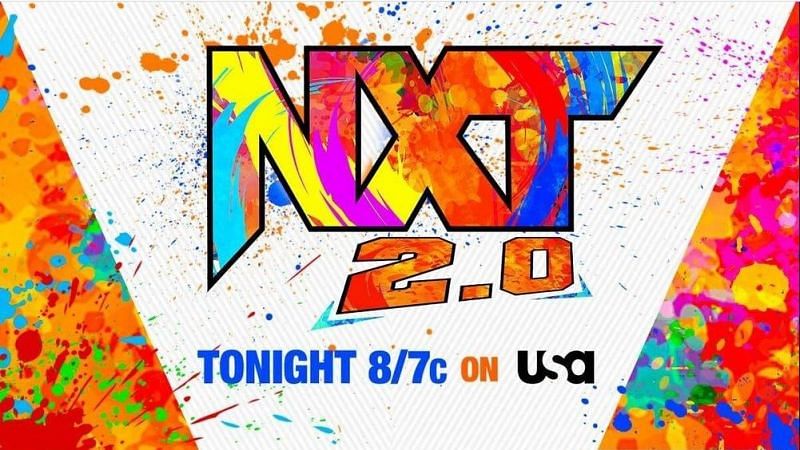 Positive: Alexa, Play "All Of The Lights" by Kanye West
The previous version(s) of NXT were some of the darkest and dim-lighted wrestling shows that wrestling has ever seen. When it was a one-hour weekly show that you could miss an episode and be fine, it was tolerable.
When the brand made the switch to go live on the USA Network, it expanded to two hours and became almost unbearable. Combine the dark soul-sucking interface with the no-fans era during the pandemic, and the whole vibe/environment of the show was just awful.
I don't think I would have gone with the Microsoft paint aesthetic that they choose to sport the new brand, but anything is better than the dark, Hot Topic vibes they were dealing out before.
Positive: 2.0. An AEW tag team, or a new stage setup?
The new seating and arena set up inside the former Capital Wrestling Center is brilliant. It gives off a studio feeling, which is a well-appreciated venue-type among wrestling fans. The stage is like a cylinder-type shape with two screens next to it, and if I remember correctly, it's something WWE has never done before.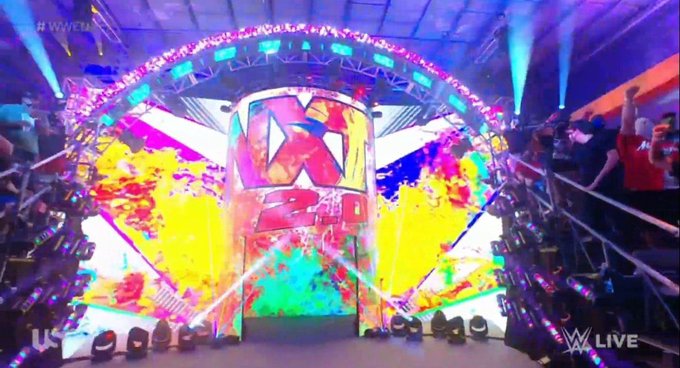 It's always appreciated when wrestling companies try something new and not only is this something new, but it works very well and suits the style of the performance center very well.
Positive: If the Hard Cam moves, is it really a Hard Cam?
Whenever rumors began to surface that Kevin Dunn and Vince McMahon were going to oversee the production of the NXT reboot, many people completely lost any hope that they had for the show. Although the dark cave that the brand previously resided in was very straining on the eyes, the camera work was still pretty consistent and didn't look like a main roster product.
Although it's only been one week, the camera work wasn't awful tonight. It didn't resemble anything close to Dunn's usual product tropes and the addition of the rotating hard cam was a fantastic addition.
It's a very minor thing, but it's different. To reiterate an earlier point, things being different in wrestling is vastly appreciated nowadays. There's a small chance that it could grow to be a negative over time, but it was a positive for tonight's episode alone.
Negative: Who Is This Guy?
I can't think of a worse way you could have introduced people like Brooks Jensen, Von Wagner, or Bron Breakker. No introduction video, no commentary insight, nothing. Bron Breakker went out there and borderline jobbed out LA Knight, a guy who NXT has treated as an upper-midcard guy for months at this point.
Brooks Jensen, somebody I personally watched on the Georgia independent scene, has a ton of charisma and could have put together a really fun heel character. Instead, they just throw him in a random tag team with Josh Briggs because they don't know what to do with him either.
The Von Wagner was some of the most bizzare booking i've ever seen. Wagner comes in and gets immediately handed a Title shot, therefore taking Kyle O'Reilly out of the equation (who probably isn't actually injured). Wagner not only took the spot of an established NXT star but had more offense in the match than he arguably should have.
It just simply doesn't make any sense. Introduce these guys with something of a video package or promo and make me invest in their story/character. The fact that they're trying to insert new people into the program is great, but please give the viewer a reason to care or be invested in these people.
Negative: Volume Level? 0%.
A very minor gripe here, but the new theme music of the program isn't very good. The majority of WWE's program themes are bad, but this one is just especially awful.
No disrespect to Wale, but it just doesn't feel fitting given the new theme/appeal of the show.
Negative: Commentary Volume Level? 0%.
I don't know if it's just me, but it seemed like the NXT commentary booth was much more "produced" than usual. Before tonight, the team of Beth Phoenix, Vic Joseph, and Wade Barrett didn't necessarily make for bad commentary, but they weren't a massive favorite either.
Phoenix's role in the booth seemed to diminish as the show went on, comparable to the likes of when Renee Young was on commentary for Raw. Phoenix is one of the better women's commentators in wrestling, so that's not a trend that needs to develop.
Vic Joseph continues to grow into the Michael Cole style of commentary as every Tuesday passes. It's especially disappointing when you look at Joseph's early work on Main Event and NXT UK.
Overall Analysis
Overall, it's too early to tell whether this new coat of paint will work out for NXT just yet. There is some major upside but there is also some stuff that from a viewer standpoint that would completely throw some people off. The random debuts will cause a general disinterest in the show over time if there is no rhyme or reason to care about the new faces.
This show could easily become FCW 2.0 rather than NXT 2.0, with a few notable names to keep a few people interested. If they continue in this direction and mold it into another brand like FCW, this could be a Peacock-exclusive show within three years. If it's going to be used as that type of breeding ground, there's absolutely no reason for it to be on prime time television.
More from LWOS Pro Wrestling
Stay tuned to the Last Word on Pro Wrestling for more on this and other stories from around the world of wrestling, as they develop. You can always count on LWOPW to be on top of the major news in the wrestling world, as well as to provide you with analysis, previews, videos, interviews, and editorials on the wrestling world. You can check out an almost unlimited array of WWE content on the WWE Network and Peacock.