This week's episode of IMPACT Wrestling truly takes things into full gear, with a packed card of exciting matchups and enticing feuds. Returning to the past is also a big theme of the show, with the world tag team champions being reminded of their roots in Japan with an important 8-man tag team match. Brian Myers will also be faced with a ghost from his past, and the IMPACT Knockouts Champion has a rematch with one of her greatest rivals. Here is everything to look forward to on this Tuesday's IMPACT on AXS TV.
The Good Brothers and FinJuice versus XXXL and Reno Scum
Juice Robinson and his tag team partner, David Finlay (referred to simply as FinJuice), made their IMPACT in-ring debuts two weeks ago on television. This seems to signal the beginnings of a hopefully long-term and healthy working relationship with NJPW. A big part of this deal, reportedly, is the insistence that The Good Brothers work with NJPW as well. Luke Gallows and Karl Anderson first met as members of NJPW's top stable, The Bullet Club, and were a dominant pairing for the company until their departure to WWE in 2016. They look into a mirror to the past in this match, as The Good Brothers team with the current tag team stars of their former company.
Reno Scum also made their return from hiatus two weeks ago on IMPACT, unfortunately losing to their opponents tonight in FinJuice. XXXL has been featured heavily as of late (pun intended), with their new no-nonsense attitudes making them a truly immovable force in the division. However, the former two teams have the most to gain coming out of this match, and also outmatch their opponents greatly in both momentum and star power. While the makeshift New Japan team is almost guaranteed to win, will any tensions rise in-team that may jeopardize them?
IMPACT Knockouts Champion Deonna Purrazzo versus Jordynne Grace (Non-Title)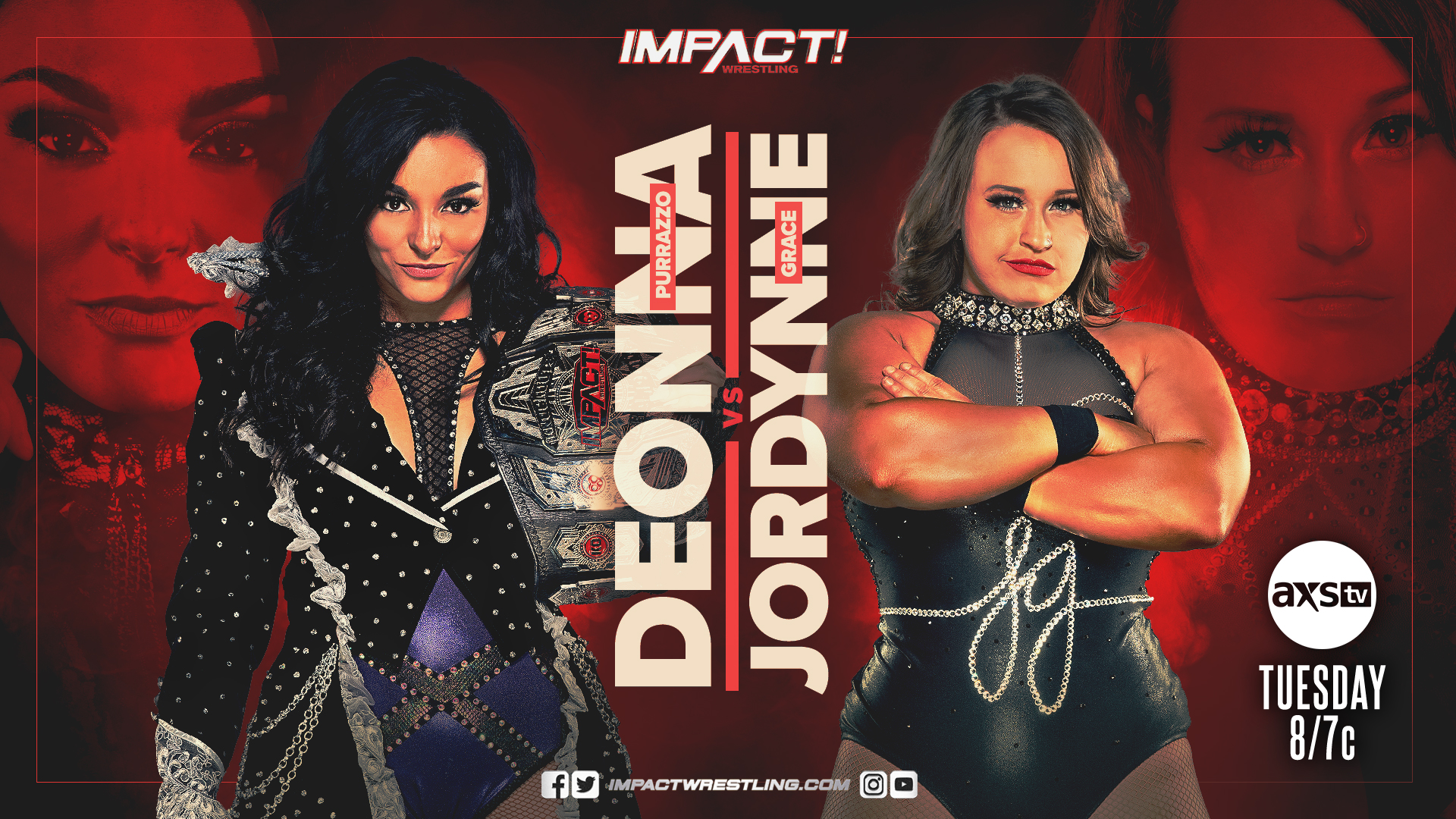 There is no shortage of animosity between these two women, who write another chapter in their year-long feud this Tuesday night. Jordynne Grace was the dominant Knockouts Champion in IMPACT Wrestling before Deonna Purrazzo made her presence known in the summer of last year. "The Virtuosa" immediately took control of the division when she defeated Grace for the championship at Slammiversary XVIII, and soon after, secured her status when she defeated Grace again in IMPACT's first-ever Iron Woman Match.
Though this match is not for the title, the stakes are still incredibly high. Jordynne Grace has yet to defeat Deonna Purrazzo in singles competition, meaning that a victory here would be an upset as well as the crowning of a new #1 contender. Though my prediction would be to see Grace pulling the upset, I think the outcome of this match is almost destined to be a no contest. ODB and Jazz are almost certain to intervene on behalf of Grace, while Kimber Lee and Susan will protect Purrazzo at all costs.
Brian Myers versus Eddie Edwards – Special Guest Referee: Matt Cardona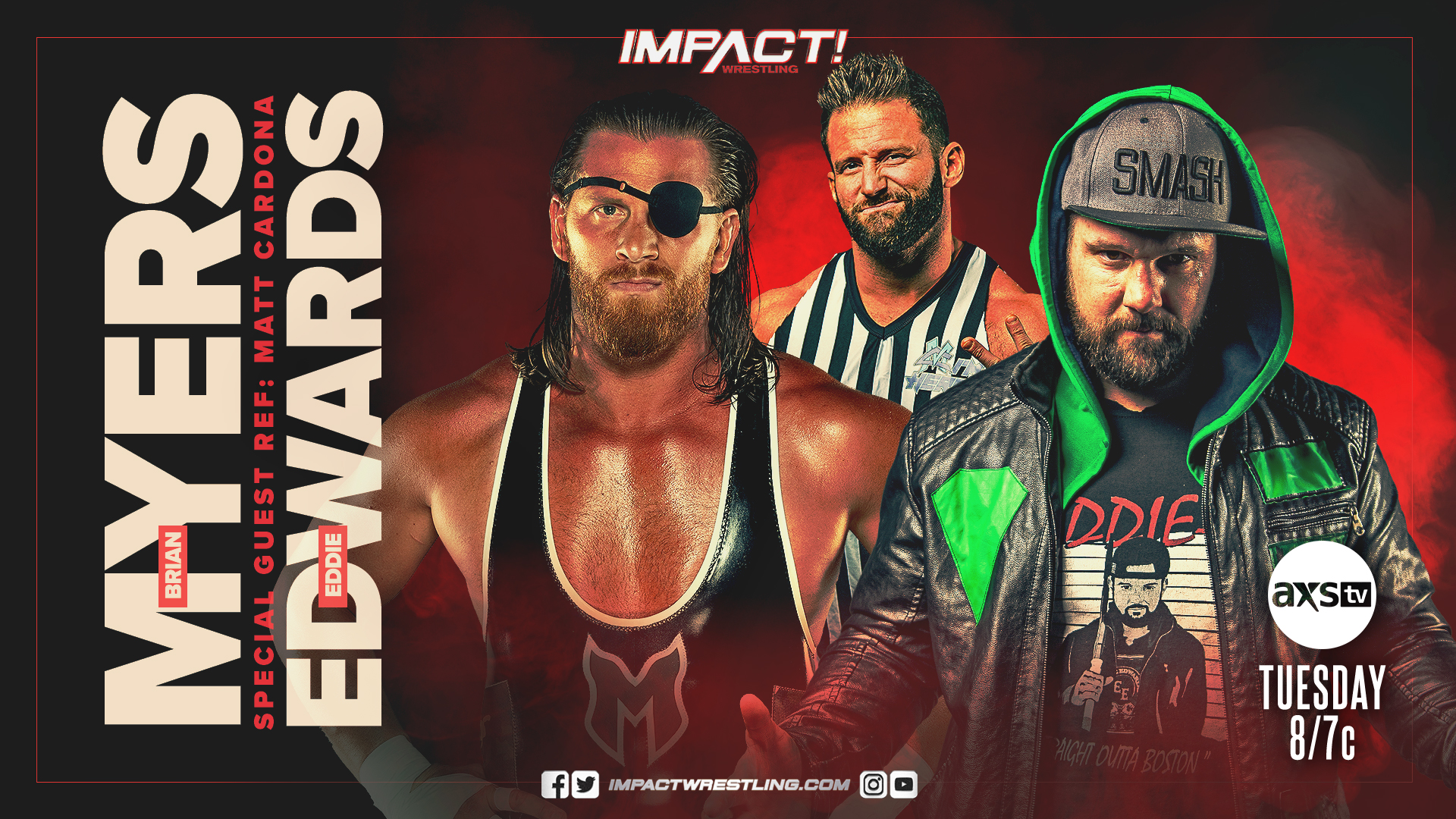 Since Matt Cardona first debuted in IMPACT at the beginning of the year, a collision between him and former partner Brian Myers has been destined. Each week, their fated one-on-one encounter has been closer and closer to fruition, with Cardona making himself the referee in Myers match against IMPACT's eternal underdog Eddie Edwards. Cardona and Edwards previously teamed in a losing effort to Myers and Hernandez, while Myers has also defeated Edwards 1-on-1, though the match ended in DQ after Cardona's involvement.
This creates an odd dynamic for this match, as Cardona will clearly be in favor of Edwards. There is no reason for Cardona not to be partial towards Edwards and against his rival. That is, unless Cardona decides to align himself with his former tag team partner once again, a timeline that is very much possible.
Chris Bey versus Ace Austin versus Black Taurus – X-Division Championship #1 Contendership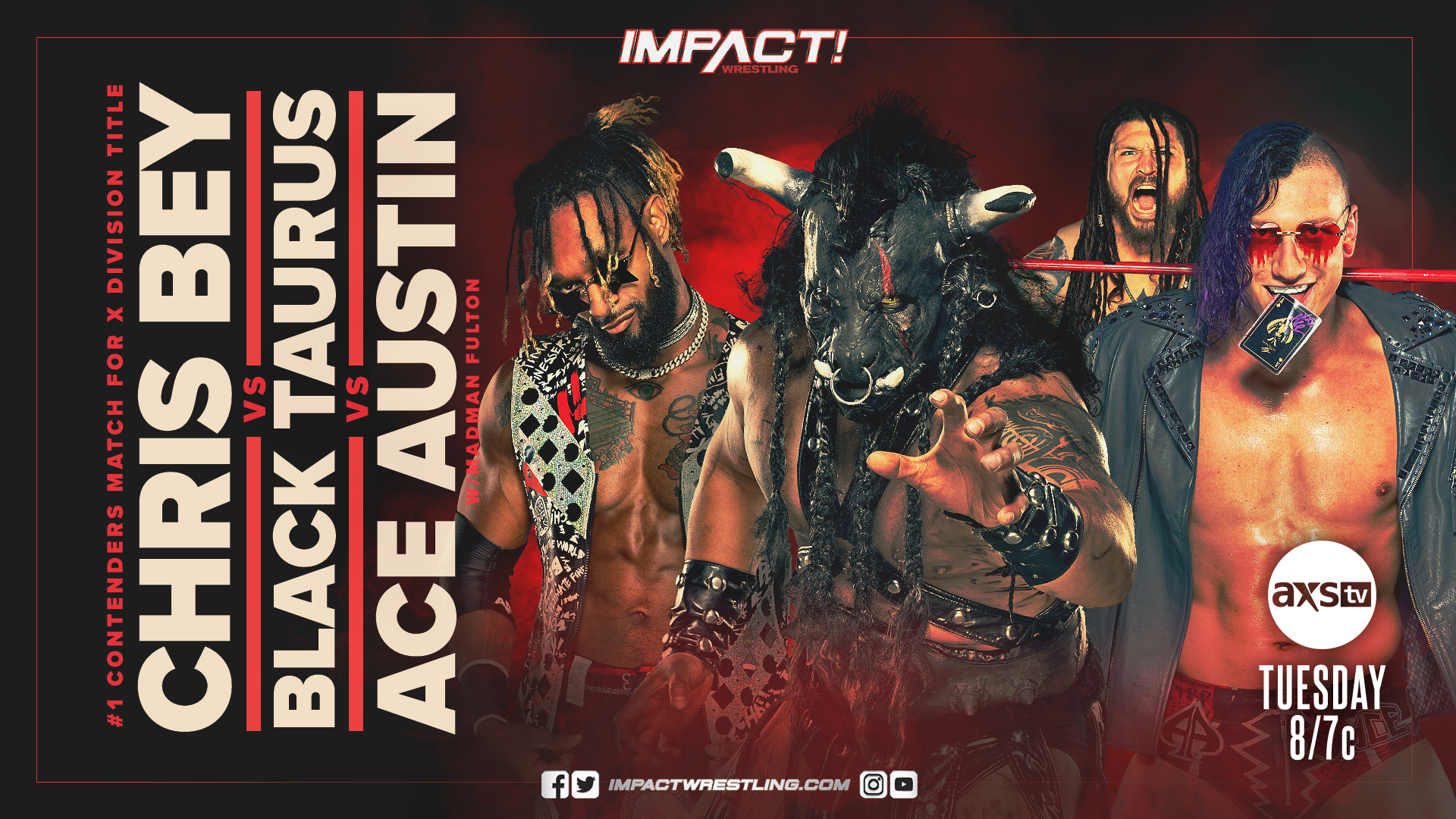 The X-Division of IMPACT Wrestling continues to be one of the deepest mid-card divisions in professional wrestling. This Tuesday, three of its top stars compete for the chance to win the division's top championship, currently held by TJP. Chris Bey has become one of IMPACT's top up-and-coming stars, having already won the X-Division Championship last year. Ace Austin has already proven himself to be one of the top X-Division wrestlers, having won the Super X-Cup Tournament 2021. However, the dark horse of this match is the Mexican sensation Black Taurus, who has a good chance of representing Decay and winning the X-Division Championship, whenever that match may be.
IMPACT Wrestling airs Tuesday at 8 PM on AXS TV.
Stay tuned to the Last Word on Pro Wrestling for more on this and other stories from around the world of wrestling, as they develop. You can always count on LWOPW to be on top of the major news in the wrestling world, as well as to provide you with analysis, previews, videos, interviews, and editorials on the wrestling world. You can catch IMPACT Wrestling on Tuesday nights on AXS TV and Twitch.TV as well as all the time on IMPACT Plus.
Looking to talk wrestling, pro football, or any number of sports? Head on over to the LWOS Boards to engage in conversation with fellow fans!