IMPACT Wrestling continues its commitment to monthly Impact Plus specials with Turning Point. This event promises to change the direction of the company and showcase its many incredible champions. Tensions are high, with a lot of potential grudge matches on the card and potential for some surprising brutality. Here is what IMPACT has in store on Saturday.
The Defeat Rohit Challenge Continues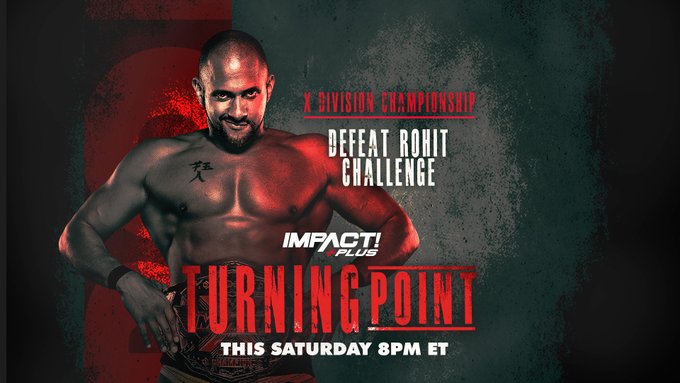 Rohit Raju has proven to be incredibly crafty and will do anything to retain his title. However, he is not unbeaten, as he lost the challenge already to Jordynne Grace a couple of weeks ago, albeit in what was later revealed to be a non-title match. Most recently, Raju defeated former X Division Champion TJP in a surprisingly fast-paced and physical match, although a low blow was involved in the finish. How will Raju manipulate the challenge to his advantage this time? Will he be able to hold on to his title once again, or will the Desi Hit Man fall on his sword?
Brian Myers versus Swoggle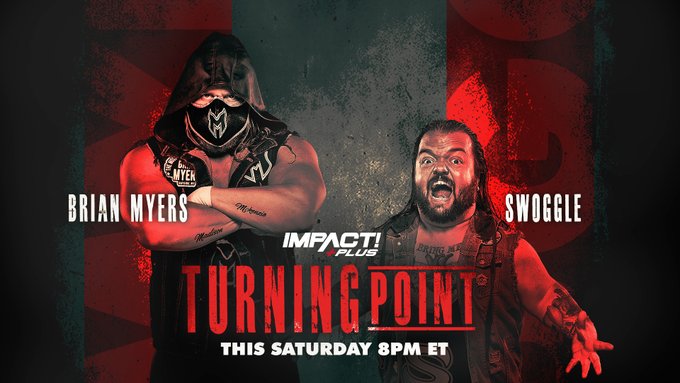 Brian Myers has shown a new side of bitterness and anger since debuting in IMPACT. This demeanor has been completely different from the comedy fodder that was Curt Hawkins. He recently came out on top of a feud with the legendary Tommy Dreamer. Now, he turns his focus toward another IMPACT legend in Swoggle.
Swoggle was one of a few surprise returns to IMPACT during the Call Your Shot Gauntlet at Bound for Glory last month, but was eliminated quickly by Myers. Swoggle is hoping to gain vengeance on Myers for his disrespect. What will these two have in store for one another?
Eddie Edwards versus Daivari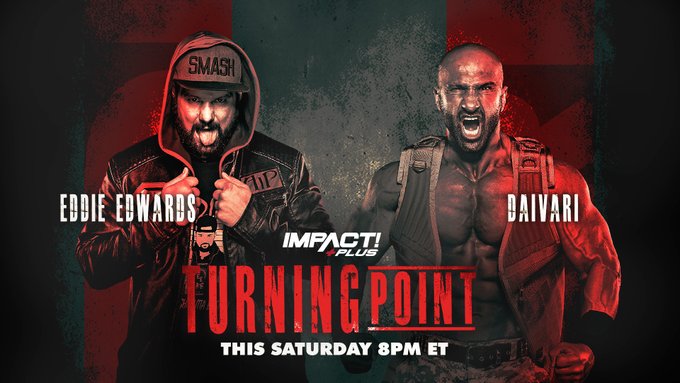 Another surprise entrant in last month's Call Your Shot Gauntlet Match was Shawn Daivari, formerly of WWE fame. The former two-time X Division champion will be looking to prove that he still has it in him with the challenge of former world champion Eddie Edwards in his wake. Edwards will likely be going into this match with his focus elsewhere; he was most recently involved in the brutal beatdown brought on by Sami Callihan, Ken Shamrock, and Chris Bey on IMPACT television this past week. Will Edwards not being 100% play a factor in this match, or will he be able to refocus his rage into a victory over the veteran Daivari?
Moose versus Willie Mack
Moose is still reeling from his brutal brawl with EC3 at Bound for Glory. Even though he won the match, with EC3 seemingly sacrificing himself for the betterment of Moose, there appears to be a more subdued, focused, and (astonishingly) even more dangerous side to Moose taking shape. The self-proclaimed TNA World Heavyweight Champion appeared on IMPACT to address the locker room, calling out new challengers to his throne. Willie Mack has stepped up and even attacked Moose from behind during a backstage interview, attempting to choke him out.
It will be interesting to see if this match at Turning Point is presented as cinematic like the one at Bound for Glory. This seems to be the precedent that could be followed moving forward with the TNA World Heavyweight Championship, with it being a title to represent the flexible and almost "unreal" feeling of the current times. If this is indeed the direction of the match, one would think Moose would have the advantage. However, it is hard to ignore the momentum and crowd support of Mack, who himself showed a rare side of viciousness that has managed to overwhelm Moose, if only a little.
Jordynne Grace and Tenille Dashwood versus Taya Valkyrie and Rosemary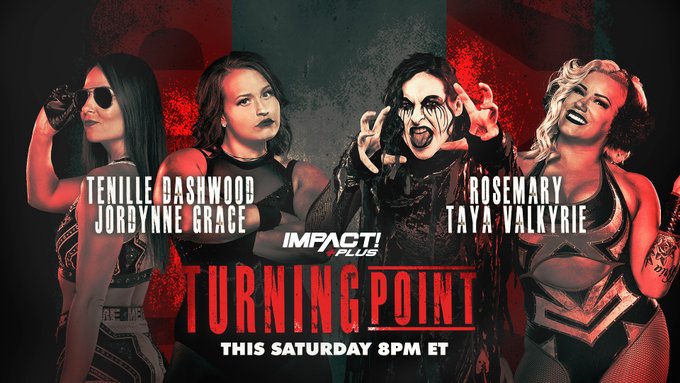 The women's tag team division continues to take shape as every woman an IMPACT looks to gain alliances going into the hunt for the new Women's Tag Team Championship. This is the only factor that motivates the makeshift team of Grace and Tenille, who have, up until this point, been bitter rivals. However, in a rare moment of character change, Tenille begrudgingly asked Grace to be her tag team partner going into the championship tournament. However, Grace (understandably) told her that she does not trust her, but will give her the opportunity to prove herself in a tag match at Turning Point.
It will be interesting, meanwhile, to see where Taya and Rosemary's heads will be this Saturday after the traumatic events that unfolded at Rosemary's wedding. Even though Taya and Rosemary are an established tag team, they may not be completely on the ball with the investigation of "Who Shot John E. Bravo" still underway.
Will Grace and Dashwood be able to get along? Will the investigation have some effect on this match at Turning Point?
Chris Sabin and James Storm versus XXXL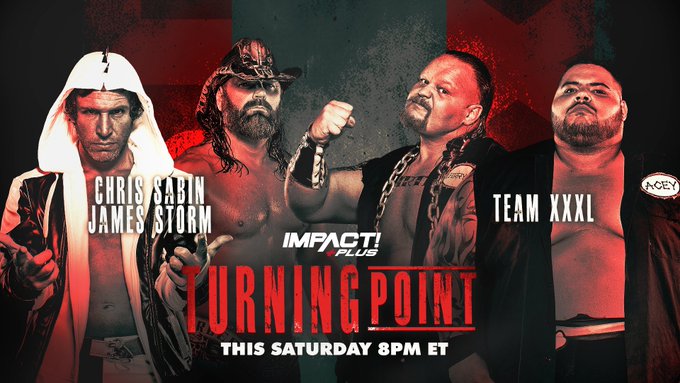 James Storm made a surprise appearance on last week's episode of IMPACT, sharing a drink with former rival Chris Sabin. Sabin pleaded with Storm, asking him to join him in battle against Acey Romero and Larry D, a proposal that "the Cowboy" accepted. Storm will fight in place of Alex Shelley, who was sidelined by Triple XXXL after a brutal attack backstage. The new demeanor of these massive men has come at the expense of the Motor City Machine Guns. Even though Sabin managed to pick up a win against Romero this past week on IMPACT, the numbers and power advantage have been too much for Sabin, who hopes to not be sidelined by the pair as well.
Will the addition of "the Cowboy" be the ingredient needed to stop the destructive path of Triple XXXL?
IMPACT World Tag Team Championships – The North (c) versus The Good Brothers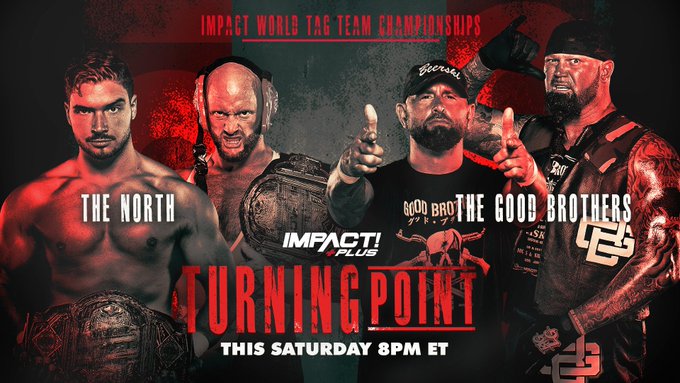 The North regained their IMPACT World Tag Team Titles last month at Bound for Glory in a fatal 4 way. This match included The Good Brothers who were the obvious favorites going into the match, and who were not pinned to lose the match. The North may be one of the most dominant and cohesive teams in IMPACT history, especially after their dismantling of another legendary IMPACT tag team in the Motor City Machine Guns. However, the Good Brothers have a chip on their shoulders and all of the momentum in the world. Karl Anderson said himself on IMPACT on Tuesday that these are a pair of the only tag team titles that they have not won in their careers.
Will the Good Brothers leave Turning Point as champions, or will The North continue their hold over the division?
IMPACT Knockouts Championship – Su Yung (c) versus Deonna Purrazzo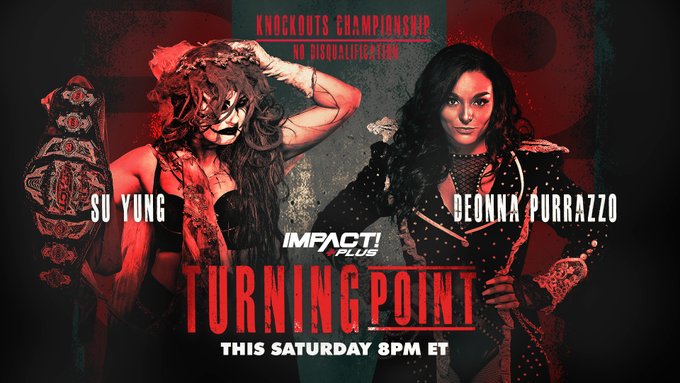 The virtuosa seemed confident in her chances against Su Yung this Saturday in their no DQ match, showing on IMPACT that she would have Kimber Lee in her corner. However, Su Yung proved to be one step ahead of the pair, mysteriously kidnapping Lee and, in an incredibly creepy shot on IMPACT television, seemingly "murdered" her. Kimber Lee was thrown against a window, which was coated with the crimson message, "I think ur alone now."
With the plan of Purrazzo thwarted, will she have a backup, or will Su Yung's "playground" be too much for the virtuosa to handle?
IMPACT World Championship – Rich Swann (c) versus Sami Callihan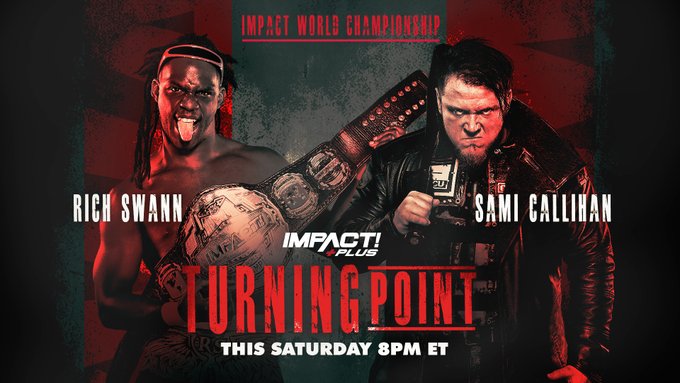 This past episode of IMPACT Wrestling on AXS saw the formation of a potentially formidable faction. The likes of Chris Bey, Ken Shamrock, and Sami Callihan stood together after a brutal assault on the world champion and Callihan's eternal rival Eddie Edwards. Callihan attempted to blind Swann with the baseball bat/chair combination much like he almost did to Edwards years ago, showing once again that he is prepared to do anything to take back the IMPACT World Championship.
Rich Swann, however, may be more prepared for the ruthless style of Callihan than he ever has been, having just come on top of a feud with the comparably vicious Eric Young. Swann may now have the tools needed to overcome the brand of crazy that Sami Callihan possesses. Although, it is impossible to ignore the inevitably looming presence of Shamrock and Bey, and the potential involvement they will have in the match. Can Swann persevere once again, or will the force of Callihan be too much to overcome?
Stay tuned to the Last Word on Pro Wrestling for more on this and other stories from around the world of wrestling, as they develop. You can always count on LWOPW to be on top of the major news in the wrestling world, as well as to provide you with analysis, previews, videos, interviews, and editorials on the wrestling world. IMPACT Wrestling Turning Point will air live on the IMPACT Plus app and via FITE.tv.
Looking to talk wrestling, pro football, or any number of sports? Head on over to the LWOS Boards to engage in conversation with fellow fans!