Part I: A Tale of Two Seasons (So Far)
Few teams came into the 2019 season with as different expectations as the Boston Red Sox and the Seattle Mariners. The Red Sox entered the season aiming to defend their 2018 World Series title while the Mariners aimed to compete in 2020 or 2021. Both team's journeys started Opening Day in Seattle (though the Mariners had a leg up after winning two in Tokyo) and things have not gone as expected.
The Mariners took three out of four games from the defending champs and have sprinted out of the gate so far, registering an 8-2 record overall. The Red Sox' worrisome start continued after they left Seattle, leaving them with a mirror image 2-8 record in their first nine games. So, which team's start is legitimate? Did the Mariners' wild off-season makeover accelerate their timetable, or will they turn into a pumpkin as the season continues? Have the Red Sox collapsed, or are they merely experiencing a championship hangover? Let's dive into their respective performances and find out.
Boston Red Sox — The Worst of Times
Let's start this off by reviewing what the Red Sox gained and lost over the off-season:
Additions:
SP Nathan Eovaldi (re-signed at 4-years $67.5 million)
IF Eduardo Nunez (player picked up $5m option)
RP Colten Brewer (trade with San Diego Padres)
1B Steve Pearce (re-signed at 1-year $6.25m)
Subtractions:
RP Craig Kimbrel (currently unsigned)
SP Drew Pomeranz (signed with San Francisco Giants)
RP Joe Kelly (signed with Los Angeles Dodgers)
2B Ian Kinsler (signed with Los Angeles Angels)
Off-season Review:
Due to luxury tax concerns, Boston mostly stayed out of the offseason limelight, electing to re-up with postseason stars Eovaldi and Pearce rather than chase lesser-known commodities.
The biggest off-season losses happened in the bullpen, as the Red Sox declined to re-sign All-Star closer Craig Kimbrel and flame-throwing reliever Joe Kelly. Drew Pomeranz (6.08 ERA in 74 IP) and Ian Kinsler (.242/.294/.311 in 37 games) played minimal roles in last year's title run, making them expendable.
Basically, Team President Dave Dombrowski decided to stand pat with the players they already had, with Kimbrel standing out as the biggest exception to that approach. That squad was good enough to win 108 regular season games and bring home the title after all. So why have the Red Sox struggled so hard out of the gate in 2019?
What's Behind the Record?
In a word, pitching. Through their first ten games, the Red Sox rank 29th overall with a 6.97 team ERA, mostly due to horrendous outings by their rotation. Take a look at the difference in performance between Red Sox starting pitchers and relievers through the first ten games:
| | | | | | | | |
| --- | --- | --- | --- | --- | --- | --- | --- |
| Group | ERA | SIERA | WHIP | K% | BB% | AVG | HR/9 |
| Starters | 9.13 | 5.12 | 1.96 | 16.90% | 11.30% | 0.322 | 3.11 |
| Relievers | 4.21 | 3.19 | 1.32 | 26.30% | 7.50% | 0.247 | 1.73 |
Red Sox starters own a league-worst 9.13 ERA. They have allowed the most walks (26) of any MLB rotation, rank in the bottom third of the league in strikeouts, and cannot slow down any opposing batters (.294/.369/.557 line allowed to opposing hitters by starters). Hitters are literally teeing off against Red Sox starters, smashing 16 home runs against them so far on the season (2018 staff allowed 18 home runs in first 19 games).
While the Boston rotation deserves most of the blame for their early-season struggles, other areas of the team have their own issues. The Red Sox offense is currently averaging 4.5 runs per game (5.41 average in 2018) and has already been shut out twice (seven shut outs in 2018). The Red Sox have struggled on defense as well, generating a -3 DRS score (22nd in MLB). Red Sox relievers hold a 4.21 ERA (19th in MLB) through the first ten contests but have the seventh best K% (26.3%) and seventh lowest BB% (7.5%) among MLB units. Their production in those areas is a good sign as is their 3.19 SIERA.
Key Starts to Follow:
Offense
J.D. Martinez: .359/.419/.590, 3 HR
Mookie Betts: .262/.333/.476, 2 HR
Jackie Bradley Jr.:  .171/.194/.200, one extra-base hit
Blake Swihart: .500/.571/.833, 1 HR
Starting Pitching:
Rick Porcello: 0-2, 13.50 ERA (5.62 SIERA), 3.136 WHIP
Eduardo Rodriguez: 0-2, 12.38 ERA (5.63 SIERA)
Chris Sale: 0-2, 8.00 ERA (5.57 SIERA), 11.9% K%
Nathan Eovaldi: 0-0, 8.10 ERA (5.84 SIERA), 12.2% K%, 1.80 WHIP
David Price: 0-1, 6.00 ERA (3.37 SIERA), 26.5% K%
Bullpen:
Ryan Brasier: 0.00 ERA (3.78 SIERA), 0.75 WHIP
Colten Brewer: 2.08 ERA (3.98 SIERA), 31.8% K%
Matt Barnes: 0.00 ERA (0.37 SIERA), 50% K%
Brian Johnson: 12.71 ERA (4.03 SIERA), 23.3% K%, 10% BB%
Will this Continue?
Again, writing off a team 10 games into a season is insane. That said, there is enough here to be worried about if you are the Red Sox. Their -27 Run Differential is the worst in MLB (the Colorado Rockies are second-worst with a -17 Run Differential) and while advanced indicators judge their rotation's performance better than their current ERA (5.12 SIERA), the improvement is slight at best. Too many questions exist in that rotation to say with confidence that everyone will settle back into form.
Rick Porcello, in particular, looks completely lost on the hill, and Eduardo Rodriguez is not far behind him. Worries surround Chris Sale's lowered velocity (though this could be part of him ramping up for a long season), and both David Price and Nathan Eovaldi have struggled to stay healthy in recent years. The other side of that coin is that all of those arms have shown the ability to dominate opposing lineups, as we saw last season and in October.
On offense, having Martinez and Mookie Betts will cover most issues. Eduardo Nuñez (.185/.185/.222) and Jackie Bradley Jr. (171/.194/.200) are off to the worst starts in this unit, and even with their lower production, the Red Sox rank eighth in runs scored per game. Blake Swihart is screaming for attention with his electric start (.500/.571/.833) and could be in line for more playing time as the season continues.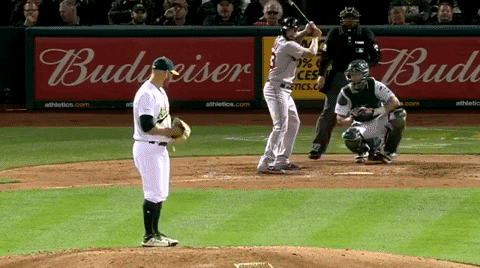 Verdict
The Red Sox are not dead. They have too much talent to believe completely in this underwhelming start. Opening the season with 11 straight road games is tough for any club, and it is possible that this early-season swoon will be nothing more than a fading memory at the end of the season. However, until we see consistent production from the Red Sox' rotation, whispers that this start is actually reflective of their talent will grow.
Main Photo
Embed from Getty Images