Last week's AEW Dynamite saw Adam Cole and the Women's World Champion Dr. Britt Baker D.M.D. get the better of Orange Cassidy and Kris Statlander. January 27 marked the one-year anniversary of Shaquille O'Neal laying down the challenge to Cody Rhodes for their mixed tag team match with Jade Cargill and Red Velvet. While the former Undisputed Era star and "The American Nightmare" have got their backups (presumably Brandi Rhodes this time around), a number of wrestlers can fight as mixed tags under the All Elite promotion.
With the references of such matches becoming more frequent in AEW, chances of more mixed tag team matches are quite high. WWE has already hosted the Mixed Match Challenge twice in the past, but can the same happen with the AEW roster? Let's dive deeper into who can be the competitors for a mixed-tag team tournament.
Adam Cole & Britt Baker
The former Undisputed Era leader's AEW debut was no less than a treat for the wrestling fans. And while there were several questions regarding his future, the most important was the one concerning his relationship with Britt Baker. His long-time girlfriend has been one of the faces of AEW since day one and had been the AEW Women's World Champion for months when Cole debuted.
This year, AEW fulfilled our wish by bringing the two love birds together inside the ring to team. Even the narrative fit well as Cole and his companions continue to feud with the Best Friends and Kris Statlander. With Adam Cole and Britt Baker paired together, the excitement is at an all-time high. The tremendous performances put on display by these young talents are always a sight to see. They will definitely be my pick if AEW plans on a mixed tag team tournament in the future with these two as a couple.
JUNGLE BOY – ANNA JAY
Back in June 2021, the wrestling community was treated to a kissing pic by Jungle Boy, as he made his relationship with Anna Jay public on his Instagram. They are one of the youngest AEW couples and their fans will be thrilled if they ever get to wrestle as tag partners.
— Anna Jay (@annajay___) July 17, 2021
Jungle Boy currently holds the AEW Tag Team Championship, alongside his buddy Luchasaurus. Anna Jay is creating her own impression in the AEW Women's division, battling in hard-fought matches that deepen her character. For these two wrestling as a duo, there is certainly going to be an explosion of young talent on display. Jungle Boy's agility and flexibility paired with Jay's athleticism and charisma will be a tough standard for other teams to compete against.
Orange Cassidy & Kris Statlander
The fan-beloved comic wrestler of AEW has been turning heads for a long. But now he has a companion other than his best friends. She is none other than "The Alien," Kris Statlander.
For a pairing as unique and enjoyable as theirs, Orange Cassidy and Statlander can do what R-Truth and Carmella did back in WWE. They are most than wrestlers, and people love to see them as an entertaining team. What's more important is that they can play the humor card in a bracket that can be potentially intimidating. As far as this team is concerned, I will certainly give them a green light to be a part of such tournaments. Plus, their wrestling style is on another level, with commendable athleticism shown by both of them.
Kip Sabian & Penelope Ford
If you have been following AEW since its initial days, you would be well acquainted with this adorably villainous couple. The "Superbad" Kip Sabian and the "Bad Girl" Penelope Ford come up as another potential pair that participate in a mixed tag team tournament.
Having had their wedding on-screen in front of the Jacksonville audience, the duo of Sabian and Ford have sealed their deal to fight alongside each other sometime in the future. Sabian is well-known to the crowds as a shrewd wrestler who would do anything to not take the fall. Ford is a tough woman to beat, especially when she has been humiliated by the opponent. Combined, they have a great chance at winning mixed-tag team matches.
And with their heelish (yet sometimes comedic) tactics, there's no way these two will be eliminated in the early rounds.
Sammy Guevara & Tay Conti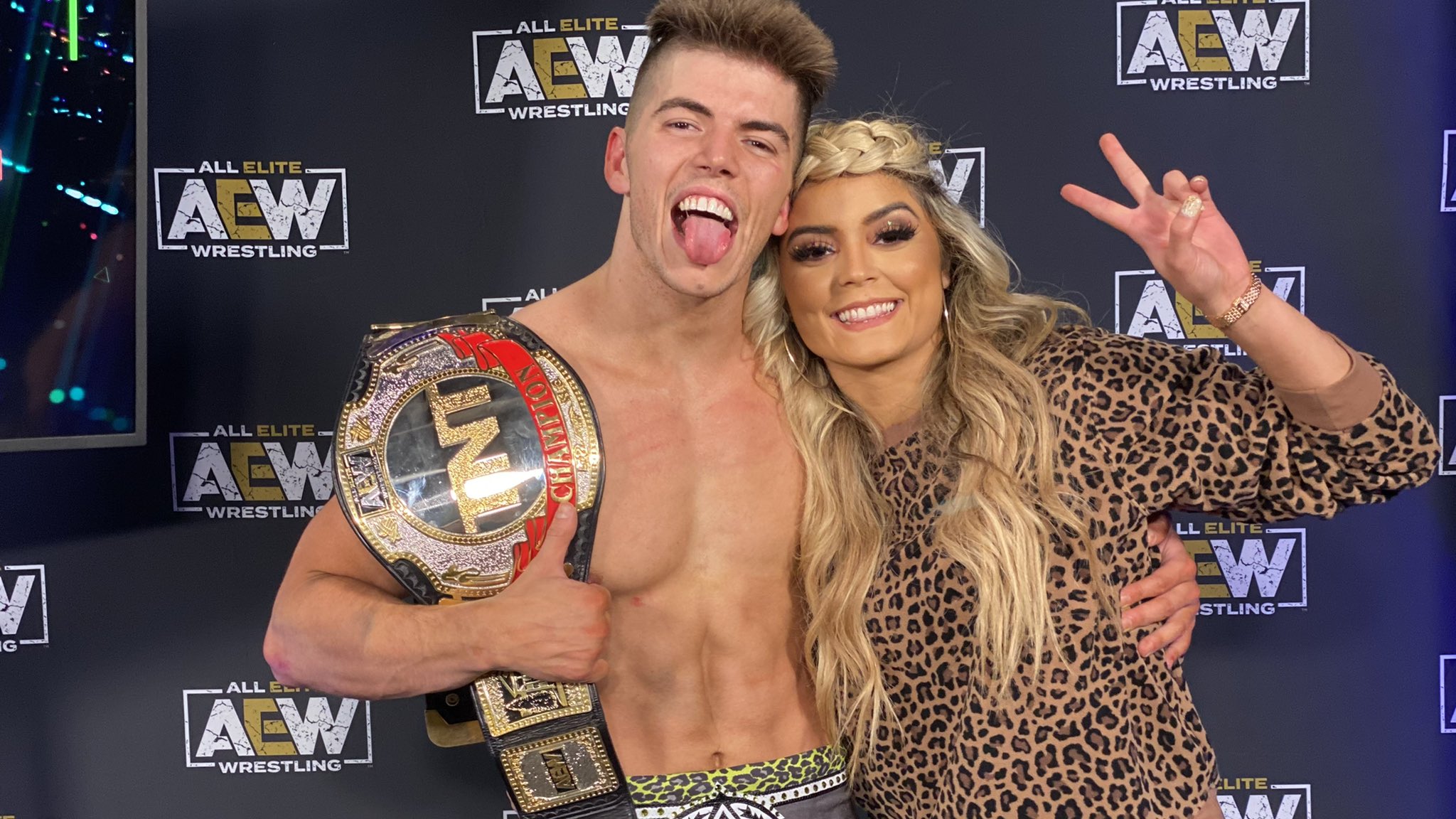 The Spanish God has recently publicly announced his relationship with his new girlfriend, Tay Conti. The couple has not only celebrated Christmas and New Year together but has also been to Brazil this month.
Apart from their adventurous workout videos on Instagram and YouTube, the pair is also doing great inside the squared circle. With Guevara reclaiming the TNT Championship at Beach Break and Conti adding to her experience, this is certainly a power couple to look out for. They can very well keep up to their hype and qualify for the final matches in a tournament as such. Conti has already displayed her prowess above most of the AEW women's roster. And Guevara is enjoying his time in AEW so far, having won the TNT Championship twice. It would be intriguing to see what the future holds for these two.
Cody Rhodes & Brandi Rhodes
How can we forget the very obvious couple that will participate in a mixed tag team tournament?
Cody and Brandi Rhodes are often compared to the power couple of WWE, Triple H and Stephanie McMahon. Cody brings his legacy to the squared circle and Brandi can accompany him both as a heel and a face. This could be the best time for him to turn heel and cheat his way to the top. It could definitely be a great way to add heat to his heelish persona.
The Blade & The Bunny
And here we look at another real-life married couple that is doing well inside the ring. A part of Matt Hardy's Family Office faction, The Blade and The Bunny carry significant momentum as a fierce duo.
They made their AEW debut together and have been paired together regularly since then. It is usually on a regular basis that The Bunny provides interferences and distractions for The Blade and The Butcher to pick up wins. This means that even in the tournament, the wins are not going to be fair and square for the two of them.
Possible Other Teams To Consider
Miro made his AEW debut back in September 2020, and his wife, CJ Perry (f.k.a. Lana) was released by WWE on June 2, 2021. This has obviously led to speculations that his wife would be by his side soon enough. Although Perry hasn't signed a deal with any major promotion, her chances of becoming All Elite are never too bleak.
As for wrestling couples, the one that we cannot oversee at any cost is that of CM Punk and AJ Lee. Lee's return to action is not yet confirmed. However, in the world of wrestling, we cannot rule out the chances of any return (as has been proved by Punk himself). Above all, if this couple returns to the ring, business is going to pick up for sure.
Another huge prospect is the unusual pairing of Jade Cargill and Shaquille O'Neal. Shaq had stated earlier, that his feud with Cody wasn't the last of him for us to see. He is going to return, and this time, by his side, will be the TBS Women's Champion Jade Cargill. A solid couple and a strong pick to win such a tournament.
CONCLUSION
It would be in the best interest of AEW to host a mixed tag team tournament in the future. Given the range of talents available for them, a tournament of such scale should be in the works sooner or later. Let us see where AEW is headed for the future and whether they will venture down this path or not.
More from LWOS Pro Wrestling
Stay tuned to the Last Word on Pro Wrestling for more on this and other stories from around the world of wrestling, as they develop. You can always count on LWOPW to be on top of the major news in the wrestling world. As well as to provide you with analysis, previews, videos, interviews, and editorials on the wrestling world. You can check out an almost unlimited array of WWE content on the WWE Network and Peacock.