Before Beyond Wrestling closes out their huge 2021 with Heavy Lies The Crown on New Year's Eve (as part of Wrestival), they make their return to Rhode Island for Fete Forever! Eight incredible matches and will certainly pave the way for the future and offer up something for everyone. Let's see what Fete Forever has in store for us.
Beyond Wrestling Fete Forever – Full Card (12/5/21)
#FeteForever Update:

More tickets are now on sale at @ShopIWTV: https://t.co/U7pazn0UrB

To make more room, we will not set up concessions inside. Instead, @ChampMelt will be parked in the @fetemusic lot from 2pm-7pm.

Also, valet parking will be available for only $10 per car! pic.twitter.com/leCFvNplzq

— Beyond Wrestling (@beyondwrestling) December 1, 2021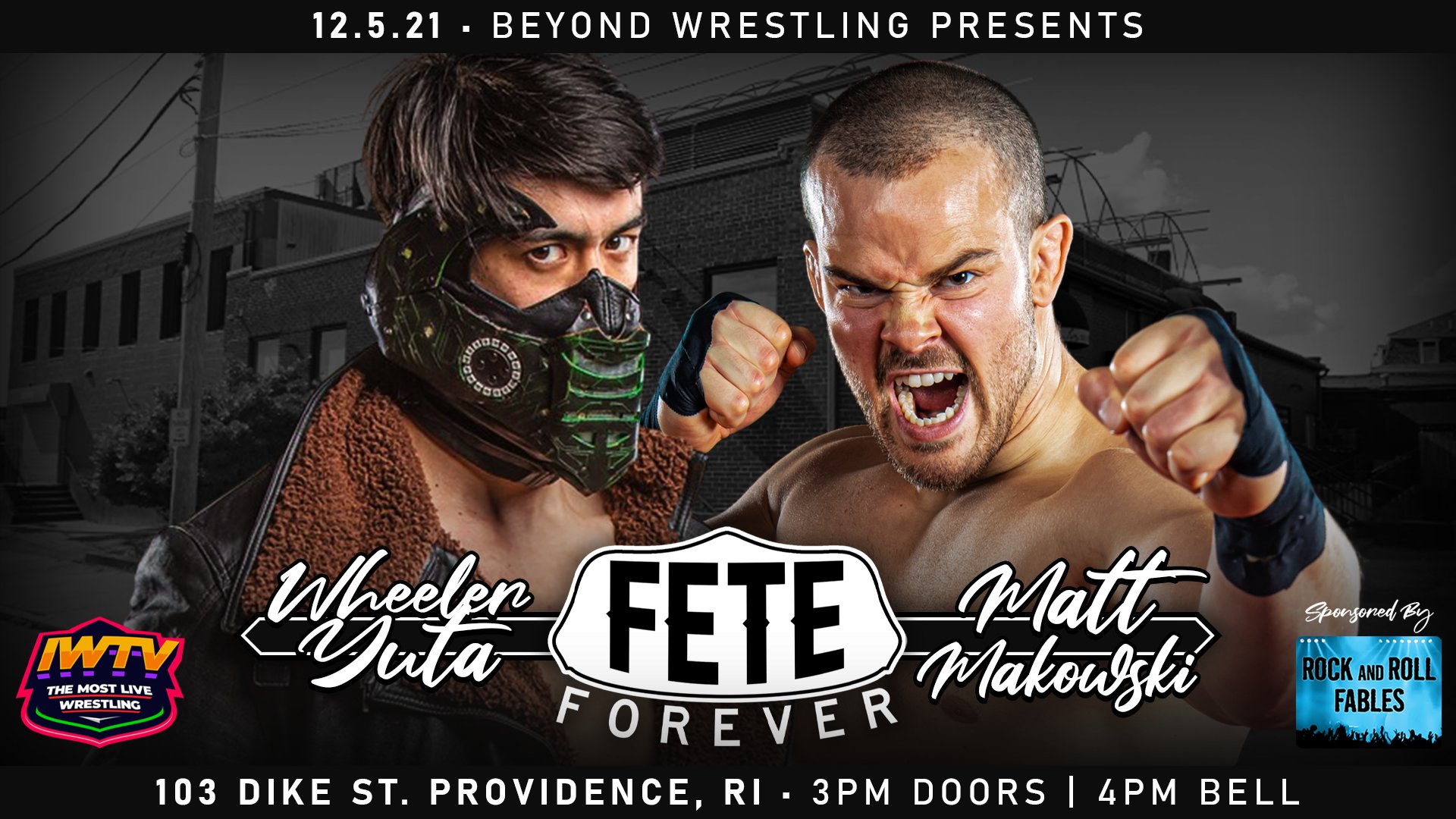 Wheeler Yuta vs. Matt Makowski (Makowski Pulled From Match) 
Matt Makowski has been gunning for Wheeler Yuta for a bit now. It is expected that a win for Makowski in this match would place him in line for an Independent Wrestling Title shot against Alex Shelley. However, to be overly cautious, Matt Makowski was pulled from both Fete Forever and the Uncharted Territory event before it, leaving Wheeler Yuta without an opponent as of this writing. Jordan Blade will be nearby the night before (as part of Blitzkrieg! Pro), and that would be an amazing match up but this one might just come down to a day-of-the-show surprise.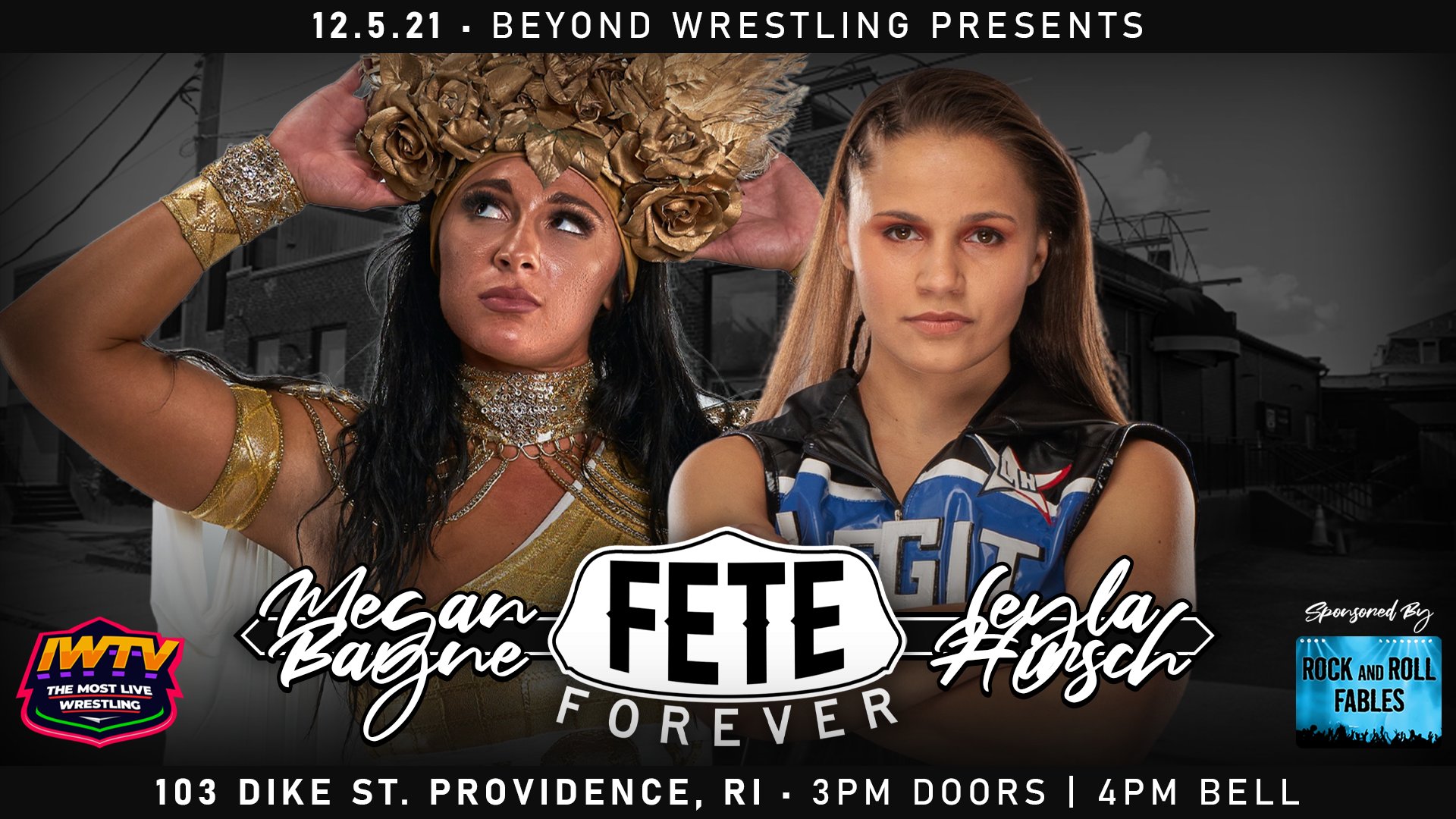 Megan Bayne vs. Leyla Hirsch
Note: Leyla Hirsch is no longer competing on Fete Forever, no replacement has been announced as of this writing
While Megan Bayne may seem to be unstoppable, Leyla Hirsch is an opponent the likes of which she has not faced before. That grappling skill of Leyla Hirsch will likely be able to use the power of Megan Bayne against her. As well as make it easier to take a limb and force Megan Bayne into submission. Win or lose, this will be Megan Bayne's toughest challenge to date. If Leyla Hirsch can get her on the ground then it might be over for The Megasus.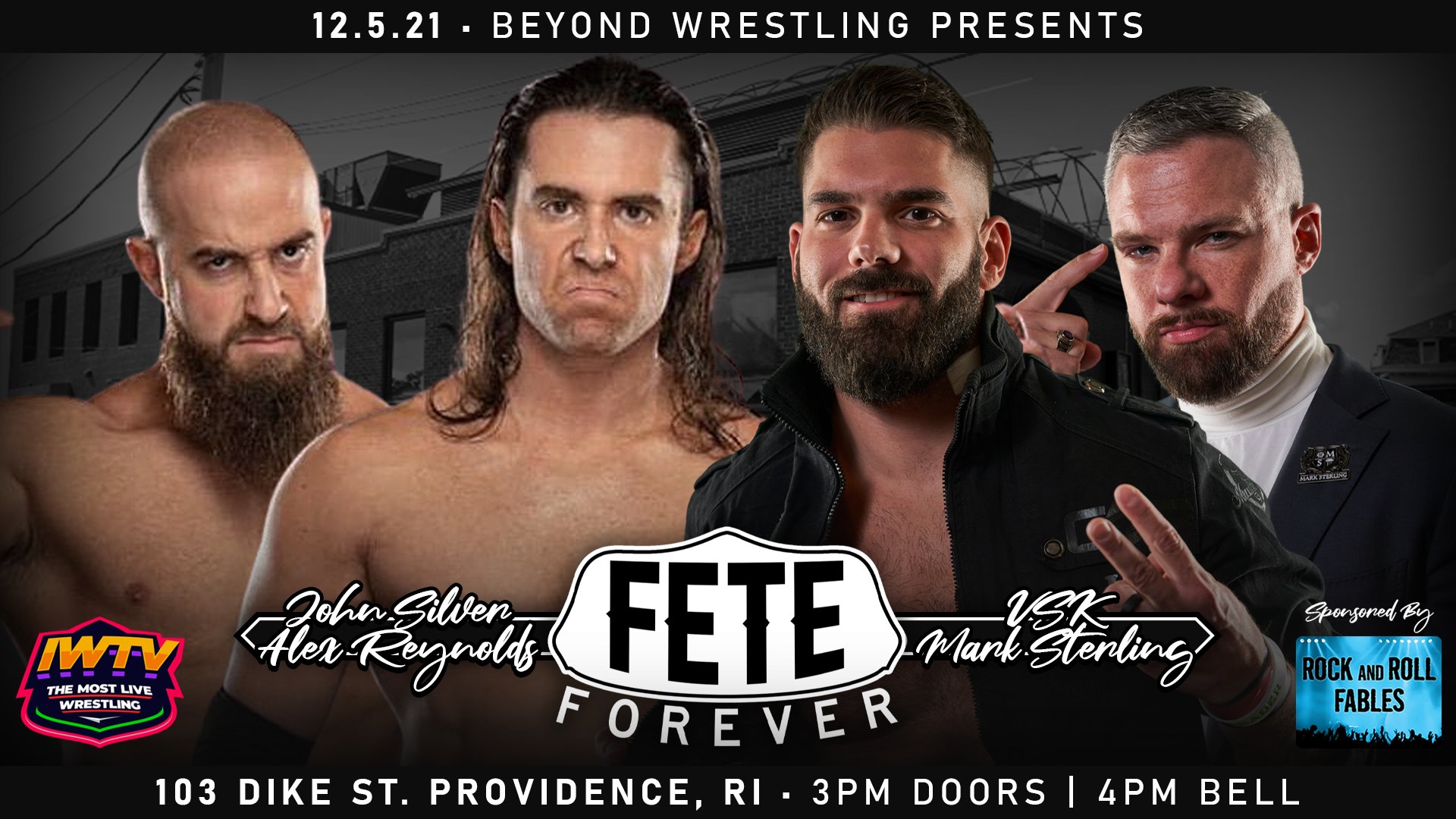 John Silver & Alex Reynolds vs. VSK & Mark Sterling
The Beaver Boys have been tearing it up in AEW as part of The Dark Order. Mark Sterling has also appeared in AEW, most recently as the manager for Jade Cargill. Though he shows up just about everywhere these days VSK seems to be making his biggest splash in IMPACT Wrestling. This tag team match is not short on star power and both of these teams are familiar enough with each other that this should turn into an instant classic.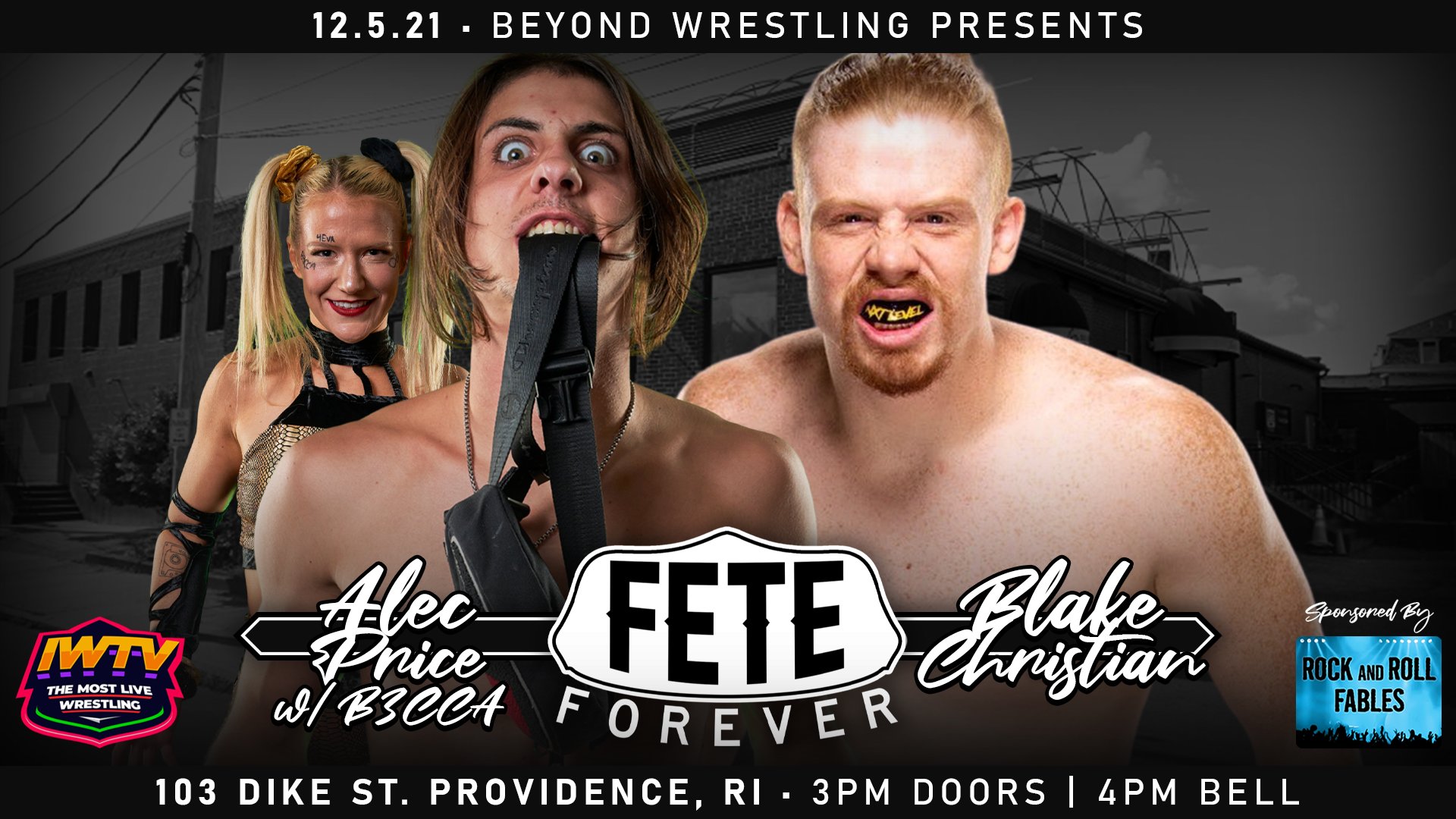 Alec Price (w/ B3CCA) vs. Blake Christian
Blake Christian is making his return to Beyond Wrestling at Fete Forever. His return will be against a very capable opponent in Alec Price. As the stock of Alec Price continues to rise, one can only assume that Alec Price would be looking to secure the win here for placement in an eventual title match for the Independent Wrestling Championship. Blake Christian might be thinking the same thing, however, and this match is simply going to be explosive.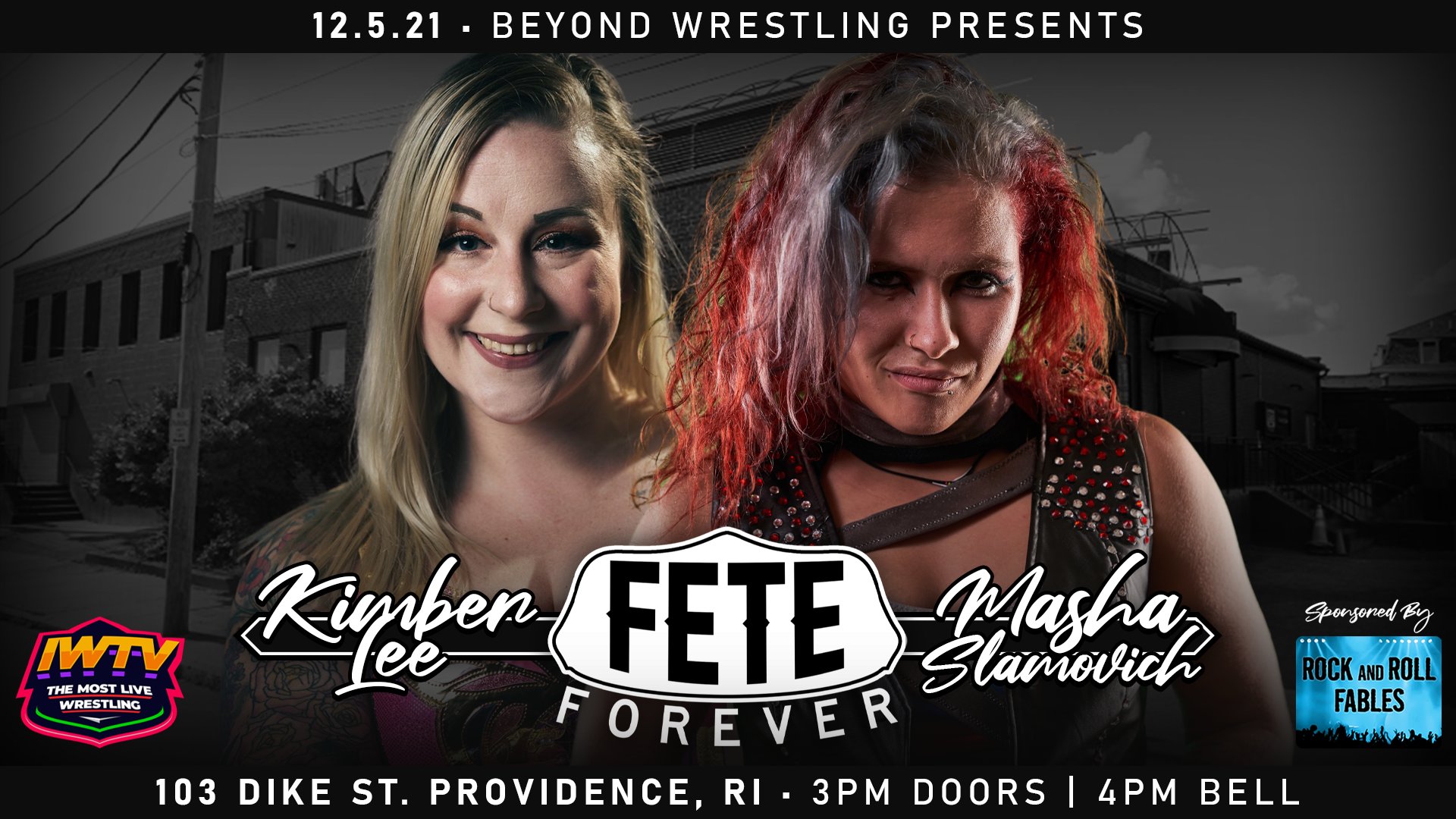 Kimber Lee vs. Masha Slamovich
Back in May at Project Reality, Kimber Lee picked up a win over Masha Slamovich. The rematch would come in ICW No Holds Barred about a month later at Pitfighter X8. Kimber Lee came out victorious in that match as well. This puts Kimber Lee up 2-0 over Masha Slamovich, but in Beyond Wrestling Kimber Lee is 1-0 and likely Masha Slamovich is looking to at least get that win back here. While Kimber Lee has been spending time in IMPACT with Su Yung and Brandi Lauren, Masha Slamovich has been kicking ass and taking names in Beyond Wrestling. This company might have once been dominated by Kimber Lee, but has that time come to an end? Will the reign of Kimber Lee be left in the past and destroyed during this match? If Masha Slamovich has anything to say about it then, yes, it absolutely will.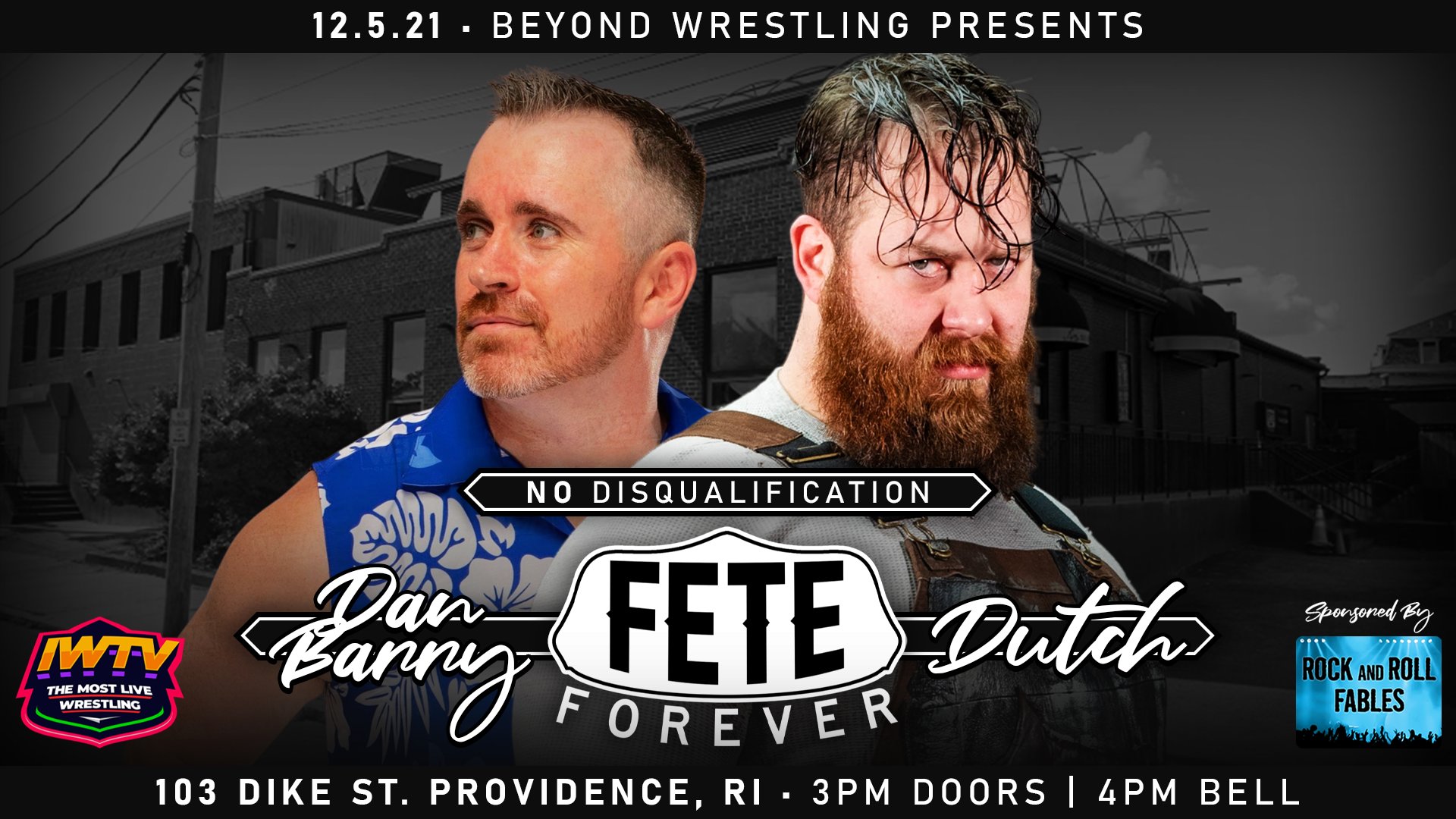 No Disqualification: Dan Barry vs. Dutch 
Though they used to be friends, Dan Barry and Dutch now face each other in a No DQ match which might only be rivaled in terms of violence by the Slade-RSP match. This match is personal and will get incredibly brutal as both men are no strangers to getting hardcore. This might be the match of the night, but it also might not be the end of this feud.
Slade vs. RSP
Slade is a bad man. Even in defeat, it feels as if Slade takes a piece of his opponent after every match. RSP referred to Slade as a knockoff Nick Gage on Twitter, but RSP is perhaps about to find out that Slade is a lot more dangerous than Nick Gage and RSP should be scared of him. This match will not be for the faint of heart, as both wrestlers will likely put each other through hell before it is over. Whoever comes out with their hand raised afterwards will likely still leave a piece of themselves inside of that ring.
Fete Forever Main Event Independent Wrestling Championship: Alex Shelley (c) vs. Ruby Soho 
The only woman to hold the Independent Wrestling Championship is Kris Statlander. She recently lost to the challenger in this match, Ruby Soho on AEW Dyanmite. This will be an interesting clash of styles and while it would be nice to see another woman as Independent Wrestling Champion- and Ruby Soho at that- Alex Shelley just really seems to be finding his groove right now. It seems incredibly unlikely that anyone would dethrone him within the next year. It is not just a matter of Ruby Soho not being able to defeat Alex Shelley, but no one being able to defeat Alex Shelley at this current point in time.
Heavy Lies The Crown will be the aftermath of this show and it could be expected that with a win here Alec Price could be in line for an Independent Wrestling Championship shot. The names currently in and available to come to Beyond Wrestling soon are going to make for some very interesting matches. With many fans already playing fantasy booker, not just for the last show of the year (after this one) but also during 2022!
How to Watch Fete Forever and More From Last Word on Sports
Stay tuned to the Last Word on Pro Wrestling for more on this and other stories from around the world of wrestling, as they develop. You can always count on LWOPW to be on top of the major news in the wrestling world, as well as to provide you with analysis, previews, videos, interviews, and editorials on the wrestling world. Catch Beyond and more indie wrestling promotions on IndependentWrestling.TV.