Professional wrestling is an art-form that connects sport and character-building you see on Broadway to create something magical and at times breath-taking. It's unmatched when it comes to being compared to anything. If you are into sports, you can be connected from the in-ring chaos that is the base of pro wrestling. If you are into theatre, you can grasp on through the characters that are presented and the story that they tell through their promos and in-ring ability. There are different forms of wrestling, but in the end, it remains the same basic idea. And you can fall in love with it at any age, making it that much greater. Stardom perfectly exemplifies that.
Note: The following article is a raw, personal  piece from LWOPW contributor Scott
For myself, it was back in 2007 when I saw these larger in life characters like John Cena, The Undertaker, Batista, and Shawn Michaels steal the show at No Way Out, and it was there I was instantly hooked. A lot of people find professional wrestling through WWE, as it is the largest pro wrestling company in the world. Unfortunately, that love doesn't last for all fans, who fall out of love with it by either growing up or not enjoying the content that WWE is delivering any longer. And while I am not one of those people to stop watching WWE, I have needed to find other wrestling to remain sane at times as WWE can simply disappoint from time to time.
Earlier this year, the wrestling love was waning for me following WrestleMania as Raw was a struggle, SmackDown was faltering without much star power outside of Bayley and Sasha Banks, and I simply was not connecting to AEW and NXT  as completely as I had hoped. Thankfully, there's more wrestling around the world than what is just presented on television here in the United States. That's where the topic of the story comes in, which is the World Wonder Ring Stardom, or more easily known to many as Stardom.
Wanting to continue my love for pro wrestling, it was time to see what could be something to help save that love before it disappeared. Stardom was that. When all wrestling besides WWE and AEW was essentially off due to COVID-19, it was a necessity more than anything. Thus, began my journey to becoming a Stardom fan. It's something I detailed earlier this year, discussing the incredible talents and what they bring to the table. But this time around I want to focus on the company as a whole.
The reason Stardom was the company I chose to try out while looking for that spark was Io Shirai. Shirai was someone that helped bring the idea of Stardom and even more, the Joshis style, to the United States when she signed with NXT. Asuka and Kairi Sane came over before, but it was Shirai that caught my eye the most. From her impressive style to her oozing charisma, it was the perfect mix to finally open my eyes to what this world of Stardom could possibly have in store. The way to learn was simple, through Stardom World, you can see plenty of the work from Stardom's past. Ranging back to 2011, there was a mix of impressive wrestlers like Nanae Takahashi, Yuzuki Aikawa, and the young up and comer, Arisa Hoshiki. Starting from the beginning was important, even if the catalog isn't necessarily massive.
Over 60 matches were viewed to get a feel for what Stardom was and what it had become, instantly locking me in and making a major fan in the process. The love for pro wrestling was returning thanks to the style of Joshi wrestling, the wrestlers that were involved, and the matches that could captivate any audience interested in pro wrestling. These three factors that are the base of Stardom reinspired that love for pro wrestling that was needed.
The Joshi Style In Pro Wrestling
To appreciate Stardom as a company, you must appreciate the art of Joshi wrestling. And that's something that almost anyone who calls themselves a wrestling fan would be able to do. The mixture of intense strikes and beautiful storytelling every match has will draw you in almost instantly. Another important factor in what the style presents, especially in Stardom, is that a lot of the time the matches don't eclipse more than 25 minutes. That, in itself, makes it easy to lock into. Others who have followed Joshi far longer than myself can pinpoint the greatness of the style better, but in the end, what you must understand is the art of it. Intense, physical, and full of story.
The matches you see later on this list are just a peek into what Joshi can be. There's a wonderful "it" factor that Joshi has that makes it the best style in professional wrestling.
The Joshi That Changed The Game For Me
Much of the reason I got into Stardom in the first place as previously stated was due to Io Shirai. Having that certainty in a way made it easy to learn and grow when watching. As time goes on, you get an understanding of those you continuously see and find a liking to some and an overall intrigue in others. Everyone has favorites in pro wrestling and many of these stars that will be named fit that for me. They changed the game, not only helping me love what Stardom was doing but the style itself and what it can be. They, maybe more than the company itself, reinspired the love.
Mayu Iwatani is someone that can make anything in professional wrestling seem real. So much so that you sit there and worry about her well being in her matches, but then are stunned with the offense she is able to lay on her opponent. As we sit here in 2020, she is the best wrestler in the world no matter the company, and her work shows that. Matches with Io Shirai and Takumi Iroha channel how good she can be and the two types of styles that she delivers. She makes it real. And sometimes, as a fan, that is all you can simply ask for. There's this incredible group between Iwatani, Io Shirai, and Kairi Hojo (Sane) known as Threedom. And for many outside of Stardom fandom and even in it, they have said that Shirai is the best. I was one of those believers too, but the more you watch Iwatani, the more you understand that it is the STARS leader who owns that claim in history. Iwatani is the best and someone that would lock anyone into being a fan.
Moving on from the impressive Iwatani to Momo Watanabe, Only 20 years old, Watanabe continuously leaves me impressed with her consistency and overall ability in the ring. She was the one to take over for Io Shirai when it came to being the leader of Queen's Quest, thus taking my allegiance in some ways as well. Her devastating array of strikes instantly made me a fan at first viewing as you could feel the pain of her opponent through the screen. Not only does she remain one of the easiest to root for, but one that never ceases to deliver in the biggest moments. While 2020 may not have been her year in terms of accolades, it was a year that locked me in to see her reach the top down the road. One of the best.
There is nobody in wrestling to have a more entertaining offensive arsenal than Arisa Hoshiki. And the scariest part is that in her shortened career, she only scratched the surface of what she could be. Hoshiki is the only wrestler to be at the beginning and end of my long catalog that sparked the passion for Stardom, as she began her career in 2011, retiring in 2012 and not returning to wrestling until 2018 where not only did she look like she hadn't missed a step but was better. Unfortunately, she was forced to retire earlier this year, but in those slim 151 matches of her career, she paved a memorable career that included gold and a lot of jaw-dropping strikes. Hoshiki's Brazillian Kick instantly became a favorite of mine, and really so did the rest of her move set. It was devastating in a way that made you want to see more and more.
Just some of the highlights from Arisa Hoshiki vs Tam Nakano which can be seen herehttps://t.co/FmmKs00jDt https://t.co/J8lFjm2P2n

— Last Word on Pro Wrestling (@LWOProWrestling) September 19, 2020
— Tomoka Inaba Fan Club (@LWOSPWAlexR) July 3, 2019
We could go on forever with those who transcended the game for Stardom and captured fans around the world, but even better may be the matches that they competed in.
The Matches That Made A Fan Forever
"A tale as old as time." Sure, something that can be remembered from a Disney film, but also stands in pro wrestling. Fans of the art can love promos all they want, but it's the matches they carry with them forever that made them believers of the sport. Matches like Ricky Steamboat vs. "Macho Man" Randy Savage are those that you continue to hear about when fans are asked what match made them fans. And sometimes it isn't just one singular match either. It can be a number of excellent bouts that trigger their interest. The same goes for Stardom, as much of their story that they tell comes inside that squared circle as all wrestling should be. Here's a list of matches that created a fan in me forever from Stardom, some being among the greatest I have ever seen.
World of Stardom Championship: Io Shirai (c) vs. Mayu Iwatani @ Galaxy Stars (6/21/17)
Io Shirai and Mayu Iwatani could be considered the two true aces of Stardom in their decade and no one would bat an eye. And when you put them in the ring together, you find that there is greatness on the other side. Not shocking, really, considering their long term relationship that has resulted in incredible art time and time again as opponents and partners. This match, in particular, is one that can be seen as an all-timer. Shirai had shut down Iwatani time and time again, and this was Iwatani's chance to finally win the red belt. In a nearly 30 minute exhibition of back and forth action, Iwatani achieved her ultimate goal — winning the red belt and pinning Shirai to do so. (match linked is a 2016 bout between the two not the one mentioned here)
Queen's Quest vs. Oedo Tai in a 5 vs. 5 Elimination Gauntlet Match @ Stardom 7th Anniversary (1/21/18)
Different from the first match on this list, the elimination gauntlet between Queen's Quest and Oedo Tai gives a perfect look into the present and future of Stardom in a fashion that keeps you interested all throughout. While the match is nearly 40 minutes in length, the unique gauntlet style makes it feel like five different matches with an outcome that establishes a star and keeps your eyes glued to the screen while you are at it. A perfect sampler per se of what Stardom is.
Wonder of Stardom Championship: Momo Watanabe (c) vs. Arisa Hoshiki @ Gold May (5/16/19)
From one historic title run to another, Momo Watanabe vs. Arisa Hoshiki defined what makes the Wonder of Stardom Championship such a prestigious title. These two kick specialists locked up and over-delivered in a match that would instantly make anyone a fan of Stardom. Watanabe was a force when it came to holding the white belt and held it with honor after defeating her mentor Io Shirai for it a year earlier. Enter Hoshiki, who came back from retirement in massive fashion and won the 2019 Cinderella Tournament to set herself up to possibly end Watanabe's reign. Ultimately, she did in a match where they traded like there was no tomorrow. It's matches like these that go in rapid fashion that can make anyone a wrestling fan. Even those who have sworn it off.
Hana Kimura vs. Giulia @ Year End Climax 2019 (12/24/20)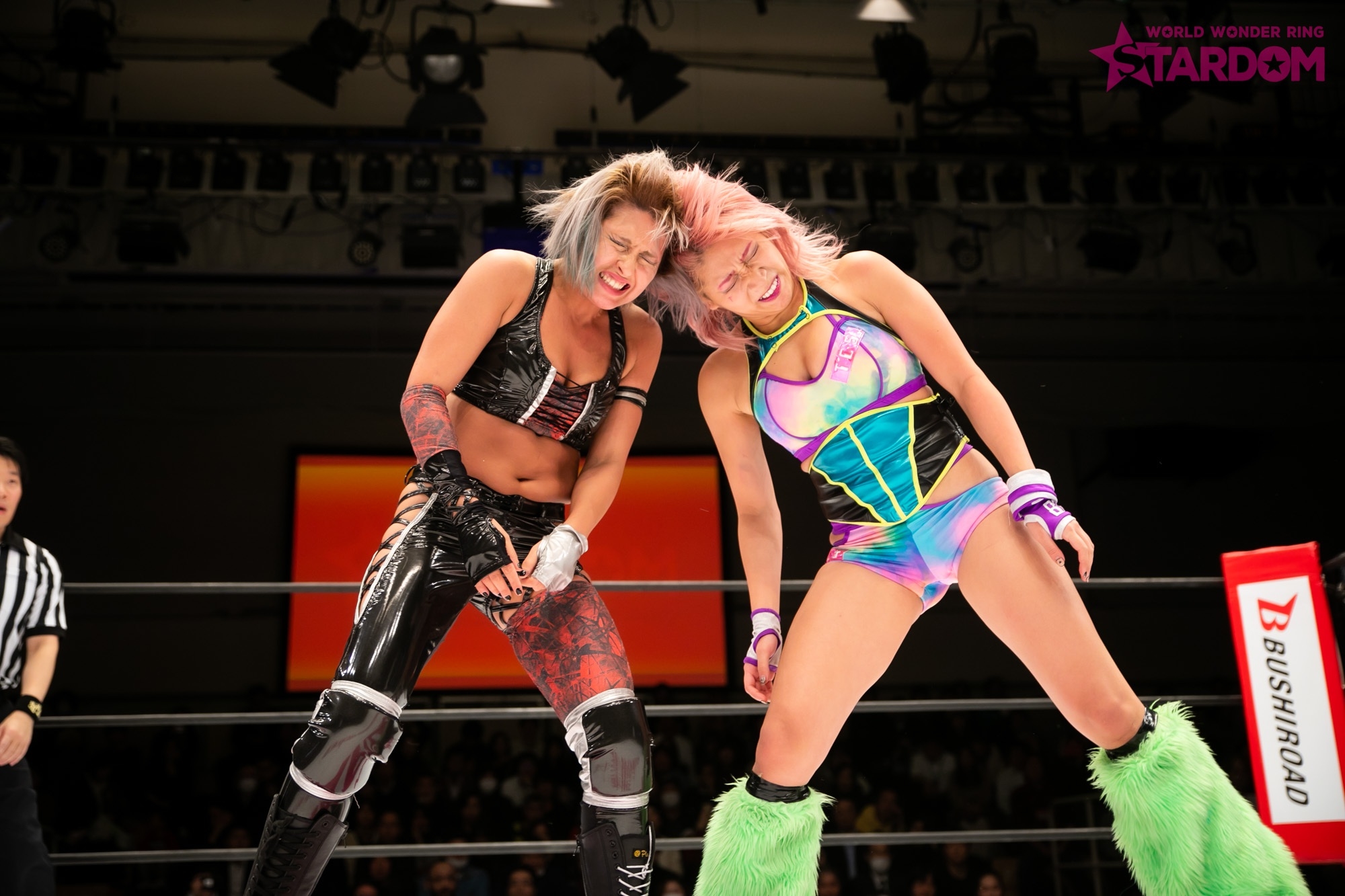 When Giulia came to Stardom in 2019, shockwaves were sent around Joshi as she was positioned to be the new shining star in the company. And she rolled on to an impressive winning streak, but it was her first true rival that gave her one of the toughest tests. The late Hana Kimura was positioned as one of the pillars of Stardom moving forward and was not going to let Giulia jump into that spot without putting up a fight. These two battled in one of the more physical competitions you will see. They ultimately went to a draw, earning each other's respect in a match that will be remembered for years to come.
Mayu Iwatani vs. Takumi Iroha @ The Way To Major League (2/18/20)
World of Stardom Championship: Mayu Iwatani (c) vs. Takumi Iroha @ Goddesses of Stardom Tag League (10/18/20)
There are no better batch matches from two single wrestlers in one year than the ones that Mayu Iwatani and Takumi Iroha performed in 2020. Two different results and really two completely different stories told in each match. Physical is one thing, these two matches were even more than that. Iwatani went into the first match as the underdog almost, and it showed as Iroha showed dominance that she could not recapture in the second battle. And maybe that is what made them so great. After winning the first, she was matched with a far more prepared and confident Iwatani that was game for everything she threw at her. These two matches are the basis of what makes professional wrestling such beautiful art. That's what is most important. That's what Stardom presented.
I owe being rejuvenated and reinspired to this company. While people can find conflicts and angles that they don't appreciate, all I see is the incredible matches and wrestlers who make this company one of the premier companies in the world. Everyone experiences that moment of "maybe I am done with this wrestling thing." It just happens. Thankfully, Stardom is the reason I will never feel that again. Hopefully, this inspires you to check out this version of the art that is professional wrestling.
More From LWOS Pro Wrestling
Stay tuned to the Last Word on Pro Wrestling for more on this and other stories from around the world of wrestling, as they develop. You can always count on LWOPW to be on top of the major news in the wrestling world, as well as to provide you with analysis, previews, videos, interviews, and editorials on the wrestling world.  And make sure to subscribe to Stardom World to see all the action from Stardom.
Looking to talk wrestling, pro football, or any number of sports? Head on over to the LWOS Boards to engage in conversation with fellow fans!