Lengthy championship runs can be some of the most historic parts of professional wrestling. And when a company with the history of WWE sees a long, lengthy run, you know history can be made and names may be etched in history books. We happen to be fresh off one of these title reigns, as Bayley held the SmackDown Women's Championship for a record-breaking 380 days. As Bayley likes to put it, "Ding Dong, Hello," it's time to recognize her accomplishment as the best women's title runs in years when it comes to WWE. From her ability to defend at all costs to being an entertaining week in and week out as the face that WWE needed, Bayley did her best to make the title matter and her run never feel flat.
Here's a look at her run with the title as a whole and who she one-upped in doing so when it comes to long reigns for other women.
12 Title Defenses During Her Reign — Defeating Top Talent
Those automatically wanting to dismiss Bayley's spot in history as a champion has to see what she did when it came to winning and defending the championship. She defeated names like Charlotte Flair, Sasha Banks, and Asuka in all separate defenses to retain her championship. Let alone defending it a total of 12 times, 11 being successful. She flipped a switch in her to win the title and defeat Charlotte Flair and we all should have seen that greatness from the start. Defeating Asuka, who was fresh off of being the Raw Women's Champion on the massive stage of SummerSlam only ups her status that much more.
Bayley walked in as champion multiple occasions against threats that had second or third shots too, which should have been an advantage for them. And yet, she walked out #AndSTILL more times than not. She did everything that had to happen to walk out with that title and that's what makes her reign special.
Becoming a Double Champion and Being Successful Doing It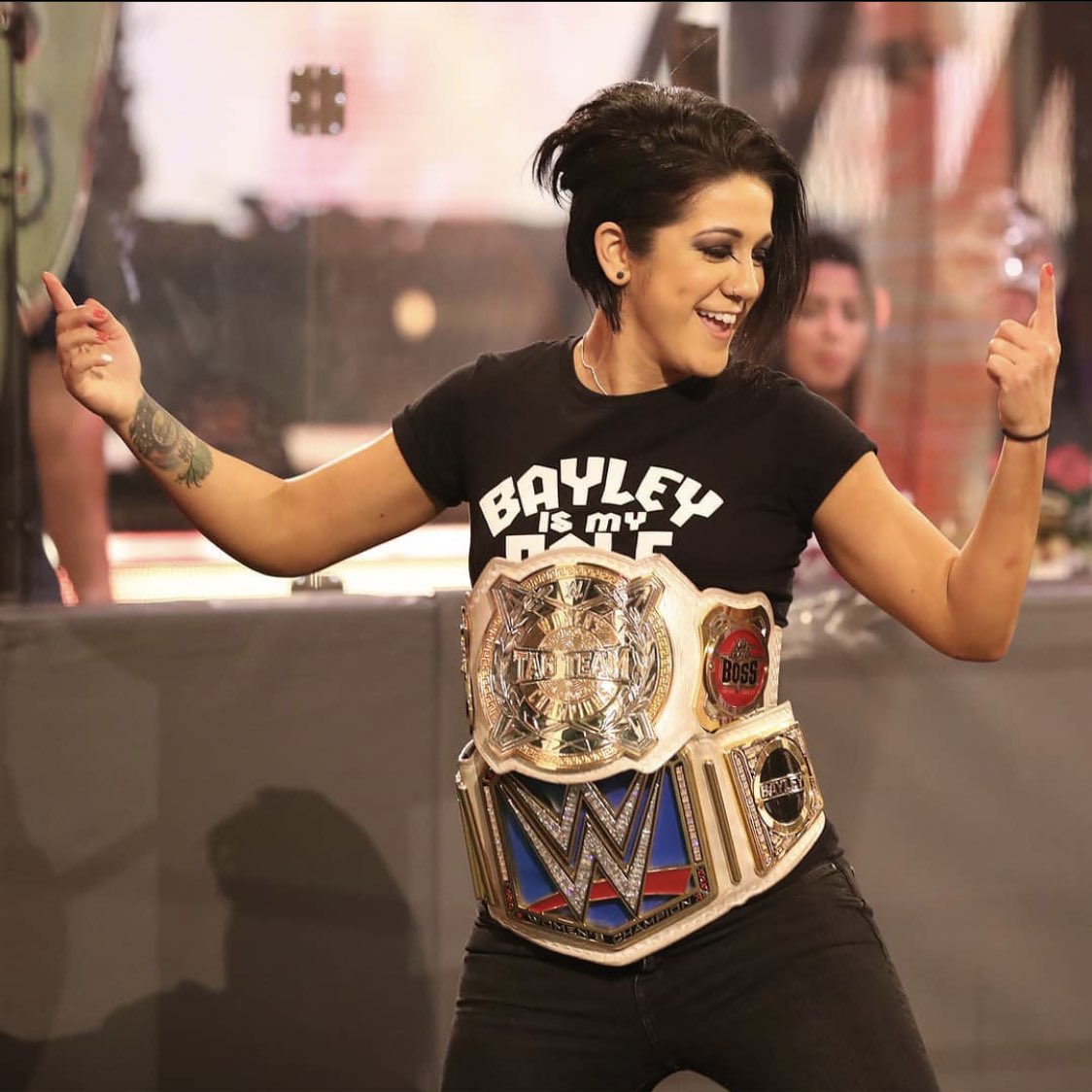 Bayley did something that very few women can match in WWE history, and that's holding two championships at once. And to extend that idea, she was a double champion and was successful at defending both during that time. Being able to be a double champion and remain interesting with those two belts is something of true difficulty some would say. Becky Lynch carried the two belt mantra before, but that lasted a short month before it ended. The same goes with Seth Rollins, who held both the WWE Championship and United States Championship at the same time. Bayley managed to carry both and make them of the most importance. Something of which is of the most impressiveness, considering how little the WWE Women's Tag Team Championships were featured on TV before she won them again.
"Bayley Dos Straps" was a special, fun run for her. It added another layer to a character who didn't need it but could run with it and dominate with it in hand. It only enhanced her run that much more.
Outdoing the Rest
We get to the point where people will question if it really is the best. It was a historic run for Bayley. One that is unique to the company for the most part, with only four other runs on the main roster being 290 days or more, and only two others being over a year. Here's the comparison as to why Bayley's was simply better than the rest.
Trish Stratus (2005, WWE Women's Champion for 447 Days)
Three champions on this list worked in a different era than Bayley works in right now. The matches weren't long, the talent was always the best, and the women didn't get as much of the taking that they deserved. Trish Stratus got to the point near the end of her career, as the longest match in her 447-day championship run was 9 minutes. That happened to be the match that she lost, which was against Mickie James at WrestleMania 22. And this is a time where her reign wasn't necessarily legendary and instead, her multiple championships were more than anything. It was a different era, but it wasn't a reign that truthfully came close to the one of Bayley and her SmackDown Women's Championship.
AJ Lee (2013, WWE Divas Champion for 295 Days)
Believe it or not, AJ Lee actually defended the Divas Championship during this reign against Bayley in NXT once upon a time. And let's get this out of the way as well — What AJ Lee did as a performer, with or without a title, is what helped lead to where the women are positioned today. And when we look at that one-time record-breaking run of AJ Lee as the Divas Champion, you appreciate everything she did to try and elevate the title and the decision that wasn't given much time otherwise. Her bouts with Kaitlyn were some of the best the "Divas Era" ever saw. But when we compare the title run with Bayley's, it's not close. What was most memorable from Lee's run was her promo work and destroying the Total Divas cast.
The matches didn't carry much attention when her rivalry with Kaitlyn ended and it wasn't the centerpiece of WWE television at the time like it could have been. AJ Lee did so many good things for women in WWE, but that doesn't make her reign better than Bayley's.
Nikki Bella (2014, WWE Divas Champion for 302 Days)
Nikki Bella's reign on top is what helped prompt the #GiveDivasAChance movement. And that's because her matches along with the rest of the Divas were not given all that much to work with when it came to time. They'd see their match times cut and led to matches that no one simply remembered. The length of her reign was impressive, but that's about it when it comes to using the word impressive as we discuss this reign. Nikki Bella became popular outside of wrestling, but this reign doesn't hold a candle to that of Bayley.
Becky Lynch  (2019, Raw Women's Champion for 399 Days)
"Bayley Dos Straps" is the superior version to "Becky Two Belts." That should go without saying. And this is not to compare the careers of Becky Lynch and Bayley. What they have done in their careers has been some of the most impactful stuff WWE has seen all-time. From Bayley's match with Sasha Banks that sparked a movement to Becky Lynch capping off that movement by main eventing WrestleMania. They helped guide the way. But when we compare the two championship runs of these two, it's clear who's was better. That being Bayley. And we can agree on that because fans were agreeing that Lynch's run with the title became stale, plain, and at times bad. Not because of her doing, but the opponents she was dealing with.
A multiple month feud with Lacey Evans was never welcomed. It was at times insufferable. Everyone has their own opinions, but Bayley's run never reached that point. While her feuds at times weren't long continuous ones like Lynch's with Evans, she managed to make the most out of everything she was given and never became stale in her run. She developed, got better more comfortable in her championship reign. Becky Lynch changed the world, but Bayley's run was far more consistent and entertaining from beginning to end.
Ding Dong, Hello: Memorable Title Reign without an established Heel Persona from the Start
Wrestling meant everything to Bayley growing up and still does. She appreciates the craft, the difficulty, and the entire machine that pro wrestling is. If you check out her "Chronicle" on the WWE Network, you see that love that she had. And that love should have been a clear message to us all that no matter what she was given as a pro wrestler, she was going to excel. That leads us to the moment Bayley traded in the inflatable tube men and ponytail for the SmackDown Women's Championship and a new attitude. That was a change that many welcomed but did not know if she could evolve into such a different character.
Bayley explained the change as "growing up and moving on in front of the audience." She became a new person instantly when she destroyed her past to open a brand new future. And that's the bet she took on herself and it clearly paid off. Bayley delivered on that change, holding the championship and gaining more confidence as the character. It's that move that she pulled that makes her title reign better than the rest. She bet on herself to make a completely different character work, and not only did it work, but it became the best part of 2020 alongside Sasha Banks. They played off each other in a whole different way and was oh so special.
Bayley explained that she feared her wrestling care wouldn't be able to be remembered without being connected to Sasha Banks. She has done more and enough to pave a path to a Hall of Fame career, with or without Sasha Banks. And this title run was the best the women's division has seen in years.
More From LWOS Pro Wrestling
Stay tuned to the Last Word on Pro Wrestling for more on this and other stories from around the world of wrestling, as they develop. You can always count on LWOPW to be on top of the major news in the wrestling world, as well as to provide you with analysis, previews, videos, interviews, and editorials on the wrestling world. WWE fan? You can check out an almost unlimited array of WWE content on the WWE Network.
Looking to talk wrestling, pro football, or any number of sports? Head on over to the LWOS Boards to engage in conversation with fellow fans!