On Sunday night, Sasha Banks defeated Bayley inside Hell in a Cell to become the new SmackDown Women's Champion. And while many fans will say it was inevitable, it almost seemed as though it would never happen. This victory was one that was long-deserved for "The Boss," who can finally have the reign as champion that she's earned. Here's a look at Sasha Banks' long, complicated rise to becoming the SmackDown Women's Championship.
Title Reigns Of Failure
When it comes to championship reigns, there is no one with a tougher time of successfully defending their title than Sasha Banks. So difficult, in fact, that Banks currently has yet to defend a single one of her women's championship successfully. Currently, she sits as a six-time champion (seven including the NXT Women's Championship) and a two-time WWE Women's Tag Team Champion. With the tag titles, she has success, but the longest reign she had with the Raw Women's Championship (the first five title reigns of her career) was 34 days. That also happens to be the reign we saw this year where she essentially stole the title from Asuka for a month. Before that, she'd win only to get dethrones weeks later.
She worked her way back to where she is today, despite all the hardships and struggles as an actual champion. It hasn't always been rainbows and joy for Banks in her career, who suffered a year of WWE purgatory to become the first tag team champions, only to lose them two months later. Many expected that to be it for "The Boss."
Going On Hiatus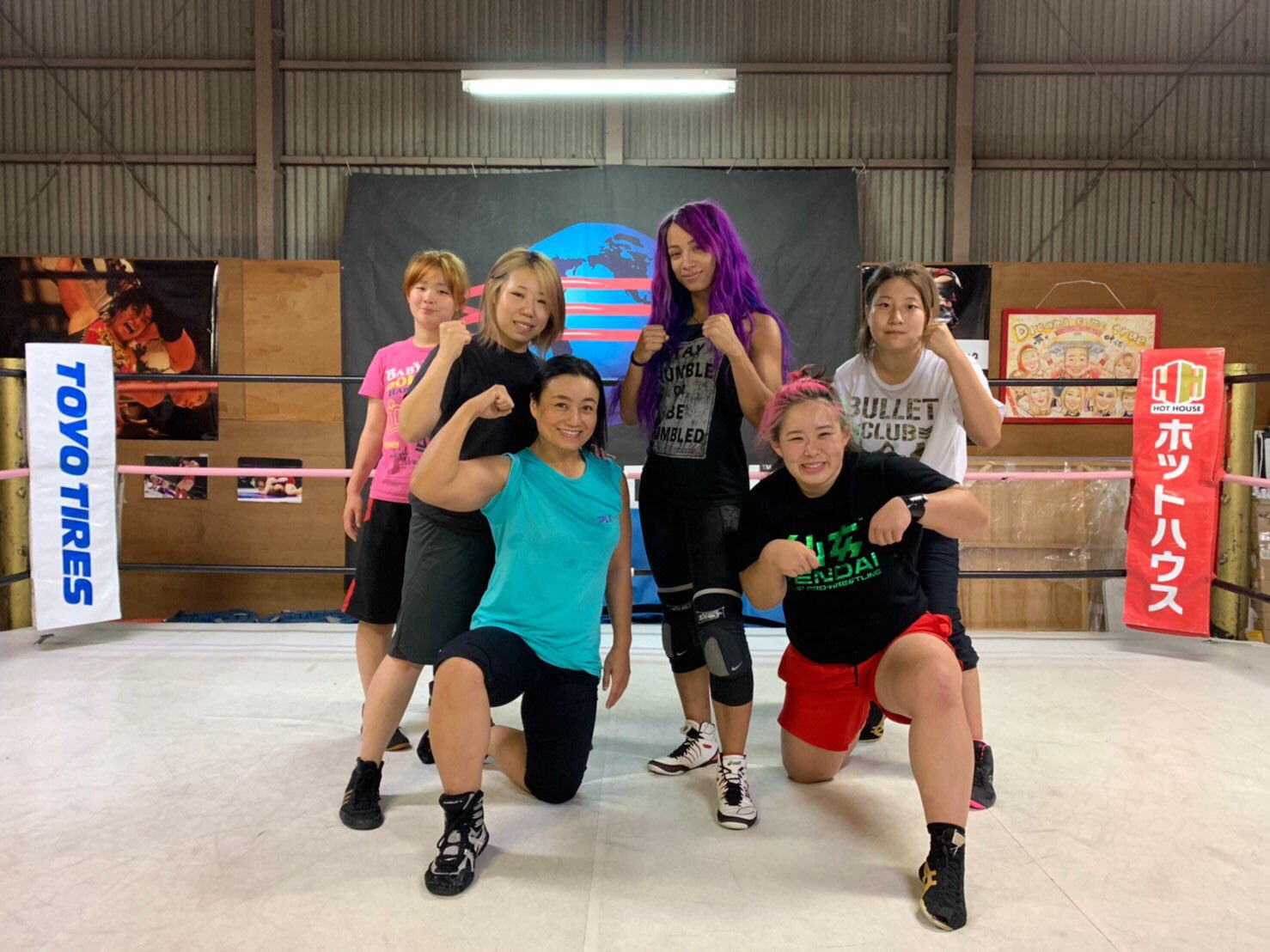 At WrestleMania 35, Sasha Banks and Bayley lost their WWE Women's Tag Team Championships without being pinned. The same ones they spent the year fighting for. They held them for a whopping 49 days before losing them and it seemed to be the final straw before Banks lost it. She would not be seen on TV for the following months, being absent for the Superstar Shake-Up and from the roster as a whole. Some wondered if Banks had walked out like CM Punk and was simply waiting for her contract to expire. She began to like tweets referencing All Elite Wrestling and fans started noticing. All seemed to be aiming at the idea that Banks was just waiting to move on to a company that may appreciate her more.
But something noticeable was that she was still training. There would be photos of her working in the ring with the likes of Meiko Satomura and the Sendai Girls promotion in Japan. She was working to be better and little did we know that she would be back. She was off filming, learning, and getting better. But she would be back in a big way following SummerSlam.
Returning & Failing Again
Sasha Banks made her stunning return on the Raw after SummerSlam and instantly pushed herself to the front of the line for Becky Lynch's Raw Women's Championship. And in doing so, many assumed that Banks would win the championship and end the reign of "The Man." Much like this past Sunday, Banks stepped inside Hell in a Cell as the hopeful winner of the WWE Universe but did not find the same success. While stealing the show with Lynch, it soon proved that "The Man" had everything in hand to retain her title. This was another setback for Banks, who fans wondered if they would ever see champion again.
Playing Sidekick To Bayley
Soon after she lost to Becky Lynch, Sasha Banks found a new home on Friday Night SmackDown. The switch not only presented a new opportunity for "The Boss," but realigned her with her best friend Bayley. It ended up being a blessing for both, as they had the chance to play off one another in their new gimmicks. However, with Bayley being the SmackDown Women's Champion, it was time for Banks to take on the secondary role of the duo for the first time. It allowed her to be herself a bit more while supporting her friend, but in the end, she was there to help Bayley and that was about it. Of course, the duo turned out to be one of the best parts of WWE over the past year and it eventually became their time to shine when there was no one left to trust.
The Summer Of Bayley & Banks With False Golden Accomplishments
2020 could really be identified as the year of Bayley and Sasha Banks, but it may be better to say it was the summer that really saw them shine the brightest. Without Roman Reigns, Becky Lynch, and Charlotte Flair, they were believed in helping all three brands in every way and that they did. The duo managed to defeat Alexa Bliss and Nikki Cross for the WWE Women's Tag Team Championships, thus allowing them to go to Raw, NXT, and SmackDown. They fought pretty much everyone, from Asuka and Kairi Sane to Io Shirai, Tegan Nox, and Shotzi Blackheart. Eventually, their work led to even more gold, as Banks managed to take the Raw Women's Championship from Asuka (thanks to Bayley). But it felt false, rather than right. And it soon came to an end, as Asuka regained the championship at SummerSlam.
Banks lost all her gold in the matter of a week, as they ended up losing the tag team titles a week after SummerSlam at Payback. Shayna Baszler and Nia Jax made Sasha Banks become goldless, eventually leading Bayley to realize that Banks could snap on her soon enough.
It's Finally Boss Time
On Sep. 4, 2020, the line was drawn between Bayley and Sasha Banks for the first time in years. After losing their rematch for the WWE Women's Tag Team Championship, Bayley snapped. She attacked Banks like there was no tomorrow, aiming for her neck and seemingly snapping it with a chair. That chair stood the test of time, following her everywhere she goes. Banks would return to get her payback, making this even more personal than before. Both women were clearly determined to steal the show down the line when given the chance and that's exactly what they did. You know, after carrying the division for months, it was time for them to get that match they would show the world who they were. The reimagined their classic at NXT TakeOver: Brooklyn in a whole, far more brutal way inside Hell in a Cell.
Banks would bring that payback to Bayley by locking the chair around her neck and pulling back with the Banks Statement. When Bayley finally tapped, it felt like that incredibly important moment that so many fans had waited for when it came to Banks. She stared at the title and stood tall over her one-time best friend with it in hand. It was one of those moments where you saw the work, you saw the determination, and you learned how much it all meant to them. They put on an all-out war for that moment, and it was a perfect, long-deserved moment that Banks did everything in her power to earn.
It's finally "Boss Time."
More From LWOS Pro Wrestling
Stay tuned to the Last Word on Pro Wrestling for more on this and other stories from around the world of wrestling, as they develop. You can always count on LWOPW to be on top of the major news in the wrestling world, as well as to provide you with analysis, previews, videos, interviews, and editorials on the wrestling world. WWE fan? You can check out an almost unlimited array of WWE content on the WWE Network.
Looking to talk wrestling, pro football, or any number of sports? Head on over to the LWOS Boards to engage in conversation with fellow fans!