Match Point is an on-going series at Last Word on Pro Wrestling, where we look at intriguing matchups in indie wrestling and beyond. They may be dream matches, first-time matchups, or hotly anticipated rematches. In this edition of Match Point, we will take a deep dive into the upcoming grudge match between Bayley and Sasha Banks inside Hell in a Cell for the SmackDown Women's Championship.
It's become rare for WWE to capture lightning in a bottle on more than once on occasion in the present day. It has, and that is not a fault to them as much as it is to it being difficult to create any top stars or cultivating feuds in 2020 with no fans in attendance. But they did it and you know it was all part of a real plan. Bayley and Sasha Banks became the stars of the COVID-19 era of WWE and all of professional wrestling. They were the best part of TV time and time again, making the best of any and all situations. And now we near the moment that they finally collide in one on one action for the SmackDown Women's Championship. Even better, it'll be inside Hell in a Cell.
Here's a look at how the two talented women got to this point and why this should be the main event on Sunday night.
The Sole Golden Role Model: Bayley
Bayley took the shot. That's all she did. She explained it as a shot that she long-expected Sasha Banks to take and beat her to it. And when we look at Bayley, we are looking at the only "Golden Role Model" around. There is no one else that can take that credit as she has been the example of champion for over a year now. She has shown on multiple occasions that if it comes down to her title or her friends, she will do anything to keep her title. And I believe that is something important to discuss. That should rightfully make her that much more dangerous inside Hell in a Cell on Sunday, as she's willing to do anything and everything to keep it.
Ding dong, hello! Banks is going to need to take out Bayley, remove that belt from her hands as she holds on with every last breathe. That makes this match that special. The job that Bayley has managed to deliver in the era of COVID-19 with the same few challengers is the stuff of legendary and anyone that disagrees with that has not recognized the job Bayley has done. She didn't want to sign the contract for the match because like I said before, losing that title will have her lose half of her identity. We have never seen Bayley in this current persona without that title. That only enhances her case to do everything in her power to be #AndSTILL.
The Long-Deserving Boss: Sasha Banks
Nothing to lose. For Sasha Banks, she has absolutely nothing to lose in this match on Sunday against Bayley. It's a one-sided battle when it comes to that as she instead has everything to gain. Getting payback against her former best friend is her goal, but taking the SmackDown Women's Championship is her reward. There's no one more deserving in the women's division of this spot, of this shine, of this opportunity. Sasha Banks has put in the work time and time again and despite reigning as champion 5-times, her longest reign is a whopping 34 days. That needs to change. A win over her best friend for the SmackDown Women's Championship would be the spark in her career to fix that.
It's been years of fans hoping and praying for Sasha Banks to get over this struggle in her career. And even her most recent run didn't give her that. No one carries themselves more like a star, more like a million bucks than Banks. "The Boss" enters Hell in a Cell for the second time in her career on Sunday and that will give her an advantage. She walked out without the title last time, she must do it this time. On Sunday, she must put everything she has into the match so it can officially be "Boss Time" on SmackDown moving forward.
The Worthy Main Event: Bayley vs. Sasha Banks inside Hell in a Cell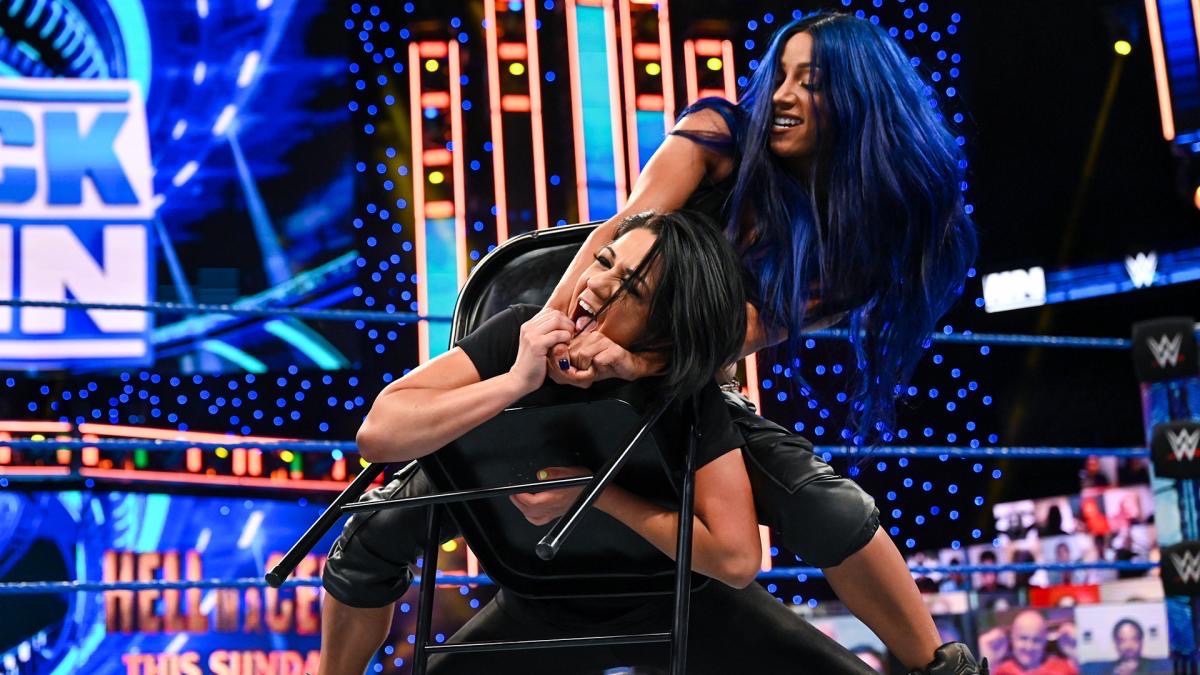 There's no bigger match in WWE today. There hasn't been all year. This is the one. A year-long build to this grudge match inside Hell in a Cell. That's writing by WWE that all should appreciate. Two of WWE's biggest stars will shine once and for all on the stage they deserve. Carrying the WWE through one of its toughest periods ever is something to not scoff at but appreciate. They were called on to shine and push forward by being on Raw, SmackDown, and NXT. And while overall, views were down, there's plenty of information to back up that they were the only thing working for WWE when they had nothing else. They are the draws of the company.
I cannot stress enough how much Bayley and Sasha Banks deserve the major spotlight of the main event. The fact this isn't happening at WrestleMania is a shame, but the main event of a PPV will do just as well. You can disagree all you want. Bayley and Sasha earned this spot, delivered when needed, and are the biggest stars in the women's division today. It's the one and the only worthy main event for Sunday night and much like the magical night in Brooklyn, they will do everything in their power to steal the show. Bayley vs. Sasha Banks will be the WWE defining feud of 2020.
More From LWOS Pro Wrestling
Stay tuned to the Last Word on Pro Wrestling for more on this and other stories from around the world of wrestling, as they develop. You can always count on LWOPW to be on top of the major news in the wrestling world, as well as to provide you with analysis, previews, videos, interviews, and editorials on the wrestling world. WWE fan? You can check out an almost unlimited array of WWE content on the WWE Network.
Looking to talk wrestling, pro football, or any number of sports? Head on over to the LWOS Boards to engage in conversation with fellow fans!