When All Elite Wrestling (AEW) started back in 2019, many of the earliest talents they signed were very, very young. Talent like Jungle Boy, Darby Allin, Brian Pillman Jr., etc. One such talent was Maxwell Jacob Friedman, MJF for short. Who made quite an impact in a relatively short amount of time. At only 25 years old, MJF is touted by many (including but not limited to himself) as a major future star for not only AEW but the pro wrestling world as a whole. Being an all-around solid performer not just in the ring but on the microphone as well. The area that is easily the most crucial to his character work. This past Wednesday on Dynamite, however, MJF found himself a challenge unlike any he's had to face before; a mentally uphill battle. The challenge for MJF came from CM Punk himself.
You love to see it! @CMPunk knows how to push the buttons of @The_MJF – Watch #AEWDynamite LIVE NATIONWIDE on @tntdrama NOW pic.twitter.com/8GuPUMwgOi

— All Elite Wrestling (@AEW) November 18, 2021
CM Punk and MJF: An Overview
Since coming back to the wrestling world by way of AEW in July, CM Punk's story has been one of resurgence. Not just of popularity but of passion. His return marked the reigniting of not only his own love of pro wrestling but many others as well. It led to the possibility of several different dream matches that had for years before seemed just that, a dream. One such dream match that many mentioned was against MJF. Less for the match itself and more for the promos and mic-work that would go into building such a match. However, it doesn't look like the company is in any rush to have the two in a battle of words. With CM Punk wordlessly declining a handshake from MJF before leaving the ring and walking back up the ramp. It was a very subtle, but very sophisticated bit of storytelling on the companies part.
With Punk knowing the exact perfect way to get under MJF's skin with minimal effort. Maybe even noting to himself that it's exactly the kind of thing that would have gotten under his own skin 20 years ago. It also tells us what we need to know about the feud right away; MJF has to prove himself to Punk, not the other way around. MJF may be young and intelligent, but Punk's cunning is far more seasoned with two more decades of experience. Making him the first person in AEW to have a mental edge against him. For the first time in his AEW career, MJF is not the one playing mind games, but the victim of them.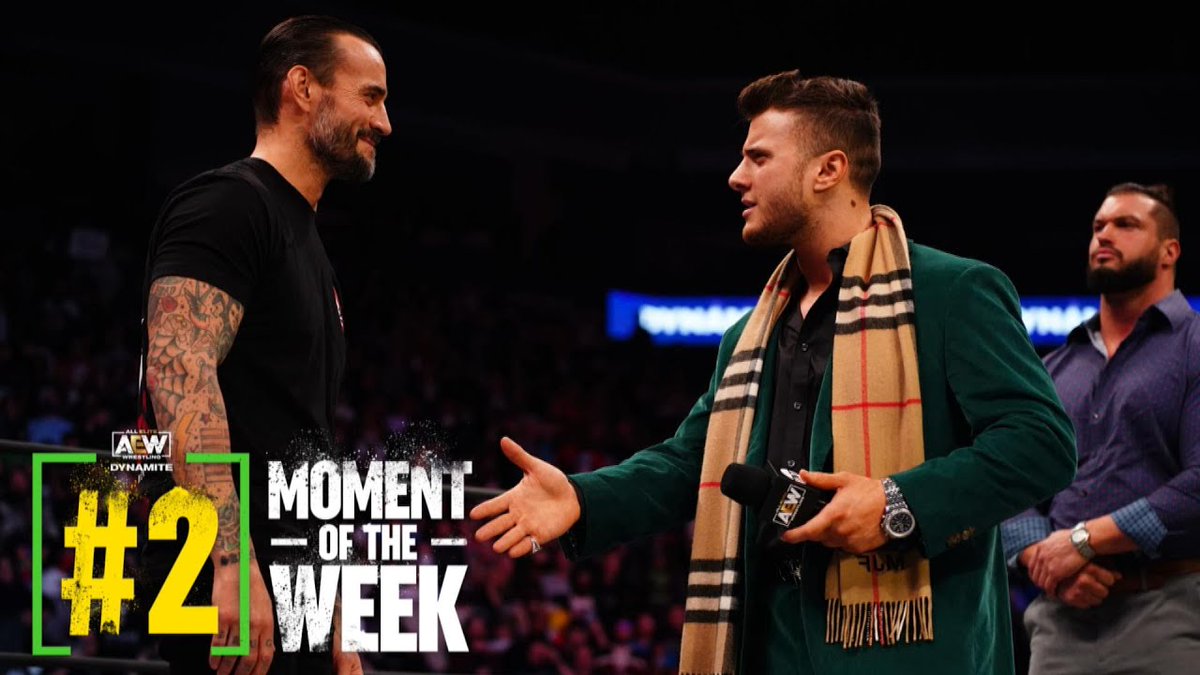 Punk and MJF: A Battle on the Microphone
The subject of much conjecture amongst wrestling fans, MJF's mic skills are somewhat polarizing. Some claim he's an incredible, all-time talker a la Dusty Rhodes, Jake Roberts, etc. Others say that while he has charisma and is skilled in getting heat from a crowd, he relies far too heavily on cheap heat. Going from town to town insulting the people to get an easy reaction from the audience. Something that doesn't really require talent to do. While the answer more than likely lies somewhere in the middle, it is true that when it comes to big-time promo work, MJF is somewhat unproven. He's had some good outings against the likes of Chris Jericho and Cody Rhodes, but he has yet to have a truly standout, noteworthy promo.
This feud with Punk will be the ultimate proof as to whether he has the goods in that department or not. CM Punk is, and always has been a virtuoso when it comes to the talking end of the wrestling business. Arguably even better than he is at the in-ring aspect of i. Having out-promo'd some of the all-time talkers in the business like The Rock, John Cena, and even Paul Heyman. Even recently, his work with Eddie Kingston in the build-up to their match at Full Gear was stellar. Some of the best segments on wrestling TV in the year 2021. MJF may be very good on the mic, but Punk is great. That may force MJF to become even better to rise to Punk's level, both in real life and in the storyline.
For MJF, working with Punk is going to be his equivalent to being pushed out of the nest, left open to either fly or fall flat on his face. If he does anything less than hold his own on the microphone with Punk, it could possibly mean that he still has a little way to go before he can truly put everything together. This feud will prove which side of the argument is correct; is MJF truly a one-of-a-kind talent, destined to be the next big thing? Or has he just been a good talker in a wrestling world desperate for personality these last 2 years?
More From Last Word on Sports
Stay tuned to the Last Word on Pro Wrestling for more on this and other stories from around the world of wrestling, as they develop. You can always count on LWOPW to be on top of the major news in the wrestling world, as well as to provide you with analysis, previews, videos, interviews, and editorials on the wrestling world.  You can catch AEW Dynamite Wednesday nights at 8 PM ET on TNT and AEW Dark: Elevation (Monday nights) and AEW: Dark (Tuesday nights) at 7 PM ET on YouTube. AEW Rampage airs on TNT at 10 PM EST every Friday night.