They say the truth is never written in black and white
But not when it comes to who the greatest wrestling referee of all time is… His name is Tommy Young.
Young, who will turn 74 this week, broke in to the wrestling industry 50 years ago. He initially began his career as a wrestler before donning the pinstripes. Eventually, he became the head official for Jim Crockett Promotions. From there, he would be involved in some of the most high-profile matches of the next two decades.
In many ways, Young became as well-known and beloved as many of the figures in the Carolina-based territory. He was known for refereeing the biggest, main event matches. He was the man who presided over hundreds of Ric Flair's title defenses, when the Nature Boy was the kingpin of the NWA.
But, most of all? He will be remembered for his own kind of flair.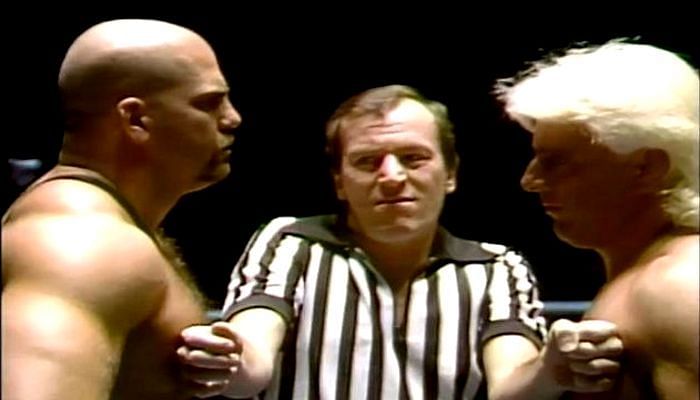 ​The venerable mediator will always be revered by wrestling fans as a showman. Even as the 'third man in the ring', Young managed to carve out a niche for himself. His greatness lied in his subtle art of storytelling. With just one reflexive move, or a facial expression, he conveyed exactly what all of the fans were thinking.
A near-three count was met with the same disappointment that the audience emoted. A dastardly deed by a dirty heel was met with a similar disdain.
As an impartial arbiter, Tommy Young was just like one of us: A fan who wanted to see the right man win.
If a referee ever had a character? It was Tommy Young.
And he did it without saying much at all. His body language told the story.
Young was constantly 'selling' in the ring, and that's one of the characteristics that made him such a fan favorite. Despite looking like he had no control over a situation, he was actually the one pushing all the buttons. He played the coach, the official, and the victim all at the same time.
His ref bumps are a thing of legend. Young would often act that he had been shot with a high-powered rifle, when he had only caught an errant elbow from a heel. He would wilt like a flower when the time was right, falling just as the babyface was about to win an important match. The whole song and dance would both excite and infuriate those who were watching.
With almost artistic accuracy, Young would tumble like a weed in the desert, when needed. Then, he would re-emerge to make a story seem even more real than it was.
His ability to be part of a contest – without taking away from the competitors involved – helped cement his place as one of the foundations of the NWA.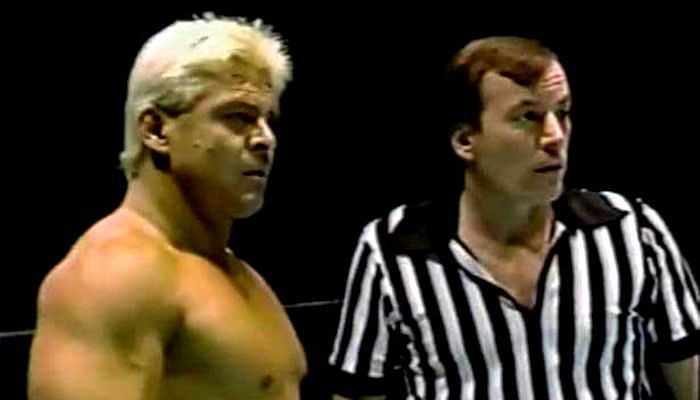 ​Perhaps Young's greatest attribute was his ability to fly
Not so much like Michael Jordan in his prime, but more like Wile E. Coyote… when he bought that ill-fated Acme superhero costume.
Lots of flailing and falling were involved. However, there was a method to his on-the-mat madness.
Young would be out of position during a pin attempt, only to come soaring back in to the scene to make a classic call. And while his aerial acrobatics were somewhat awkward, they added to the drama of a closely fought match. This was typically when the babyface appeared on the verge of victory, only to have it snatched away by a millisecond.
Young's timing on this was almost uncanny, and the wrestlers he worked with knew how to play along. It was that unspoken chemistry that was so unique. More than anything? It made the matches he officiated seem more REAL.
An injury shortened the career of this revered ref.
In 1989, Young suffered a neck injury while officiating a match involving Mike Rotundo and Tommy Rich. It was a typical bump. One he had probably taken thousands of times over the years. But this one effectively ended his in-ring career.
Since then, Young has made sporadic appearances, at reunion shows and other small events. He notably made appearances in the WWF in the late 90's as part of the 'NWA invasion' at the time. Even now, in his 70's, he still makes it a point to reach out to fans and share some old memories.
There have been many greats who have worn the zebra stripes over the years.  Randy Anderson, Charles Robinson, and the Hebner brothers come to mind. And of course, no one will ever forget the contributions of the great Marc Curtis (Brian Hildebrand).
But none of them were a better storyteller in the ring than Tommy Young. He created a blueprint for all those that followed him – one that is still copied to this day.
Young not only knew his role as a ref, but added just enough spice to the stew to make it savory. And wrestling fans in the 1970's and 80's were eager to eat it up. That's what makes him the greatest official of all time.