With the breaking news that IMPACT Wrestling will be moving to Thursday nights starting April 8th, we head into our last edition of "Tuesday Night IMPACT on AXS TV" with a full card of savory match-ups. Tensions rise in the X-Division with a tag match including the division's champion and its top stars. Plus, the two showcase matches of some of IMPACT's longest-tenured wrestlers and the celebratory 1000th match of "the cowboy" James Storm are on tap. Here is everything to look forward to this week on IMPACT Wrestling.
James Storm versus Eric Young – Storm's 1000th Match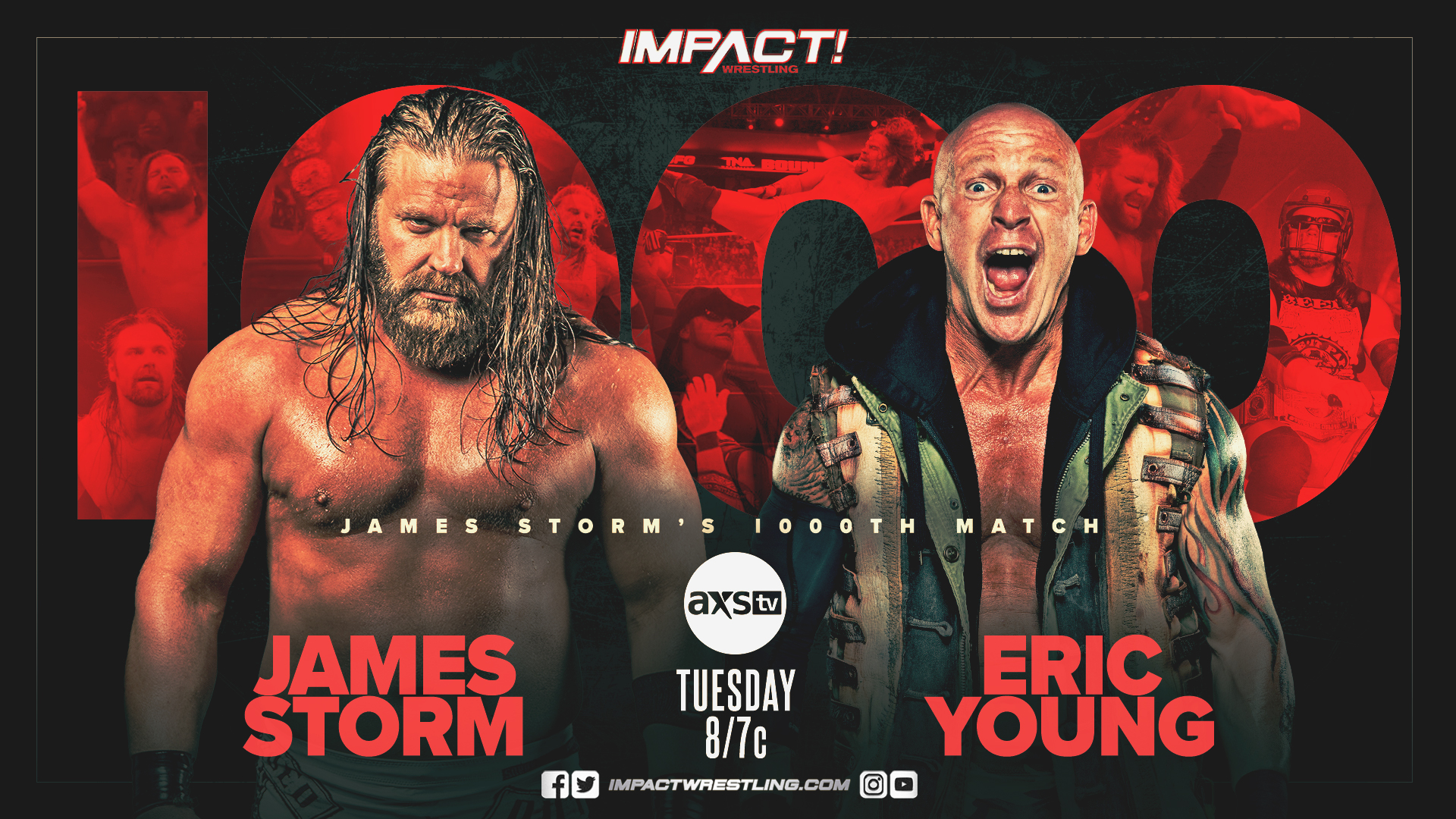 It was announced by IMPACT Wrestling on social media a couple of weeks ago that James Storm had reached 999 professional wrestling matches in his career. Over his illustrious 20+ year career, Storm has wrestled many of the greats in multiple promotions, such as WCW, NJPW, and even briefly in NXT, but has called TNA/IMPACT his home more than any other.
Unsurprisingly, "The Cowboy" has decided to have his 1000th match in the promotion that he has called home for the majority of his career. On last week's episode of IMPACT Wrestling on AXS, Storm and IMPACT Vice President Scott D'Amore agreed to a main event matchup against multiple-time rival Eric Young for the main event this week. However, despite having feuded with Young for most of his career, this version of the "World Class Maniac" is no one Storm has ever faced before. The self-proclaimed prophet and leader of Violent By Design) has decimated the IMPACT roster over the course of several months, showing a vicious side that is seemingly unmatched. The IMPACT veteran is going to have to dig deep and sink to new lows if he is to overcome Young in this historic match.
Ace Austin and Madman Fulton versus Josh Alexander and TJP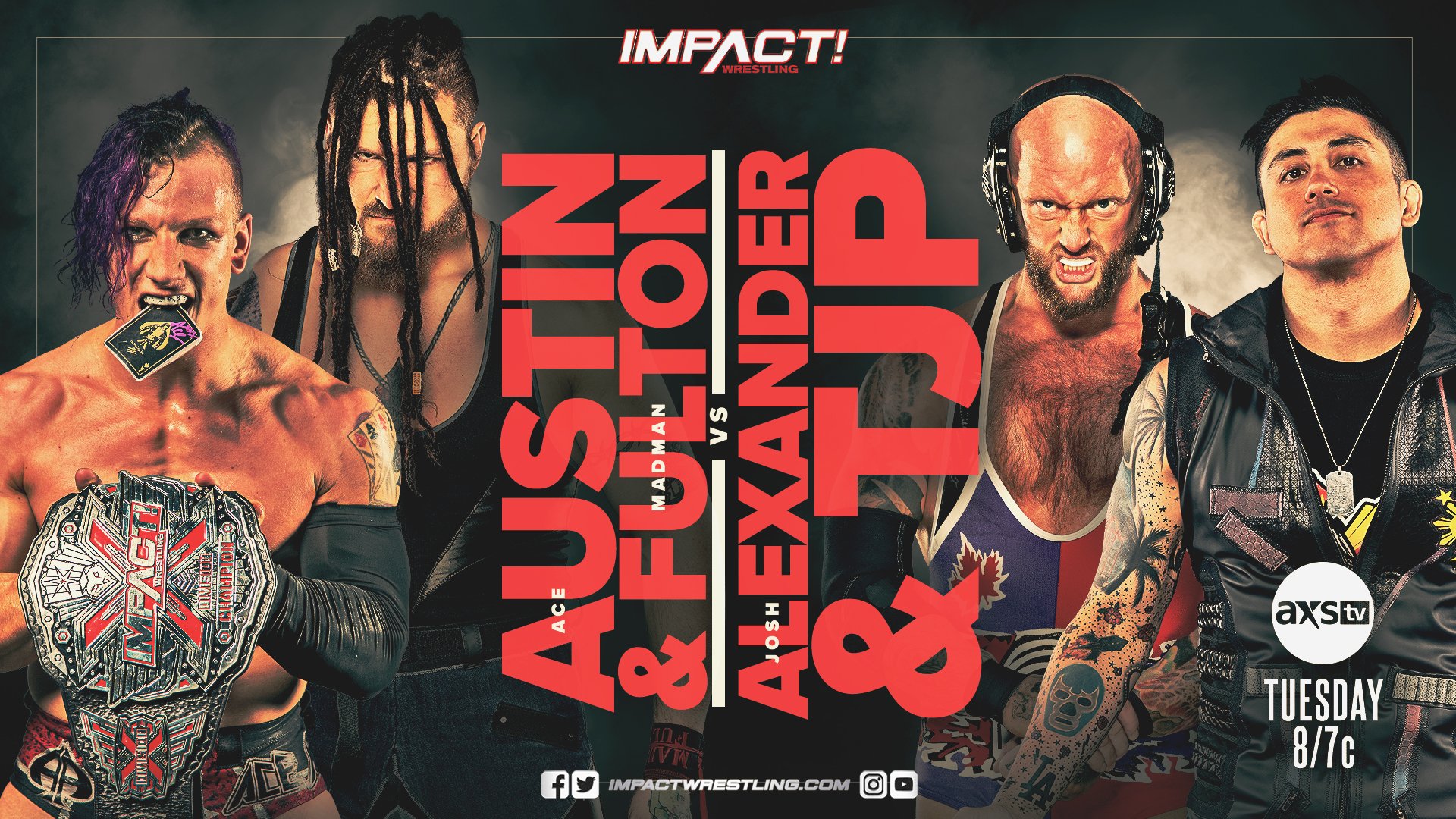 "The Inevitable" Ace Austin has been on a new career-high as of late, most recently winning the X-Division title from his opponent this week in TJP at Sacrifice 2021. Austin would then be victorious in a rematch for his title against TJP on last week's episode of IMPACT. Ironically for Perkins, he will now team with the man who warned him about taking his match with Austin for his title in the first place, that being Josh Alexander.
Austin currently stands at the top of the X-Division and has beaten both Alexander and TJP in past matchups. These wins, however, could arguably not have been possible without the help of Austin's heavy Madman Fulton in his corner. Alexander and TJP have jumped the middle man and hope to take out the new prince of the X-Division at his source of power. Alexander does hold a recent singles victory over Fulton and may have the biggest possibility of taking the big man down with his natural and pure wrestling ability. It will be interesting to see how Austin, who albeit is an incredibly gifted professional wrestler, is able to survive when the numbers are not in his favor.
EXCLUSIVE: @The_Ace_Austin argues that @FultonWorld's actions during his rematch with @MegaTJP were entirely justified. #IMPACTonAXSTV pic.twitter.com/hUR8hvDPti

— IMPACT (@IMPACTWRESTLING) March 27, 2021
Brian Myers versus Suicide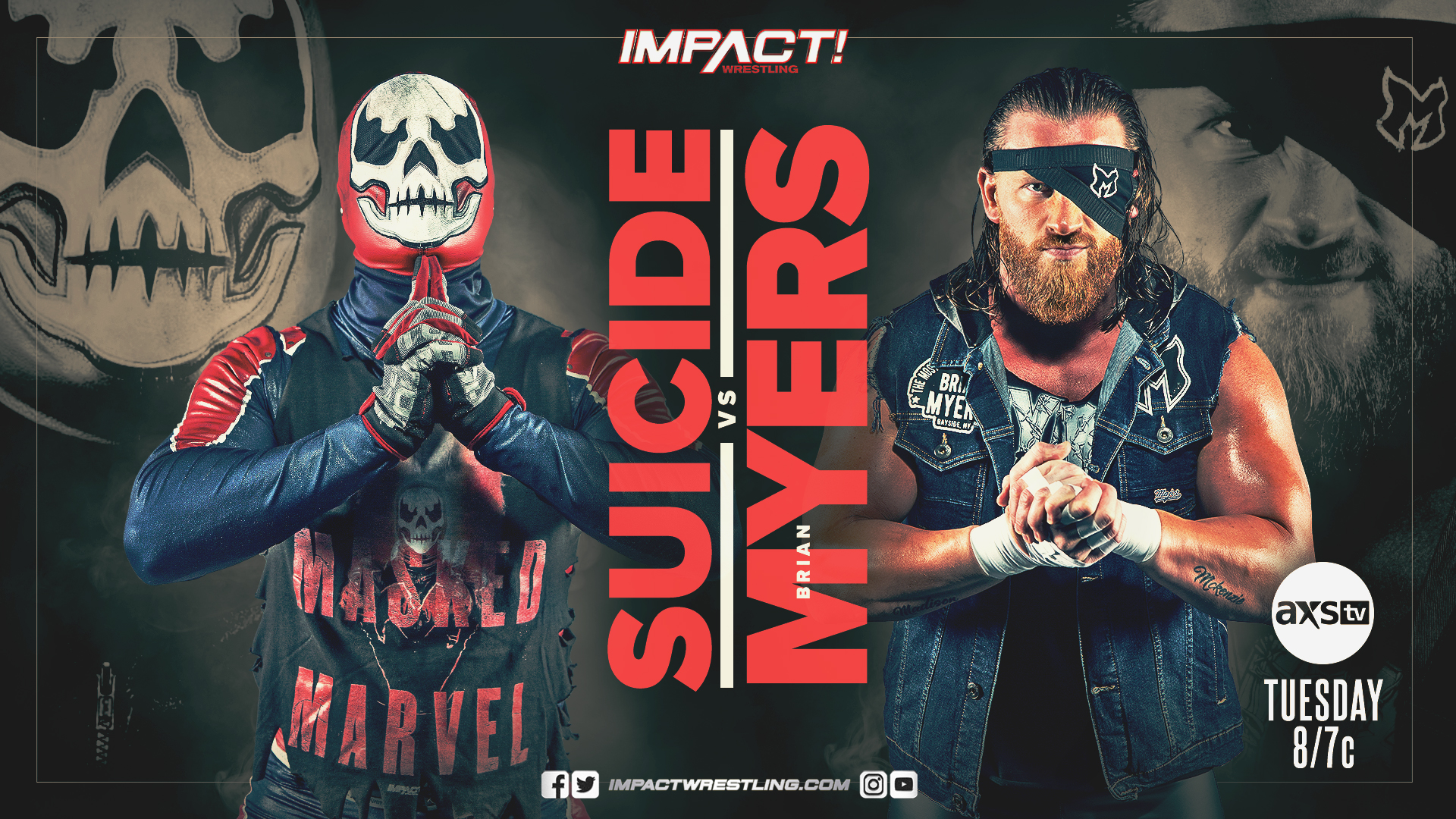 Brian Myers has had a pretty inconsistent 2021 so far. He has managed to pick up victories over the likes of Fallah Bahh, Josh Alexander, and even Eddie Edwards at one point, but ultimately lost the war against Edwards when he came out the loser in their "Hold Harmless" match at Sacrifice 2021. Meanwhile, Myers' "ghost from the past" has returned to haunt him in the form of Matt Cardona, who has challenged his former partner to a match sometime in the future to settle their issues once and for all. Myers hopes to pick up momentum going into this potential blood feud when he takes on the masked TNA veteran Suicide on IMPACT television. It will be interesting to see how Cardona will play a part in this match, whether it be psychologically or physically.
Larry D Versus Sami Callihan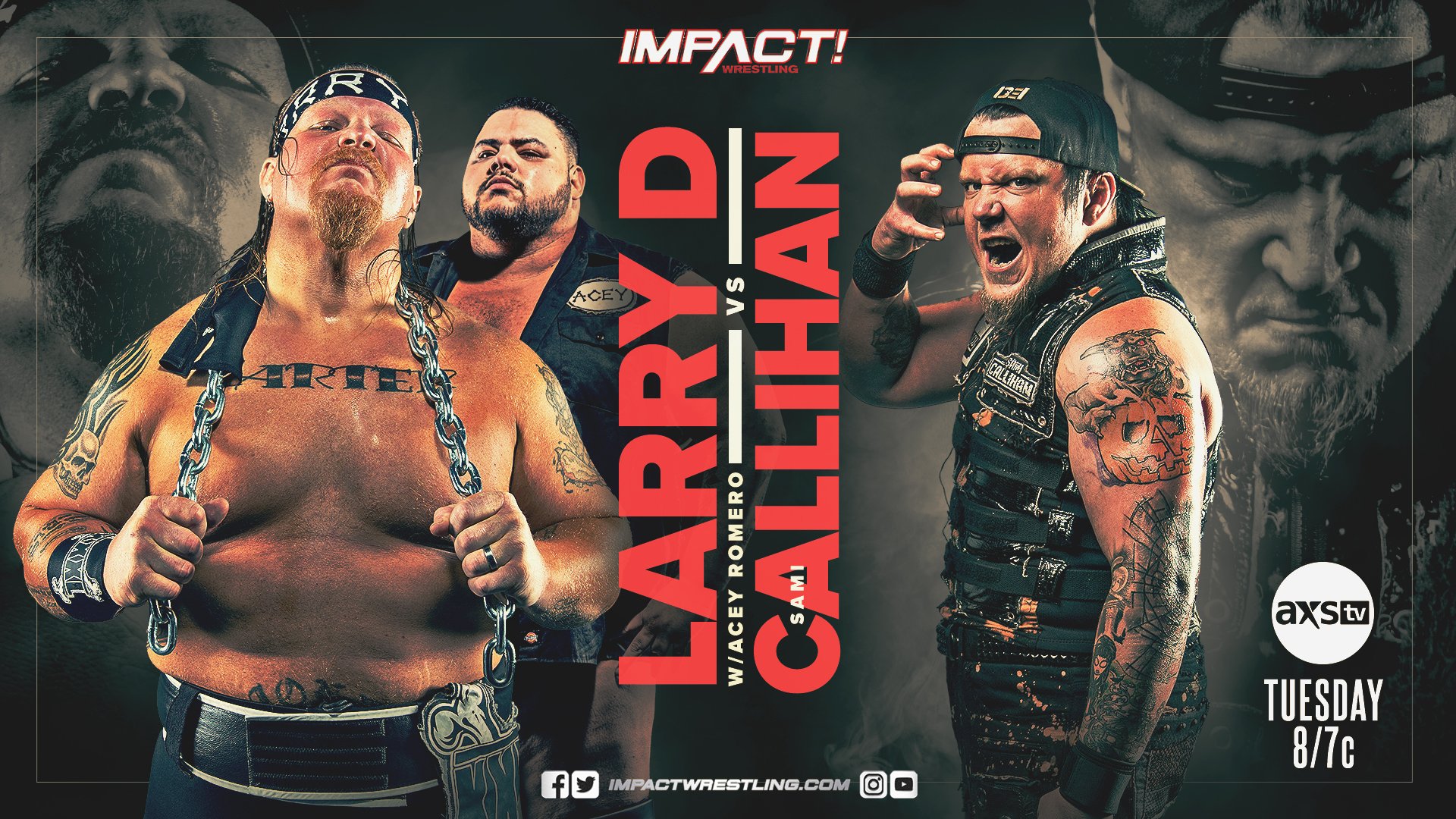 Sami Callihan has made it his personal mission as of late to torment and confuse the mind of Trey Miguel. However, his most surprising move yet was made last week when Callihan ran out to the aid of his rival after Miguel's victory over Acey Romero led the super athlete to beat down his opponent after the match. Callihan chased down Romero and his tag partner Larry D, leading to this matchup tonight.
Callihan explained his change of heart towards Miguel as a direct result of their incredible matchup a few weeks ago on IMPACT television. Despite Miguel coming up short, Callihan says that he "saw something" in Miguel that night that enticed him to want to take Miguel under his wing. He saw a "passion" in Miguel that he was famous in the past for proclaiming the man lacked. The real question, however, is whether or not Miguel will feel the same camaraderie toward the unpredictable and malicious Callihan. Will Miguel come out to help Callihan should his match against XXXL's Larry D go south?
EXCLUSIVE: "I can make Trey Miguel great." @TheSamiCallihan saw something in @TheTreyMiguel when they faced off. #IMPACTonAXSTV pic.twitter.com/QKFNOc93GV

— IMPACT (@IMPACTWRESTLING) March 26, 2021
IMPACT Wrestling will air for the final time on Tuesday at 8 PM on AXS TV. Starting next week, IMPACT Wrestling will move to Thursday nights at 8 PM but will remain on AXS TV, with BTI set to air right before IMPACT as usual at 7 PM.
Stay tuned to the Last Word on Pro Wrestling for more on this and other stories from around the world of wrestling, as they develop. You can always count on LWOPW to be on top of the major news in the wrestling world, as well as to provide you with analysis, previews, videos, interviews, and editorials on the wrestling world. You can catch IMPACT Wrestling on Thursday nights on AXS TV and BTI, as well as all the time on IMPACT Plus.
Looking to talk wrestling, pro football, or any number of sports? Head on over to the LWOS Boards to engage in conversation with fellow fans!