After a stellar IMPACT! Plus special this past Saturday at Genesis, the IMPACT! roster looks forward to their biggest stage of the year yet at Hard to Kill this coming Saturday. The air around the locker room is tense, as every wrestler is focused on making their name known this year. Here is a look at some of the matches and stories to look forward to this week on IMPACT! on AXS TV.
Cody Deaner versus Tommy Dreamer
All eyes will be opened to the TRUTH. The plan is coming together.

It's all by DESIGN.

✖️@TheEricYoung @bigjoedoering
✖️ https://t.co/4wM9wf1kVZ

— ✖️ DEANER ✖️ (@CodyDeaner) January 10, 2021
At last month's Final Resolution special event, Cody Deaner shocked the wrestling world in the most horrific sense of the word when he attacked his cousin and long-time tag team partner Cousin Jake. In the weeks since, Deaner has flourished under the tutelage of his new "leader" Eric Young, completely overhauling his look and demeanor. On last week's episode of IMPACT!, Deaner pinned his pleading and emotionally conflicted cousin and followed up with a brutal attack on him and Rhino. Thankfully, the locker room's resident enforcer Tommy Dreamer saved Jake and Rhino, not only evening the odds but challenging Young, Deaner, and Joe Doering to a 6 man Old School Rules Match at Hard to Kill.
Before that match, Cody Deaner will have his first singles match since taking on his new menacing persona against the legend Tommy Dreamer. This bout will be a true test for Deaner, as he hopes to prove his worth to Eric Young as well as prove to himself that he made the right decision in double-crossing his family. What will the new black heart of Cody Deaner have in store for the Hardcore legend, and how will this match affect either of them going into Hard to Kill this Saturday?
Tenille Dashwood (w/ Kaleb with a K) versus Rosemary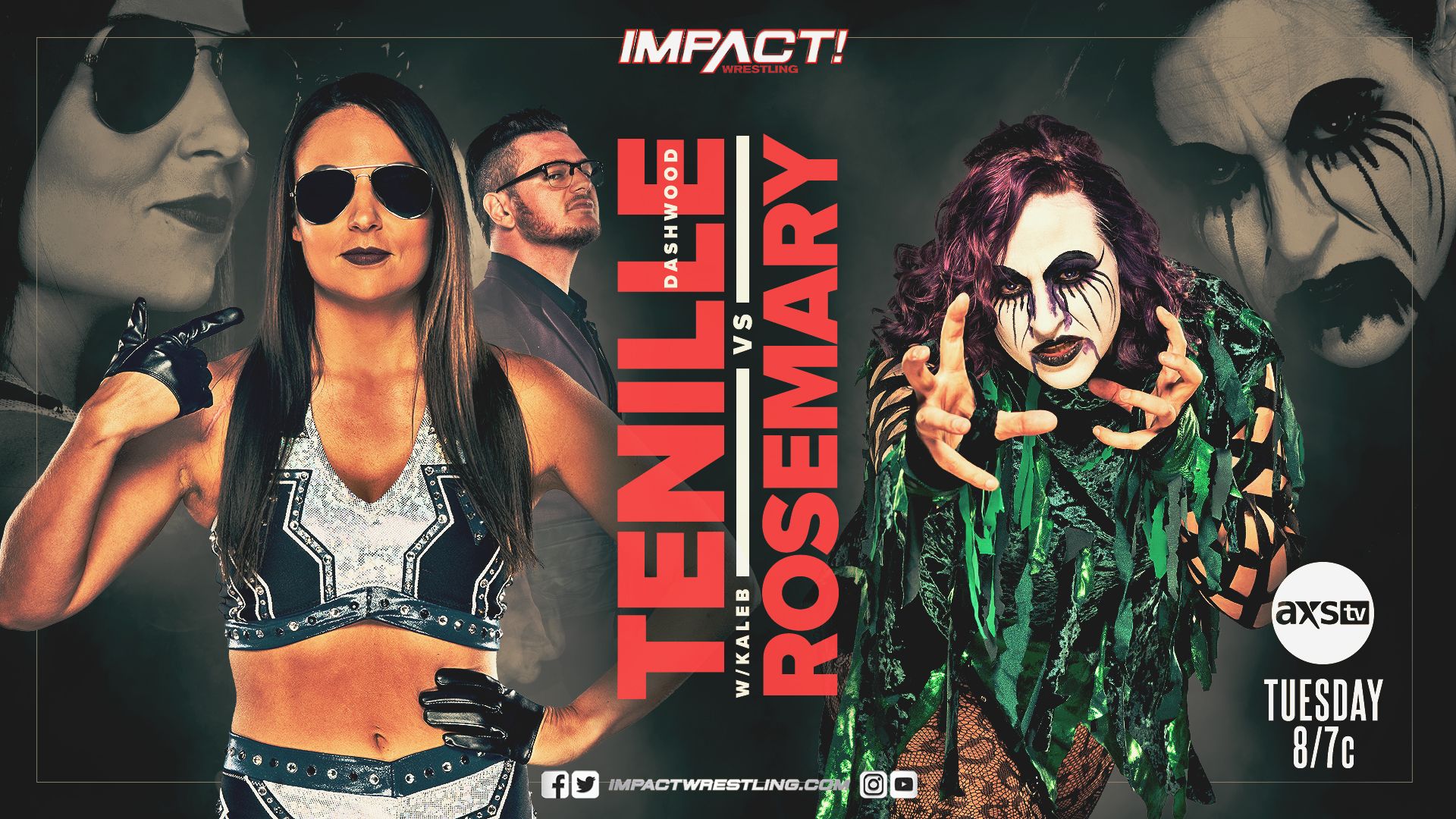 We continue with a double feature of compelling Knockouts matches. Tenille Dashwood continues her search for a credible tag team partner, continuing to ignore the possibility that she may be the problem. This was proven further when her proposition to Rosemary seemed to strike a chord. She called into question the strength of the allegiance between her and Taya Valkyrie, which immediately made the "Demon Assassin" defensive and confrontational. This match was made in response to this negative confrontation.
This will be the first time Dashwood and Rosemary have met 1 on 1 on IMPACT! television. However, Tenille will likely be wanting to avenge her tag team loss to Rosemary and Valkyrie last November, which led to Jordynne Grace being removed from her list of partners.
Taya Valkyrie versus Kimber Lee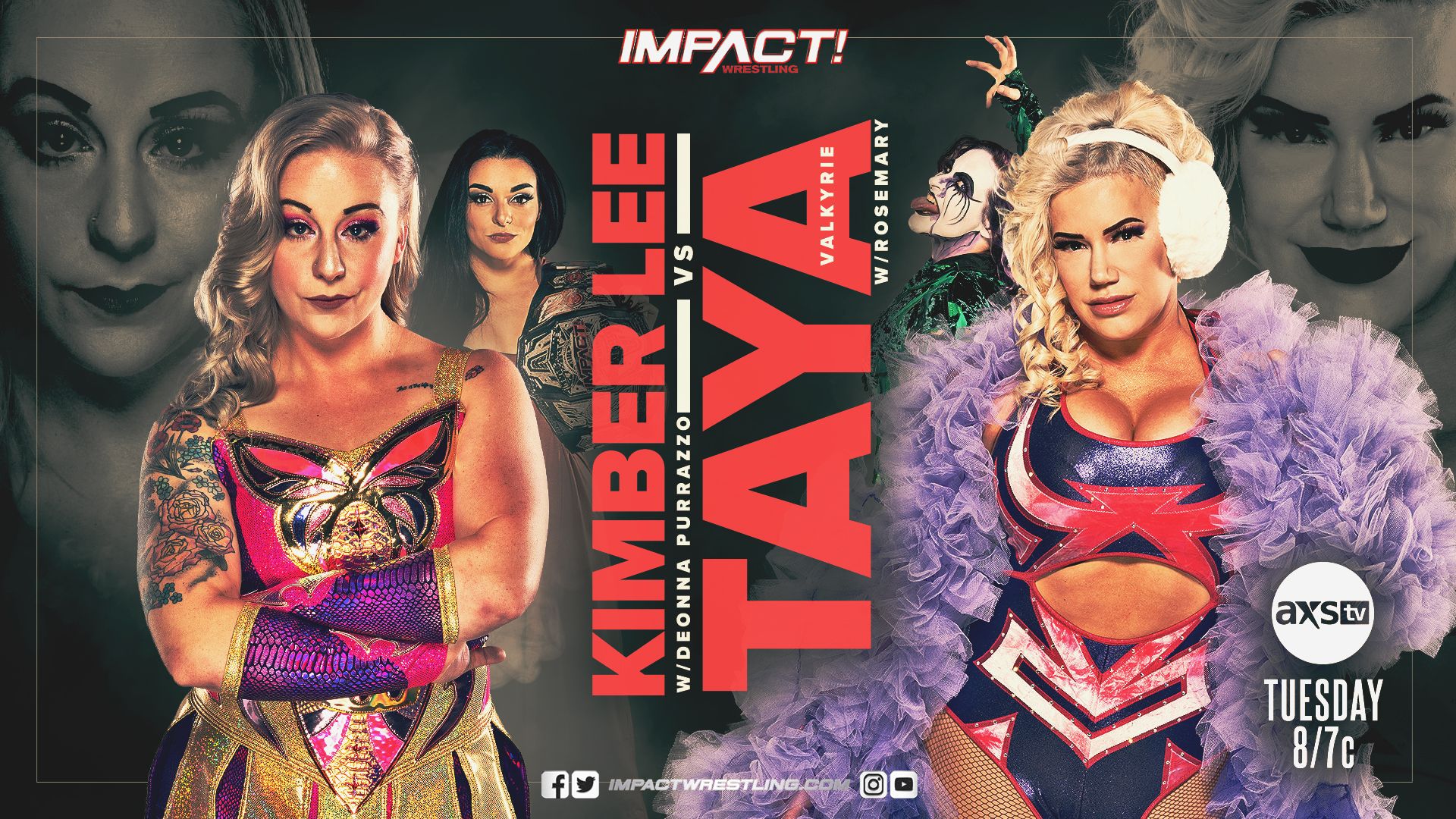 Speaking of the alliance between Valkyrie and Rosemary, the former looks forward to her Knockouts Championship match this Saturday at Hard to Kill against Deonna Purrazzo. Before her encounter with the Virtuosa, Valkyrie must first defeat Purrazzo's best friend Kimber Lee. On last week's episode of IMPACT! on AXS, Taya stood tall after knocking Kimber Lee down, likely raising a fire in the Curator.
What effect will the looming presence of Rosemary and Purrazzo at ringside have on this match? Will Valkyrie be able to pick up much-needed momentum going into possibly her last shot for the Knockouts Championship?
Rich Swann versus Karl Anderson
The most anticipated match at Hard to Kill (and also one of the most anticipated matches in IMPACT history) involves the AEW World Champion Kenny Omega and the IMPACT World Tag Team Champions The Good Brothers Karl Anderson and Luke Gallows taking on IMPACT World Champion Rich Swann and the Motor City Machine Guns. When the former group isn't invading AEW Dynamite, they are jumping Swann and his team from behind. In last week's episode of IMPACT, Swann and company decided to take the fight directly to Omega's tour bus but were yet again outsmarted by the faux Bullet Club.
In this final bout before Hard to Kill, Swann looks to remind everyone that he is the top guy in IMPACT wrestling with a win over the Machine Gun. However, Anderson has a killer instinct that has not been seen in him in a long time thanks to the influence of the Cleaner and the Invisible Hand. Will the Machine Gun of old be able to best the IMPACT World Champion in the prime of his career? What implications will this match have on Saturday's main event?
Stay tuned to Last Word on Pro Wrestling for more on this and other stories from around the world of wrestling, as they develop. You can always count on LWOPW to be on top of the major news in the wrestling world, as well as to provide you with analysis, previews, videos, interviews, and editorials on the wrestling world.  Make sure to check out IMPACT on their  IMPACT plus!  service
Looking to talk wrestling, pro football, or any number of sports? Head on over to the LWOS Boards to engage in conversation with fellow fans!