Studio wrestling at it's finest returns this Tuesday on Fite Tv. The United Wrestling Network continues its streak of invigorating and high energy pay per views, setting the precedent for how a crowd less wrestling show should look. The United World Championship tournament semifinals will take place, as well as some exciting tag team action, including the UWN debut of the NWA Tag Team Championships. Here's the card so far for this week's episode of Primetime Live.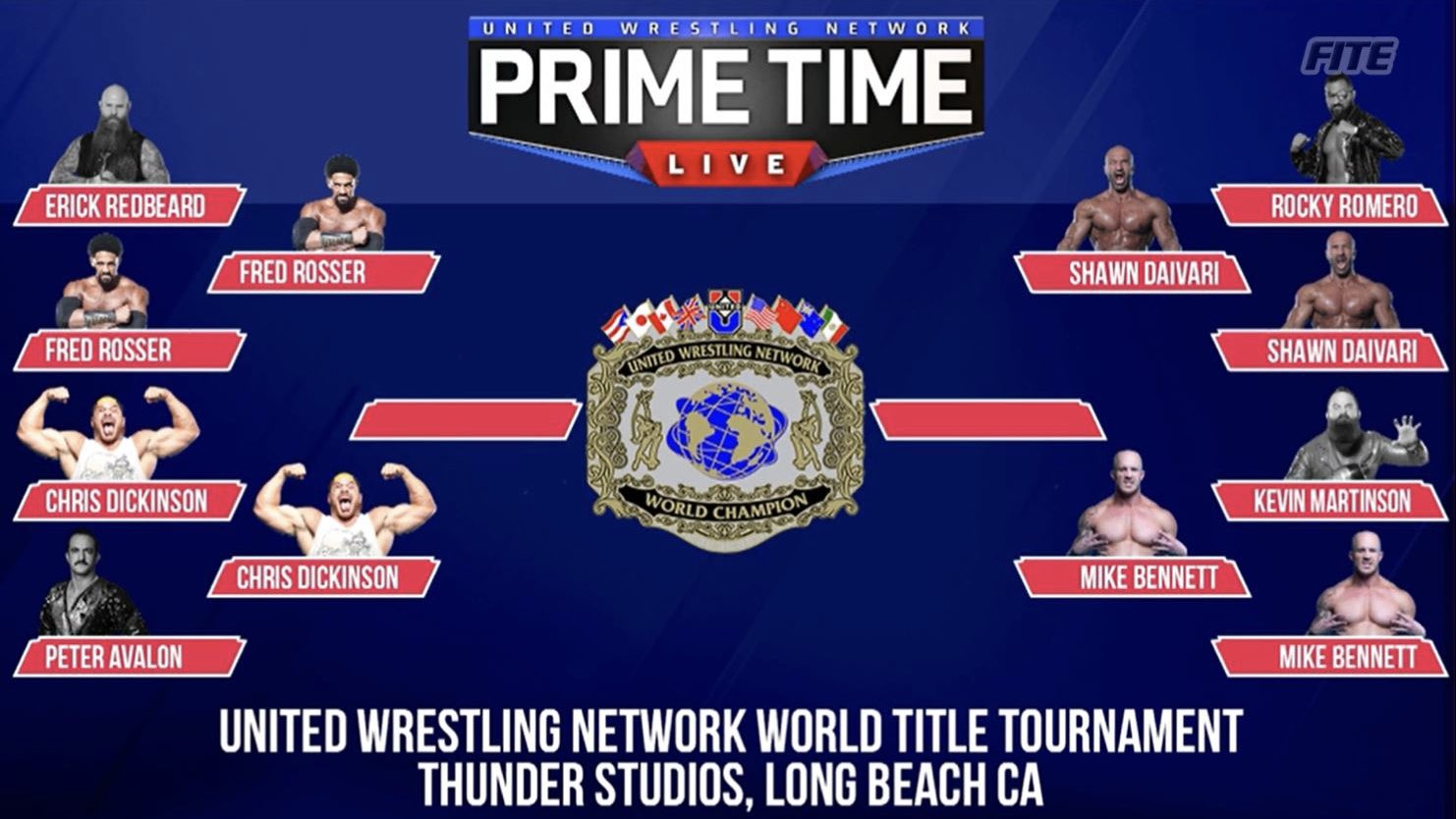 Fred Rosser vs Chris Dickinson – United Wrestling Network World Title Tournament Semi-Final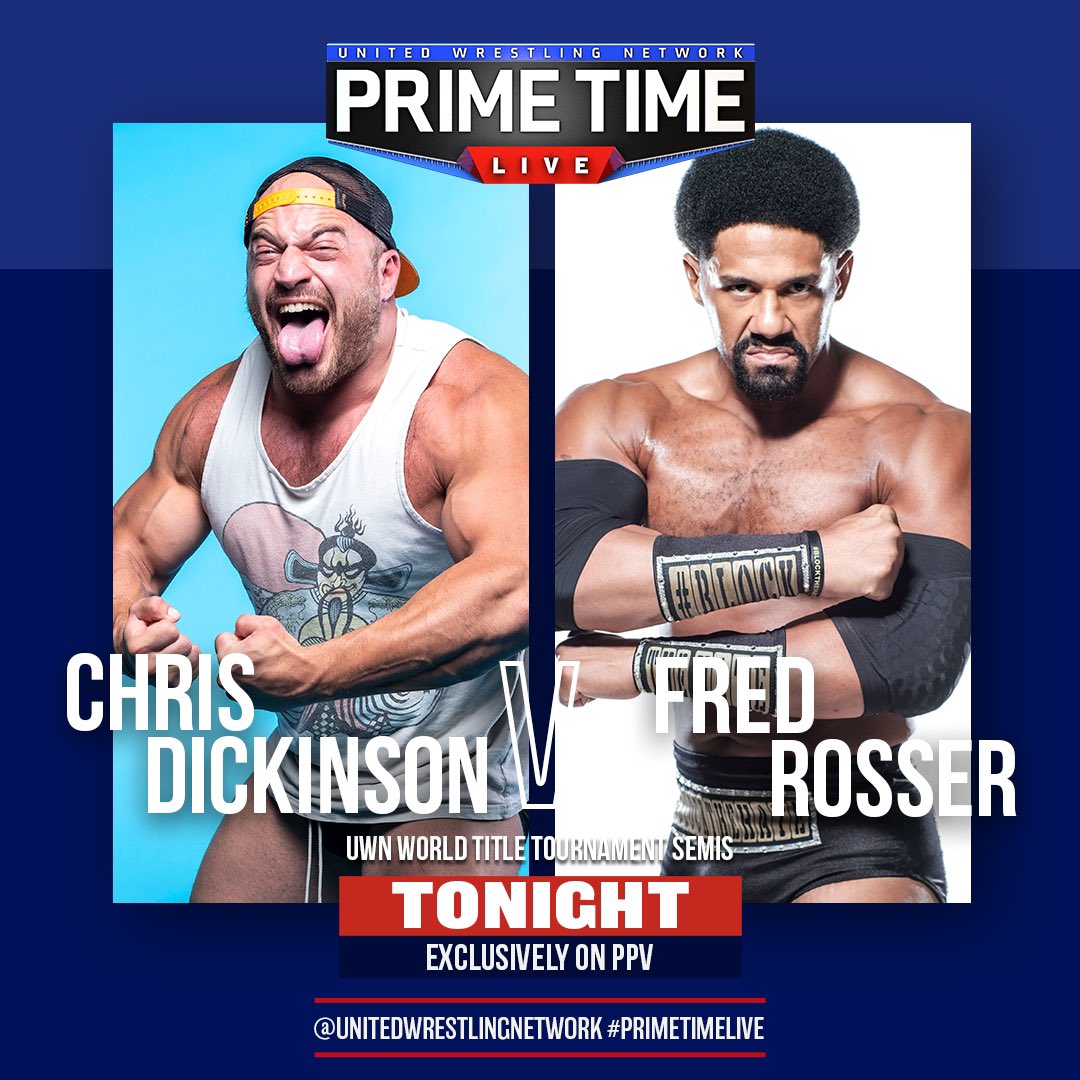 Chris Dickinson has been the most dominant performer on Primetime Live since it's inception, holding a winning streak against the likes of Jordan Cruz, Anthony Idol, Max Castor, and AEW Star Peter Avalon. While he may be the favorite to win the tournament, there is no denying the heart of "Mr. No Days Off" Fred Rosser, who looks to defend his moniker. This is in spite of an injury he sustained at the hands of the monstrous Erick Redbeard in the quarter-finals, having only been able to survive and advance in the tournament due to Redbeard's inability to avoid disqualification. While Rosser may have a severe disadvantage, as well as a clear target weakness, his heart and composure may be enough to persevere and upset Dickinson.
Shawn Daivari vs Mike Bennett – United Wrestling Network World Title Tournament Semi-Final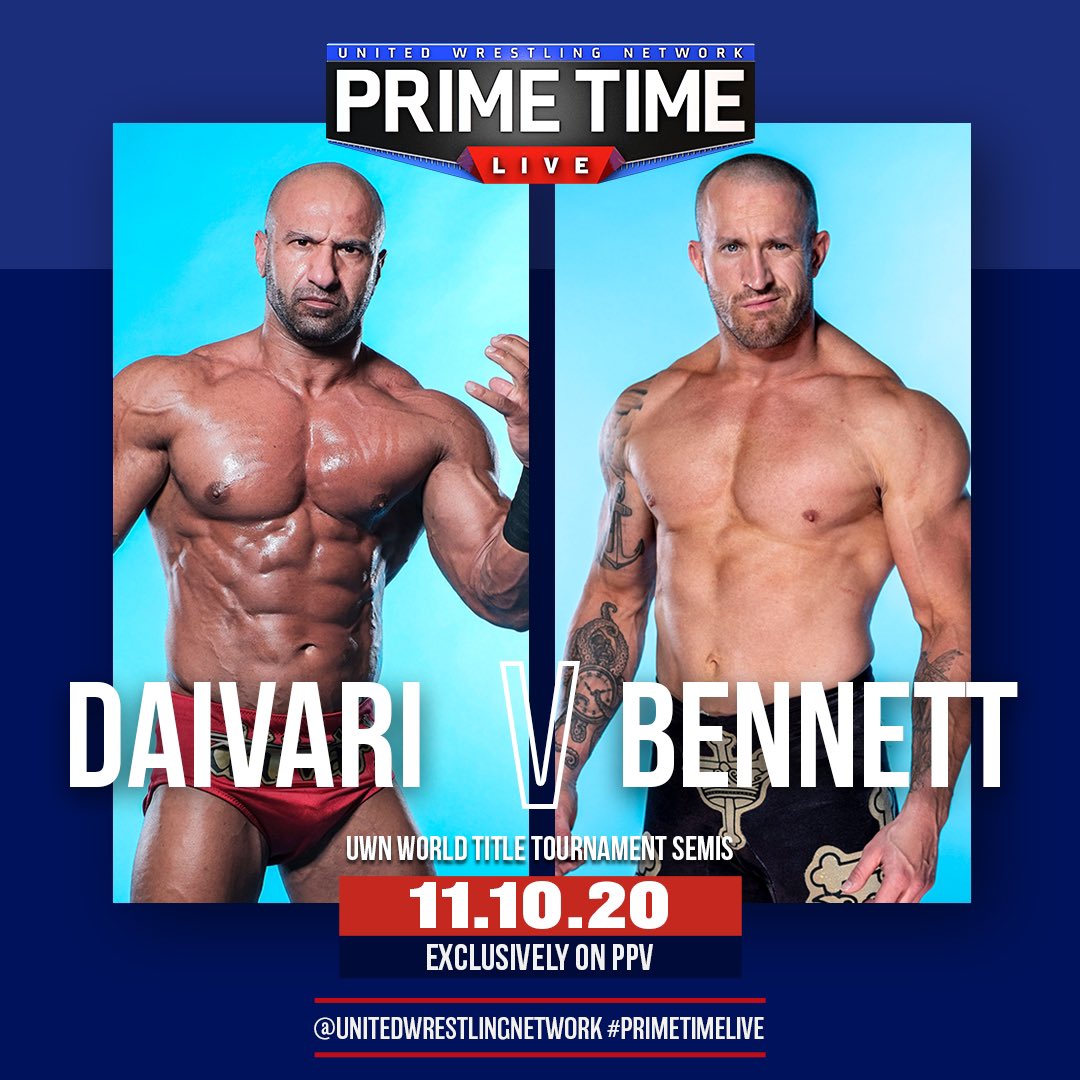 The wrestling veteran Shawn Daivari was a surprising addition to this tournament, as he has only just made a return to feature wrestling. He most recently appeared as a member of the Call Your Shot Gauntlet at IMPACT Bound for Glory before defeating NJPW star Rocky Romero in round 1 of the tournament.
From one former WWE star to another, Mike Bennett has not seen the success that he has hoped for since leaving the biggest wrestling company in the world back in April, having only appeared sporadically in losing efforts. That was until last week when he managed to pick up a win over UWN mainstay Kevin Martenson to advance for the world title. This semi final match will be huge for each man, who both are looking to prove that they are not washed up and still have a lot to bring to wrestling.
4 Minutes of Heat vs Real Money Brothers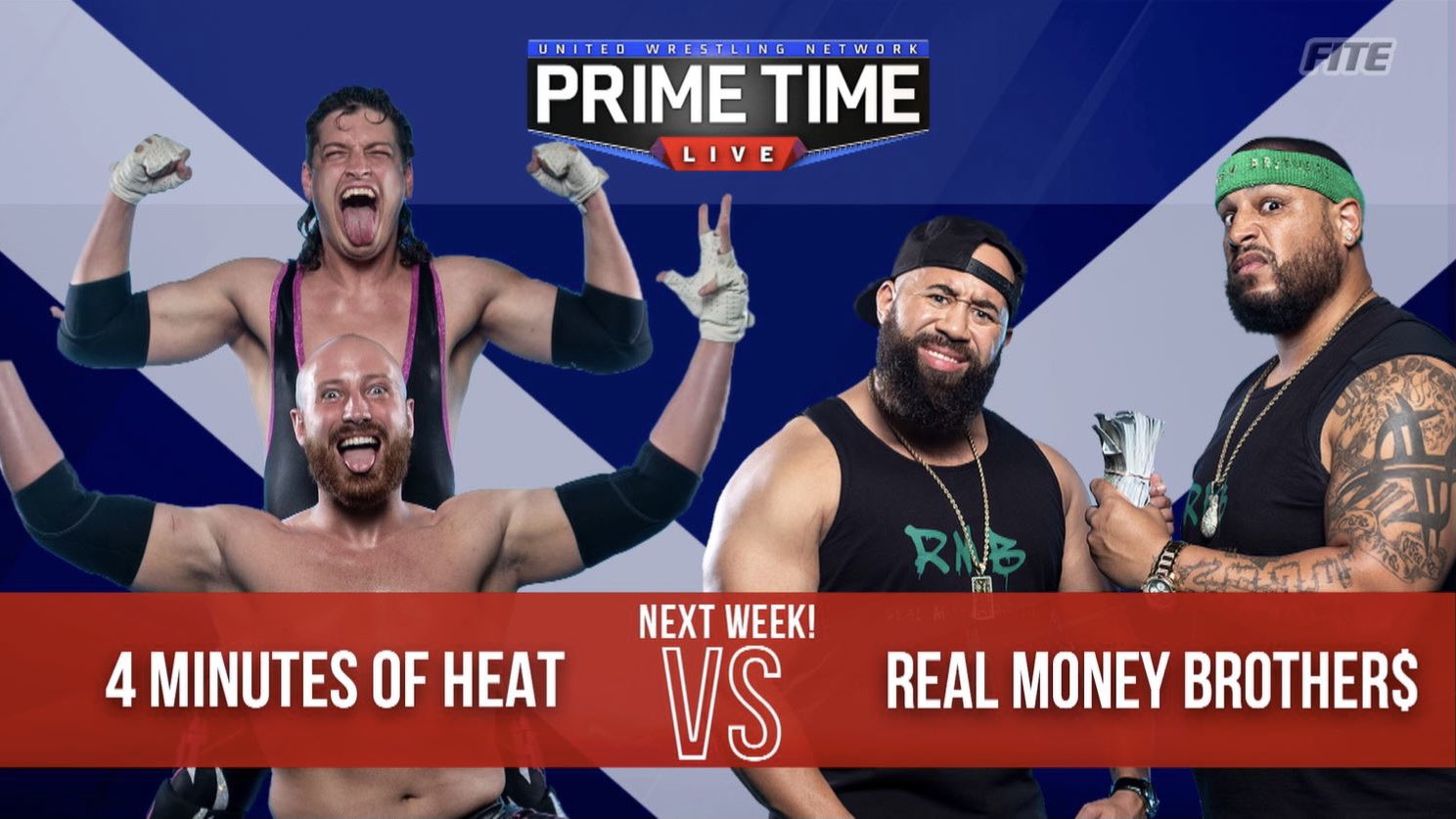 The Real Money Brothers have been inconsistent since debuting on Primetime Live, managing to pick up a win against Friendship Farm on episode 2 but coming up short to SoCal Distancing on episode 3 and The Bodega on Episode 7. 4 Minute Heat, while only having appeared 1 time for the show, do have more momentum coming in. However, the former WCWC Tag Team Champions hold the experience disadvantage, having only been a team for 3 years to the Brothers 6 years. What implications will this match for UWN's tag team division?
Lacy Ryan vs Vipress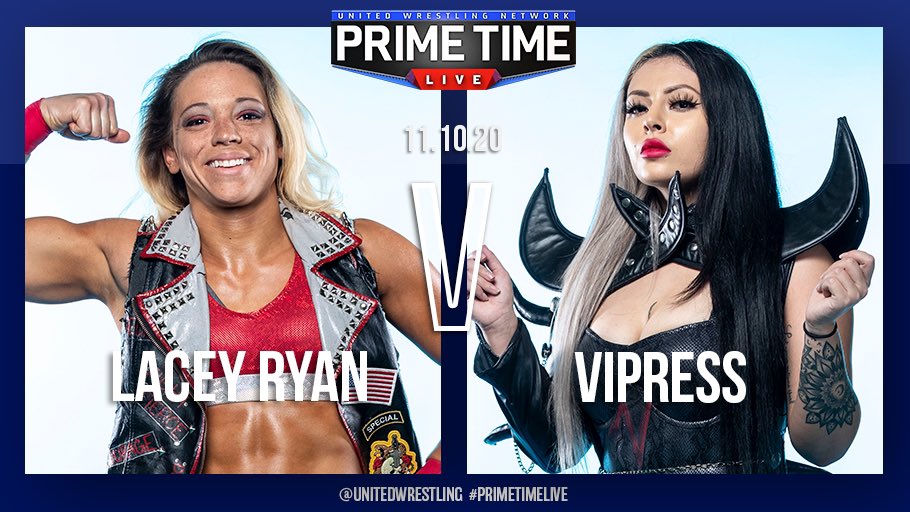 Ryan and Vipress will hold a rematch after their memorable encounter on Episode 4 of Primetime Live, where Ryan came out on top. These two competitors also held a match against one another in partner promotion Championship Wrestling from Hollywood, where Ryan also managed to pick up the win. Will Vipress be able to prove that third time is in fact the charm, or will Lacey Ryan show once again that she truly is "Unstoppable"?
NWA World Tag Team Championships – Eli Drake & James Storm(C) vs Aron Stevens & The Question Mark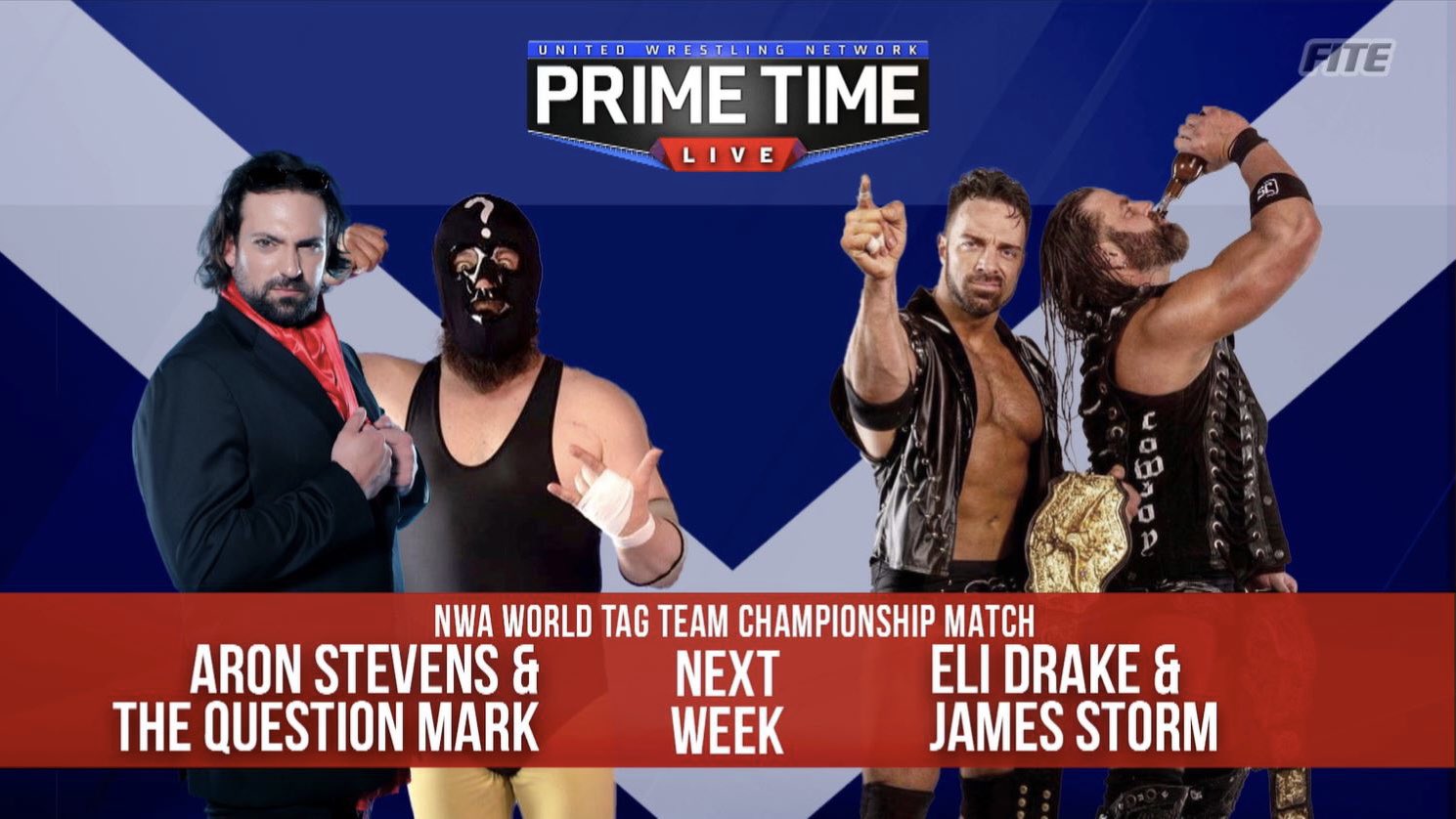 The "Mongrovian Ka-ra-te Masters" look to pick up the pieces after a string of losses within the NWA and UWN. "Shooter" Stevens has a major chip on his shoulder after losing the NWA National Championship to Trevor Murdoch several weeks ago on Primetime Live, while the mysterious masked Question Mark has yet to gain championship gold of his own. Can the master and the apprentice pick up a shocking win and become tag team champions?
Eli Drake and James Storm have been NWA Tag Team Champions since NWA Hard Times on January 24th of this year, defeating the legendary Rock and Roll Express. However, they have not been since in tag team action together on television since. While they can be considered a formitably talented team, the chemistry and intelligence of the Mongrovian challengers has the potential to crash the already stunted momentum of the champions.
Episode 9 of Primetime Live will take place this Tuesday at 9pm on Fite Tv.
UWN Primetime Live Episode 8 is available for pay-per-view Tuesday night at 8 PM on FITE.tv.
Stay tuned to the Last Word on Pro Wrestling for more on this and other stories from around the world of wrestling, as they develop. You can always count on LWOPW to be on top of the major news in the wrestling world, as well as to provide you with analysis, previews, videos, interviews, and editorials on the wrestling world. UWN Primetime Live airs live on FITE.tv.
Looking to talk wrestling, pro football, or any number of sports? Head on over to the LWOS Boards to engage in conversation with fellow fans!