NXT Halloween Havoc is almost here and is expected to be a highlight, newsworthy-filled event as two championship matches to top the show and a Haunted House of Terror match will have people wondering to see what it's all about. Here's a preview of the Shotzi Blackheart hosted special edition of NXT.
NXT Women's Championship: Io Shirai (c) vs. Candice LeRae with the stipulation decided in Spin The Wheel, Make the Deal Rules
The main event for the evening will be the rematch between Io Shirai and Candice LeRae for the NXT Women's Championship. But the rematch has a catch, as it will be a Spin the Wheel, Make the Deal match. Considering the options we have seen on the wheel, anything can go and could really affect both competitors in a major way. As LeRae stated on TV last week, she's undefeated in Street Fight stipulation matches. If the wheel was to go that way, it could be her time to win the title. But no matter the stipulation, it's going to take everything to take the gold off of Candice LeRae.
NXT North American Championship: Damian Priest (c) vs. Johnny Gargano with the stipulation decided in Spin The Wheel, Make The Deal Rules
Spin the wheel, make the deal is in for a second matchup and this could go anywhere. Of course, the NXT North American Championship being on the line makes the stakes even higher with Damian Priest defending his championship against Johnny Gargano yet again. If his trials with the wheel from last week are any indication, Gargano could be in big trouble. The wheel adds some big-time emphasis on this one, with no one knowing where this could go until Wednesday night.
Dexter Lumis vs. Cameron Grimes in a Haunted House of Terror Match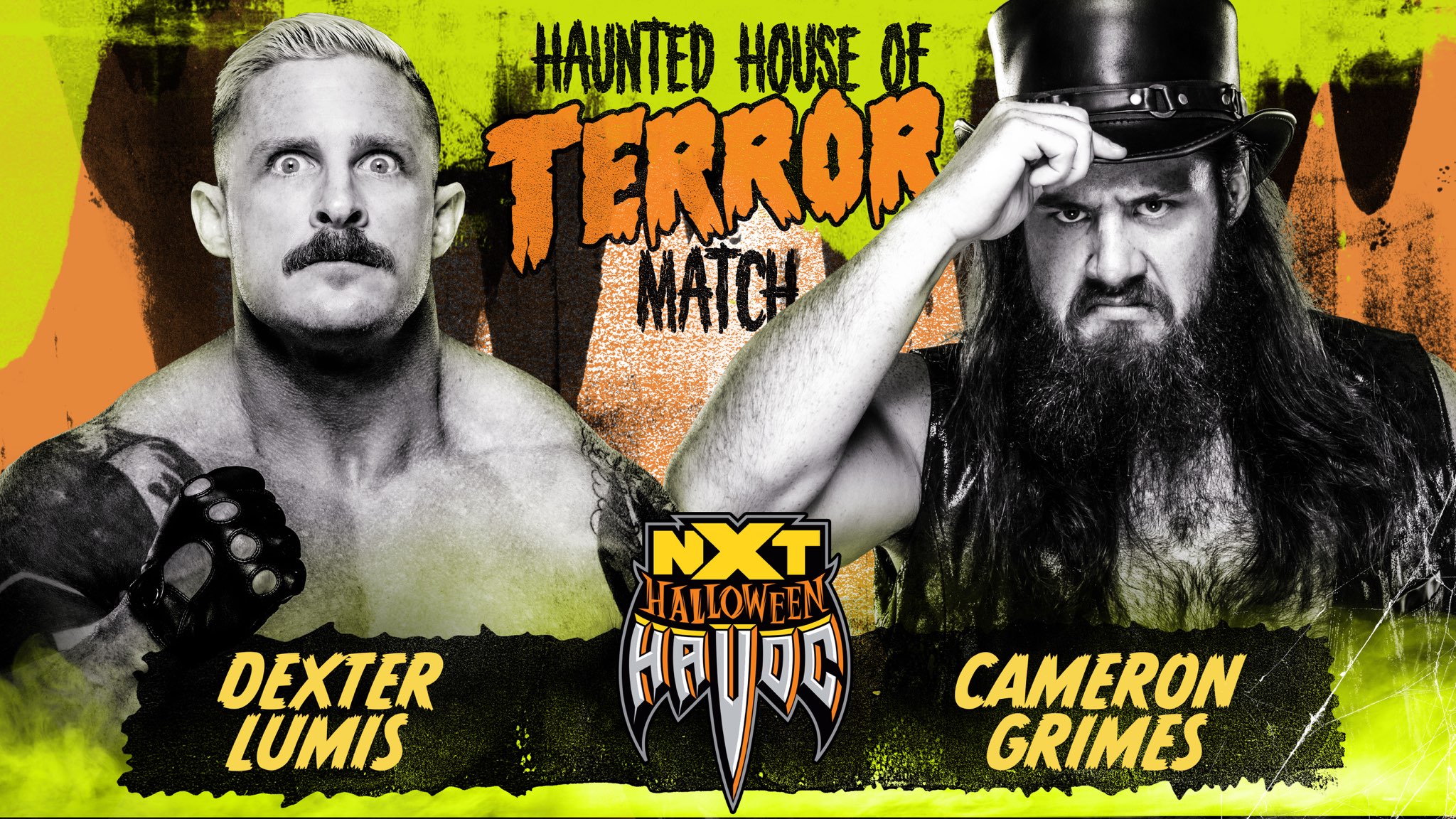 There's been no real explanation of what a Haunted House of Terror match is but with the involvement of Dexter Lumis, we are guessing it's going to be some spooky stuff. Unfortunately for Cameron Grimes, he will be the one opposing Lumis in this one and if last week was an idea of how he's feeling, this could give us some great comedy more than anything else. We are guessing this is going to be a cinematically styled match, meaning anything could certainly happen. We wish you luck, Cameron Grimes.
Rhea Ripley vs. Raquel Gonzalez
Rhea Ripley and Raquel Gonzalez will finally lock horns in singles action Wednesday night. It seems as though it's been weeks of them teasing this big match but NXT was hesitating to give it to the fans. That will no longer be the case as the winner of this match could vault themselves into contention for the NXT Women's Championship. This will be a must-see match for all fans.
Santos Escobar vs. Jake Atlas
Santos Escobar has been a dominant NXT Cruiserweight Champion since winning the title in the tournament. Now, he will look to continue that dominance by facing off with Jake Atlas in non-title action. It was one week ago that Atlas got in Escobar's face, telling him that he will take that title away from him. That, of course, helped cause his team to lose. But Atlas has an opportunity to jump to the front of the line with a win over Escobar.
More From LWOS Pro Wrestling
Stay tuned to the Last Word on Pro Wrestling for more on this and other stories from around the world of wrestling, as they develop. You can always count on LWOPW to be on top of the major news in the wrestling world, as well as to provide you with analysis, previews, videos, interviews, and editorials on the wrestling world. WWE fan? You can check out an almost unlimited array of WWE content on the WWE Network.
Looking to talk wrestling, pro football, or any number of sports? Head on over to the LWOS Boards to engage in conversation with fellow fans!