For the seventh time in his career, Rich Hill will don a Boston Red Sox jersey. Hill signed a one-year, $5 million deal on December 1st. The 41-year old southpaw is coming off stints with the Tampa Bay Rays and the New York Mets in 2021.
The results of this season were mixed at best. In 158 2/3 innings pitched, Hill garnered a 3.86 ERA and 4.34 FIP. Starting the year with the Rays, Hill pitched 95 1/3 innings allowing 41 runs, walking 36, and striking out 91. With the Mets, Hill pitched 63 1/3 innings, walking 19, and striking out 59.
At 41 years old, the Red Sox are hoping that Rich isn't over the hill (this writer couldn't resist). If there is still something left, Hill could provide a lefty innings-eater that replaces what they lost in Eduardo Rodriguez. Hill's 158 2/3 total innings pitched in 2021 would have been good for second among the Red Sox' starters, behind Nathan Eovaldi's 182 1/3 innings.
Today, we are going to revisit Hill's brightest performance of the season. On May 25th, the Kansas City Royals fell subject to Hill's eight innings, allowing two runs on six hits, striking out 13, and no walks. This start earned him a season-high 78 game score. Let's dive into what made this start so effective for Hill.
For Starters
If you're talking Rich Hill, you're talking a steady dose of 4-seam fastballs and big breaking balls. Both pitches accounted for 94% of all of his pitches thrown this last season, and 89 of his 99 (89%) pitches in this game were either a 4-seamer or a curveball.
Against righties like Kansas City's Whit Merrifield, Hill loves to pepper that outside part of the plate with his 4-seamer. Merrifield fell victim to a strikeout in his first at-bat on three straight four-seamers. The last strike was one called on the outside corner.
The first inning is when Hill loves to pump in his fastball almost exclusively. That is because his velocity usually peeks in the first inning, and this game was no different. His 4-seamer isn't a blazer by any means, but he will settle between 89-91 MPH in the first inning. He threw his fastest pitch of the game to Salvador Perez in the first at 91 MPH.
Once he gets into innings 2-8, he usually tops out at 89 MPH. So as Hill goes through the lineup his curveball becomes more and more prevalent.
Tunneling
You might have heard this term quite a bit in the age of analytics. For those who aren't quite familiar with it, the goal of pitch tunneling is to get your pitches to have the same trajectory long enough to look nearly identical to the point when a hitter must decide whether or not to swing. There is a little more science to it, but that is the gist. To dive deeper click here.
The perfect illustration in this game of Hill tunneling his 4-seamer and curve are his two strikeouts of Salvador Perez. Although one pitch was from the stretch and the other from the windup, they were both released from about the same point. In the GIF below, you can also see that the trajectory toward the plate was very similar, as the curveball dropped right as it reached the plate.
For the hitter Perez, the identical release point makes it tougher to make a decision. With a repeatable delivery, Hill is able to use both pitches effectively with two strikes.
Ahead of the Curve
So we've talked about Hill's curve and how it plays off of the four-seamer, but we must mention the movement of the ol' Uncle Charlie. Hill's curve is tops amongst all pitchers in horizontal movement. This pitch breaks a whopping 20 inches sideways. This strikeout below of eventual World Series champion Jorge Soler is a perfect illustration of just how beautiful this curve's movement is. The ball starts way out of the strike zone and makes its way right to the outside corner. It only comes in at 73 MPH (71.4 on average) but Soler never had a chance. It is captured nicely in the GIF below.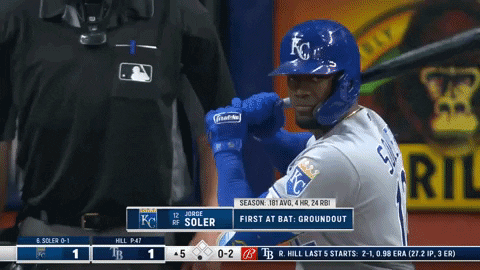 Over The Mountain?
This start was the best from Rich Hill in 2021. It is everything a team could want from a soon-to-be 42-year old starter and then some. It'd be naive to think Hill could perform at this level for an entire season (and the projections certainly don't believe in him), but he does give the Red Sox a lefty option and he gives you innings. If there is still some of this left in the tank, Hill could channel a start like this and help the club build on last year's success.
Main Photo:
Players Mentioned:
Rich Hill, Eduardo Rodriguez, Nathan Eovaldi, Whit Merrifield, Salvador Perez, Jorge Soler