The USMNT has six tune up matches in preparation for the Qatar World Cup. Unbeaten in 23 consecutive home matches, Cincinnati played host to world number 24 Morocco, providing the US it's first test against a non Concacaf opponent since a 2-1 loss to Switzerland in May of 2021.
This is how the USMNT lined up: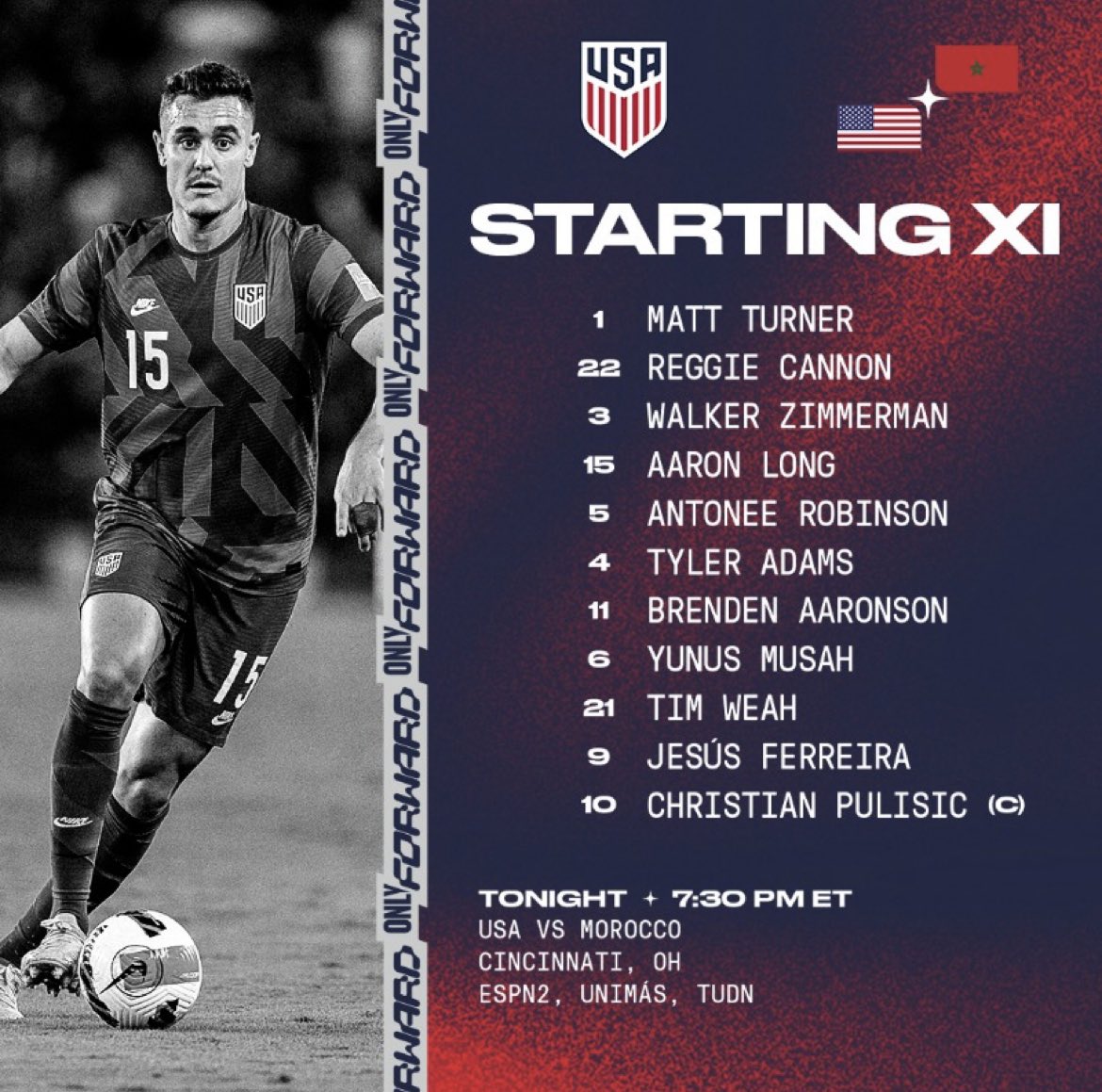 And for Morocco: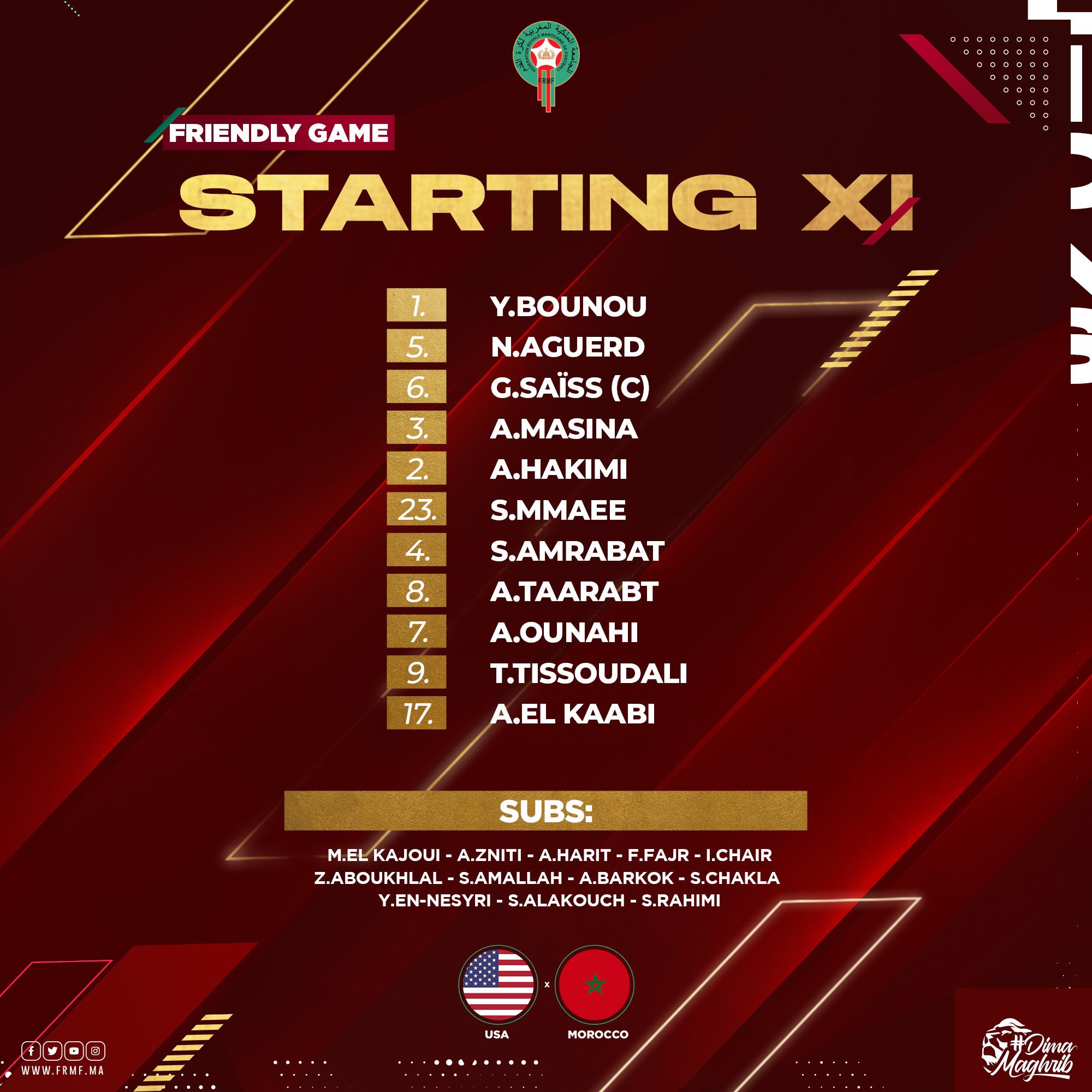 In the early stages of the match, the USMNT were pressing high, and created multiple chances. Jesus Ferreira had shot saved by Yassine Bounou, which was followed later by a Christian Pulisic miss wide that would end in the first corner of the night. Brenden Aaronson won the ball in the midfield with a great challenge that lead to a shot on goal for Tim Weah, with some better decision making, the US could've very well been 1-0 up in the first 10.
Morocco's first chance of the night was a huge one, as Matt Turner was forced into a point blank save off of a shot from Watford left back/midfield hybrid Adam Mesina. A few minutes later, Mesina created another a chance that force a much easier save for Turner.
Coming soon to @Arsenal. 🧤 pic.twitter.com/c41SFHIyJV

— U.S. Men's National Soccer Team (@USMNT) June 1, 2022
Walker Zimmerman played a beautiful ball to Pulisic in the 26th minute, who's stellar touch and control led to a pass across the box to the new Leeds man Aaronson with an open net, to open the scoring.
THE TOUCH AND ASSIST BY PULISIC TO AARONSON 😱 pic.twitter.com/y5hq1gKbIA

— ESPN FC (@ESPNFC) June 1, 2022
Five minutes later, Weah unloaded a strike from outside the 18-yard box, and into the back of the net. Moroccan goalkeeper Bounou could've done better, but never the less, chants of "Dos a Cero" rain down from TQL Stadium. The US was flying in the first half.
Tim Weah banger makes it 2-0 for the USMNT against Morocco 👀🔥

(via @TUDNUSA) pic.twitter.com/9gGzjb1poP

— USMNT Only (@usmntonly) June 2, 2022
The first half and two minutes of added time came to a close after a great save from Bounou on a look from Ferreira. A strong first half from the yanks.
Gregg Berhalter confirmed in his halftime interview that Haji Wright and Joe Scally would be subbing in, making their USMNT debuts. Cameron Carter Vickers came on at the start of the second half as well. Zimmerman, Ferreira and Robinson made way for the substitutes. 
Morocco opened up the half with a nice string of possession and some chances, but nothing to show for it. The US followed it up with a wonderful build up and Wright had a good chance saved. 
Turner had to make another great save, as he did multiple times tonight. A strong header from Tissoudali in front of the goal was parried away by Turner. 
The 61st minute saw Pulisic getting tripped up in the box and earning the USMNT a penalty kick. An excellent run by Wright led to the chance. Arguments form Moroccan players resulted in three different yellow cards. 
Pulisic stepped up to take the pen, but it's a decoy. He makes way for longtime friend Haji Wright, who steps up and scores the penalty in his debut. A striker scoring a goal for the US. Beautiful.
Haji cool from the spot 🎯 pic.twitter.com/Wd6ckIfLmM

— U.S. Men's National Soccer Team (@USMNT) June 2, 2022
Another debut for the USMNT. Twenty-year-old of Bayern Munich, Malik Tillman, comes on for Pulisic, as does Luca De La Torre for Tyler Adams.
The last sub of the day is a big one for the US. Weston McKennie made his first USMNT appearance after his broken foot had him out for a few months. A strong shift from Aaronson came to an end in the 73rd minute. 
A questionable penalty kick was given for Morocco, and it's missed off the post by the substitute Selim Amallah. Can confirm that the ball in fact, does not lie. 
Despite a penalty kick for each side, the second half was much more tame. The final whistle blew as the USMNT saw out a strong 3-0 victory. The US head to Kansas City to take on Uruguay Sunday.
Let's take one last look at this wizardry from CP10.
THIS FIRST TOUCH BY CHRISTIAN PULISIC 🤩 pic.twitter.com/RY32C1r0zD

— ESPN FC (@ESPNFC) June 2, 2022
Key Takeaways 
Debuts 
Haji Wright, Joe Scally and Malik Tillman all made their USMNT debuts tonight, with Haji Wright going home with a goal. Scally and Tillman both showed flashes of promise, as the 19 and 20 year old look to earn a spot on the World Cup roster. 
Matt Turner
Despite the 3-0 score line, this was not a roll over from Morocco. They forced Turner into some great saves, and he was up for the challenge all night. Aaron Ramsdale has some competition for the #1 spot at Arsenal. Man of the Match performance for me. 
Our boys. #USAvMAR pic.twitter.com/E3Uaynivr9

— U.S. Men's National Soccer Team (@USMNT) June 1, 2022