Much like Joe Buck said when Boston won the World Series in 2004, "Red Sox fans have longed to hear it!" According to ESPN's Jeff Passan, Rafael Devers and the Boston Red Sox have agreed to an 11-year, $331 million deal.
BREAKING: Star third baseman Rafael Devers and the Boston Red Sox are finalizing an 11-year, $331 million contract, sources familiar with the agreement tell ESPN.

The deal is not done. The physical process hasn't started. But in the end, Devers is expected to remain in Boston.

— Jeff Passan (@JeffPassan) January 4, 2023
Rafael Devers Gets His Extension
The 26-year-old third baseman inked the longest contract in Red Sox history. This contract will take action in 2023 despite the one-year deal signed earlier in the week to avoid arbitration. So, Devers will be a Red Sock until at least 2034. And it's not really one of those contracts where old age plays an, "if it's worth it," factor. He will be 37 years old when the deal expires. This move by the Red Sox front office definitely makes up for the rollercoaster of an off-season it was. Besides the urge to sign Xander Bogaerts, who now resides in San Diego, Devers was a close second as it pertained to top offseason priorities. It also answers the question of how committed and how much the front office is willing to spend. Hopefully, Sox fans found some clarity after a shaky start to their offseason. 
The Irreplaceable Rafael Devers
A player can't be much more of a home-grown star than Rafael Devers. The two-time all-star signed with Boston when he was only 16 years old.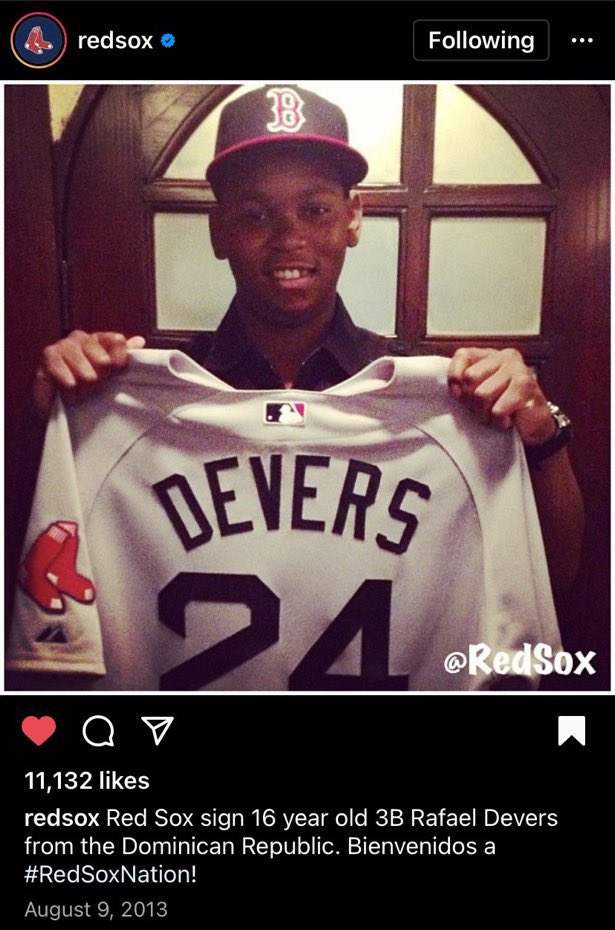 He had no problem in the minors as a teenager. Boston brought the young slugger up at the age of 20 and never looked back. Devers became a World Champion in his second year with the Major League club. He had his breakout season in 2019 when he led the league in total bases (359) and led the AL in doubles (54). Not only that, he was in the top four percent of xBA (.298) and racked up 32 home runs and 115 RBI. In his last two seasons, with all-star appearances, he averaged 32 home runs and 100 RBI. It's hard to ask for more than that out of your star player. He consistently makes hard contact (96th percentile in hard-hit%) and plays hard. Last season, he even played through injury all the way up until the final game. The Red Sox made the right decision in keeping their star third baseman.
Main photo:
Embed from Getty Images
Players mentioned: