When asked who the greatest 'thinkers' are in English football, most fans would answer with the same collection of names – Jose Mourinho, Arsene Wenger, Ronald Koeman, and perhaps even Roberto Martinez. However, one name that is unlikely to feature on that list is Sean Dyche, the man who has led Burnley to a position which they can be delighted with, given their minimal budget compared to the teams fighting around then.
But Dyche has, in the past few days, provided a great insight into the inferiority complex that many Brits have regarding their national teams in various different sports.Speaking ahead of his side's 4-2 FA Cup defeat to Tottenham, Dyche was quoted as having said "Just because Harry Kane hasn't been brought in for £50m, it doesn't mean he's not a good player. I think we're all guilty of it at some point," said the Burnley boss, "we've all been brainwashed by it, that we're not as strong nationally. We've just got to be careful. We should enjoy it and encourage it, because they are the pathway for little Jonny aged seven who's playing in the park, saying, 'I want to be Harry Kane'."
In fact, not only does it seem that this holds true in football, but across every sport; perhaps British fans are not appreciative enough of the young talent available to their national team. Continuing with Dyche's mention of Kane, the 21-year-old is one of a plethora of under-23 talents available to Roy Hodgson, along with the likes of Ross Barkley, Jack Wilshere, Raheem Sterling, Alex Oxlade-Chamberlain, Saido Berahino, Calum Chambers and Luke Shaw to name but a few. Whilst at least three of those players have already moved clubs for figures in excess of £10million, many of them are often slated in the press for poor performances and, in the case of Sterling, asking for rests.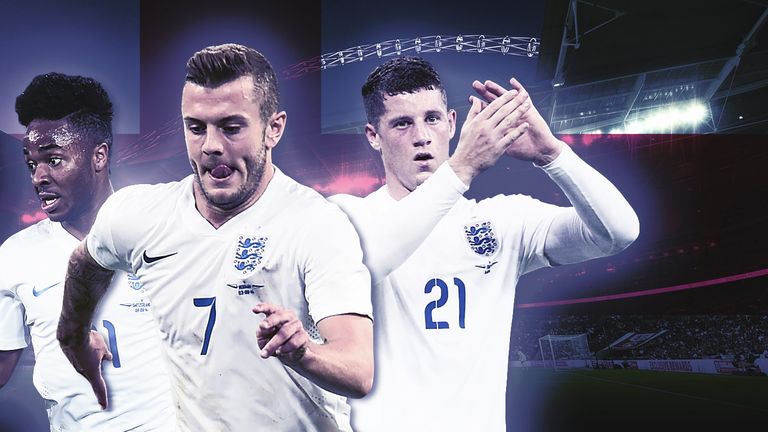 However, it is far too easy to lay blame on the younger generation with regards to the failing of the England side; elsewhere, players are heralded as geniuses if they break into their national team and produce even halfway decent performances before the age of twenty-three. Jack Wilshere's four consecutive man of the match awards for England would have been lauded massively overseas, but in England, he was slated almost immediately after these when he missed a costly chance for Arsenal against Manchester United. Dyche's opinion on this would be interesting; it seems as though he would not be afraid to voice his admiration for a fantastic English talent.
This epidemic of criticism is by no means unique to football. Another sport where English fans seem to admire overseas talent more than their own is cricket. England's Test middle order has an average age of 26, a number brought up significantly by 32-year-old Ian Bell. With youngsters Gary Ballance, Moeen Ali, Joe Root and Jos Buttler all seemingly having nailed down their place for the near future, English cricket may have found a match-winning middle-order for years to come. However, rather than looking excitedly at this set of prospects, the press would often prefer to criticise and look back with regards to cricket. Just look at The Daily Telegraph on Wednesday; instead of looking at one of the games' up and coming players, there was instead a large article on Kevin Pietersen and Jonathan Trott, both of whom have been on good form recently. Unfortunately, rather than taking the approach that these experienced figures might help out academy players at their counties next season to help strengthen the development of younger professionals, the author instead took the slant that the pair were "strengthening their claims for England recalls."
Whilst Pietersen has been stirring things up recently whilst working on the Big Bash League's commentary team in suggesting he is open to an England recall, the reality of the situation is that his poor form throughout 2014 and history of bust-ups with the ECB mean he has practically no chance of playing for his country again. And whilst Trott's recovery from his 'burn-out' during the 2013/14 Ashes tour has been admirable, the last thing he needs is increased media backing for an England spot as he finally re-enters a period of good form in the low-key setting of an England Lions tour in South Africa.
Aside from the negative approach of the press, cricket has problems too with its admiration of foreign stars over English talent. It may be to do with the IPL's growing popularity in the UK, but if asked whether they would rather watch Virat Kohli or Joe Root play, the majority of English fans would answer with the former. That he averaged 12.9% of what Joe Root did in the 2014 Test series between India and England is neither here nor there; people prefer overseas talent.
The one sport that may have this right is rugby, and it is no coincidence that the sport in which young talent is lauded the most is the one in which England have reached two World Cup finals in the last three tournaments. The likes of George Ford and Christian Wade are constantly praised once they have broken onto the scene, and have managed to become the poster-boys of Bath and Wasps respectively, and despite the odd clamour for recalls of Danny Cipriani and Steffon Armitage, both of whom have formerly played for the national side but lost their place, the press is largely positive in its focus on young talent.
The fans of rugby have understood Dyche's philosophy – there is a cause for supporting young, English talent in game ahead of overseas stars. No scathing attacks on 19-year-olds' personalities or perceived egos, but simply a support of their work-rate and talent.
Of course, a change in mindset by supporters does not win a side any trophies. However, perhaps the negativity surrounding England's football and cricket teams would diminish if fans began to take a more positive outlook. Dyche is right; Kane may not be Angel Di Maria, but that doesn't mean the kid in the park shouldn't want to emulate him.

Thanks for reading.  Please take a moment to follow me on Twitter – @mroller98. Support LWOS by following us on Twitter – @LastWordOnSport and@LWOSworld – and "liking" our Facebook page.

Have you tuned into Last Word On Sports Radio? LWOS is pleased to bring you 24/7 sports radio to your PC, laptop, tablet or smartphone. What are you waiting for? GO!
Main image: