The National Wrestling Alliance makes a triumphant return to PPV this Sunday with Back for the Attack, including a full card of the NWA's best and brightest stars. After over a year of hiatus due to the pandemic, one of the longest lineaged promotions in wrestling looks to prove that it still has so much to give to the industry. The 10 Pounds of Gold will be on the line along with the rest of the historic promotion's legendary titles. Plus, the debut of a former "Funkasauraus", and a clash between two of wrestling's toughest women with world title implications. Here is everything to see on this Sunday's Back for the Attack card, presented by the NWA.
NWA Back for the Attack Card
– NWA World Heavyweight Championship – Nick Aldis (c) versus Aron Stevens
– NWA Women's #1 contenders match – Thunder Rosa versus Kamille
– NWA World Television Championship – Pope (c) versus Thom Latimer
– NWA National Heavyweight Championship – Trevor Murdoch versus Chris Adonis
– Jax Dane versus Slice Boogie versus Jordan Clearwater versus Crimson
– Kratos versus Tyrus
NWA World Heavyweight Championship – Nick Aldis (c) versus Aron Stevens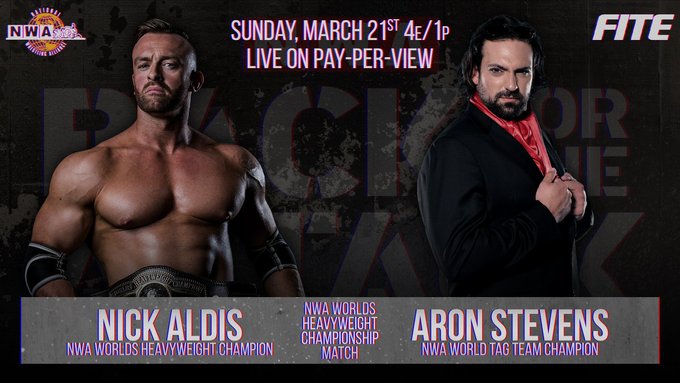 Nick Aldis has been one of the most dominant champions in professional wrestling today, having held the NWA title for a historic 878 days and counting. This is the eighth longest reign in the title's history and the longest in the last two decades. Even while the past year of his reign has been during the NWA's shutdown, Aldis has certainly been a fighting champion, defending his championship against multiple opponents in UWN and Magnum Pro Wrestling, including against Mike Bennett. Aldis became even more dominant when he turned heel in late 2019 and created a faction with the Wild Cards (Thomas Latimer and Royce Isaacs) and Kamille. The combined unit ran roughshod over NWA Powerrr.
Meanwhile, Aron Stevens has been on the run of his career as well, though mostly as a comedy wrestler. He and the late-great Question Mark (also known professionally as Jocephus) were the highlights of NWA Powerrr during its inception, bringing the "Mongrovian" style of "Ka-ra-te" to the promotion. Though the duo never won the NWA World Tag Team Championships together, their popularity led Stevens to win his first NWA National Championship in December of 2019. Stevens would then become one-half of the world tag team champions with JR Kratos in October of last year. This champion versus champion clash is sure to be the biggest match in Stevens' career, as he hopes to do his mongrovian brother proud and become the first-ever "3rd degree" NWA World Heavyweight Champion.
The comedy character promises to show a more serious side of himself this Sunday, and hopes to honor his friend Jocephus in his victory.
I'm known for portraying characters. At @nwa #BackForTheAttack for the first time it will be just me. No characters, no frills, just @RealNickAldis & I for the #TenPoundsOfGold 3-21 on @FiteTV

— Aron (@AronsThoughts) March 14, 2021
NWA Women's World Championship #1 Contendership Match – Thunder Rosa versus Kamille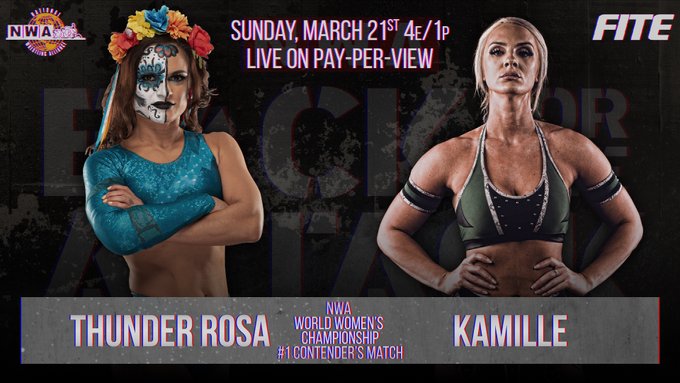 Coming off of her stunning and brutal unsanctioned match on this past Wednesday's AEW Dynamite, a match which many are calling a "match of the year" candidate, Thunder Rosa may not be 100% going into this match. She and Britt Baker tore the house down in Daily's Place, leaving a bit of their souls behind. Now, the former NWA Women's World Champion must vanquish the "Brickhouse" Kamille if she is to get another shot at her former glory.
Rosa won the NWA Women's World Championship from Allysin Kay in January 2020, holding the title for 271 days. She lost the title to the current champion Serena Deeb on an episode of UWN Primetime Live in October, both women representing the NWA with the championship on both UWN and AEW television. However, Deeb has been out with a knee injury for a couple of weeks now, with a return expected anytime soon. A rematch between Rosa and Deeb would be an incredible bout.
However, the unbeatable force known as Kamille has gone undefeated since joining the NWA, absolutely demolishing every opponent in her wake. As the heavy for NWA World Champion Nick Aldis' faction, she has astounded wrestling audiences in a way reminiscent of the late-great Chyna with both her incredible stature and aura. Rosa will need to dig deep if she is to topple the Brickhouse, especially with a spear coming her way.
Tyrus Makes Return to Television Wrestling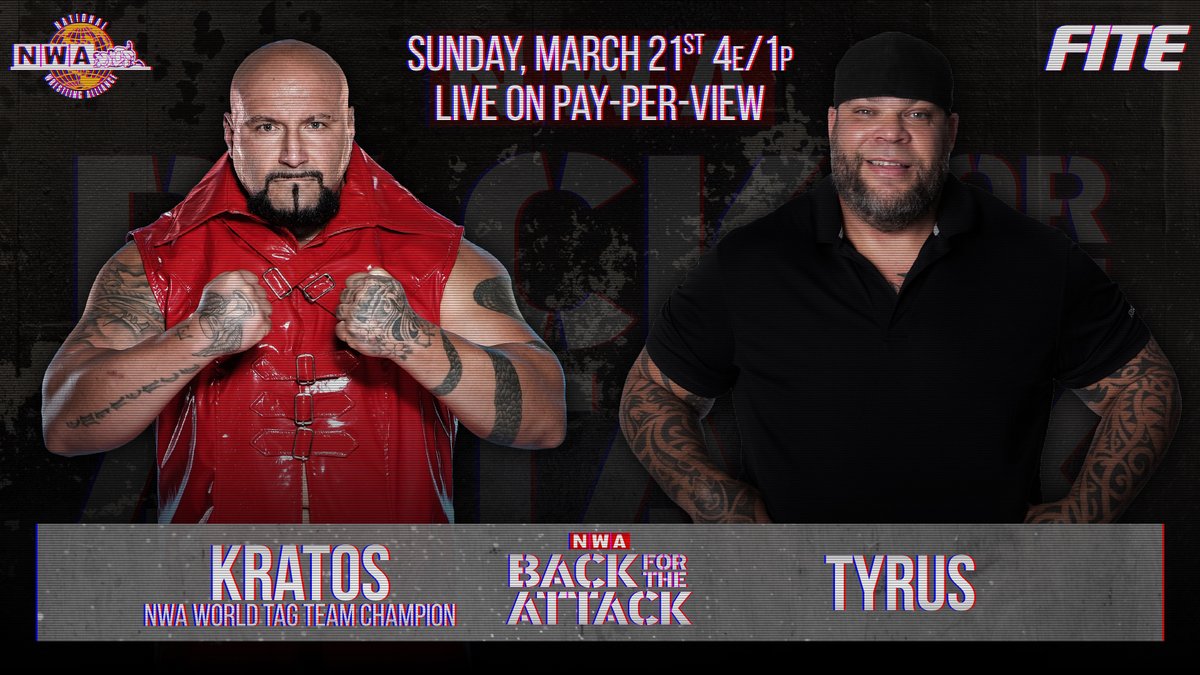 The NWA announced via Twitter last Thursday that Tyrus would be making his return to wrestling at Back for the Attack. Wrestling fans may know Tyrus as the "Funkasaurus" Brodus Clay in WWE until his departure in 2014. Since then, Tyrus has appeared in IMPACT Wrestling under his current moniker, challenging for many of the promotion's championship titles before creative differences led to his release in 2018. He has been working as a contributor for many Fox News shows, and has only wrestled twice since, famously losing in a tag team match to David Arquette for Tommy Dreamer's House of Hardcore promotion.
Meanwhile, his opponent JR Kratos does not have nearly as much ring rust, having recently been a part of the NJPW roster on its NJPW Strong USA shows, even participating in a qualifying match for the NEW Japan Cup 2021 against Fred Rosser. Kratos also managed to win the NWA World Tag Team Championships with Aron Stevens last October on an episode of UWN Primetime Live, upsetting the team of James Storm and Eli Drake. This clash of titans, no matter the difference in recent ring experience, is sure to be one for the ages, bringing out the argument of who the true big man of the NWA will be going forward.
NWA National Heavyweight Championship – Trevor Murdoch (c) versus Chris Adonis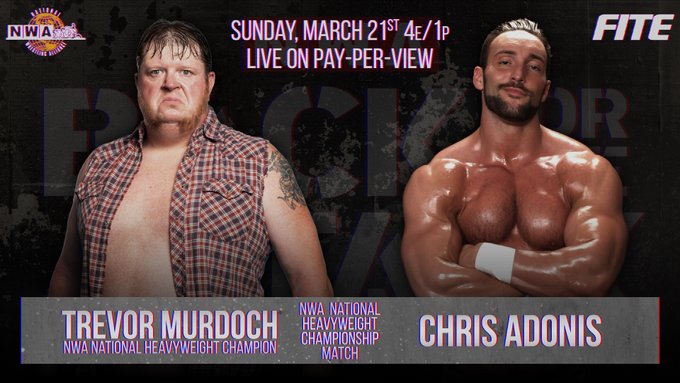 In a true clash of styles and personalities, the rough and tough veteran Trevor Murdoch puts his NWA National Championship on the line against the returning Chris Adonis. Murdoch has been champion since September of last year, when he upset Aron Stevens on UWN Primetime Live to become a first-time champion for the promotion. The National Wrestling Alliance has created a career resurgence for Murdoch, who has not had any prominent success since teaming with Lance Cade in WWE over a decade ago.
Murdoch has a challenge ahead of him in the form of another former WWE star Chris Adonis. Adonis wrestled as Chris Masters in WWE between 2004 and 2011, infamous for his use of the "Master Lock", a seemingly unbreakable hold that helped Masters dominate most of his matches. However, Masters never won any championships in the promotion and has been relatively forgotten about on the independent circuit despite being incredibly active.
Both men have a lot to gain from this match, mostly in proving that they are more than their WWE legacies. This clash is sure to be emotional for both, who wrestle in their biggest match since their departures from WWE. Can Murdoch keep his dream running, or will he become yet another victim to the MasterLock?
Stay tuned to the Last Word on Pro Wrestling for more on this and other stories from around the world of wrestling, as they develop. You can always count on LWOPW to be on top of the major news in the wrestling world, as well as to provide you with analysis, previews, videos, interviews, and editorials on the wrestling world.  Check out the NWA at its new home of FITE TV
Looking to talk wrestling, pro football, or any number of sports? Head on over to the LWOS Boards to engage in conversation with fellow fans!