Indie Watch is our regular series that looks at all of the amazing talents working the independent circuits around the world. Some are veterans revitalizing their careers, some are indie prospects hitting their peaks, while others are names to be on the watch for! In this edition, we will be taking a look at one of the most critically acclaimed high-fliers of the past 10 years in "The Big Dog" Andrew Everett.
While often understated, the Carolinas are home to some of the best-trained wrestlers of the last 25 years. Guys like Matt and Jeff Hardy, Shane Helms, and Shannon Moore, all of which have gotten the chance to wrestle in the WWE at one point or another. Today, we see North Carolina native Cameron Grimes making a name for himself in NXT, where he is currently competing in the first-ever NXT Breakout Tournament. While it is always great to see guys tear it up in the WWE, there are also competitors from the Mid-Atlantic that are blazing their way through the independent circuit. Enter Andrew Everett.
Training in the Art Of Extreme
Andrew Everett, for all intents and purposes, was made for this business. The son of a wrestling promoter, Andrew got the chance to start wrestling at the young age of 15 under the tutelage of Matt and Jeff Hardy in 2007. This led to him wrestling in independent promotion Chikara under the names Chiva Kid or Chiva IV. Here he started wrestling on a limited schedule are a member of Las Chivas along with Chiva I, Chiva II, and Chiva III throughout 2007 and 2008. He also wrestled and trained in CWF Mid-Atlantic under the guidance of Gemini Kid, where he continued to wear the Chiva mask even after his departure from Chikara in early 2008.
Andrew would continue to wrestle exclusively for CWF throughout the latter half of 2008 but would go winless up until December when he got a shot at the CWF Mid-Atlantic Rising Generation League Championship, then held by Nick Richards. Chiva, the obvious underdog going into the match, would shock the crowd by picking up a roll-up victory and winning his first-ever championship in professional wrestling.
The Chiva Years
Moving into 2009 as RGL Champion, Andrew became a full-time wrestler, moving up from nine matches in 2008 to over 30 in 2009. He would go on to defend his title four times before, in June of 2009, losing it to Matt Smith. This led to about a year of unsuccessful chasing of the Trios and Tag Team titles with various partners, as well as a couple of CWF Mid Atlantic TV Title matches before claiming the PWI Ultra-J championship in October of 2010, a championship that would follow Andrew throughout his career. Winning the title from Xsiris, the then Chiva Kid would defend the belt three times-including a three-way match featuring El Generico-before losing it back to the former champion.
Chiva Kid continued to wrestle almost exclusively for CWF Mid-Atlantic for the following years, picking up the CWF Mid-Atlantic Tag Team Titles with Arik Royal in a team known as "A Black Man and a Little Goat" before dropping them a short time later. Chiva Kid shinned the brightest going into 2013 with great matches against Eddie Edwards and Trevor Lee, but Andrew noticeably hit a roadblock due to the overgrown gimmick growing old. This issue would be solved when long-time rival Trevor Lee unmasked the Chiva Kid, and Andrew Everett was truly born.
Rise of the Sky-Walker
After his unmasking in March 2013, Andrew, now known as Andrew Everett, continued his blood feud against Trevor Lee for the Ultra J championship, whilst also branching out and competing in other promotions throughout the US. Within a few months, Andrew became a regular in Combat Zone Wrestling, as well as bringing his high-flying expertise to EVOLVE 20, EVOLVE 21, and EVOLVE 22 in multi-man matches. He also got the chance to wrestle in Dragon Gate USA and Full Impact Pro alongside fellow Carolina boy Caleb Konley to close out 2013. 
A lot of buzz surrounding the name Andrew Everett came around as 2014 started. To start, Andrew made his Ring of Honor debut as a part of the Top Prospect Tournament 2014, where he made it to the Semi-Finals before being eliminated by eventual winner Hanson. This would not be his only big debut of the year, as after a critically acclaimed match against Trevor Lee in February, both men plus Cedric Alexander would be booked by Pro Wrestling Guerrilla in California. The match, a three-way at Mystery Vortex II, was won by Everett after a 12-minute barnburner. PWG booking these three men not only put eyes on the NC scene, but it put eyes on Andrew himself, who would go on to have an amazing first half of 2014 before suffering an unfortunate knee injury, sidelining him for the rest of the year.
Not to fret though, as Andrew made his return with his first-ever European tour in February 2015. Starting in a losing effort against Johnny Gargano in Southside Wrestling Entertainment, Andrew wrestled three matches in the UK before heading eastward to Germany. When he got there, Everett competed in the Westside Xtreme Wrestling 16 Carat Gold Tournament 2015, where he made it to the Quarter Finals before being defeated by eventual winner Tommy End. Andrew then came back stateside to reunite with old tag partner Arik Royal in CWF Mid-Atlantic. Andrew then more or less picked up where he left off, returning to CZW, EVOLVE, and, most prominently, PWG. 
Carolina Strong
Starting in the middle of 2015, Andrew Everett and long-time rival Trevor Lee would start teaming up around the country. The Carolina Boyz would start their run as a tag team by entering and winning the PWG tag tournament called the Dynamite Duumvirate Tag Team Title Tournament, becoming PWG Tag Team Champions in the process. While the reign was short with them dropping the titles to the Young Bucks just one month later, this title win cemented them as a top tier tag team on the independent circuit. This tag-team success followed throughout the wrestling world in places like Beyond Wrestling and, eventually, Total Nonstop Action. 
Andrew would also have worldwide success as a Junior Heavyweight star, winning the RevPro British Cruiserweight championship in October of 2015, only to have to vacate it due to injury. This injury would end up being less severe than his previous one, as he would make his return just three months later in early 2016. He would go on to pick up the SWE Speed King championship before signing a contract to TNA Wrestling, where he joined Trevor Lee and Gregory Helms as part of The Helms Dynasty.
Throughout his tenure in TNA/GFW/Impact Wrestling, Andrew would still compete throughout the independents, debuting in AAW in April 2016, and winning the AAW Tag Team Championships alongside Trevor Lee to close out 2016. Andrew would also get the chance in both Mexico and Japan for the first time in his career; participating in events hosted by both AAA and Pro Wrestling NOAH as a representative of Impact Wrestling. After a brief tag team title run in the Spring of 2018 alongside DJZ, Everett would request for his release from Impact Wrestling to return full-time to the independent circuit.
A Giant's World?
After his departure from Impact Wrestling in September of 2018, Everett was quick to reacquaint himself with the US independent scene. Andrew challenged for both the CWF Mid-Atlantic Heavyweight and the CZW Wired Championships within a month of his released, resuming his role as a staple of indie wrestling once again. Andrew also got the opportunity to return to TV for companies like Major League Wrestling, and a return to ROH in the winter months of 2018. 
Everett, unfortunately, suffered yet another knee injury as 2018 came to an end. This time, however, he would continue to wrestle through the injury with a knee brace until able to get surgery. This, plus his love for Andrew The Giant is what lead to him hitting a "growth spurt" and growing to be (allegedly) 7'4. The Apex of Agility, known for his incredible high-flying ability, began to use the Chokeslam as a signature move and went out of his way to make sure everyone knew that he was a freaking giant. Andrew has used this unique gimmick ever since and worked a limited schedule until finally getting his much-needed surgery in April 2019.
Return of the Big Dog
After a knee surgery that looked like it would take him out for quite a while, Andrew rehabbed in just five months and is soon to return to the ring. In fact, the date is set for September 6th at Warrior Wrestling in Chicago, a place that has become a home away from home for the now Flordia based Big Dog. Andrew evidently plans on hitting the ground running in his return, wrestling his first match back against a former IWGP Jr. Heavyweight Champion and one of the best luchadors in the world, Dragon Lee. Andrew will look to go beyond his previous title as one of the best high-fliers in the world and prove to be THE best high-flyer in the world. It will be exciting to see that crusade resume on September 6th when Andrew Everett makes his return to the squared-circle.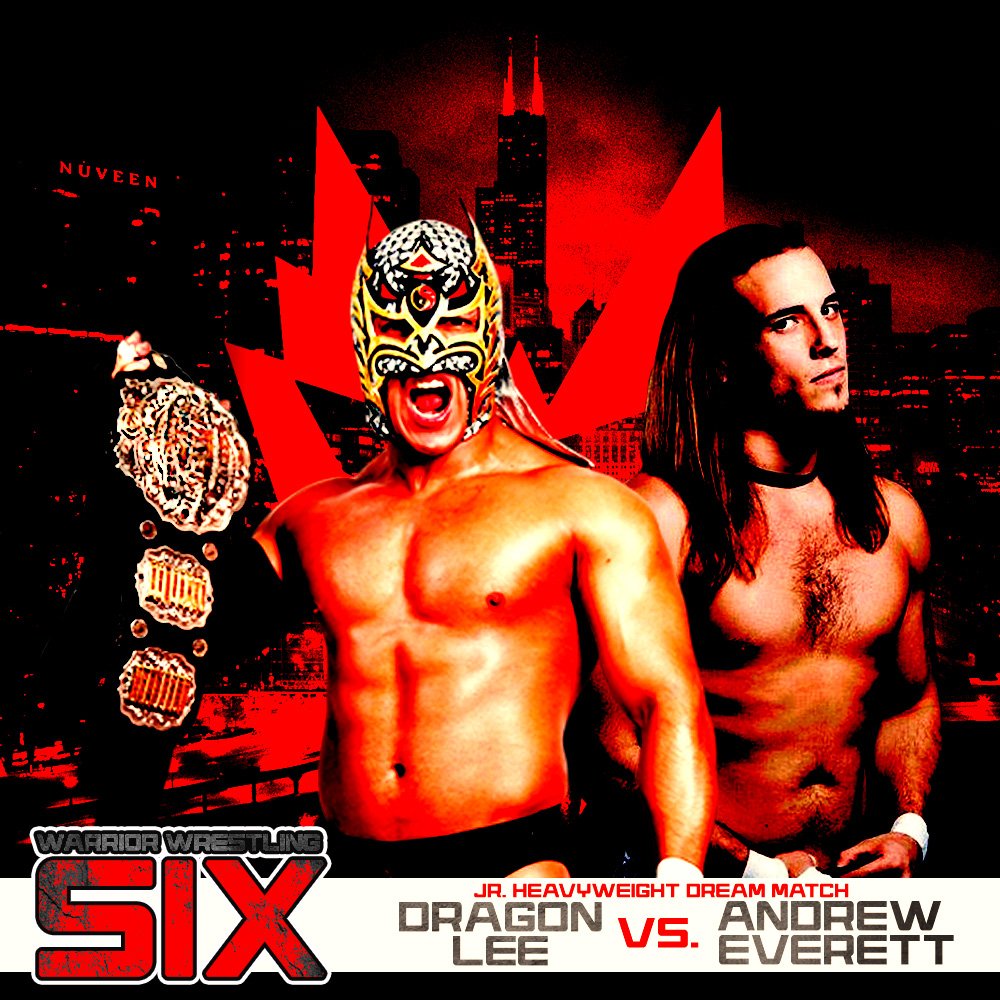 Stay tuned to the Last Word on Pro Wrestling for more on this and other stories from around the world of wrestling, as they develop. You can always count on LWOPW to be on top of the major news in the wrestling world, as well as to provide you with analysis, previews, videos, interviews, and editorials on the wrestling world. If you want to have more Andrew Everett in your life, follow him on Twitter here.