By Matthew Roller (Senior Editor), Lastwordonfootball.com
16th February, 2011. A night etched into the memory of any Arsenal fan. The world's best side at the time, and eventual Champions League winners that season, went to the Emirates unbeaten in the tournament and on a run of 21 consecutive La Liga fixtures without a loss.
The Catalans took an early lead through David Villa, but late Robin van Persie and Andrei Arshavin goals gave the hosts a 2-1 advantage heading into the second leg.
However, that night is memorable for most not for the scoreline or for the goals scored, but for the performance of Jack Wilshere, then 19 years old.
Make No Mistake, Jack Wilshere's Arsenal Career Is Over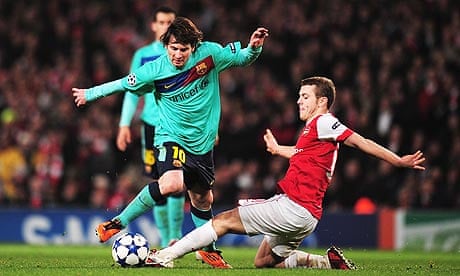 Countless column inches were written about the young midfielder's future for the club and for England, and it seemed certain that a bright future lay ahead for the Stevenage-born teenager.
Fast forward five-and-a-half years, and Wilshere has been dropped from the England squad, and is set to make his AFC Bournemouth debut at the weekend in the testimonial for Warren Cummings, a man with one Scotland cap who recently retired after a three year spell with Havant and Waterlooville.
Without wishing to belittle the career of Cummings, this is an apt barometer to demonstrate just how far Wilshere's career has fallen since that night in North London.