Earlier this week New Zealand concluded their tour of Zimbabwe with a 254-run win in the Second Test. When coupled with an innings victory in the First Test, it would be easy to assume that Zimbabwe's first Test series for just under two years was a disaster. However, these scorecards fail to tell the true story of Zimbabwe's promising return to Test Cricket.
It was always going to be a tough challenge for Zimbabwe, coming up against a fiery, talented New Zealand side led by the aggressive Kane Williamson. For a team starved of Test cricket for such a long period of time, this Zimbabwe side displayed remarkable resilience and patience in the field.
Patient Bowling
While their seamers looked understandably tired at times, Zimbabwe did well to control their bowling and slow down the rate of scoring. In an innings where New Zealand piled on 576/6 declared, in the First Test, only one bowler went at more than four an over. The opening bowlers, Michael Chinouya and Donald Tiripano, were consistent in hitting the channel early on, and managed to produce some late swing.
Occasionally the spinners were responsible for bowling loose deliveries, which were duly punished by a very strong New Zealand top order, but in turn they were capable of producing some unplayable balls. Graeme Cremer, captaining this Zimbabwe side, was happy to bowl his leg spin in long spells, bowling a mammoth 53 overs in the first Test.
With regards to his bowling changes, Cremer took a more aggressive approach. In the First Test he introduced spin after just eight overs, right before stumps, despite the fact the opening bowlers had hit the right areas early on. He had plenty of options, and ended up utilising seven bowlers in the First Test, with six different bowlers picking up one wicket each. This clearly shows the depth in the bowling attack of this Zimbabwe side, a very useful asset to have in Test cricket.
Inconsistency with the Bat
On the whole, their batting was far less consistent than their bowling.
Zimbabwe never really settled on a solid top order. In the First Test, Brian Chari and Chamu Chibhaba opened, with Hamilton Masakadza at three. Yet, in the second innings Maskadaza opened with Chari moving down to three.
The Second Test saw both Chari and Maskadaza excluded from the team, and Sikandar Raza moved up the order from six to three. The constant shuffling of the batting order was indeed detrimental, with no-one being allowed to settle.
If Zimbabwe are to find some success in Test cricket, they must find a dependable top order which they can rely on. For a nation that plays very little Test cricket, it is important for them to have a set strategy which they should preserve with.
To some extent, however, Zimbabwe were quite unlucky with certain umpiring decisions in the Second Test, with umpire Reiffel making several poor calls in the 4th innings. Nightwatchman Tiripano had batted for 70 minutes on the morning of Day Five before he was given out LBW to a ball that was clearly missing leg stump, triggering a drastic collapse.
Reiffel then went on to give three more dubious decisions against Zimbabwe, which all appeared to have been incorrect when the replays were seen. This destroyed any hopes that Zimbabwe had of drawing the last Test, as they lost seven wickets for 35 runs, handing New Zealand a 2-0 clean sweep.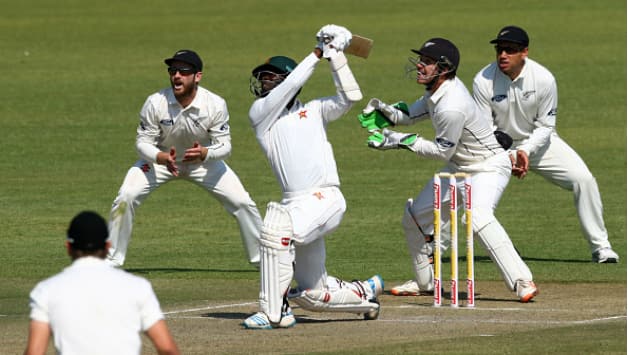 Zimbabwe's series with the bat was held together by several special performances from certain individuals. Tiripano's unbeaten 49 in the first innings was key to restoring some momentum and dignity for Zimbabwe. Sean William's classy 119 highlighted his individual talent, and would have given hope to the other batsmen that the skilful pair of Trent Boult and Tim Southee could be tamed. Craig Ervine played a similar innings in the second Test, and has proven that this Zimbabwe middle order has a lot of talent.
The Future
The next step for Zimbabwe is obviously to play more Test cricket. They need to gain more experience, as only one player in their side played in their last Test before this series. Moreover, a settled top order needs to be established, one which combines experience and Test match temperament. Their bowling department is looking relatively strong, especially with their depth of seamers.
The next series coming up for Zimbabwe is the Africa T20 Cup, where they are playing three matches in three days against various South African domestic sides. Regardless of their performance in that competition, Zimbabwe's promising return to Test Cricket will give the national side a great deal of optimism for the future.