If you have followed me on Twitter for any length of time, especially over the past year, you will probably have heard the term "jersey curse" mentioned on multiple occasions. I'm going to take the opportunity now, to explain just how long my jersey curse has been running.
The Jersey Curse
Weston Dressler
My wife would be the first one to tell you that I have far too many jerseys. At this point, most of them remain blank, but a select few have been blessed with a name and number of a yet-to-be star for the Saskatchewan Roughriders. It started in the training camp of 2008, with a young Weston Dressler. This blog-writer saw something during camp, and decided to take a chance. Days before the season began, before Dressler had ever taken a meaningful snap with the Roughriders, his jersey hung proudly in my closet. This turned out to be a pretty smart decision, as he would remain a Saskatchewan Roughrider through the end of the 2015 season. Dressler was just released by the team, and will earn his pay in Winnipeg in 2016.
Kory Sheets
I waited several years before attempting the rookie jersey purchase again, but in 2012, a talented running back named Kory Sheets caught my eye in training camp. His jersey hung next to Dressler's as he helped lead the Riders to a Grey Cup title at home in his second, and final, season with the team. While his time with the Roughriders was great, not long after leaving the team, injuries amassed for Sheets, costing him a return to the NFL. He looked like he was going to make the Oakland Raiders out of training camp in 2014, before tearing his Achilles muscle and requiring surgery. He was waived by the Raiders, and has not returned to football.

Keith Toston
In the 2014 training camp, I thought I would try my jersey luck again, and watched as Keith Toston looked ready to take the torch from Sheets. On 10 carries in the preseason, Keith Toston amassed 125 yards, and even the Leader-Post speculated that he would be the starter. I talked several friends into joining me in Section 27 as the "Keith Toston Fan Club" and prepared to look like absolute geniuses yet again… But Toston did not dress for the team until October 24th in Calgary. His first rush from scrimmage was a 41-yard run. He ended the game with 6 carries for 72 yards, and he never saw the field again. He was cut at the end of the year and signed by Calgary. As of now, he is unemployed.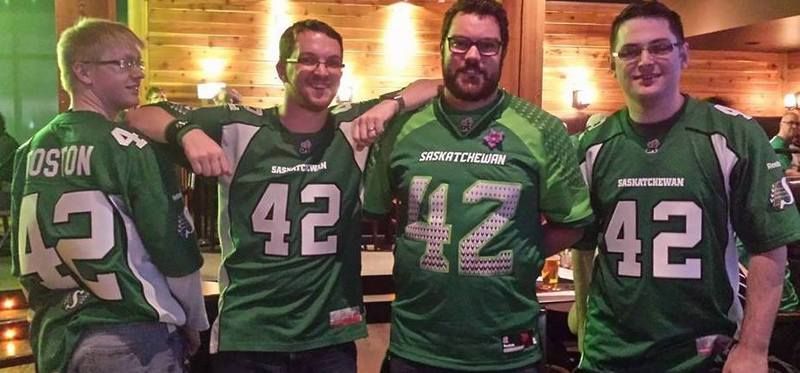 Korey Williams
Korey Williams joined the team partway into the 2014 season. While he didn't show much during the season, he seemed to mesh well with Kerry Joseph near the end of the year. He looked like the speedster this team needed on the outside. During a discussion with a coworker, we decided to take advantage of the Riders current deal of free customization and grab Williams jerseys. The Keith Toston fan club was dead, but from it sprang the Korey Williams fan club. He may not be the top WR, he may not amass 1000 yards, but at least he would dress every game and have an opportunity… Right?! Wrong. Right from week one, it looked like the jersey curse had struck again. Week after week went by, and Williams was a game day scratch. Each game he did play, he managed to look like he belonged, even leading the team in receiving in one game. On September 9th, he was released, as they asked him to join the practice roster and he declined.
A good story did come out of this particular jersey purchase. During the home opener, while sitting at a tailgate, Williams happened to see a couple of his own jerseys, and actually came out to say hi. It was one of many "only in the CFL" moments to happen at that tailgate over the years. He is a classy guy, and I wish him nothing but the best.
Jon Cornish
I jokingly put up a GoFundMe to test the curse earlier this season. I requested funds to buy a Jon Cornish jersey, as there was no way I would buy one with my own money. Several people donated to the cause to test the curse and while we didn't get to the goal requested, it did not matter. Within a week of the GoFundMe going up, Jon Cornish went down. A broken thumb put him on the six-game injured list, and he would go on to only play in a single game in 2015 after that, before announcing his retirement at the beginning of the off-season.
Ryan Smith
On Sunday, July fifth, part way through Ryan Smith's breakout 174 yard performance vs. the Argos, I turned to my friend and said "I know my next jersey – I'm getting a Ryan Smith jersey." Moments later, he would make his acrobatic highlight reel catch that would knock him out for a week with a concussion. While he has escaped injury since that game, he went unsigned by the Roughriders, and just like his 5'7″ counterpart in Dressler, has made the trip East down the highway to join the Blue Bombers.
The Game Worn Jersey Curse
After the 2012 season, I decided to look into getting my first game worn jersey at the locker room sale. A jersey worn by a young receiver with promise caught my eye, and I would soon be the proud owner of a Taj Smith jersey and practice-worn helmet. While I decided not long after to sell these items for a price that I couldn't refuse, Taj Smith would not escape the curse. In Mid-August of the following year, Smith was arrested along with two teammates for allegedly assaulting a man outside of a Regina night club. His case remains before the courts to this day. Smith was among those released in "The Purge" by Jones.
This offseason, like many fans in Saskatchewan, I decided to hit up the locker room sale after the season to look into getting a game worn jersey or two. Having never had a jersey from the defensive side of the ball, I decided it would be good to take that route that day. I was excited to pick up a Tristan Jackson jersey for $100, and headed home. I went back later that day with my wife, and she offered to buy me an additional jersey as a Christmas present. Again, I dug through every jersey on the racks, and decided on another defensive mainstay in Weldon Brown. I went home, excited at the possibility of getting a couple of game worn jerseys autographed and hung up. Within a week, the great Jones purge was announced, and both Brown and Jackson were released. Neither player has signed with a new CFL team.
Jake Doughty
After the 2015 CFL Cancer Awareness game at Mosaic Stadium, I decided to look into purchasing a pair of pink gloves from the team. After much deliberation, I decided to go after Jake Doughty's gloves. After escaping the first purge, I felt like I finally beat the curse. While it was only a pair of gloves, it was a start. But it was not to be. On February 10th, Jake Doughty was released, and still remains unsigned.
What's left in my Jersey Collection?
As it stands today, while my CFL jersey collection sits somewhere between 10 and 15 jerseys, I currently have zero jerseys of current active members of the Saskatchewan Roughriders. I have two remaining non-active players who will always be good choices to wear on game day in George Reed and Don Narcisse.
Is the Jersey Curse Contagious?
At the locker room sale I mentioned earlier, I went alongside a friend of mine. While there, he asked me my thoughts on a Doughty purchase. Being a former Green Bay Packer, I thought it was a great purchase, and suggested he get it. Whoops…. I also suggested he pick up a Tyler Crapigna jersey, so if he gets cut, I offer my apologies ahead of time.
At this point I think I need to stick to blank jerseys. Some have suggested former players, but I truly fear that I would kill them. I will also never be getting a jersey with my own name on it, as I am afraid that the jersey curse would come after me too.
Main Photo.