The city of Montreal is defined by two things; being the French Metropolis of the Americas and the home of the most storied franchise in the National Hockey League, the Montreal Canadiens. Digging further, you'll find a rich history of other sports teams like the now-defunct Expos (baseball, MLB), Alouettes (football, CFL) and Impact (soccer, MLS). Deep under the crevices of all that is the independent wrestling circuit. In Montreal, you won't find a shortage of promotions to catch a show, schools to learn the ropes and local wrestlers that you'll pass by on a daily basis.
In that wrestling scene, two names have emerged as the biggest and promising grapplers in the city's recent history; Sami Zayn and Kevin Owens. Two pro wrestlers who trained in Montreal, got their first real shot in Montreal and have both expanded to the lengths of making the World Wrestling Entertainment's developmental program in Florida. Since the Pat Pattersons and Vachons of the past, the route to the WWE has been a hard one to go down from Montreal but both Zayn and Owens have not only cracked in, they've taken the NXT promotion by storm.
Sami Zayn was a lanky kid with red hair and of Lebanese heritage. They threw a mask on him, put on a cape and slapped on generic ring gear and told him to get squashed. He listened, took his big break and over time, turned the generic luchador gimmick into El Generico. For a decade, he tore up all of Quebec, toured the world with several promotions and made a name for himself. Meanwhile Kevin Owens earned himself the nickname of "Mr. Wrestling". As Kevin Steen, he was the big man that could fly, wowing the crowd every night with his incredible athleticism, wrestling ability and sheer brutality. Owens toured with Zayn for a decade and the two became the best of friends on and off screen, while becoming rivals and eventual bitter enemies in ROH.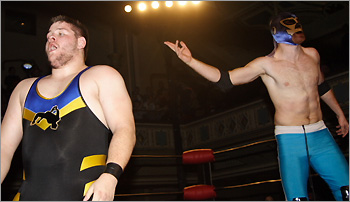 Credit: prowrestling.wikia.com
The Rise of SteenErico
Forming in late-2004, the team of El Generico and Kevin Steen sporadically wrestled side-by-side in promotions like CZW, PWG and JAPW before finally cracking the gold picture, three years later in PWG. Defeating the team of PAC and Roderick Strong, Generico and Steen captured the PWG Teag Team Titles for the first time, their first tag team gold in any promotion. After a three month stint as champions, alternating between defending their gold in PWG and challenging the team of Jay and Mark Briscoe for the ROH Tag Team Championships, Generico and Steen would lose their titles to the team of Davey Richards and Super Dragon.
The duo would be booked in three matches in ROH to end their year in 2007 before going their separate ways. However, in March of 2008, Steen and Generico re-formed and captured the PWG Tag Championships for a second time, defeating the team of Joey Ryan and Scott Lost. Adding to their repertoire, Steen and Generico became ROH Tag Team Champions. It was a testament to all their hard work and a reflection on just how good of a team they were. They complimented each other. El Generico was a high-flying wrestler who wore his heart on his sleeve and wrestled with pure emotion, while Kevin Steen was brutal, wanted to hurt you and used every part of his party to wreak havoc on his opponent. The duo formed a bond in friendship and turned it into a destructive force, both in PWG and ROH.
In Montreal, both Kevin Steen and El Generico were often ranked individually as #1-2 in the Quebec Wrestling Almanac, issued yearly. As a tag team, there was no team better than them. None came close to what Steen and Generico had accomplished in a short amount of time.
Credit: wrestleenigma.com
"I hate your ****ing guts."
In 2009, ROH held their Final Battle Show that saw Steen and Generico taking on The Young Bucks, the same team that had defeated Steen and Generico just a month prior in PWG, to capture the tag titles. After coming up short, Steen took to the microphone and thanked all the fans for their continued support throughout tough times. It had been a tough few months for the team of Steen and Generico, but with the encouragement of their fans, the two had stuck together. Steen then hugged Generico, held the microphone to his lips and said, "I hate your ****ing guts."
With the words echoing through the building, Steen low-blowed his friend. As the crowd watched in shock, Steen went to the outside to grab a steel chair. Once back in the ring, he looked at his long-time tag partner and saw the pain in his eyes. He saw the look in Generico, who looked back at Kevin and saw nothing but horror. Steen cracked the chair over Generico's head, putting the stamp on his turn.
"You want me to explain why I attacked El Generico? You ever ask an alcoholic why he was sick or what was wrong with him? Or why he went to rehab? He probably said to heal. To get better. What I did tonight was exactly that. I was sick! I had a disease."
Steen was no longer the man he once used to be. Paired with Generico, Steen felt like he was a lesser success and that his partner was holding him back. In a sense, he was right. To no fault of Generico, Steen was no longer the dominant force he used to be and he finally decided to make that cut-throat decision to end his affiliation with the masked luchador, adding insult to injury by downing his once-good friend and leaving him laying in the middle of the ring.
In the year that followed, Steen and Generico battled eight times, six times through tag team competition and twice in singles action. While Generico edged out Steen 5 wins to 3, both participants earned a singles victory in the process.
Final Battle 2010 & 2012
All the bitterness, anger and violence culminated in a final match between the two, fitting for the name of the event in which the match was held in. Although this was the end to their battle for supremacy and one-upmanship, it was no longer good enough. Their could be no winner without anything else to add on it. A winner was simply not good enough anymore, especially since both participants already held a win over each other. This was not your typical rubber match.
It was decided. Kevin Steen would put up his ROH career on the line while El Generico would take off his mask, should he lose. It was the things that represented each individual. For Generico, his mask was a symbol of pride and dedication. Like any luchador, removing a mask is a sign of embarrassment and disgrace, something Generico wanted to avoid. For Steen, wrestling in ROH was everything to him and to lose his spot on the roster could mean the end of his wrestling career entirely. It was the perfect stipulation to put an end to their battle.
In the end, Generico came up on top, forcing Steen to leave the ROH for good… or so he thought.
ROH would later bring back Kevin Steen, claiming he was a new man but that was short-lived and soon, he began to destroy the ROH promotion from the inside, hacking their official website leaving just a video of himself explaining his plans to the ROH audience, and package pile-driving everyone in sight. It was a demolition derby out there and the only car doing the damage belonged to Steen.
What truly was their final battle came in 2012, where Steen and Generico took part in a one-on-one, Ladder War match for the ROH Heavyweight Championship. For Steen, it was about defending his gold and continuing to cast the dark cloud around the ROH promotion, while Generico was the white light attempting to evict the evil that was Kevin Steen. With the title hanging in the balance (literally), the two men clashed. Generico unleashed a new side of him that could only be brought out by Steen, while Mr. Wrestling used his size advantage and aggressive attitude to bully Generico around.
Kevin used the ladders every chance he got, slamming Generico's body onto the metal weapons and then throwing more ladders on top of him. It was a brutal sight to witness. The match reached its climax when the two combatants built a ladder contraption, which saw two ladders set up in the middle of the ring and a third ladder hooked to the rungs of the two other ladders, forming a steel table-like structure and a fourth ladder hooked up underneath the third one. As they climbed the two ladders, Steen bit the fingers of Generico and then delivered a low-blow. What happened next was a portrayal of unbelievable proportions. Steen hooked Generico's legs, lifted him up and delivered a package piledriver onto the ladder contraption.
With Generico's body falling to the mat in a heap, Steen stood tall as the victor of the match.

Credit: WWE.com
"We did it. We did it."
With both in NXT at the same time, it was only expected for them to butt ends. The surprising thing is how quick it happened. Owens, who debuted at [R]evolution at the top of the show, defeated CJ Parker in a fantastic bout which resulted in blood spilling and bodies flying (sadly, nobody got package piledriven). In the main event that same night, Sami Zayn won the big one by defeating Adrian Neville to become the new NXT Champion. As he celebrated, the roster came out to join him and the first thing to notice was the bee-line Kevin Owens made for Zayn. The two embraced in a brotherly hug, before Owens raised Zayn's hand in the air. It was a moment wrestling fans have waited for.
Then, it happened. As Zayn left the ring, he was greeted once again by Owens. Only this time, Owens tossed his Montreal rival to the ground and followed it up with a vicious powerbomb onto the ring apron. As the NXT audience looked on in shock, it was clear in which direction this thing was going. Kevin Owens truly was here to change everything and he would fight anyone… and everyone.
Sami Zayn and Kevin Owens. Two wrestlers out of Montreal who climbed the ladder of professional wrestling at the same time, battled alongside and against each other in a display of pure ability and talent and now, once again, are in the same ring at the same time and are ready to do battle. If you missed ROH and their epic battles, you're in for a real treat and should be prepared for some of the best wrestling you've ever seen, in 2015.
Thank you for reading. Please take a moment to follow me on Twitter –@CrimsonSkorpion. Support LWOS by following us on Twitter – @LastWordOnSport – and "liking" our Facebook page.
For the latest in sports injury news, check out our friends at Sports Injury Alert.
Have you tuned into Last Word On Sports Radio? LWOS is pleased to bring you 24/7 sports radio to your PC, laptop, tablet or smartphone. What are you waiting for?