The Joshi wrestling scene (Japanese Women's Wrestling) is a deep scene full of insanely talented performers and every month there are dozens of fantastic matches from promotions from Stardom to Sendai Girls and everywhere in between.  In this article, we aim to give readers a list of recommended Joshi matches that took place in the last month, there will be some honorable mentions and then a top 5 featuring our absolute favorites!  Scott Edwards gives his latest edition, which focuses on May 2022.
Important Note: Due to some matches not airing as of the time of writing some presumably great Joshi matches can't be ranked.  Also due to the recent PPV Model adopted by a number of promotions, we are unable to see every event.
Recommended Joshi Matches of the Month: May 2022
Honorable Mentions
Saya Kamitani vs. Maika (Stardom)

Arisa Nakajima vs. Riko Kaiju (SEAdLINNNG)

Saya Kamitani vs. MIRAI (Stardom)
5. Tsukasa Fujimoto & Ibuki Hoshi vs. Arisa Nakajima & Hikaru Shida (Ice Ribbon)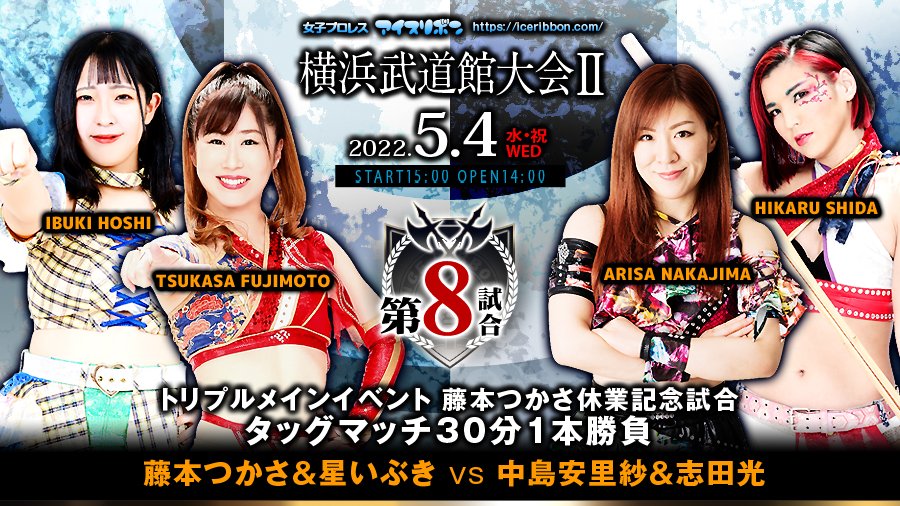 The emotional Yokohama Budokan show for Ice Ribbon to kick off May featured three straight quality matches to close out their show which was headlined by the retirement of Tsukushi Haruka. Despite that, the best of the best when it comes to match quality came from the semi-main event. While the majority of the night was about Tsukushi, it was also Tsukasa Fujimoto's final show before she would go on a hiatus from wrestling. So in result, she would team with Ice Ribbon rising star Ibuki Hoshi to take on two of her long-time tag team partners, Arisa Nakajima and Hikaru Shida. The match would accomplish all you'd hope for out of these four women with Fujimoto ultimately being the one pinned in the middle of the ring.
There's no doubt that Ice Ribbon will be a different promotion moving forward but for what was the final show of their latest chapter, they delivered with this match being a huge highlight in achieving that.
4. VENY vs. Syuri (Hana Kimura Memorial Show "Bagus!")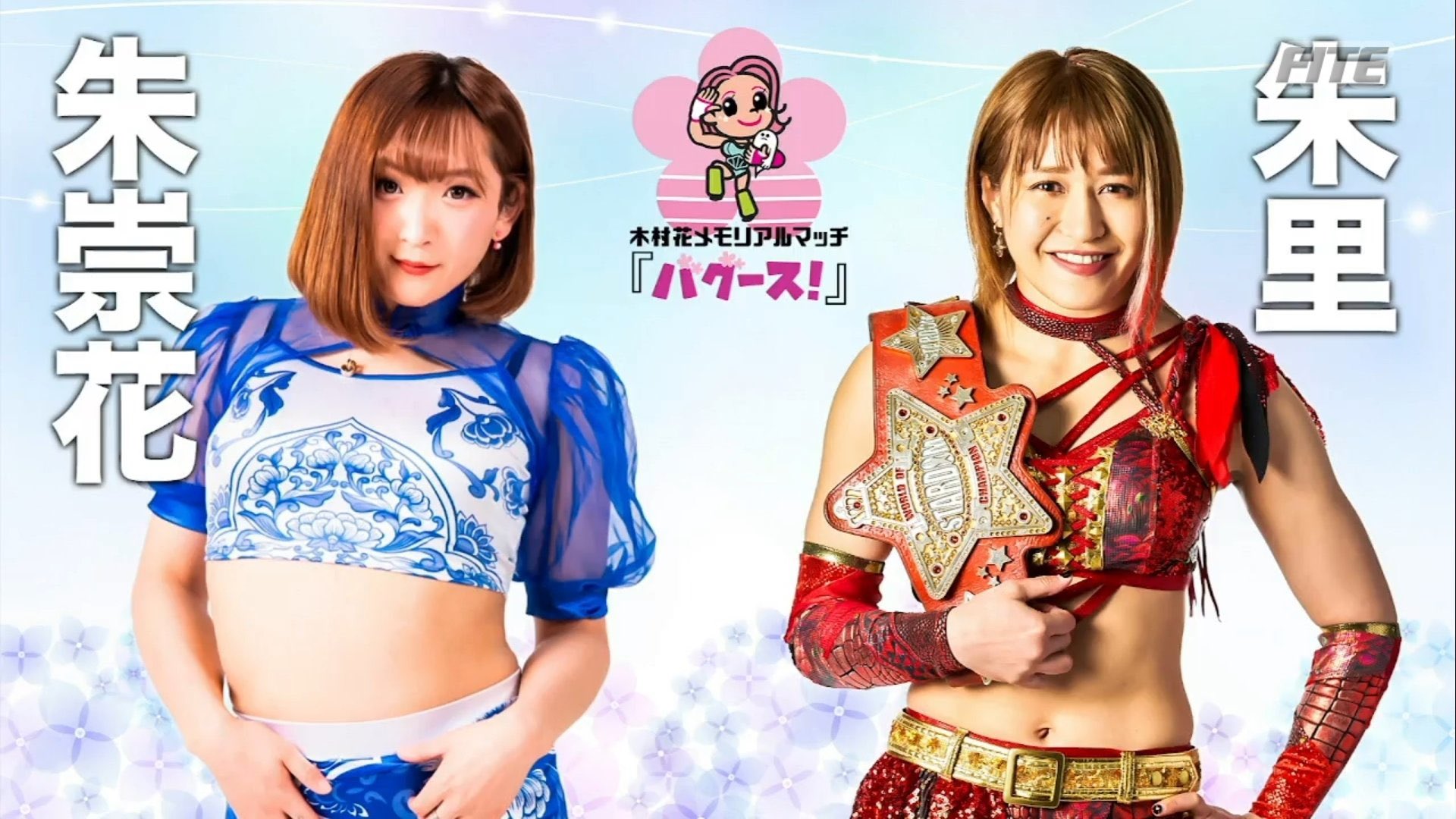 VENY and Syuri were tasked with main eventing the second annual Hana Kimura Memorial Show. This time titled "Bagus!," the show had already had a number of emotional and exciting moments throughout the show, including an impromptu match between Jungle Kyona and Kyoko Kimura. So how could these two live up to the high expectations fans worldwide had but also what came prior? Well, they showed why they are two of the best wrestlers in the world. The World of Stardom Championship was not on the line but this match felt as big as a world title main event. Not only did they exchange magic back and forth but made you believe either of them could win.
Syuri walked out as the winner of this match, but it was the wrestling world who were the true winners. They didn't need to put on one of the best matches of the month for it to be special but that's exactly what they managed to do.
3. Momo Watanabe & Starlight Kid vs. Hazuki & Koguma (Stardom)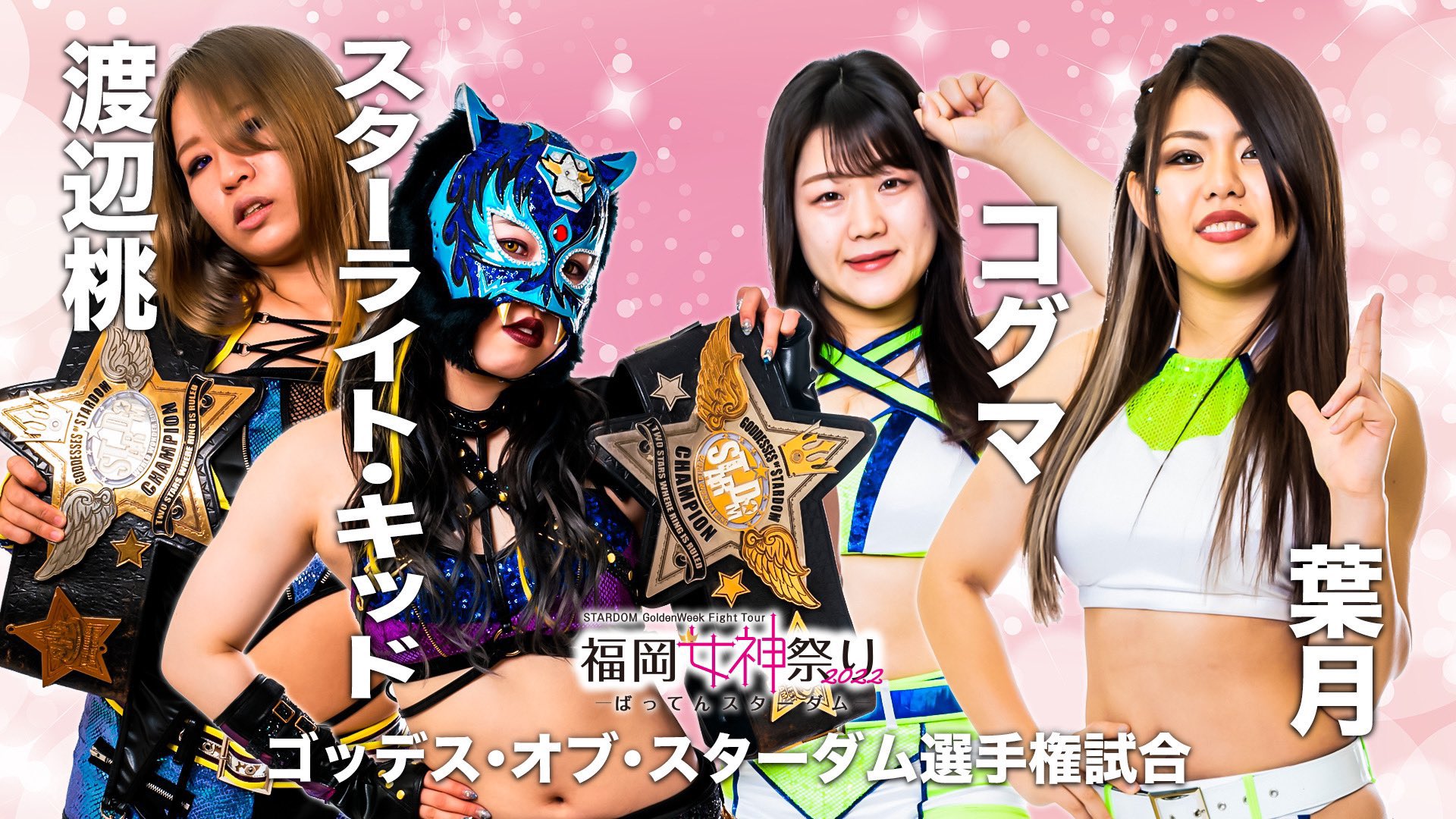 Tag team wrestling can be really special if done right. And it can be done even better if you have someone ready to go above and beyond to make it special. That's what happened here as Black Desire defended their Goddess of Stardom Championship against the former champions, FWC. Momo Watanabe and Starlight Kid displayed the best form of heel violence Oedo Tai has seen in years. Watanabe and Kid did all they could to try and take down the challengers. And this match will indeed go down as a tag team wrestling match but it was the second half which was dominated by Watanabe and Hazuki fighting against one another that solidified this as one of the best tag matches of the year.
Watanabe would not give Hazuki a chance to breathe but "The Wild Heart" wouldn't go away. Every single time "The Black Peach" hit Hazuki with something, she'd fight through and survive. When it was time for the final Peach Thunder driver by Watanabe, Hazuki was able to reverse it and turn that into a Hazukistral to steal the win and take back the gold. Make sure to check this one out.
2. Syuri vs. Risa Sera (Stardom)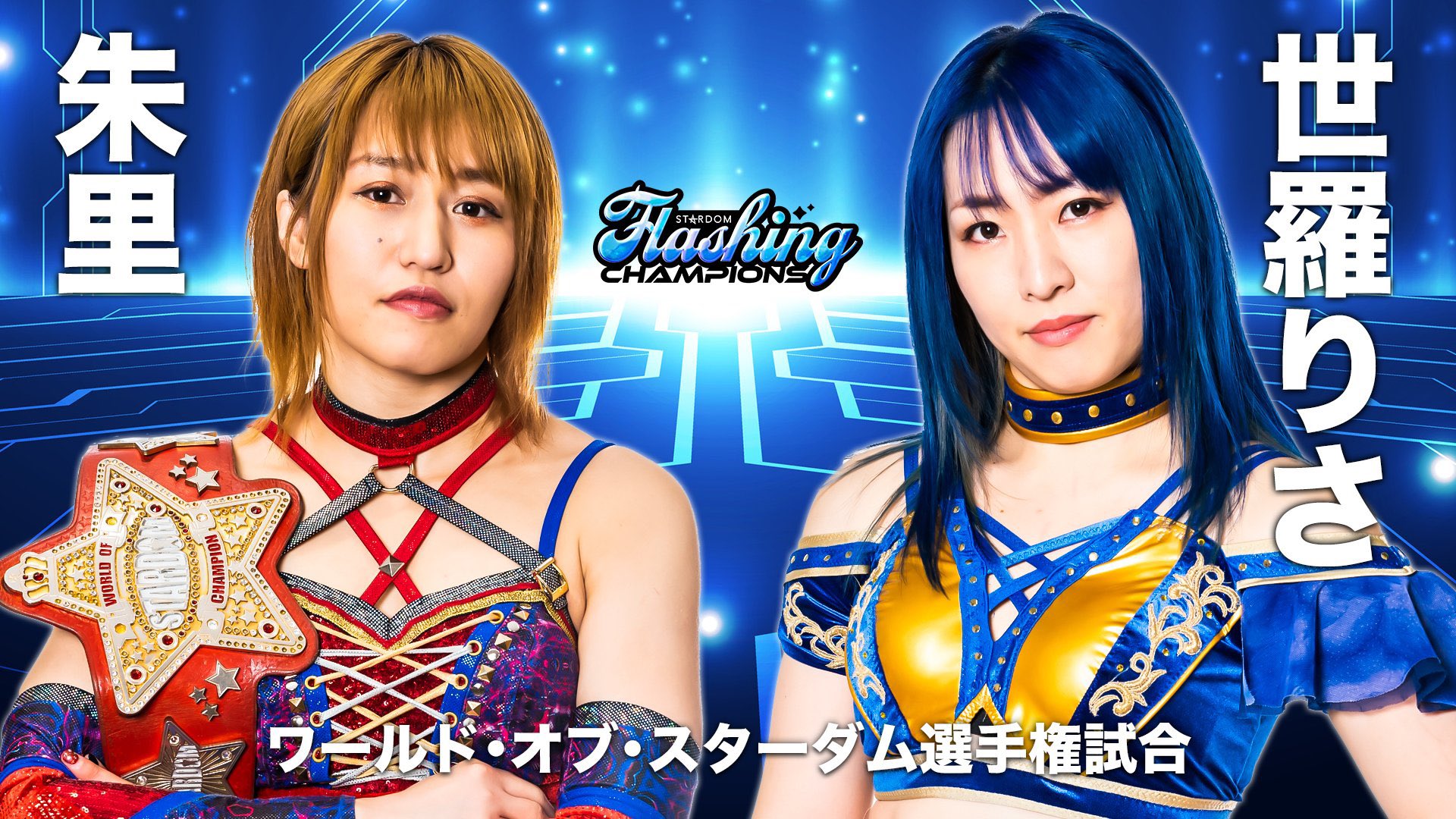 When Risa Sera was selected by Syuri as the next challenger for the World of Stardom Championship, no one was certain where it would go. After all Sera, the leader of Prominence, was so focused on her deathmatch work and was going to do everything in her power to bring that to a title match against the God's Eye leader. The match would get its stipulation of no pinfalls and no countouts. The only way to win was by knockout or submission. Syuri was not going to allow deathmatch rules but once the bell rang, Sera did all she could to get an advantage. This match was as vicious as you will see in Stardom this year. Just a step below the Giulia defense, Syuri and Sera managed to achieve greatness through violence and the unique execution of this match.
The kendo stick swing heard around the world will be the moment fans remember as Sera smashed Syuri in the skull with it but it was still Syuri who battled back to win the match after putting Sera in a Sleeper Hold, forcing Prominence to throw in the towel. Any other month, this would be number one but it'll comfortable take the two spot.
1. Rina Yamashita & Maya Yukihi vs. Miyuki Takase & Ryo Mizunami (NOMADS')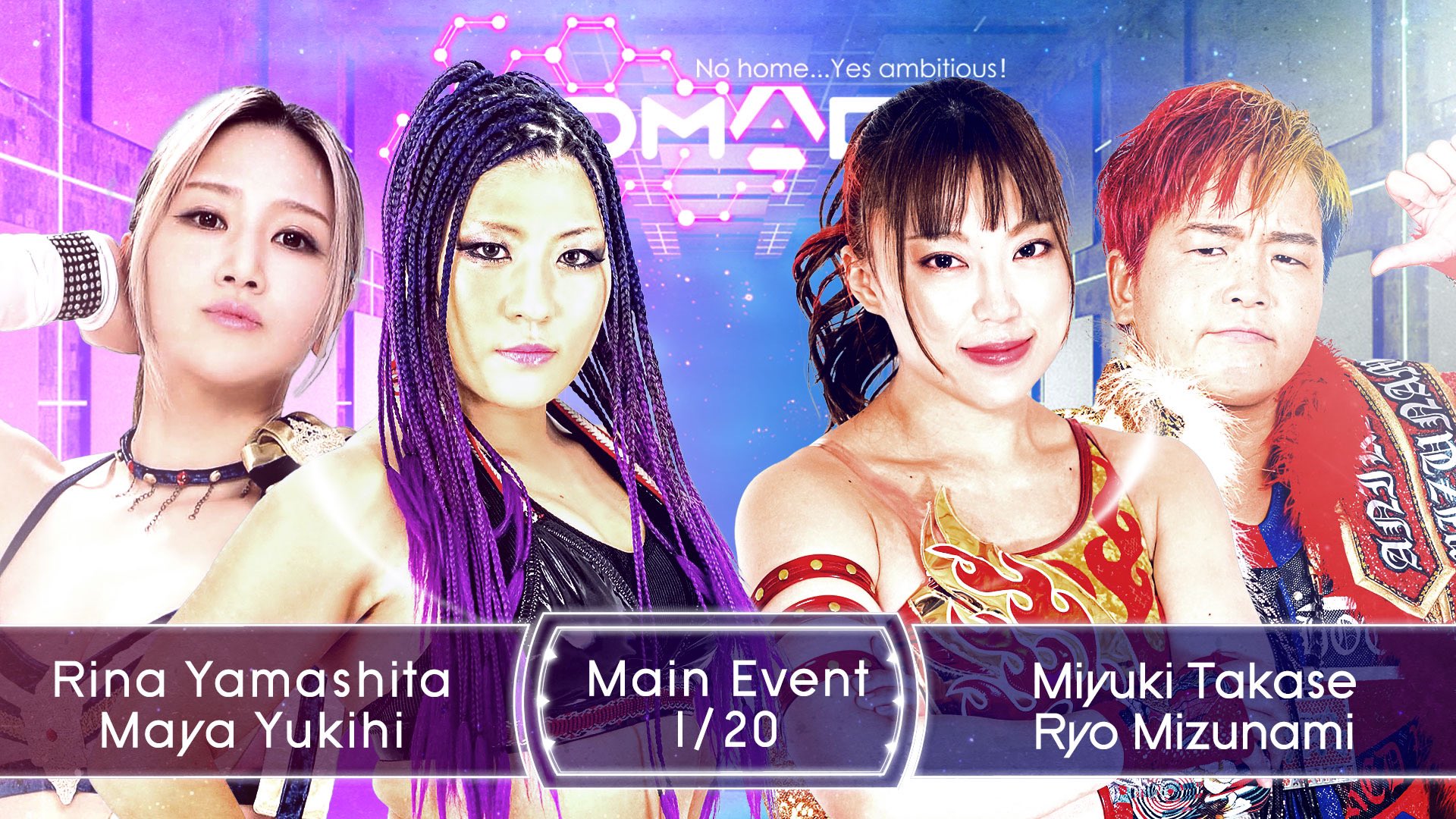 NOMADS' Freelance Summit Vol. 1 was as good as wrestling fans could have hoped and much of the reason it accomplished that was due to what was an incredible main event. Rina Yamashita teamed with Maya Yukihi to take on Miyuki Takase and Ryo Mizunami. No matter the words I write, it won't do this match justice so please make sure to watch it. The NOMADS' crowd was as loud a crowd you will hear in Japan since the no cheering and only clapping mandate came into play. Why? Because this crowd was cheering loudly from start to finish and made this match feel special. Add in the fact these four elite wrestlers put together the best Joshi tag team match of the year (and one of the best overall) and you understand why NOMADS' was so special in their first show.
Professional wrestling is at its best when the crowd is roaring and the action in the squared circle has everyone locked in. This match checked all the boxes and is the must-see, no doubt best Joshi match of the month for May.
More from LWOS Pro Wrestling
Stay tuned to the Last Word on Pro Wrestling for more on this and other stories from around the world of wrestling, as they develop. You can always count on LWOPW to be on top of the major news in the wrestling world, as well as to provide you with analysis, previews, videos, interviews, and editorials on the wrestling world.  And check out the last edition for more of our recommended Joshi matches.