With the announcement of the NHL's Return to Play plan, the 24 eligible NHL teams are preparing for the Stanley Cup Playoffs. The Tampa Bay Lightning are one of those teams. Last Word on Hockey continues with its Black Aces series, examining teams' spare players that could make an impact this summer. Today's installment looks at the players who make up the Tampa Bay Lightning Black Aces.
With the cancellation of the AHL season, these call-ups become more important to players on the bubble of NHL teams. This is the only meaningful hockey these players may have the chance to play for a while, and they'll certainly look to set themselves apart at the NHL level during the playoffs.
Tampa Bay Lightning Black Aces
The term "Black Ace" was once used negatively. The term originated from Eddie Shore, who would refer to spare players as a "Black Ace." Shore would say that a team would be in bad shape if they had to use one of their Black Aces in a game. However, recently, it has been used more positively. A team would use a Black Ace to help them overcome the loss of a player or if they thought a different player could be utilized in a way to help the team win. Let's look at the Lightning's aces in the hole.
The Lightning have one of, if not the deepest lineups in the NHL. With stars such as Nikita Kucherov and Steven Stamkos on the front end, Victor Hedman on the back end and Andrei Vasilevskiy is goal, there will not be a lot of opportunity for major minutes, come the playoffs. With that being said, if a crucial player goes down with an injury, someone may get the chance to step up. Today, we will break down seven players that could be considered Tampa Bay Lightning Black Aces.
Alex Barre-Boulet
While some people may not know who he is, Barre-Boulet could be a potential game breaker for the Lightning in the future. Having gone undrafted, he signed an entry-level deal with the Lightning in March 2018. In his two seasons playing for the Syracuse Crunch, he has collected 124 points in 134 games played.
If he were to draw into the lineup, Barre-Boulet would surely provide an offensive spark. When given time and space, he makes opponents pay. He has a hard shot and does not miss often. He has good vision and loves to create chances for his teammates. Defying odds wherever he goes, Barre-Boulet will be a regular name in the not so distant future. If it happens in this playoffs, all the better.
Alexander Volkov
Like Barre-Boulet, Volkov has improved by leaps and bounds over the past few seasons. Having spent the past three seasons playing for the Crunch, he has put up 123 points in 195 games played. Coming overseas from Russia, everyone expected him to have difficulty adapting to the smaller ice and language barrier that was posed. He passed the test with flying colours and has been a crucial piece in the organization ever since.
Volkov got into nine games with the big club this past season. He only managed to record an assist but showed that he could adapt to whatever was thrown his way. Knowing he wasn't going to be playing big minutes, Volkov showed that he could adapt and play a grinding game. He was good on the forecheck and proved his value. It will be exciting to see if he gets into some games soon enough. I think he will provide great value now and in the future for the Lightning.
Taylor Raddysh
Although he has been pushed down the depth chart by the talent in the Lightning system, Raddysh is still a valuable player that can make a difference. Playing for the Crunch this past season, he scored 19 goals and added 16 assists for 35 points in 62 games played.
While he has been developing at a slower pace than people thought, Raddysh has proven that he has turned a corner in his development. He has been working on his play away from the puck and has proven that he can be a valuable option at both ends of the ice. If someone goes down with an injury, Raddysh may be a good option to come in and play some minutes. He plays hard and would be motivated to prove what he brings to the team.
Mathieu Joseph
Having spent the entire year with the Lightning last season, it was a surprise to many to see Joseph sent down early in the season. Although he did manage to play 37 games with the big club, it was uneventful to say the least. He did however manage to find his game in the AHL, putting up 21 points in 29 games played.
Joseph brings a valuable asset to the table especially when it comes to the playoffs. Players who are gritty and tough are valuable in the playoffs. Joseph is not afraid to go to the dirty areas of the game and will drop the gloves the called upon. He is always there for his teammates and I would not be surprised to see him in the lineup come the playoffs. He seems poised to become a full time NHL player very soon.
Luke Witkowski
A proven veteran down in the AHL, Witkowski brings immense value to the table as well. Like Joseph, he is not afraid to drop the gloves. Whenever a teammate gets into a confrontation, he is there in an instant ready to defend whomever. Although he does not have a great offensive game, I can see him making an impact in the playoffs.
Having resigned with the Lightning after a stint with the Detroit Red Wings, Witkowski already has a close bond with most of the guys in the dressing room. He was a member of the Lightning team that made a run to the Cup Finals in 2015-16 only to lose to the Chicago Blackhawks. All in all, Witkowski always puts his teammates first and they all love him for that.
Cal Foote
One of the top prospects in the Lightning's system, Foote has been developing his game down in Syracuse for the past three seasons. Having always been good at shutting down top players, Foote has been improving his offensive game as well. In 62 games played this season, he scored six goals and added 22 assists for 28 points.
If he were to draw into the Lightning lineup for the playoffs, I feel as though he would make an impact. Foote is great at clearing the front of his net from danger. He reads plays well and uses his stick to break up passes regularly. Standing at 6'4″, he uses his size to his advantage and is rarely pushed around by others. It will be interesting to see what he can do if someone gets injured.
Scott Wedgewood
Although the Lightning have two solid NHL goalies in net, if one of them goes down, Wedgewood will be the next man up. Although his numbers were not great down with the Crunch, they did not have a very solid team this season. He is however, a solid veteran presence and his leadership is heard throughout the locker room.
A journeyman already at 27, Wedgewood is still looking to make an NHL impact. He plays his angles well and has decent size but has trouble tracking the puck at times. If he can mend those issues, I can see him becoming a solid NHL backup in the near future. He has had decent success at the NHL level and it would be interesting to see how he would do if he drew into a game.
That does it for the Tampa Bay Lightning Black Aces. Stay tuned for the St. Louis Blues article tomorrow.
Main Photo: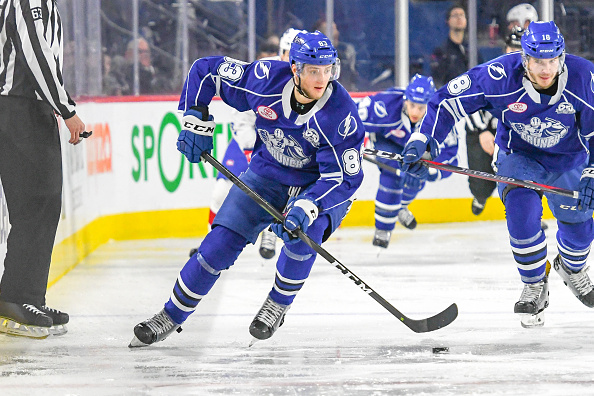 Syracuse Crunch v Laval Rocket
LAVAL, QC, CANADA – DECEMBER 14: Alexander Volkov #83 of the Syracuse Crunch in control of the puck against the Laval Rocket at Place Bell on December 14, 2018 in Laval, Quebec. (Photo by Stephane Dube /Getty Images)