Sam Billings' itinerary in 2016 reads like an alphabetical journey around the world: to Australia and Bangladesh from Canterbury, via Delhi and the Emirates. And yet he starts this year like the last: with an 'F', as he remains on the Fringes on England's white-ball sides despite his immense output of air miles, sweat and runs.
His last two innings wearing an England shirt have been exceptional, and showed why Andrew Strauss encouraged him to play twenty-over cricket all around the world: his 62 against Bangladesh, in the unfamiliar role of opener in Alex Hales' absence, and a fluent 93 against a strong India A were both the key innings in chases of 250+.
Both games were the sort England used to have an unmatched knack of losing; after conceding big totals on the subcontinent, batsmen would get bogged down by spinners and trapped in their crease as the hosts inevitably romped to victory. But Billings' spells in the IPL and the Pakistani Super League (PSL), as well as his exceptional hand-eye co-ordination and immense dedication to training, have arguably made him the nation's best player of spin. He is unfairly shoe-horned as a modern player with only two shots against the spinner – the sweep and the reverse-sweep – but his strokeplay in both games was orthodox, and the clean-hitting shown in his brief Big Bash stint was again displayed.
And yet Billings, the personification of the modern cricketer with his prowess in the field, his ability to play the role of opening batsman just as well as number seven bat and wicket-keeper, and his commitment to his physical fitness and the countless hours he spends in the gym, faces one real issue.
He can't get into the side.
England's top six in ODIs has been largely unchanged for the best part of eighteen months, and five of them – Alex Hales, Jason Roy, Joe Root, Ben Stokes and Jos Buttler – have won the long-term trust of the ECB to the extent that only injury will stop them playing the Champions Trophy. Across those five players, the lowest average in 2016 was Roy's 43.13, and Root's was somehow the slowest scorer with a 91.81 strike-rate. As good as Billings is, his form to replace any of those five would have to be the best run in the history of the white-ball game.
And so to England's captain.
Despite overseeing the most remarkable transformation in a nation's limited-overs success in recent memory, Eoin Morgan has never fully won over his countless doubters.
His decision to withdraw from the series in Bangladesh on safety grounds drew an unreasonable level of criticism – particularly from the Daily Mail's Oliver Holt, who ran what can only be described as a witch-hunt against him – but the ECB showed their immense faith in him by immediately reinstating him as captain for the upcoming series against India.
Morgan's Irish heritage and refusal to sing a national anthem should have no bearing on his place in the side, but his worrying form with the bat really should. Whilst the left-hander did just about enough to deserve his spot in 2016, his return of 328 runs in 13 innings, with only two fifties and a top-score of just 68, was underwhelming.
And on the back of scores of three and zero in the two warm-up fixtures against India A, Morgan may be looking over his shoulder with concern. Whilst England and Morgan know all too well the perils over a captaincy change soon before a world tournament, three more failures on the sub-continent will leave Trevor Bayliss with an extremely difficult decision to make, especially with Jos Buttler having proved his worth as a deputy in Bangladesh.
After sticking with Moeen Ali despite his terrible run in ODIs, Bayliss clearly wants to pick a team with four seamers and two spinners: dropping a bowler for Billings is not a likely option.
The only man who could possibly make way is Morgan.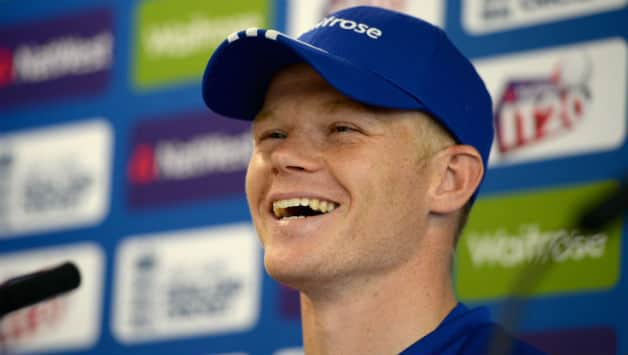 However, Billings will know as well as anyone that England's captain is unlikely to be dropped as this stage. In fact, it is conceivable that Morgan could fail to make a fifty between now and the start of the Champions Trophy and still keep his spot, such is Bayliss' faith in him and his reluctance to change a winning side.
So having done everything asked of him, toured the world and scored a mountain of attractive runs in 2016, Billings faces another month carrying drinks when June comes around.
"It is a great thing for English cricket, isn't it?" the 25-year-old said when asked about his likely omission from the side in Pune. "The bigger the squad, the stronger the squad, the better…I just try to offer as many options as I can to the team."
There is no question that Billings has done more than enough to earn a place in the England team for the Champions Trophy. But it is a sign of the times that doing enough is not enough anymore: barring injury or a captaincy surprise, Billings' role on the fringes is set to continue.