No-one can deny that Justin Langer stands head and shoulders with other sporting greats.
Indeed, nothing Justin has done could ever be classed as mediocre; from following Zen Do Kai kick-boxing in his early teens through to his strong religious beliefs and how they help him to live his life and interact with people, be they family, friends, team-mates or well-wishers and others around him.
Justin will tell you that there are two things he just can't tolerate. One is drugs; not just in sport but in all walks of life.
The other is mediocrity in anything we pursue. The word mediocre does not exist in his vocabulary. "Mate, I love Australia; look I've got an Australian flag outside my house but the phrase 'She'll be right,' mate? What's that all about? What does 'She'll be right' mean? It means not being or doing your best; it means that everything will just stay mediocre, ordinary, er…. second-rate. Mate, you're the only one who can change things. They don't change by themselves; you're in control."
He lives his life with these three simple rules:
Earn respect
Believe in yourself and
Regret nothing.
EARLY LIFE
The world welcomed Justin on 21st November 1970 in Perth, Western Australia and as a young boy he played cricket, rugby, Aussie rules, hockey and almost any other ball sport with his mates after school at Newman College, Perth and during the holidays, and he quickly gained the nickname Alfie, (supposedly after former rugby league player Allan Langer). He dreamed of wearing the 'baggy green' from a young age and the desire to succeed at anything he attempted, the drive and determination is as strong today as it was then.
Justin is a rare breed; a child prodigy in a nation, which prides itself on its performance, skill and domination in all sports.  Cricket Archive notes that he represented Western Australia Under-16s between 1985 & 1986, Western Australia Under-17s in 1987/88, Under-19s in 1989/90 and won a scholarship to the Australian Cricket Academy at the Australian Institute of Sport in 1990 and played with them for 2 years until 1992.
As a teenager he took up the martial arts discipline of Zen do kai. In an interview with The Age in Melbourne, he said, "Dad was doing some martial arts to get fit, but after a couple of sessions, he hurt his back. He had paid a year's subscription, so I said, 'Oh I'll have a crack at it.' I got hooked on it and since then, either martial arts or boxing has been a part of my daily routine. The martial arts I did was called zen do kai. It's sort of a traditional style of kickboxing. There's a lot of street-smart self-defence and learning how to fight, but also incorporated in that is what they call kata, a Japanese word describing detailed patterns of movements practiced either solo or in pairs.
"I love the discipline. The dojo I used to be involved with is called Sunrise Dojo. Basically, we used to train at 6 o'clock in the morning. It was a massive shock to the system. Like all teenage boys, I used to love the Rocky movies and I used to love Bruce Lee, so it was never forced on me, but it was as much a shock physically as anything else. We used to have to do lots of push-ups on our knuckles and I used to get big cuts and calluses. We had to sit in a meditative position on the floor, sitting back on my feet with my backside on my heels. You had to sit there for 10 or 15 minutes and that was the most painful thing.
"Then I would go to school or university. I did it about three or four mornings a week, getting up at 5.30. "Zen do kai was a great grounding for me when I was younger; I got my black gi when I was 18. It's the level below a black belt. Amongst other things it taught me self-discipline and I have the greatest of respect for my Zen do Kai leader, Jon Andrew."
THE AUSTRALIA TEST TEAM BECKONS
January 1993 saw his dream of wearing the baggy green come true when he made his Test debut against the West Indies at the Adelaide Oval, batting at number three in the 4th test; and what an introduction it was.
Nearing stumps on the first day, with fading light, he made his way out to the crease. The West Indians had been bowled out for 252 and Australia were 1-1 in reply after Mark Taylor had been caught at 2nd slip by Carl Hooper. David Boon approached and said; "We can't lose another wicket tonight". However, a rough welcome awaited the novice against the fastest  bowling attack in the world. Ian Bishop ran in and bowled a bouncer, Langer turned his back and took a vicious hit on his helmet. To their credit, Bishop and Desmond Haynes raced up the wicket to check on his condition. Boon put his arm around Justin and said, 'Son, there are no heroes in Test cricket — retire hurt." But he was not one to give in, he took strike and batted on until stumps.
In the second innings, he top-scored with 54 and was the second-last wicket to fall as Australia lost by one run. "We lost but I'd earned respect," he said defiantly.
From 1993 to 2001 Justin played 41 Tests. The 2001 Ashes series in England was his lowest point. Dropped from the starting line-up at the start of the tour, he watched on as Australia retained the Ashes by winning the first three Tests.  "It was a dark time, I was 31 and thought I would never play for Australia again. I was in a dark place but I still believed in myself."
Meanwhile, Queensland rugby league coach Wayne Bennett had brought former multi-award-winning Australian rugby league footballer Allan 'Alfie' Langer back from England to play State of Origin series, which is the annual best-of-three Australian rugby league football match series between two state representative sides, the New South Wales Blues and the Queensland Maroons. Justin reminisces, "When I was dropped at the start of the tour I received a letter from Alfie Langer. In the envelope with the letter was a newspaper headline from the Origin match that said 'Langer: Greatest comeback ever' and in a note he wrote, 'Mate, keep hanging in there, you can do it'. Everywhere we went on that tour I taped that headline on the mirror of my bathroom."
Then Justin received a letter from a radio broadcaster Alan Jones, a former coach of the Australian National Rugby Union Team and rugby league coach and administrator — "I'd never met him, I didn't know him but wrote me a letter from Australia; It was just about belief. It was an incredibly inspiring letter. Really positive."
On the Tuesday before the Fifth Test at The Oval, Justin took a phone call in his hotel room from Captain Steve "Tugger" Waugh. "I was averaging about five runs for the whole tour — seriously, it was impossible to pick me; I was scratching around in the midweek games not getting runs, but then 'Tugger' calls me up and says, 'We're going to pick you for the match on Thursday.'"
He opened the batting and that surprise selection gave birth to the greatest Australian opening partnership in history as Matthew Hayden and Langer went on to share 113 Test match innings and chalk up 5655 runs between them. "After that match, Alan Jones contacted me again and called me 'JL300' and said, 'One day you're going to get a 300'. For the next six years I'd see him now and then and he'd always say 'JL300, JL300'."
NTINI SENSES BLOOD
Australia played a Test series against South Africa in 2006 and in his 100th Test match in Johannesburg he sensed the South Africans were going to get physical, knowing that we was susceptible to the short ball bouncer. As he predicted, Makhaya Ntini steamed in and unleashed a short ball that Justin attempted to duck out of the way of but it followed his head and smashed into his helmet just behind his right ear. A hush hovered over the crowd as he crumbled to the ground with blood trickling down his neck.
Justin was taken to hospital and following advice from the doctors not to play cricket he spent the next three days recuperating in his hotel room. On the fifth day, with Australia six wickets down and needing 43 runs to win, he asked to go to the ground. He arrived in the dressing room before the start of play and using his Langer grit said, 'Boys, this is really hard for me to say but, whatever happens, I'm not allowed to bat'". Perhaps not realising potentially how serious his injury was, Hayden and Andrew Symonds gave him a sidelong glance: did they think he was scared?
The game resumed but Damien Martyn, Australia's last recognised batsman, lost his wicket soon after, with Australia still 34 runs behind. Justin left his seat in the stand and walked into the dressing room to start changing into his whites.
Team manager Steve Bernard asked what he was doing. "I'm not going to bat," Langer said. "I'm just kitting up in case I have to stand at the other end if it comes down to us needing one run". 30 minutes later, Stuart Clark was caught for 10 with Australia still 17 runs away from victory, with only one wicket remaining. Justin started putting his pads on. "Captain 'Punter' (Ricky Ponting) came into the dressing room and said 'Justin you are not batting. I'll declare before I let you go out there. I'm not letting you get hurt".
Justin then learned that the security guards had been instructed not to let him out onto the pitch. But he was defiant, insisting if he wasn't allowed to be given a chance to bat he would "regret it for the rest of his life".
Out on the field South Africa were jubilant. They were heading towards an unlikely victory with just one wicket, a tail-ender, to get out. Suddenly, on the big screen, an image flashed around the ground that changed their mood. Sitting outside the Australian dressing room was an injured Langer, in pads, gloves and helmet, ready to risk his health if the call came to bat for his country. "I will admit, I was scared, because apart from my head injury the wicket had massive cracks down it," he said. "I went out the front and sat there in my gear. It was tense.
In the end, Brett Lee and Michael Kasprowicz held on to score the runs needed but for Langer, his conscience was clear.
MIDDLESEX
Justin was signed to play county cricket for Middlesex from 1998 to 2000, captaining the side in 2000. In his first season, he scored his maiden century in English domestic cricket in superb fashion with 233 not out against Somerset at Lord's, in the same match that he was awarded his county cap. He went on to score centuries in his next two County Championship matches and achieved 1,000 runs for the season after only eight matches. He finished the season with the second highest runs total and batting average in the Championship, behind John Crawley on both counts.
SOMERSET LAD
He signed for Somerset in July 2006, initially for six weeks. In the end he remained with the club for three years, assuming the captaincy from 2007, the year that Somerset were promoted to Division 1 after winning the 2nd division by a huge margin of 52 points.  Under his captaincy, Marcus Trescothick and Andrew Caddick featured in the leading averages for batting and bowling respectively.
In Somerset, the family stayed in a rented home in Hatch Beauchamp, a village a couple of miles east of Taunton. Of Hatch Beauchamp, he said; "Mate, I say this with the utmost affection and respect, but it's like living in the olden days".
On 20 July 2006, Justin made his highest first-class score of 342 playing for Somerset in a County Championship match against Surrey at the Woodbridge Road ground in Guildford. This was also the highest score ever by a Somerset batsman, breaking the record of Sir Vivian Richards who made 322 against Warwickshire at Taunton in 1985 and is the 10th highest score in a first-class match in England.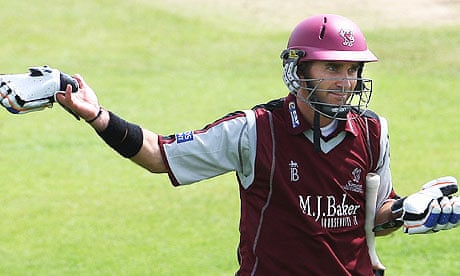 During this six-week spell at Somerset, Justin also enjoyed particular success in the Twenty20 competition, topping the batting averages along with fellow Australian and Somerset overseas player Cameron White.
On 1 January 2007, he announced his retirement from Test cricket after the fifth Ashes Test against England, starting at the Sydney Cricket Ground the following day.
He wanted to continue to play first-class cricket in the English league and the announcements were synchronised to the world that he had agreed to return to Somerset in 2007 as captain. He'd said during his retirement announcement that he was relishing the return to Somerset; saying "There's an amazing challenge at Somerset and I've got a great regard for the coach over there and I'm really looking forward to the challenge
On 20 April 2007 he became the first Somerset player to score two triple centuries in the County Championship when he hit 315 against Middlesex in a match noted for its extraordinary batting. Replying to the Middlesex first innings total of 600, Somerset set a new record for the County Ground scoring a staggering 850 for 7 declared.
At the close of the 2007 season, on 19 September it was announced that Langer would stay with Somerset as captain for the 2008 season.
In 15 first-class matches for the county in 2007, he scored 1215 runs at 57.85 and a further 764 in one-day competitions.
Early in the 2008 season, he and Marcus Trescothick put on a 272-second wicket partnership during the second innings against Hampshire at the County Ground, Taunton; falling just 18 short of the 1924 ground record.
On 23 July 2009, playing his 615th innings, he surpassed Sir Donald Bradman as the leading Australian first-class run scorer when he scored his 86th century whilst playing Worcestershire.
At the end of the 2009 season, he announced that he would not be returning to Taunton in a playing capacity the following season and retiring from all competitive cricket.
He played his last home game in English domestic cricket on 27 September 2009, captaining Somerset against Durham in the Pro40 League, a game which Somerset lost by two runs.
While Justin has had to endure physical pain to live his life of no regrets, it is a price he has always been willing to pay, right from the teenage days when he would come home with his karate gear on, covered in blood and sweat and crying.
He is at his happiest at home with his family, wife Sue and daughters Gracie, Jess, Ali-Rose and Sophie.
FAITH
He meditates most mornings and has a strong Catholic faith.
"I go to Mass every Sunday night. It keeps me grounded. And my faith has become stronger over the years. Living a Christian life is important to me."
Wherever he is in the world he takes the opportunity to visit churches and add to his collection of rosary beads.
"I love rosary beads," he says. "Mel Gilchrist gave me a beautiful, handcrafted, black set for my 40th birthday. My Somerset coach, Andy Hurry, gave me some red rosary beads from the Vatican.
"I've probably got about 15 to 20 sets of rosary beads at home. And I've got a beautiful set of blue beads in the car.
Sunday Mass is important for Sue, who says "Church is something real and personal that Justin and I share,"
Another important ritual these days is finding an hour each morning for each other. At dawn, they walk on the beach and talk about the day ahead and what else is coming up," something they couldn't do for 20 years with Justin's cricket commitments.
The two have known each other for almost 30 years. Justin grew up in Duncraig, close to the Mitchell Freeway and the Catholic church of Greenwood and when he began secondary school at Newman College, eight miles south of Duncraig, he met Sue who was attending Sacred Heart College at Hillarys. They started dating as 16-year-olds and a lifelong bond began.
Justin is in no doubt that the reason he was able to succeed is because of the sacrifices his wife has made.
Sue recalls, in their first house in Wembley, north-west of Perth 20 years ago, Justin had a saying. It was on a piece of paper in a plastic sleeve and stuck on the shower wall. It said, 'The pain of discipline is nothing like the pain of disappointment."
"When we built our current house he had a room with this beautiful painted wall and he got out his permanent marker and wrote that quote from the shower in huge letters over the door. I nearly died! Another saying seems to go up each day and you can barely see the walls for the writing now."
Langer has no regrets about marking positive affirmations over his walls and in his subconscious.
"That room is the best room in the house," he laughs. "It's Jess's bedroom now. The words on the wall are just scriptures and quotes. They're just reminders. Every now and then I go up and lie on her bed and just surround myself."
COACHING
Following his retirement, there was speculation in the media suggesting a coaching position with Middlesex, and an open invitation to return to Somerset in some capacity.
However, in November 2009, Cricket Australia announced his appointment as assistant coach of their Test team under Tim Nielsen, as a batting coach and mentor.
In November 2012, he was appointed to the position of senior coach of Western Australia and the Perth Scorchers, following the resignation of Lachlan Stevens and a contract until the end of the 2015–16 season.
His success and integrity were the qualities WA Cricket needed in order to revive the team. When he took over the Warriors were struggling to win and attracting headlines for drunken antics.
The positive changes were almost immediate. They have won the Twenty20 Big Bash tournament twice back-to-back and the Matador Cup one-day series in 2014-2015. So how did he do it?
He brought it back to three rules and five pillars.
The three rules are: Use common sense; keep things simple; and no mobile phones at training.
His five pillars are: Hard work; speak honestly with each other; celebrate success; respect the past; and earn respect back.
He also got them fit, bringing in his great mate Steve Smith from Aspire Fitness, and his Zen do kai mentor Justin Boylan to push the players through the pain barrier.
"We train them really hard," Langer says. "Our number one foundation, besides our values, is physical fitness."
As well as being a corporate speaker, he's also patron of a number of foundations assisting cancer research, children's leukaemia and cerebral palsy. In 2008 he was named as a Member of the Order of Australia (AM) for his services to Australian cricket and for his charity work.
He has written four books:
His first book was entitled From Outback to Outfield: A Revealing Diary of Life on the County Cricket Circuit.
His second, an autobiography released after his return from rock bottom in 2001, entitled The Power of Passion.
He also released a book with Steve Harmison entitled Ashes Frontline: The Ashes War Diaries of Steve Harmison and Justin Langer about the 2006–07 Ashes series in Australia.
More recently, he wrote Seeing the Sunrise which has been described as "a handbook for overcoming self-doubt, for revelling in success, for aiming high. It is about mastering physical and mental goals, enjoying victories and fighting adversity.
"Ultimately, I try and live a Christian life," he says. "When I do public speaking, and as a coach, I talk about taking care of people. That's true leadership.
"If you care for people they'll invariably play for you or come with you. I talk about Steve Waugh and the people who have cared for me along my journey and, I tell you what, they've got me for life. I'd do anything for them. Anything."
Anything is an accurate word for Justin Langer to use. Because, in his mind-set, anything seems possible.
They're the philosophies that have brought the 46-year-old success as a person, a Test batsman and now as Western Australia's cricket coach, who has been able to turn a bunch of low achievers into a team of winners.