The ICC's team of the tournament for the Cricket World Cup was released on Monday, and featured few surprises or contentious calls; other than the possible inclusion of Wahab Riaz in place of Morne Morkel or James Faulkner over Corey Anderson, there was almost complete unanimity between fans and pundits as to who deserved the recognition.
However, the ICC's 12th man, Zimbabwe's captain Brendan Taylor, would not have necessarily featured in a lot of teams; in fact, given his nation's early exit from the tournament, he may have been a bit of a forgotten man for a lot of casual supporters. Despite batting only six times, Taylor amassed an impressive 433 runs – only AB de Villiers, Kumar Sangakkara and Martin Guptill managed more – and his 138 against India in his team's final game was undeniably a special knock.
That innings proved to be the final one of Taylor's Zimbabwe career.
Sadly after 11 years I have decided to retire from ZC.My heart will always be close to my team mates and country.Thank you for your support!

— Brendan Taylor (@BrendanTaylor86) March 12, 2015
Due to his desire to provide a better lifestyle for his wife and family, Taylor signed a Kolpak contract with Nottinghamshire in the build-up to the India game, and will now spend at least the next three seasons with the Trent Bridge club.
Whether he will play internationally again seems doubtful; in fact, there is a strong chance that he might qualify to play for England if his stint at Nottinghamshire is successful, so the prospect of pulling on the red shirt again is not a likely one.
"It's been one of the biggest decisions I've had to make; in fact the biggest decision," Taylor told ESPNcricinfo shortly before the match against India in Auckland. "I've always been very passionate about playing for Zimbabwe, I still am. I sat down with my wife and we decided to make this decision together. It hasn't been easy. I feel very sad about it but at the same time very excited to be a part of one of the better county sides in England. They've welcomed me with open arms and I'm looking forward to cementing a good relationship with them over the next three years."
"But I'm very, very sad to leave Zimbabwe cricket. I've had some fond memories and I have some great friends here but life goes on and you have to try and make the best decisions for your family and moving forward."
The 29-year-old has been the key member of Zimbabwe's batting line-up in recent years, having played 23 Tests, 167 ODIs and 26 T20Is. He has 5258 ODI runs and 1493 Test runs, both at an average a shade below 35. Having led Zimbabwe to a successful Test comeback in 2011, after being appointed captain following the World Cup that year, he amassed four Test hundreds in the past four years, including a superb 171 against Bangladesh in 2013.
Taylor is by no means the first player to have quit the national team to play in England, and it is a worrying trend for the country that some of the best Zimbabwean talent is deciding against representing their nation in favour of a county side.
However, things have not always gone swimmingly for the Africans who have come to County Cricket in search of an improved lifestyle or a potential England call-up, and here we take a look at the various players to have 'done a Taylor' previously.
Heath Streak

In 2005, seamer Heath Streak ended his international career by signing for Warwickshire as club captain, having spent the previous two summer there on overseas deals which were regularly interrupted by international call-ups. 41 wickets in the 2006 first-class season followed, but the 2007 season was less successful; just thirteen wickets in the County Championship saw Streak give up the captaincy, although he remained an important part of the Twenty20 side.
Upon signing in 2005, Streak commented "I've enjoyed playing for Zimbabwe immensely but I have decided to retire from international cricket in order to fulfil my contractual commitments with Warwickshire. I hope that one day I can assist Zimbabwe cricket again in its efforts to develop." Since he left Edgbaston, Streak appeared in the controversial Indian Cricket League (ICL) and has had stints as Zimbabwe's bowling coach and Bangladesh's head coach.
However, Streak has continued to be outspoken about the sorry state of affairs in Zimbabwean cricket, commenting in 2014 "There is a huge group of people who should be still playing, maybe not all for their national team but still playing cricket at the highest level, certainly in first-class cricket and being the senior players in the system and upping Zimbabwe cricket. If things were managed properly between 2003 and now, we wouldn't just be hoping for a regular upset every now and then: we could be a World Cup side. That would be a No. 5, 6, 7 ranking. You put those players [who left the international scene] alongside the world-class players that we have with the likes of Brendan Taylors and Hamilton Masakadzas and Prosper Utseyas and some of these young guys, we would have a real pool and a world-class team. That is the sad thing."
Sean Ervine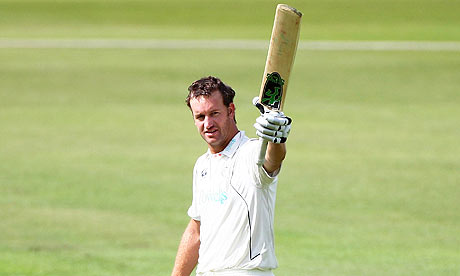 In 2004, Ervine left the national fold due to disputes with the administration, and signed contracts with both Western Australia and Hampshire; due to his Irish passport, he did not count as an overseas player. However, after a good run of form in 2005, Ervine announced his intentions to represent either Australia or England at international level.
Despite this dream never being realised, Ervine has stayed with Hampshire for ten years, despite almost quitting the county in 2011. 'Slug' was named in Zimbabwe's World Cup squad, but withdrew after deciding that he would prefer the security of a county contract over the uncertainty surrounding an international future.
"After having had time to reflect on all of the circumstances, I have realised that this is not the right time to leave Hampshire. I have a great relationship with this club and its supporters and I feel like part of a family. Hampshire is my home, so much so that I am planning to get married there next year. I do not, therefore, want to be away for long periods of time." said the left-handed batsman in 2011, who has a realistic chance of passing 10,000 career runs this first-class season.
Andy Flower
Flower's black armband protest with Henry Olonga in the 2003 World Cup spelled the end of his international career, as having stated "in all the circumstances, we have decided that we will each wear a black armband for the duration of the World Cup. In doing so we are mourning the death of democracy in our beloved Zimbabwe," the tensions created with the administration were considered too great for a return.
Three successful season at Essex brought him over 4000 first-class runs, and Flower then went on to coach England to the number one Test ranking in 2011.
Murray Goodwin

Goodwin's international career lasted just over two years, between 1998 and 2000, and ended due to his wife's unhappiness at living in Harare. As a result, like Ervine, the batsman joined Western Australia, and also played for Sussex between 2001 and 2012, before he spent two season with Glamorgan.
With 23723 first-class runs to his name, Goodwin retired from cricket in 2014, and his decision to leave the international fold was most definitely vindicated.
Ray Price
The left-arm spinner Price followed Streak and Ervine in leaving the international set-up in 2004 due to disputes with the board, and stayed with Worcestershire until 2008.
His return to the international set-up was extremely successful; for a brief period of time, he was top of the ODI bowling rankings, and earned himself an IPL contract with the Mumbai Indians. Despite his success in England, the question must be asked if Price could have added to his 193 international wickets had he not gone into exile for four of his prime years.
Kyle Jarvis


The promising seamer quit the international fold in 2013 at the age of 24, citing pay disputes and a desire to secure his long-term future as his reasons to join Lancashire.
However, the fast bowler has found opportunities limited, and has only managed to take six first-class wickets across two seasons. Opportunities may come in 2015, with Kyle Hogg having retired and Glen Chapple looking to cut down his number of first-team appearances, but Jarvis' decision has yet to be vindicated from a cricketing point of view as yet.
Overall, the success of decisions to leave the international set-up has proved mixed across Zimbabwean cricketers; Streak's performances were mixed, Price and Ervine have enjoyed some success, Goodwin and Flower were consistently excellent for their counties and Jarvis has, as yet, been a failure. However, one thing that Brendan Taylor can be sure of is that not one of them has complained about their lifestyle or pay disputes since joining their counties. Whilst it may seem a strange decision to move from a cricketing point of view, the attraction of a stable life in England is clear.