The Guinness Six Nations may be in a rest week, but as Ireland head to Twickenham unbeaten, Robert Rees has taken a look at how Wales began to slow down their breakdown. 
The ultimate Guinness Six Nations breakdown battle
Ironically, the first example of Welsh breakdown work comes from good strong defence out wide, something that was inept on a whole and touched upon in the fist of our analysis items this Guinness Six Nations.
Adams forces the play back inside and as the Irish 'pod' overcommit it allows the Blues winger to get over the ball and slow Murray's delivery down. This basic action then allows for the entire defensive line to reset.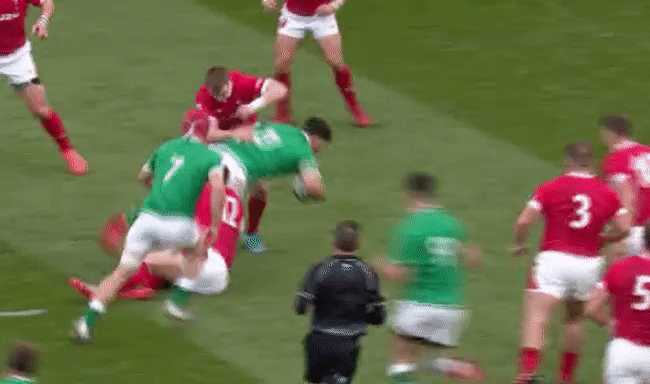 The art of slowing the ball down is a matter of seconds and millimetres. Sometimes you have to adapt to certain officiating and Wales managed that in the first half.
Alun Wyn Jones makes the initial hit and Taulupe Faletau gets over the ball long enough that CJ Stander can't get him off and delays the breakdown by over six seconds.
You can also see Wainwright exploiting the dark arts by holding the leg of the carrier so he can't roll into a ball presentation, which could have nullified Faletau's presence.
A six second delay is unlucky not to win a turnover, but does at least allow the 12 men on their feet to re-align.
The attack didn't last much further though as Wyn Jones soon proved deadly with a breakdown turnover.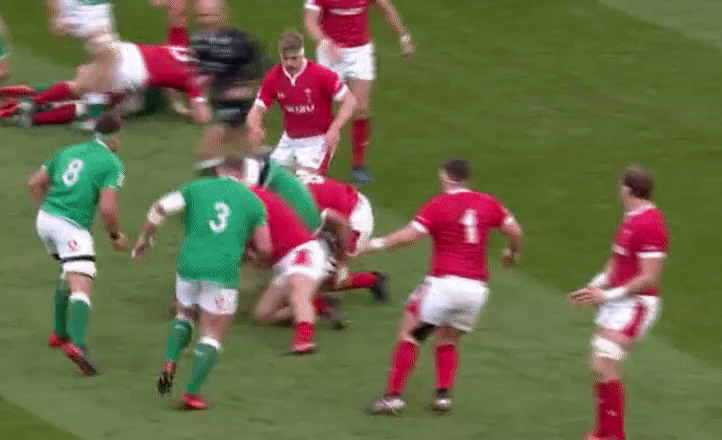 Following the initial support line from Furlong, who goes off his feet, there's a slight gap in the support speed. Jones spots the opening and goes around the gate to earn himself the turnover.
The timing of arrival defeating the pod system, which was struggling for momentum in the early stages of the game.
Collision area key!
The collision area is just as important as the breakdown area when it comes to winning matches in this year's Guinness Six Nations.
The Welsh defence utilises its line speed, as seen by Gareth Davies in the World Cup, to force a stop in the attacking phases.
Justin Tipuric's line speed prevents the ball carrier from two things;
Getting a pass off to continue the attack, which affects the narrow Welsh defence.
Prevents the ball carrier from entering a low base and thus holds them up long enough for support to arrive.
As a result you create a maul and the resulting turnover, or in the rare occasion that the ball does manage to pop loose, very slow ball to attack with.
This is a major tactic used under Shaun Edwards and will set to be similar under new defence coach Byron Hayward.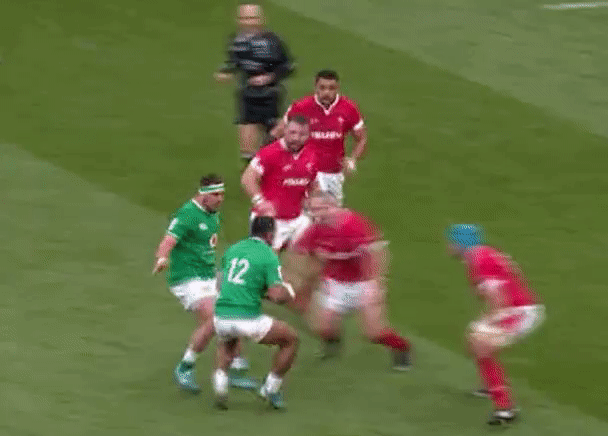 Wales have created a 'capsule'.
What is a 'capsule'?
The capsule is when two defensive players arrive at the breakdown and surround the ball carrier to encase him in an attempt to gain a maul turnover.
With support limited following Bunde Aki's carry into contact Wales take advantage. You can see how Owens and Tipuric have encased Aki to create a stronger defensive base with Dillon Lewis in support.
The capsule prevents Aki going to ground and quickly presenting the ball. This allows Wales to reset their structure, forces Ireland to commit their attacking men to a ruck and compels Ireland into altering their attack for that play.
Six Irish players ended up committing to the breakdown on this occasion.
Ireland's poor pillar work
Ireland's Guinness Six Nations may well hinge on their breakdown work, but if they want to compete for the title and Grand Slam then they'll have to increase their pillar work.
What's pillar work? Well, it's the art of defending a ruck with a strong position at the strong side, and possibly week side if necessary, of the breakdown to help retain your ball.
Ireland struggled with this.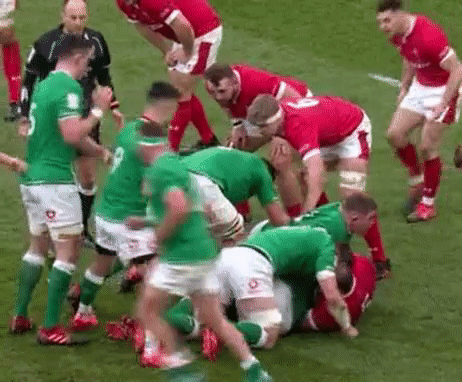 Iain Henderson does guard the strong side, but holds a weak position, which Wainwright exploits.
It doesn't earn a turnover, but it achieves the slow ball that Wales need to limit the pod carrying system.
If you persist with attacking the weak pillars then you could well see the ball pop out of the breakdown, something Andy Farrell will be wary of.
Wales' second-half dip
If you dip in form in any game then you risk being exposed. Wales did just that.
Their first-half form failed to continue following the break.
Wales were too slow to commit men.
Tipuric found himself isolated early on and Hadleigh Parkes and Dillon Lewis were far too lackadaisical in their support speed.
When they did arrive they weren't assertive enough and Ireland managed a turnover, and completed it with five bodies out of position and useless in a defensive structure.
If Wales are to win the Guinness Six Nations for a second year running then they'll have to improve on their breakdown work, as will Ireland who face England at Twickenham in round three.
"Main photo credit"