Following Ireland's bonus point win over Wales in the Six Nations questions were asked regarding the narrow Welsh defence and what it set out to do. Robert Rees takes a look at how Wales' narrow defence was exploited by the Irish attack, which ultimately lead to their downfall.
Ireland carefully plot Welsh Six Nations victory
Straight from kick off it was plain to see that Wales were committing men in the middle channel of the pitch to counterattack the strong Irish carrying game.
Ireland saw it coming and sent the ball to Jacob Stockdale as soon as they could. The narrow Welsh defence allows Ireland to get outside of George North and make a huge gain.
This move eventually led to a five metre Irish scrum as a result of forcing the Welsh defence to chase back and react rather than set the tone.
This narrow defence leads to an offload chance as Wales find themselves outnumbered. North prevents the ball coming back in field on this occasion.
By getting to the edge of play Ireland ensured Wales were consistently chasing the game and struggling for defensive shape, resulting in 17 missed tackles and quite possibly the end of their Six Nations title hopes.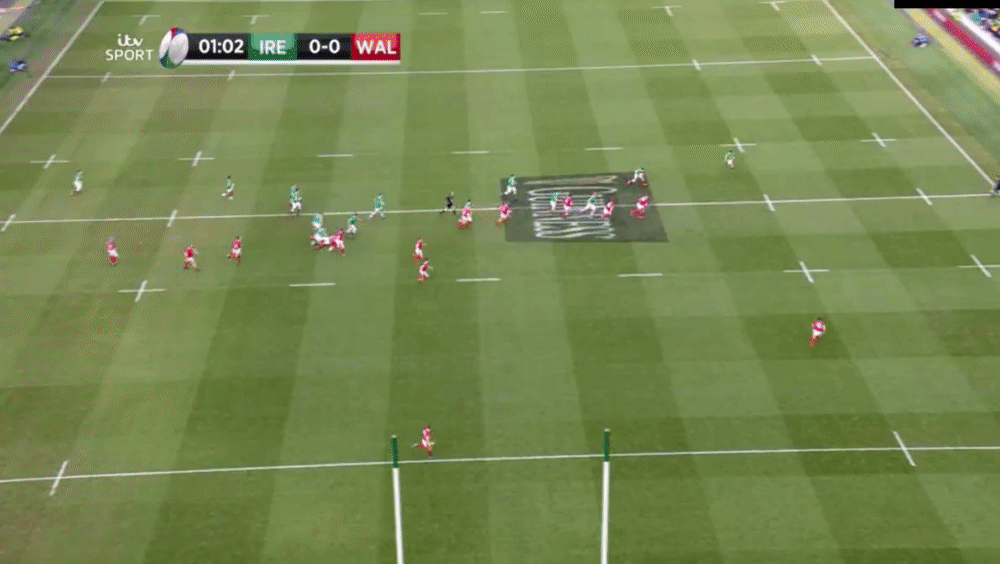 By defending narrowly, to cover the Irish pod carrying system, Wales force players to cover extra space, which hands them further responsibilities.
By defending so narrow Dan Biggar has to cover both the space that Stockdale is going to run into and the space behind the defensive line to avoid an easy kick through from Ireland.
Ordinarily a man would be out wide to cover Stockdale and Biggar would act as a sweeper to cover the kicking game.
Ireland send a dummy runner to commit two defenders, preventing one man from pushing out and limiting the outside space. Bundee Aki's carrying threat then pulls North in off his wing and widens up the Stockdale channel outside of him.
Ireland make an easy 10-metre break and force Wales to regather.
Ireland eliminate breakdown threat
Wales had a legitimate breakdown threat in the first half, before losing it in the second. On this occasion they punish George North who shoots out poorly.
By shooting out, North allowed Ireland the outside channel. This forces Wales into backfoot defensive mode, which allows the Irish to dictate the pace and take away the breakdown threat.
Biggar did manage a turnover, but was clearly off his feet when it occurred.
By losing their breakdown advantage Wales conceded the win. Without the likes of Tipuric, Wainwright and Faletau slowing the ball down Ireland got on top and manipulated the game to their liking.
Ireland gifted options by narrow Welsh defence and accept them
The space out wide meant that whenever Ireland ran into their channels they had time to make decisions. Such time that they could execute their game plans sublimely, in test rugby this is unheard of amongst the fourth and fifth best teams in the world.
Wales allow Andrew Conway too much space which allows him to consider his options;
Chip through/over and into space to run on to and aim to force a defensive mistake.
Draw McNicholl and Tompkins before throwing an offload infield in a hope to keep the attack going.
On this play he chose to chip over the top, putting the defence under pressure with a 10-metre lineout.
Wales couldn't commit men when they needed to
The final try by the hosts is an indictment of how well Andy Farrell's side exploited the flaws in the Welsh game plan.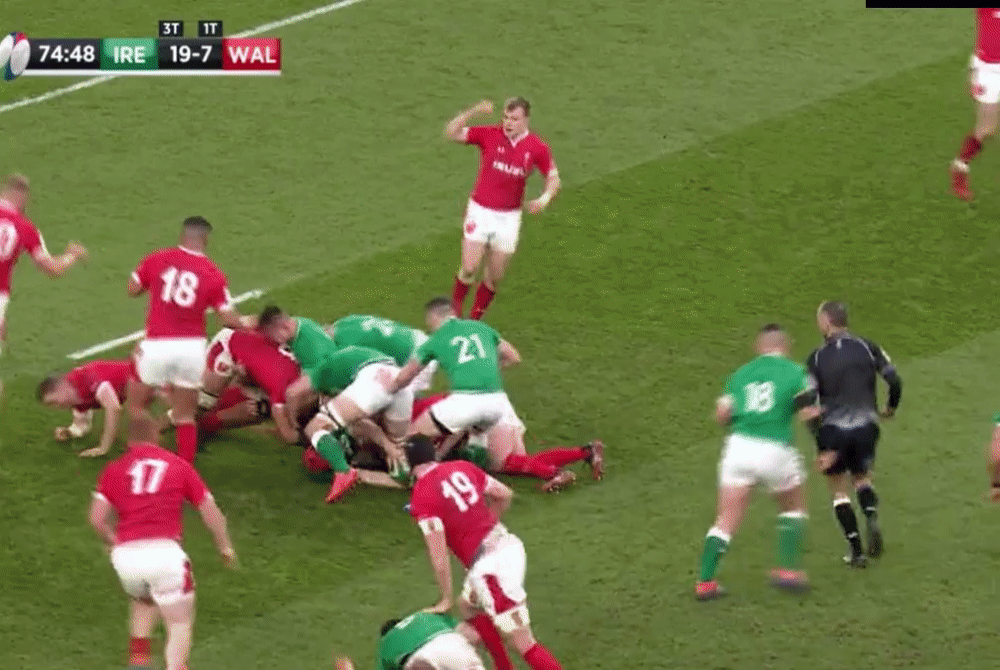 It's superbly taken in the end but it stems from quick ball speed to negate the narrow defence.
You can see Nick Tompkins call for support and Leon Brown and Ross Moriarty both oblige, but it's too late. The ball has gone and been dotted down for the bonus point.
Wales' Six Nations game plan was to exploit the breakdown and collision area by committing lots of players, but failed to do this often enough to prevent Irish gain line successes.
Halfpenny is drawn in by the first man in a simple, yet effective move of rugby.
If Wales don't manage this defensive issue against France in round three of the Six Nations then they could once again find themselves in hot water against a side who like to throw it about.
"Main photo credit – Graphics by Robert Rees"