Wales are known for wanting to kick the ball in field, but against a counter attacking Fijian side it wasn't always the right option or was badly executed. Robert Rees analyses why and where it went wrong and how they fixed it. 
Loose kicking allowed Fiji into game
Wales opening ten minutes were amongst the worst at the World Cup so far. Lacklustre defending and lazy kicking gifting Fiji easy ball and a couple of tries.
Just 31 seconds into the game it began. Gareth Davies gifted the Fijians an immediate chance to counter attack with their dangerous backline.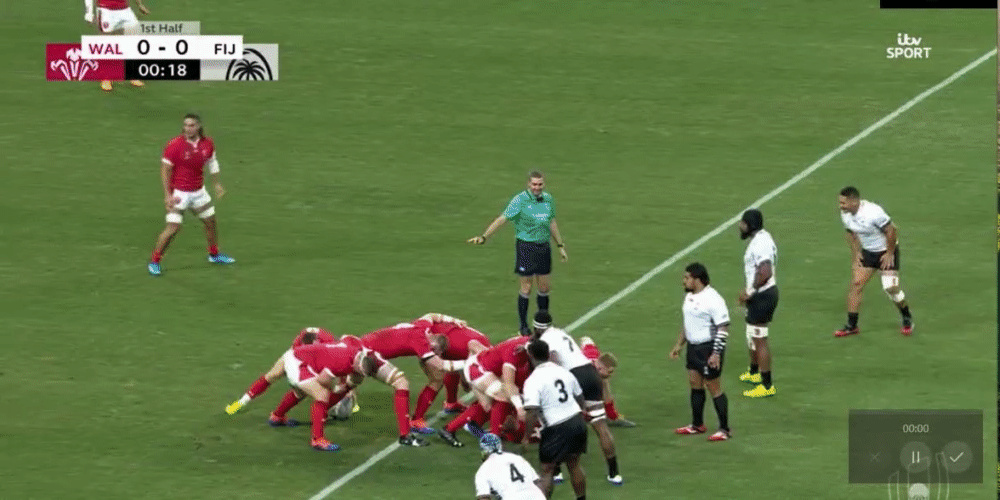 On this occasion he had to kick it off the park and relieve all the pressure. Kicking it into a backline of five attackers allowed Fiji to counter and enter the Welsh 22 for the first time with ball in hand.
The entire Fijian backline is set to attack and so to give them an easy platform to start with would settle them down and put Wales under 22.
Fiji gained 25 metres on where the lineout should have been and forced another error from the attack a minute later.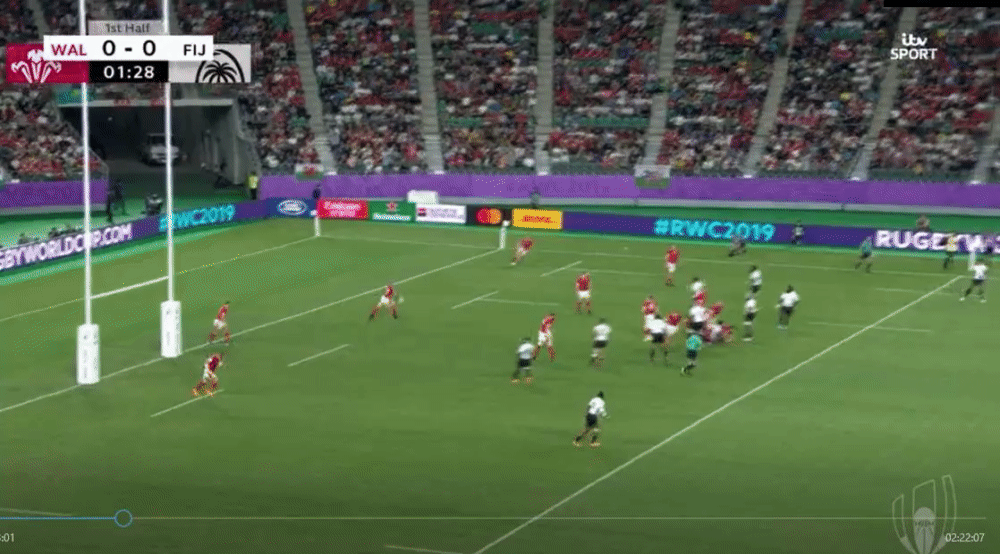 Wales manage to turn the first attack over but when kicking it failed to relieve pressure. Jon Davies misses touch this time.
Wales actually needed to attack from here.

Wales had the numbers out wide with 10 Fijian defenders in the one corner of the pitch.
Gareth Davies should have utilised Jon Davies or Liam Williams (Above) as first receiver, whilst sending Ball up as a dummy runner.
By sending Ball in as a dummy carrier they force the end defender to track inwards and thus facing away from the play once it goes wide, Ball commits two men.
Wales should have forced width rather than concede possession, which yielded a penalty straight away. Fiji then went on to score their opening try.
Wales didn't learn lesson after first try
Conceding one try via poor kicking is one thing. To concede two is treason!
Wales weren't executing their kicking game plan, even when it was the right choice of kick.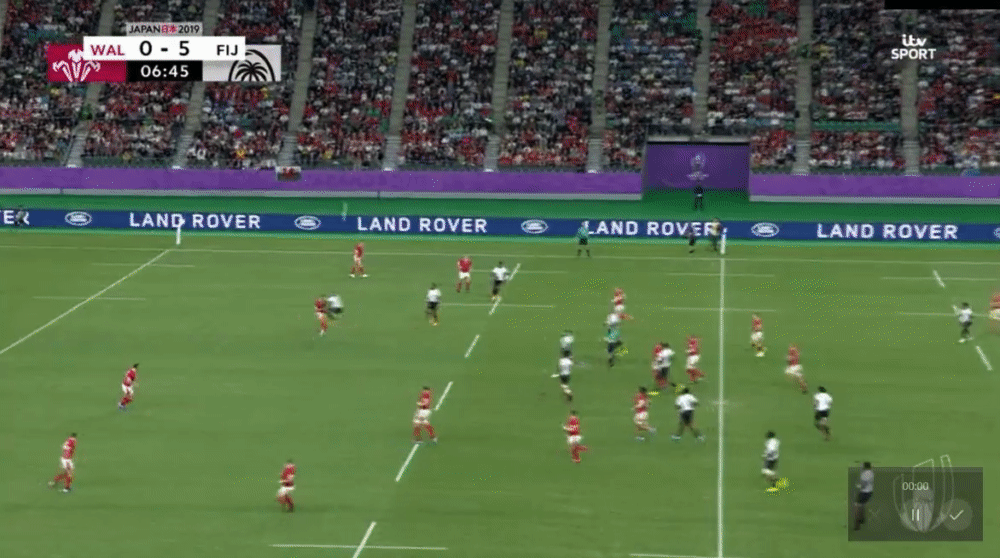 The loss of possession saw Fiji receive a disallowed try and Ken Owens saw yellow.
If Williams' connection was fuller with the kick it would have gone deeper, as it needed too. Williams could then have chased it better and be clear of traffic.
This would have seen the Welsh defence get behind the ball, even if he didn't retain possession. The kick kept pressure on Wales, with added sin bin pressure for 10 minutes.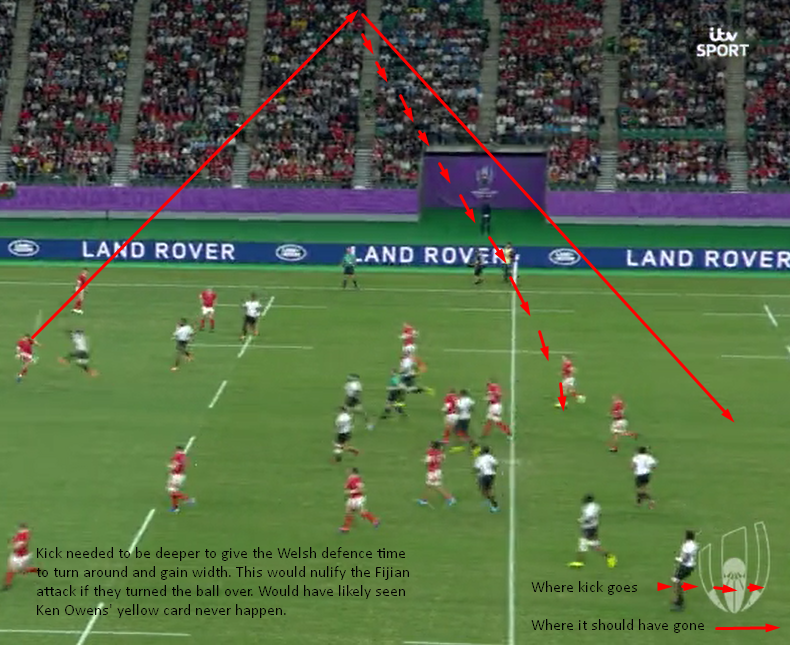 An extra five to ten metres of depth would have cleared space and reset Wales' defence which was under a constant bombardment of counter attacking pressure.
Fiji found Wales' slack kicking useful for their raw, unadulterated style.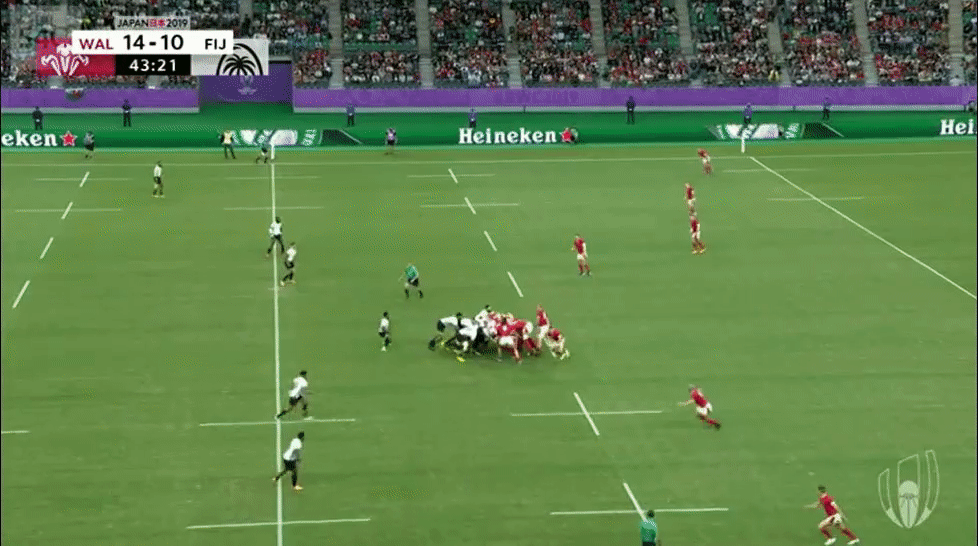 Much to Davies' frustrations his grubber through for North to chase goes into touch too easily.
The ball needed to stay in play longer, or fully, to allow North and Davies to be able to follow it up. Either to prevent a quick lineout (Which happens) or to retain the kick.
It gave Fiji their lineout, which they then took wide to counterattack. Fiji were being let off and no pressure was being applied to the Pacific Islanders.
Wales needed far more kicks to reach tough and relieve pressure
Gareth Davies' box kicking had a bad day.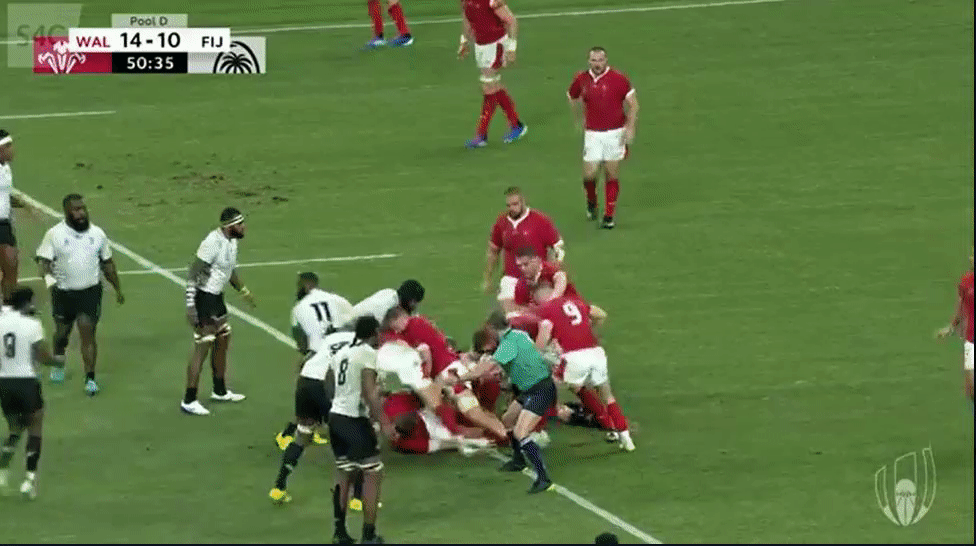 By staying on the pitch it allowed Fiji to reapply pressure from a good position. This was during a little resurgence in Fiji's game.
Kicking from your 22 like this, you have to get it off the park and relieve all pressure and realign.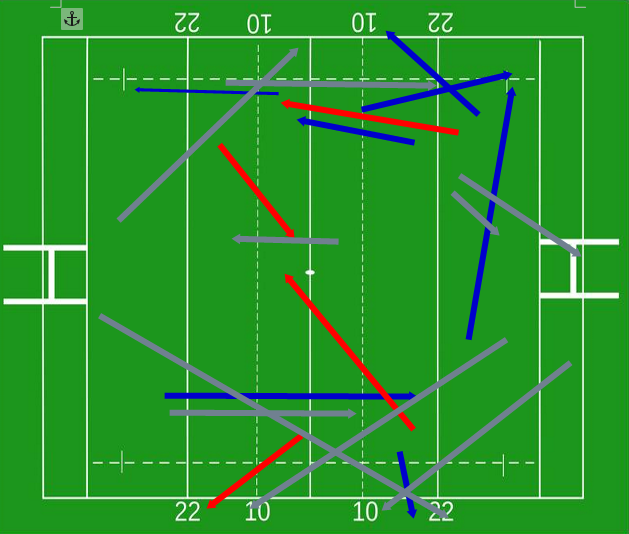 Wales only found touch with six of their kicks from hand. With the positives kicks only beating negative ones by three. This should realistically be five plus.
By failing to relieve this pressure Wales conceded a try less than two minutes later.
They did clear their 22 defensive positions better elsewhere, as Davies showed a little over 10 minutes later.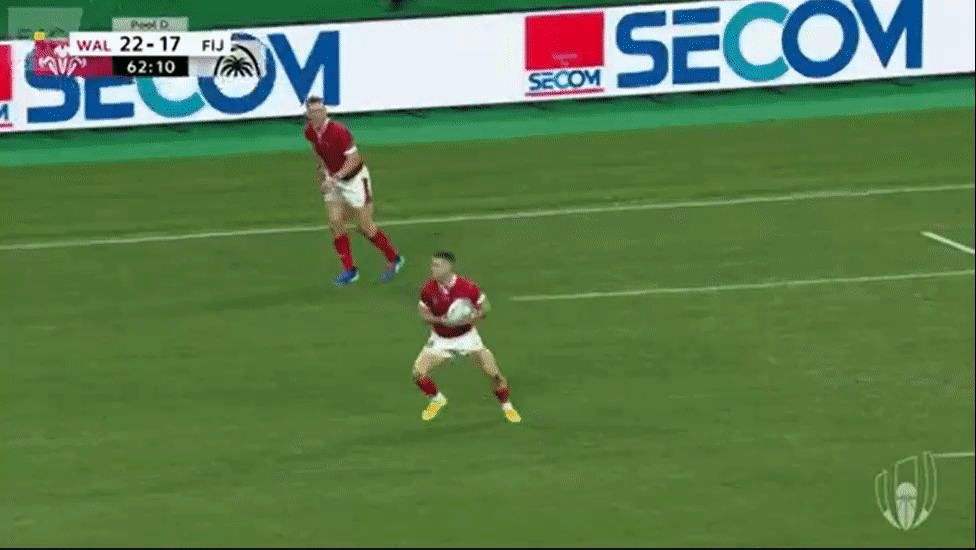 By keeping kicks on the park Wales allowed Fiji to pin them back and score tries directly from this pressure. This meant Fiji could dictate the game in certain periods.
This prevented Wales from having a strong carrying game, due to a lack of possession. This was N aspect of the game that worked well throughout the pool stages of the tournament.
Kicking game yielded tries when executed correctly
When Wales did finally start executing their kicking plan it gifted them points, and pushed the pressure back on to Fiji – who like Wales, failed to deal with it.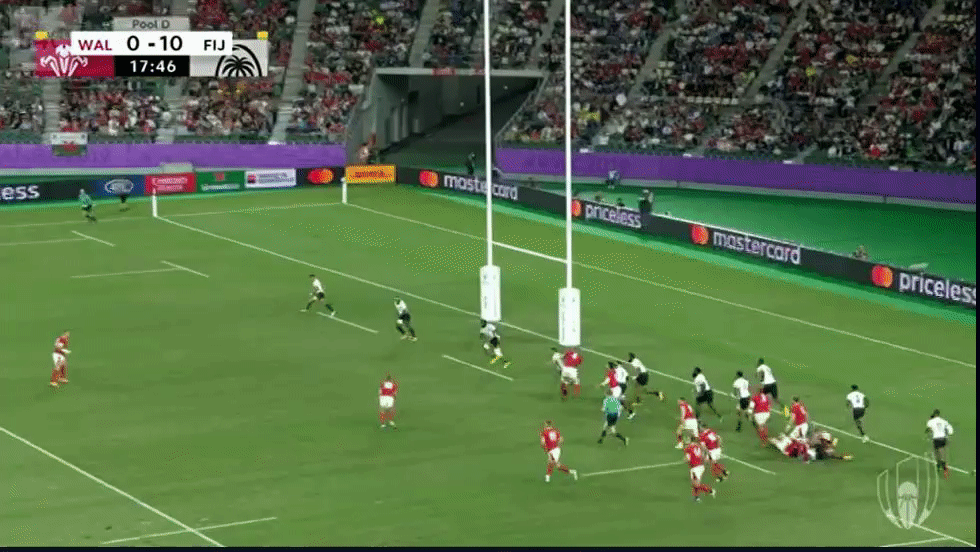 Well utilised in the World Cup by Wales in the previous two games. The deep pass to Biggar allows Wales time to insert the cross-field kick, especially on a penalty advantage.
It lures the defence out which creates the space in behind, Wales capitalised on this – more on that later.
Due to the deep ball and slower line speed from Fiji Adams benefited with his opening try.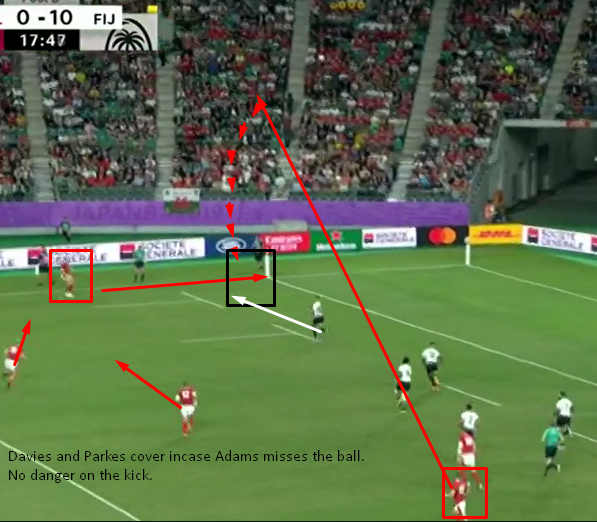 Adams times his run to perfection, leaping and collecting at the right moment. He is safe in the knowledge that even if he doesn't retain possession then he'll have Hadleigh Parkes and Jon Davies in defence to cover him.
This no risk tactic is one Wales started to throw upon their opponents to get on top of them.
There was also an opportunity for Adams to bat the ball down to Davies if required.
The tight carrying before the play kept Fiji narrow and this type of kick exposed it to a tee.
Placement key to powerful kicking strategy
Jon Davies had a great left peg, when he times his kicking right, with the right placement behind it.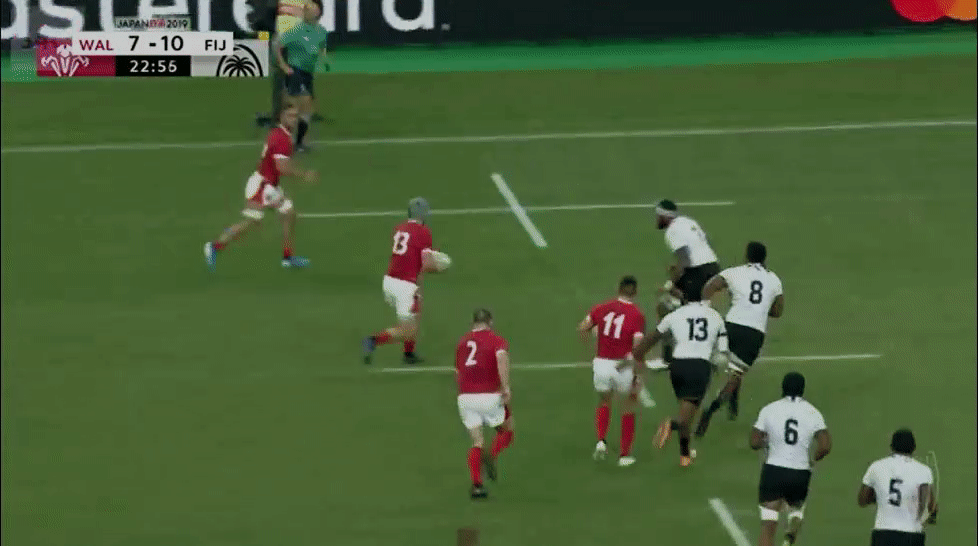 Not only does the kick win Wales a lineout but the ball bobbles in touch for long enough to force Fiji to react desperately.
The space it rolls into as it smartly rolls down the touchline puts the defender in two minds.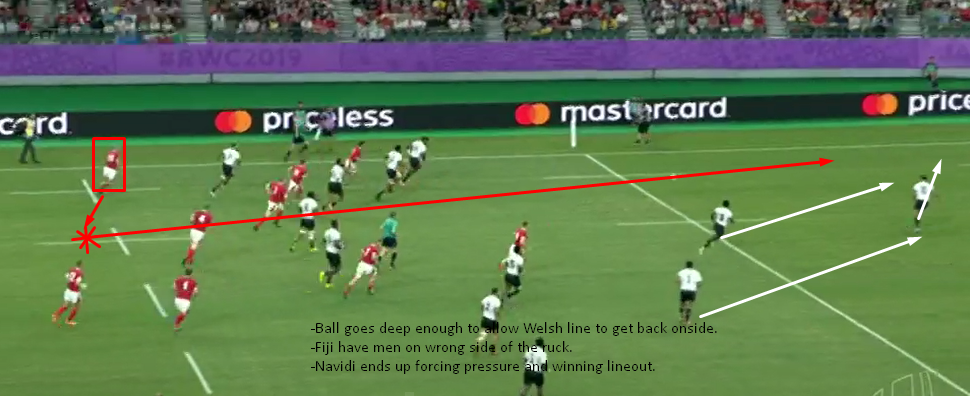 This placement enabled Wales to push up field and apply pressure to a retreating Fijian backline.
The forcing of the turnover is the end of the passive kicking game and the beginning on an active one.
It was this active kicking game that earned Wales space.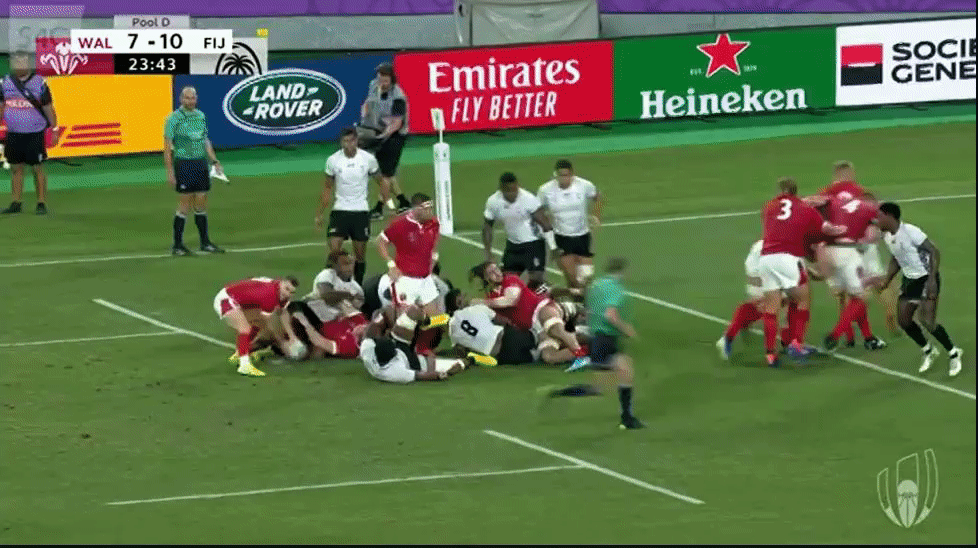 The Fijian defence had to shoot up in an attempt to block the hard carries that had begun along with this active kicking strategy.
This left the space behind the defensive line for Wales to target.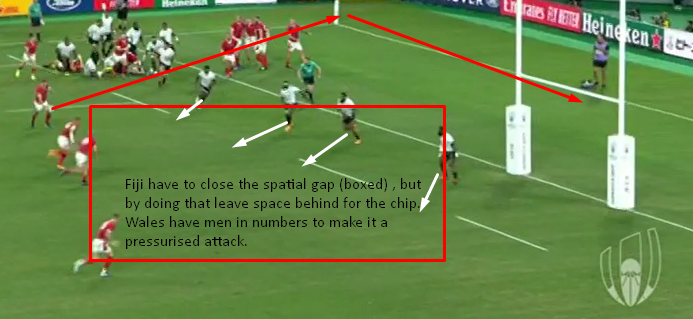 Fiji have to make the box in front of them (above) smaller to prevent the grubber kicks, hard carries or play going wider but in doing so open up acres of kicking target area behind them.
This time it's played off an advantage but making Fiji aware of yet another trick in the welsh arsenal is always a good trick. It also makes future opponents wary of your skills.
The change in kicking strategy made Wales the dominant kicking team, which gave them control of the game, for most of the game remaining.
Despite the quick start by the Fijians it was to be Wales who took advantage of their 22 entries the most.
Fiji's first ten minutes would have been far above this average, but Wales' dominant kicking style, once they corrected the errors was the difference in limiting this Fijian attack.
It is this possession to points ratio and the active kicking game that'll ensure Wales remain strong contenders ahead of their French quarter final battle. Warren Gatland will hope his side can then translate that into further rounds.
If Wales push forward with an active kicking strategy there is a high chance of a Welsh final spot.
"Main photo credit"