Fiji's player of the tournament, Semi Radradra, is a world class attacker, but what makes him good at what he does? Robert Rees breaks down the key basics to understand what he does and why.
Now, Radradra isn't just a potent threat due to his magnificent speed and agility for a man as big and as powerful as himself. It's more than a man who offloads better than Mr. Tickle could.
Set piece weapon
He is used off the inside of the scrum. Either at first receiver or as a dummy receiver. Within the opening 10 minutes he was brought inside off his wing, to be used as an attacking option from the scrum.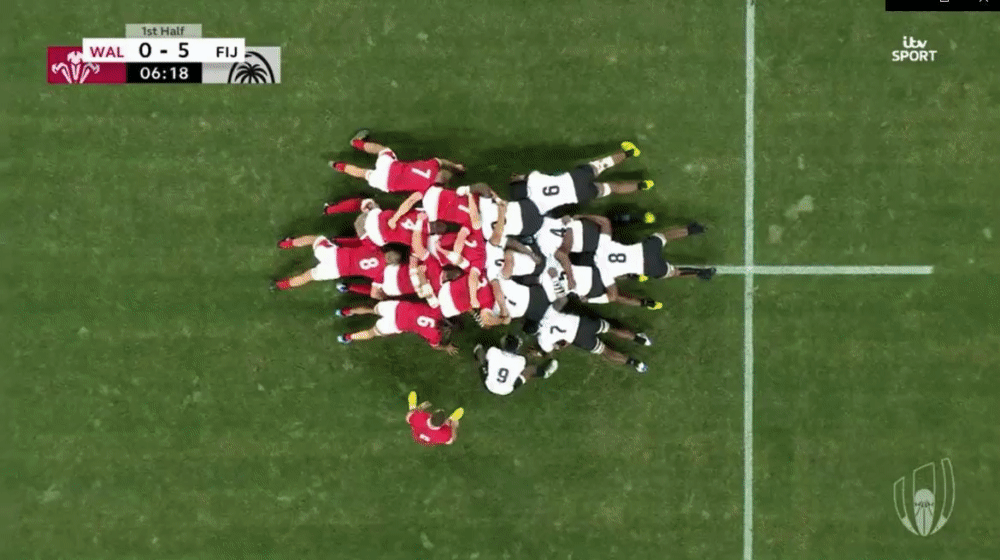 Radradra can be used as a playmaker himself as well as going straight off nine, which he did in this instance.
He forces sides into committing extra men to tackle or stop the offload, but this leaves added space out wide.
Wales have to tie men in to prevent the offload, but this leaves a mismatch out wide and space back on the blindside for a counter-run by Fiji.
Wales did stop this attack at that breakdown, but he committed a man extra than Wales would ordinarily have wanted.
Fiji play Semi Radradra as first option inside both scrums and their lineout. He's playing straight off nine, but they do use him as the dummy runner and support inside of the fly half.
By playing straight off the back of the lineout he and the ball carrier engage the scrum half as he makes his way back across the field as well as the defender stood back off the lineout, but not deep.
The third defender he occupies sits deep and has to come up to kill the immediate gainline success threat. He occupies them either by committing them to the ruck or by altering their movement paths.
The fourth defender (dashed arrows) has to slightly overcommit to kill the offload game and so he occupies more defenders than Fiji use attackers and creates space out wide.
On this occasion the ball went behind him, but the defenders still had to track his movements. Especially for someone as dangerous in the collision area as Semi Radradra.
Why commit the men?
Well, Fijian's offloading prowess is probably as well recognised in rugby as the Harlem Globetrotters are in basketball.
Radradra needs a high man (Not too high, players you've been warned!) and one low. One to stop him and the other to stop the offload.
If this doesn't happen, you get situations like this: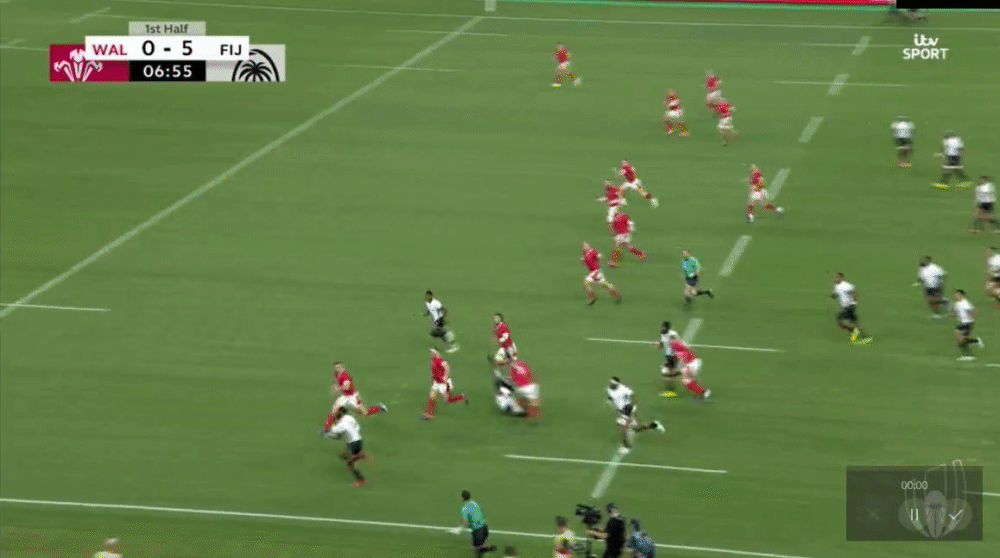 Radradra rides the tackle of George North, who goes low, and gets the offload away. Wales were fortunate it was forward.
He adds an extra presence with this kind of offload game but it's hard to stop the offload in a man and ball tackle on a man this big and strong.
This effectively means he forces a two-man tackle, which makes space elsewhere if Fiji can get quick ball.
Radradra forces tacklers to go low
It's not just Semi Radradra's physical dominance that makes tacklers go low, it's his carrying technique.
When he takes the ball out wide, he times his step to perfection which forces the tackler to make an early choice. This is usually to make the tackle and go low.
This enables the offload if he wants it.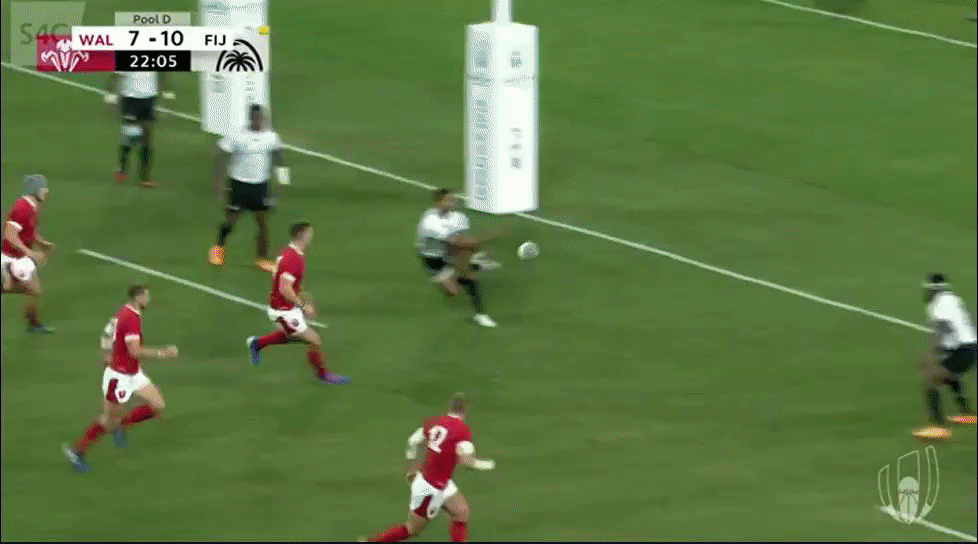 Watch as Radradra decides to come back inside, nearer his support runners to make the offload a legitimate threat.
This ties up the extra man again who doesn't know whether to commit to a low and secure tackle or to go high, risk a missed tackle but attempt to slow/stop an offload.
The nearest defender is also caught up not knowing whether to commit to ruck or follow support runner in case of the offload.
Kicking target option
Having someone tall and acrobatic like Semi Radradra to collect your territorial kicks adds another dimension to your attack by forcing one more item onto the 'we must defend this' list for the opposition.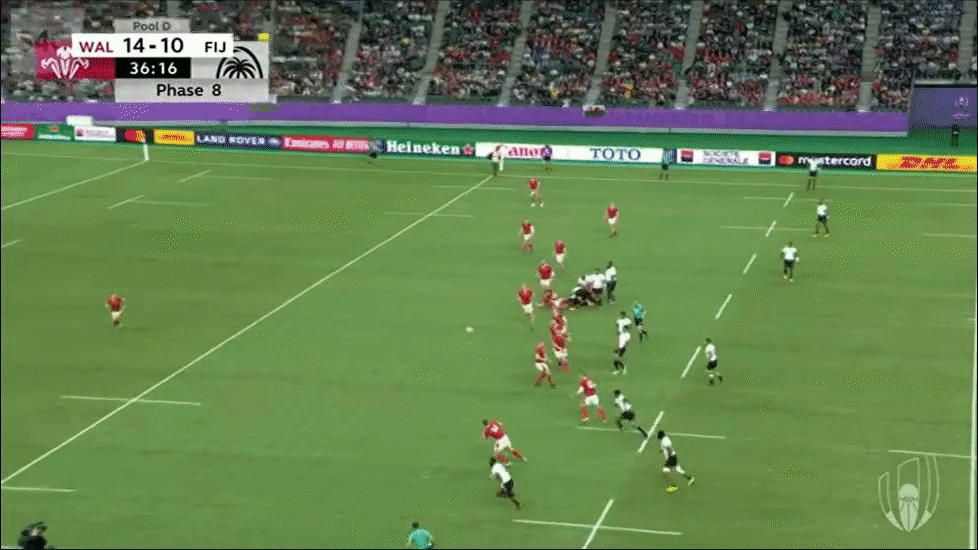 The ball is kicked ahead and with George North chasing after it and Liam Williams coming across to collect it Radradra has to be strong in the collision area.
He times it perfectly, beating Williams to the ball and due to a missed tackle, North is then tied up in the ruck.
This little delay means he's allowed to keep the ball alive for longer and all from his timing of the run and tackle evasion skills.
Mixed with a well-placed kick, Radradra's chase is spot on. Williams has to do better in the collision area to collect the ball, but the Fijian's have utilised their danger man to cover two Welsh defenders, again.
If Williams can make the tackle then North can counter-ruck, but North has to stop Radradra getting back up instead.
Semi Radradra – Metre making machine!
Having made over 400 metres in the pool stages of the 2019 Rugby World Cup it is fair to say the Fijian bulldozer likes carrying the ball.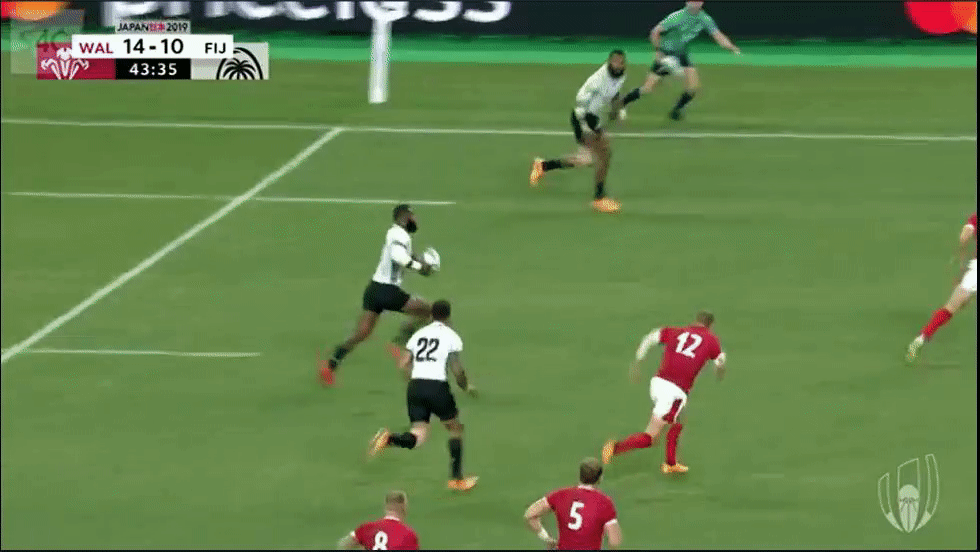 Following a quick lineout, Radradra breaks but has such strong ball control he is able to ride Parkes' tackle, send North wider which created a gap for him to carry through.
He then engaged Liam Williams into contact before getting away one of his dangerous offloads which continued Fiji's attack. This kept Wales on the back foot for another few phases.
His ball control enabled the offload and continuation of the attack. One hand carrying/offloading is a key skill in this fast and open game plan.
The space opens up with a simple holding of the ball, which attracts defenders' inwards.
Semi Radradra holds the ball up better than anyone. It's the jewel in his crown. A well jewelled crown it is!
How he tempts attackers to attract to him as if he holds some paranormal gravitational pull is remarkable, such is his threat. He times his passing to perfection (below) to ensure the man outside him hits the line at the right time, maximising the gain.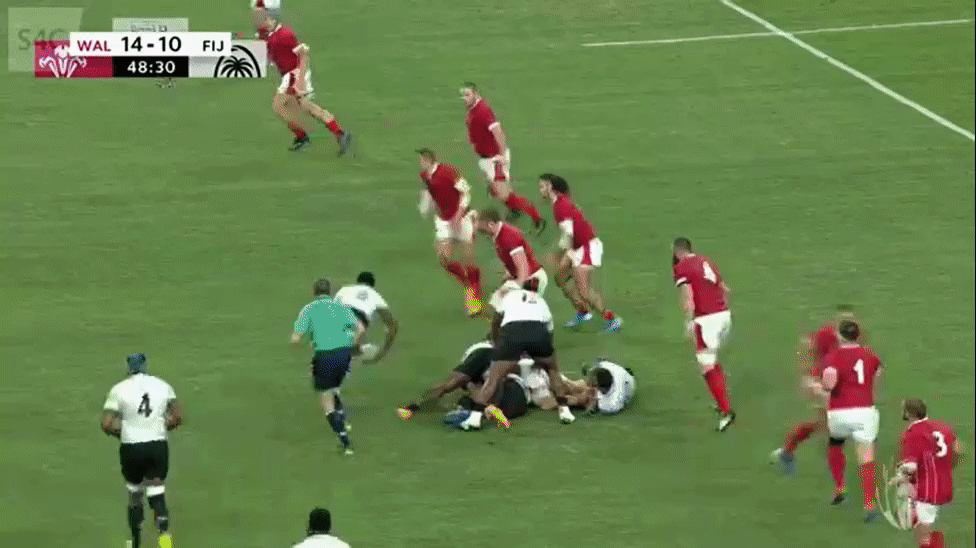 This delay allows the break to occur as it holds Jon Davies in limbo for that split second longer. This means he can't commit to the overlap as he arrows inwards, towards Radradra.
The red arrow shows where Jon Davies should be going but the hold of the ball for a second longer means he darts inwards expecting the carry from Radradra.
This doesn't happen and he's caught flat footed so can't prevent the break outside him. Look how Fiji pull Davies inwards and Williams outwards to allow a larger hole to carry through.
The quick offloading game previously discussed is what does this as Wales have to be alert to two quick passes down the line to the furthest man.
Picking his spots
A good attacker will always be versatile but also knowledgeable. Vision is key for an outside back and knowing what to do with the field you face is just as vital.
Radradra's vision is what sets him apart from a lot of wingers. He doesn't just put his head down and charge, he picks his spots.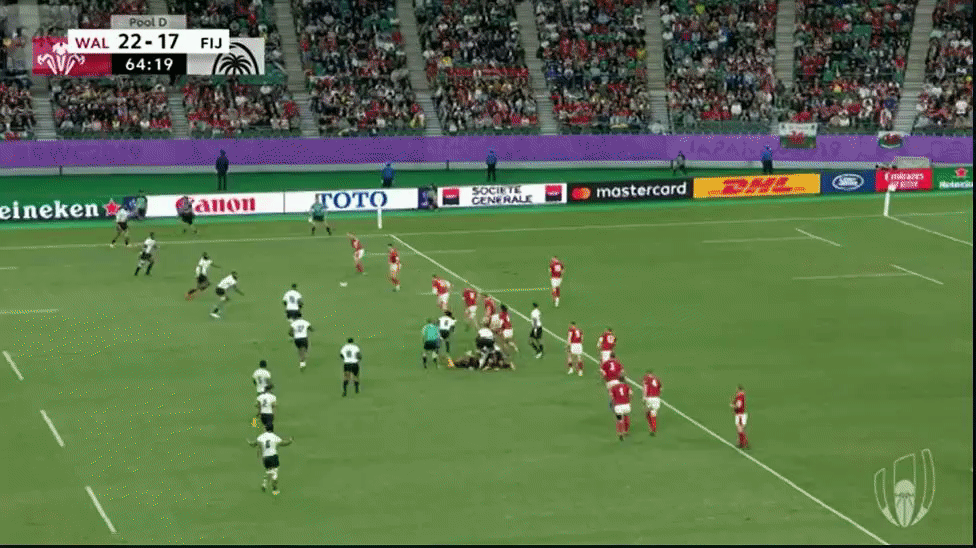 He hovers across the defensive line, waiting to find the right hole to attack before exploding through it. Waiting for the right moment proves just what a patient, versatile and methodical attacker Semi Radradra is.
"Main photo credit"