A champion on the track and a role model off of it. Remembering Sebastian Vettel's greatest moments in Formula One.
After 16 incredible years in Formula 1, Sebastian Vettel finally waves goodbye. The German's retirement is surely a huge loss for the sport. He is not only one of F1's all-time greats but also a role model in the truest meaning. Throughout his career, Vettel has had a number of masterful performances while also speaking out and raising awareness about issues near to his heart. Here are some of Vettel's most memorable moments both on and off the racetrack.
Sebastian Vettel: The Champion
Vettel wraps up his legendary career having won 53 Grands Prix during his years with Toro Rosso, Red Bull, Ferrari & Aston Martin. He also has 57 pole positions, 122 podium finishes, 38 fastest laps, eight hat tricks (pole position, fastest lap and win), four grand slams (pole position, fastest lap, win and lead from start to finish), 3,098 championship points and four consecutive World Championships (2010, 2011, 2012, 2013).
2008 Italian Grand Prix
One of Vettel's best races, one of the best wet-weather drives, and one of the most surprising victories ever. A young Vettel drove his Toro Rosso to victory lane in a rain-soaked Monza from pole position. Using a 2007-spec engine, the German mastered the tricky wet conditions to win the 53-lap race by 12 seconds. This was Vettel's first career victory and pole position as well as the team's first-ever. 
Record: The youngest polesitter in F1's history (21 years and 72 days old).
sebastian vettel wins the italian grand prix in 2008 pic.twitter.com/ZNEaWDsvFD

— seb fan (@sebschickens) April 6, 2021
2010 Abu Dhabi
Grand Prix
"Sebastian Vettel, you are the World Champion!" A radio message that brought Vettel to tears following an unbelievable Abu Dhabi Grand Prix. It was the 2010 F1 season finale, and Vettel entered the race third in the drivers' standings 15 points behind the championship leader Fernando Alonso, and seven behind Red Bull teammate Mark Webber. Vettel started the race from pole ahead of McLaren's Lewis Hamilton and Ferrari's Alonso, but all expectations were in the Spaniard's favor as nobody expected Ferrari to mess up the strategy. But they did.
Vettel went on to win the 55-lap race fairly unchallenged after Ferrari and Red Bull made errors in their pit strategies that saw both Alonso and Webber struggle in the middle of the field. The German Finished by 10 seconds ahead of Hamilton, securing the first of his four championships.
Record: The youngest World Champion in F1's history (23 years and 134 days old).
"You just wait sunshine, you just wait…"

The flood of emotions when Sebastian Vettel won his first championship 😭🏆#F1 pic.twitter.com/3UIKldRdbd

— Formula 1 (@F1) March 23, 2020
2011 Italian Grand Prix
It's round 13, and Vettel started from pole for the tenth time that season. The start of the race saw Alonso put his Ferrari ahead of Vettel, Hamilton, and Schumacher, dropping Vettel to second. On the fourth lap, Vettel made a stuff of legends move, passing Alonso with two wheels on the grass on the outside of Curva Grande. The German dominated the action-packed race and went on to take his eighth win of the season by 9.5 seconds in front of McLaren's Jenson Button. This race went down in history as one of Vettel's finest, thanks to his brilliance and his masterpiece of an overtake. Vettel outclassed the competition that year to win his second consecutive championship.
Records: Most laps led in a single season with 739 laps in 2011. Most pole positions in the same year with 15 poles in a season of only 19 races.
Utterly breathtaking 😵🍿#ItalianGP 🇮🇹 #F1 pic.twitter.com/XmNmQ9e6jv

— Formula 1 (@F1) September 7, 2021
2012 Brazilian Grand Prix
One of the most dramatic title deciders ever. Vettel went into the 2012 season finale at Interlagos with a 13-point lead over main title rival Fernando Alonso, having overhauled a 44-point deficit to the Spaniard. Both championship leaders had a poor qualifying session. Vettel started in fourth on the grid with Alonso starting in eighth. The German had a poor start to the race, falling further down the order while his rival climbed to podium positions. Could things get any worse? The title defender found himself dead last at the end of lap 1 after a collision with Williams' Bruno Senna. He spun and suffered damage to his left sidepod. Everyone thought Vettel's championship had slipped through his fingers, but he re-joined the race from 22nd with more determination than ever, refusing to accept his title loss. Despite being on dry tires as rain began to fall, Vettel sensationally recovered and kept climbing the grid until he reached sixth position by the eighth lap. That was enough for him to seal his third consecutive championship with a three-point lead over Alonso.
Record: The youngest ever triple world champion, aged just 25.
Seb's third straight world title 🏆🏆🏆

In his prime Vettel was an irresistible force 💪#DankeSeb #F1 pic.twitter.com/mbdiXI3Nwd

— Formula 1 (@F1) November 16, 2022
2013 Indian Grand Prix
"Sebastian Vettel to win the Indian Grand Prix, to become a four-time world champion. The formidable Sebastian wins in India, wins in 2013." Despite dropping from pole to 17th after a few laps, Vettel brilliantly picked off the 16 cars ahead of him and climbed to first place by lap 29. The German dominated the rest of the race and crossed the finish line by nearly half a minute over Mercedes' Nico Roseberg, securing his fourth and final world championship. The Red Bull star bowed down to his RB9 car after doing a series of donuts in front of the main grandstand, giving us one of the most iconic moments in the sport's history. Aged just 26, Vettel became the third driver to ever win four consecutive championships.
Record: Most consecutive Grand Prix victories in a single season – 9 (Belgium 2013 – Brazil 2013).
DID YOU KNOW? India only hosted three Grands Prix (2011, 2012, 2013), all were won by Sebastian Vettel.
27 OCTOBER, 2013: 🇮🇳

Sebastian Vettel wins in India – and clinches the title with three races to spare

A four-time world champion at the age of 26 🏆🏆🏆🏆

And only the third driver in history to win four consecutive titles #F1 #OnThisDay @redbullracing pic.twitter.com/kMWRaO2lMQ

— Formula 1 (@F1) October 27, 2020
2015 Malaysian Grand Prix
It was an emotional day for Vettel as he claimed his first victory in red. Vettel lined up second on the grid behind Mercedes' Lewis Hamilton after a rain-soaked qualifying session. On the fourth lap, Vettel took the lead after both Mercedes drivers pitted. After that, he had complete control of the 56-lap race and crossed the finish line eight seconds ahead of Hamilton. It was Vettel's 40th career victory and the Italian team's first since the 2013 Spanish Grand Prix.
After the race, Vettel dedicated the win to his childhood hero Michael Schumacher, saying:
"I remember the last time I was there was as a young kid watching Michael [Schumacher] over the fence driving around in the Ferrari and now I'm driving that very red car. It's incredible. It's my dream. When I grew up, Michael was my hero and for all of us – and I speak for all of the kids at the go-kart track at the time in Germany – we were looking up to him and when he turned up every year and to look after us a little bit, it made our lives. So, that's why I think today… I probably don't understand yet how special it is. Very, very emotional."
One of the greatest post race radio's of all time, just pure emotion on the day Seb won his first ever race for Ferrari in only his second ever race for the team pic.twitter.com/FDaUpZ5LRC

— Aldas🇱🇹 (@Aldas001) November 16, 2022
---
Sebastian Vettel: The Role Model
Aside from racing, Sebastian Vettel is known for being very vocal about some of the causes close to his heart. From campaigning for human rights and supporting Ukraine to highlighting environmental degradation and saving bees. In recent years, Vettel has worn special race helmets and shirts to raise awareness of issues ongoing around the world. He has also spoken fearlessly in press conferences and interviews with the hope of making a difference. Vettel once said, "You cannot always be the best. But you can do your best."
#1 Please Don't Litter
After last year's British Grand Prix, Vettel stayed for hours to clear up rubbish left by 140,000 fans. Despite being disappointed with his performance after retiring from the race on lap 40, the German decided to use his influence in a positive way, making Silverstone a cleaner place with the help of a group of fans. Before the race, Vettel was seen wearing a t-shirt that read, 'Please don't litter – keep it clean.'
After Silverstone, he said:
"When it comes to picking stuff up, we can't do everything because that's not possible, but every time I am out running and I see something, I pick it up and put it in the bin or take it home and put it in the bin. I've noticed at the tracks there is a lot of stuff lying around after the races and I think it was a good opportunity, also for myself, to see the problem we are facing."
#2 "Race For Women" campaign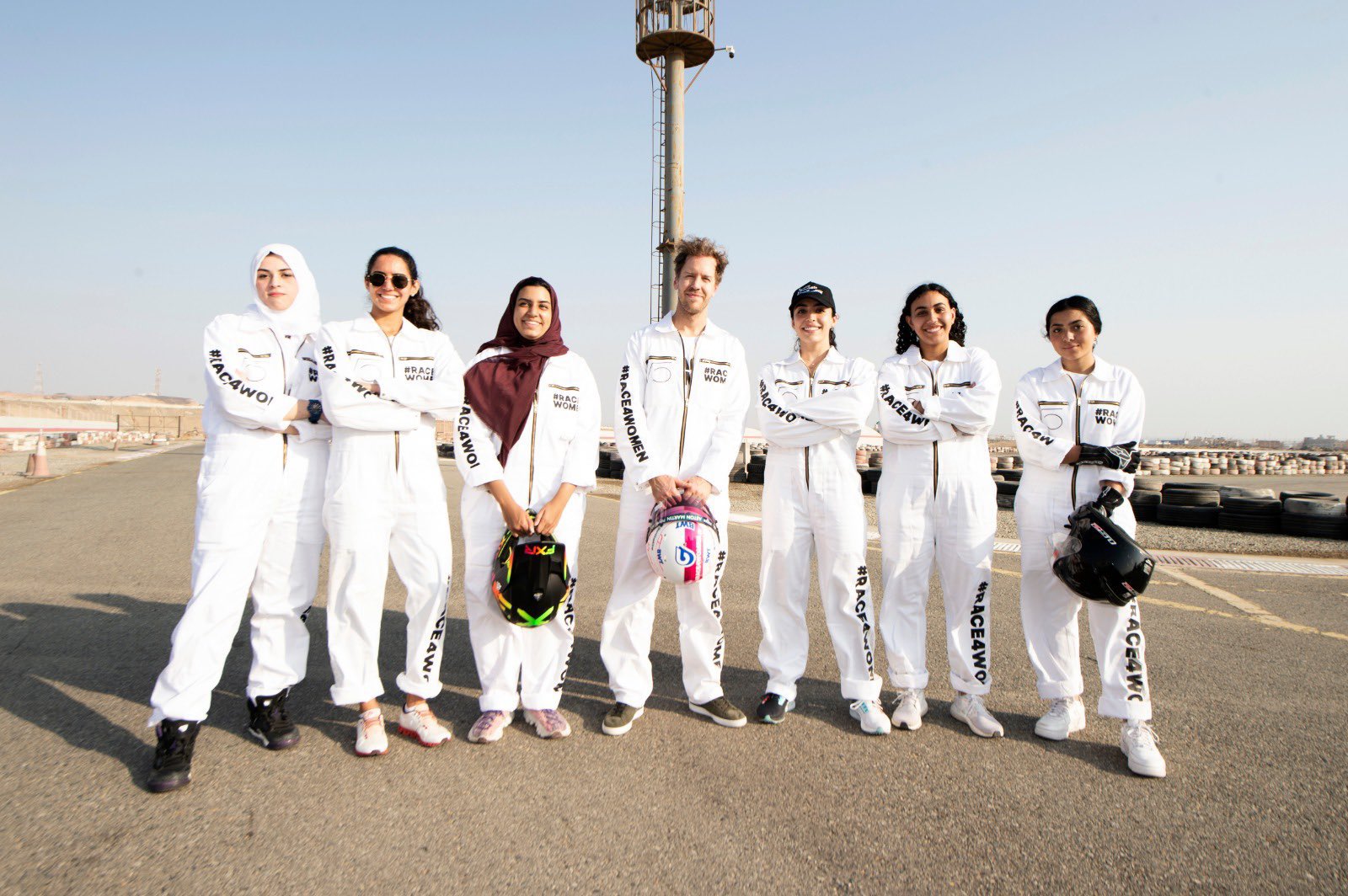 In Saudi Arabia, women have only been allowed to drive a car since 2017. So, ahead of the country's first F1 race in 2021, Vettel decided to organize a women-only karting event to encourage local women into motorsport and to learn about their lives. Speaking at the event, Vettel said:
"I set up my own karting event today under the hashtag #race4women, and I think a group of seven or eight girls and women were on the track. We set up a nice event only for them and I was trying to pass on some of my experiences in life and on track, to do something together to grow their confidence."
#3 Save the Bees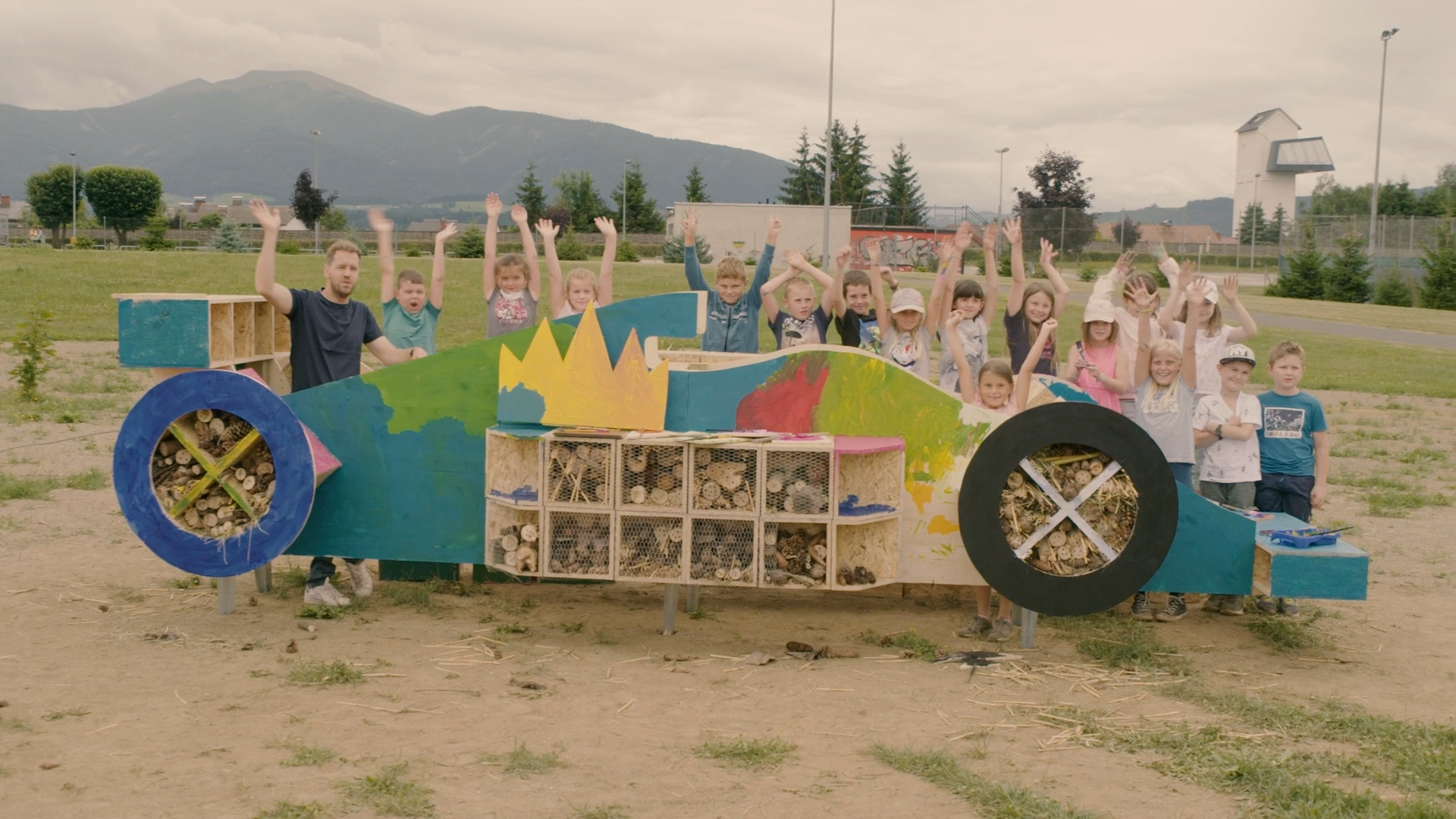 Last year in Austria, Vettel spent his spare time between races working with local school children to build a real bee hotel shaped like a racing car, as part of his involvement in BioBienenApfel's project to raise awareness for creating safe habitats for bees. At the Austrian Grand Prix, he handed out the media members packets of bee-friendly flower seeds. The German has previously expressed his interest in nature and farming and had taken an internship in organic farming during the lockdown in 2020.
Vettel was handing out flower seeds in the TV pen today. Between Austrian races, he stayed local and worked with a group of kids to install a racing car in a field that'll act as a 'Bee Hotel' to give bees more space where they can flourish #AustrianGP #F1 #Vettel pic.twitter.com/Gb7XQfApFr

— Lawrence Barretto (@lawrobarretto) July 1, 2021
#4 Race Without Trace – 2022 British Grand Prix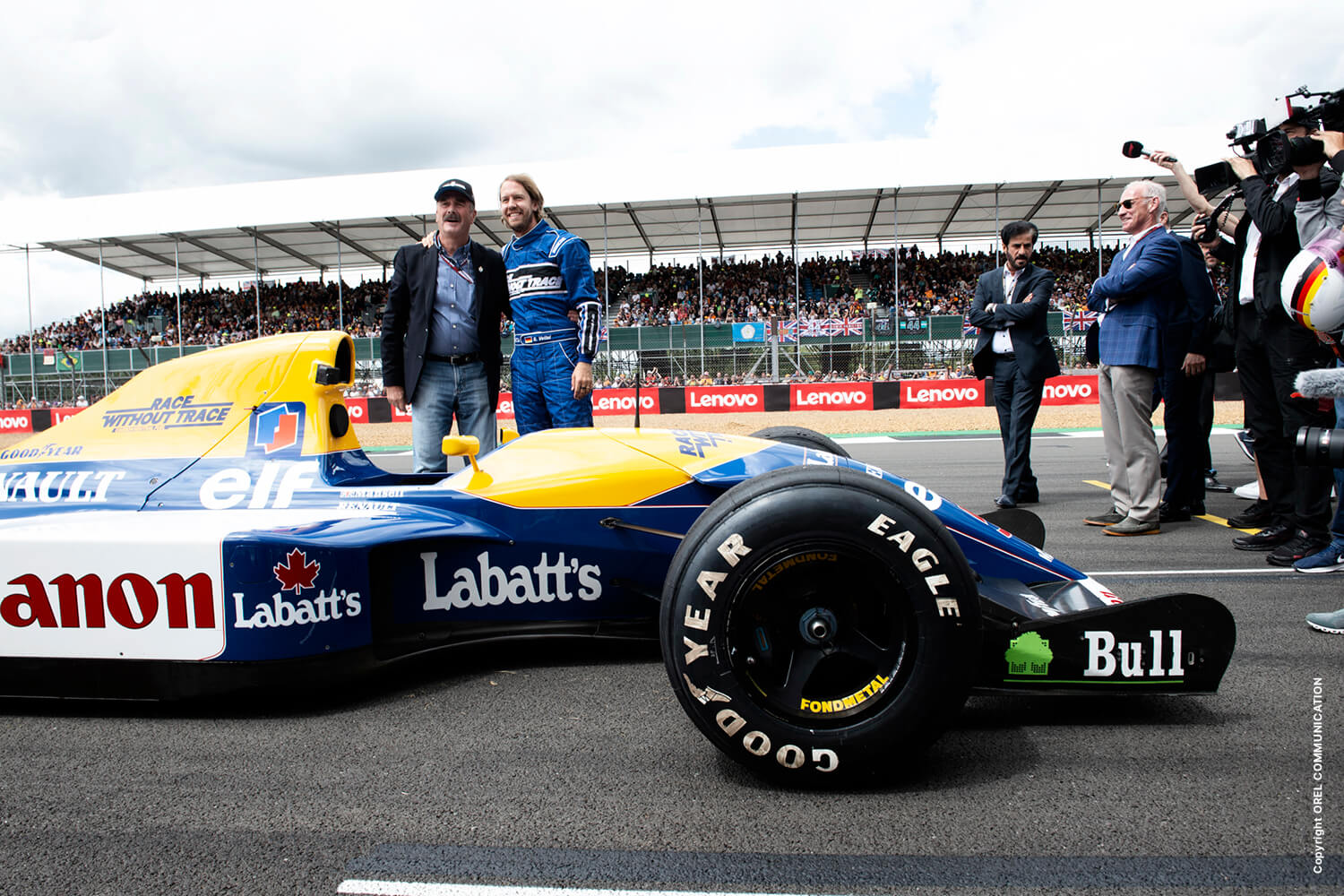 On the 30th anniversary of Nigel Mansell's win at the 1992 British Grand Prix, Vettel decided to drive Mansell's historic Williams-Renault FW14B in a totally sustainable way by adding carbon-neutral fuel. On his website, Vettel said he wanted to keep the car as authentic as possible while adding a fuel that does not add CO2 to the environment. "With this future technology we will be able to keep an old-school platform like a traditional racing car alive and are ready to race without trace."
---
"No one will remember me"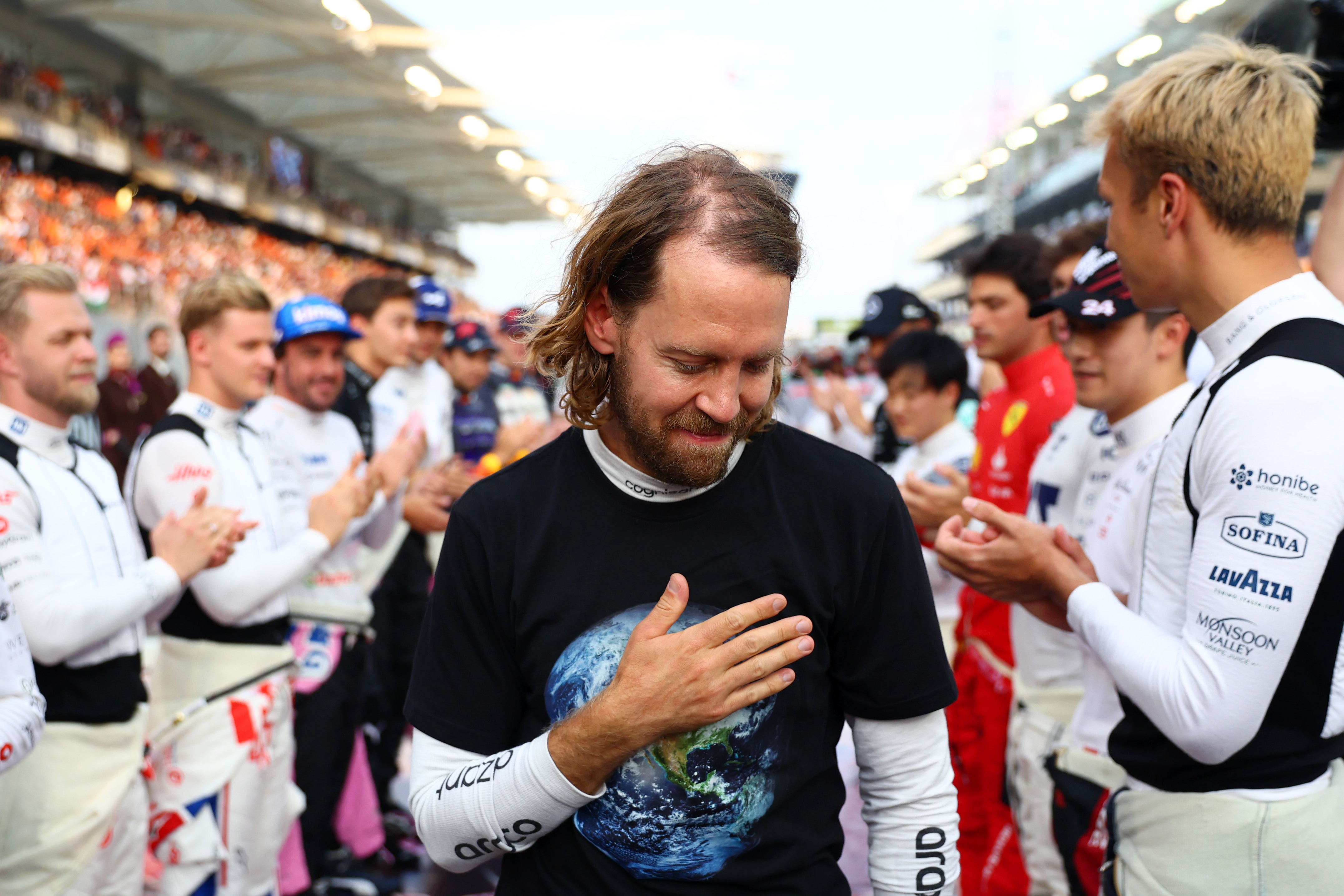 The last few days have been very emotional for everyone as Vettel's journey in F1 came to an end. We have seen tributes flood in for the German legend from drivers, teams, and fans. Special helmets, a guard of honor, a run around the circuit with drivers, team members, engineers, journalists, and the F1 CEO wearing Danke Seb shirts, a dinner with the entire grid to celebrate his last race, and a staggering number of heartfelt videos and messages all over social media thanking him for the memories.
Vettel said no one will remember him but the whole world said no, we will. He will forever be remembered not only as a champion but also for the way he wants to be remembered – as a kind and attentive human being. Danke, Seb.
Iconic.#DankeSeb pic.twitter.com/Yu0FQcypNP

— Aston Martin Aramco Cognizant F1 Team (@AstonMartinF1) November 20, 2022
Featured Image Credit: Aston Martin Twitter