After weeks of discussion behind the scenes with tournaments and players, the schedule for upcoming 2021 season has now been ratified for the first two months – beginning with the ATP tour's announcement and the WTA following suit.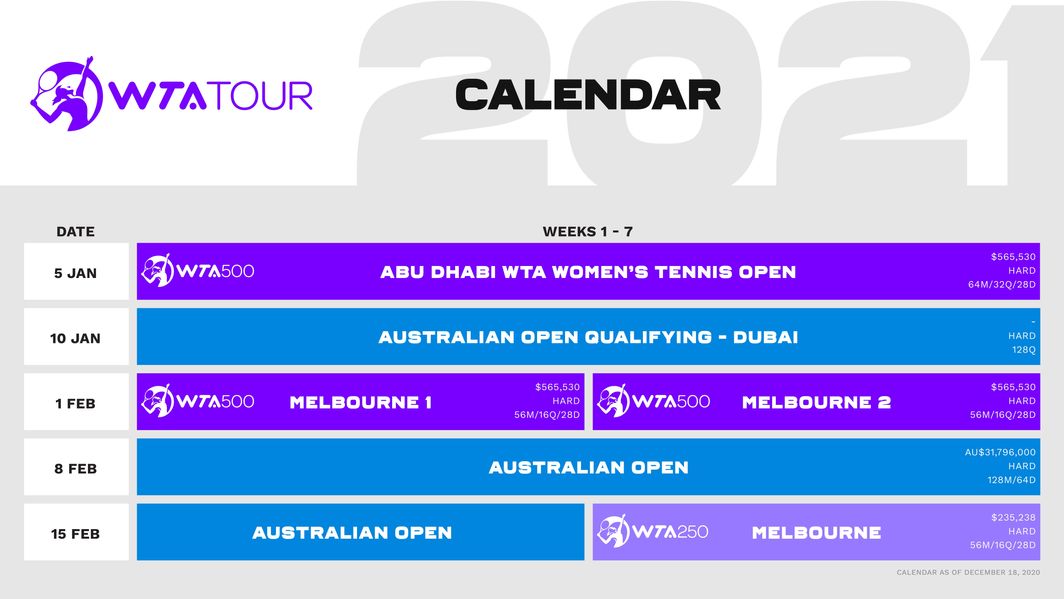 The WTA tour will officially start in the Middle East with the inaugural Abu Dhabi Women's Tennis Open which will be held January 5-13 at the Zayed Sports City International Tennis Centre. In an effort to streamline its tournament categories, the WTA has rebranded events to align with the ATP's naming structure of 1000, 500 and 250.
The Abu Dhabi Open will be a WTA 500 event.
The WTA announces the start of 2021 Tour season, which kicks off with the Abu Dhabi WTA Women's Tennis Open –> https://t.co/JeLyxmt6n6 pic.twitter.com/jDVGLM1n5K

— wta (@WTA) December 19, 2020
The United Arab Emirates has also strengthened its position as a major sporting hub, and will play host for the Australian Open qualifying in the women's section which will be held in Dubai, beginning  January 10.
Players will then travel to Melbourne from one of Tennis Australia's charterer flight hubs of Dubai (in addition to Singapore and Los Angeles), and complete a two-week mandatory quarantine upon arrival in Australia.
After the quarantine period there will be a Melbourne double-header, two preparatory tournaments classified WTA Melbourne 1 and 2, both WTA 500-level tournaments. Both will be played concurrently.
Despite the shifting conditions due to the COVID-19 pandemic, we now know for a fact there will be an Australian Open next year. The Grand Slams' power to flex its muscles on moving slots at its discretion (albeit due to unavoidable circumstances) and picking a date it sees fit has put some smaller events in real jeopardy of not happening. In fact, the ASB Classic in Auckland, Shenzhen Open and the Adelaide International have all been scraped off as part of the 2021 season.
For the first time in more than 100 years, the Australian Open will be played in February, moved from its original 18th January, and set to commence on 8th February. Tennis Australia has also announced that fans will be allowed in and tickets will go on sale next week.
The battleground in Melbourne has eaten up the entire schedule of February. The second week of the Australian Open will run simultaneously with a WTA 250 event in Melbourne, allowing players who have been knocked out early to secure three weeks of playing time in Australia.
The USA's Sofia Kenin is the defending Australian Open champion, beating Spain's Garbine Muguruza at last year's edition to win her maiden Grand Slam crown.
Main photo:
Embed from Getty Images