A familiar face is back on the grid at AlphaTauri as F1 is back in action in Budapest for the Hungarian Grand Prix.
F1 returns this weekend for the Hungarian Grand Prix after a week off, with lots of news coming during the break.
The biggest news comes from AlphaTauri, where Nyck De Vries has been removed from his seat with the team in favor of Daniel Ricciardo. Ricciardo, who had been serving as the third driver for Red Bull this season, was thrust into the seat after a strong showing during the Pirelli tire test after the British Grand Prix.
Ricciardo will be on loan from Red Bull until the end of the season, as the team gets a chance to assess both Ricciardo and Yuki Tsunoda head-to-head with potential driver decisions looming in the coming months.
It also gives AlphaTauri some veteran guidance to help bring the team forward and climb out of last place in the Constructors championship. The remaining races this season certainly feel like a test for both drivers as they seek a spot alongside Max Verstappen.
New Qualifying Format
One thing you'll want to look out for this weekend is the new qualifying format that will take place.
While teams typically bolt on the soft tires for qualifying sessions for maximum grip, the format will restrict what tires can be used in each session. Simply put, this is how things will look:
Q1: Hard tires
Q2: Medium tires
Q3: Soft tires
While everyone will still run the same compounds, Q1 and Q2 may become precarious for teams with cars that struggle to warm up their tires. While it likely won't affect the top teams too much, we could see a reshuffling of the order down the line with perhaps some surprises in the first two sessions.
This is of course if things stay dry. The new format was supposed to debut at Silverstone, but the rain put a wrench in those plans.
Let's see if the change brings more excitement on Saturday, something that is always welcome in F1.
He's back, and so is that glorious smile 😃#HungarianGP @danielricciardo pic.twitter.com/SIozysSEUA

— Formula 1 (@F1) July 20, 2023
The Circuit
The Hungaroring is a 4.38 km (2.72 miles) clockwise circuit located just outside of Budapest, Hungary. The circuit has hosted the Hungarian Grand Prix every year since 1986. It will offer a stark contrast to the last race in Silverstone, with several slow corners and limited overtaking opportunities.
Lewis Hamilton has the most wins all-time at the circuit with eight, with his last coming in 2020. Max Verstappen won last year's race.
A Lap of the Hungaroring
The lap begins on the main straight where the first DRS zone is located. The long straight leads down to the slow hairpin of Turn 1. After that right-hander, it's the second DRS zone on a much shorter straight as the drivers head toward the swooping left-hander of Turn 2.
Turn 3 is a small kink that leads the drivers into the blind crest at Turn 4. This is one of the track limits hotspots to look out for this weekend. Turn 5 is a long right before the chicane at Turns 6 and 7.
The second sector ends with a series of medium-to-high-speed corners from Turn 8 to Turn 11.
Turn 12 is a 90-degree right that leads to the final two corners. Turn 13 is a slow left-handed loop while Turn 14 is similar, though a bit faster and to the right. The exit of Turn 14 is crucial to set up overtakes down toward Turn 1.
This weekend the teams have the C3 (Hard), C4 (Medium), and C5 (Soft) tires available, the softest in the Pirelli range. Only 11 sets are available as a part of the changes this weekend with the new qualifying format.
The race will be 70 laps long, and with such soft tires available, you can expect at least two stops per driver on Sunday.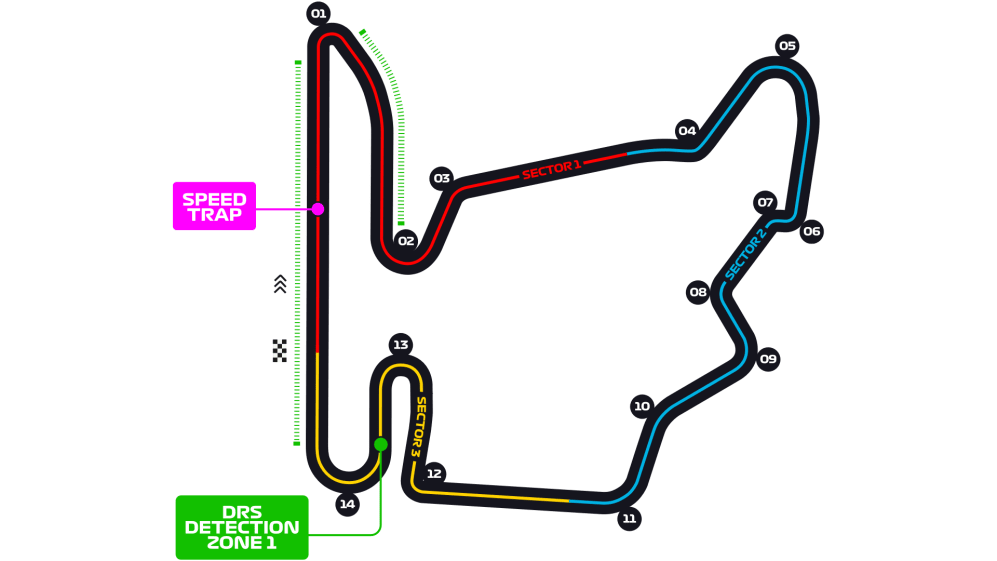 Points Standings
Here's where things stand with just two races remaining before the summer break.
Driver Standings
Max Verstappen, Red Bull Racing – 255 points
Sergio Perez, Red Bull Racing – 156 points
Fernando Alonso, Aston Martin – 137 points
Lewis Hamilton, Mercedes – 121 points
Carlos Sainz, Ferrari – 83 points
George Russell, Mercedes – 82 points
Charles Leclerc, Ferrari – 74 points
Lance Stroll, Aston Martin – 44 points
Lando Norris, McLaren – 42 points
Esteban Ocon, Alpine – 31 points
Constructor Standings
Red Bull Racing – 411 points
Mercedes – 203 points
Aston Martin – 181 points
Ferrari – 157 points
McLaren – 59 points
Alpine – 47 points
Williams – 11 point
Haas – 11 points
Alfa Romeo – 9 points
AlphaTauri – 2 points
Predictions
Red Bull are seeking an F1-record 12th consecutive victory in Hungary, and there's no reason to believe they won't get it. Even with improvements from other teams (like McLaren at Silverstone), Red Bull are still clearly the front-running team.
I'll take Red Bull to win their 12th race in a row, and Max Verstappen to win his seventh race in a row.
Max Verstappen, Red Bull Racing
Lewis Hamilton, Mercedes
Sergio Perez, Red Bull Racing
How To Watch: F1 Hungarian Grand Prix (U.S. and U.K times)
Featured image credit: Scuderia Ferrari