Can anyone touch Max Verstappen and Red Bull this weekend with F1 in Saudi Arabia for the second race of the season?
The F1 season kicked off two weeks ago in Bahrain and left us with a lot to contemplate ahead of this weekend's action in Saudi Arabia. Max Verstappen cruised to victory for Red Bull, who took an impressive 1-2 finish to start the season with Sergio Perez trailing his teammate to the finish. The most exhilarating action was what occurred behind the two out front.
While not fast enough to compete for the race win, Ferrari looked comfortable behind Red Bull and appeared content for a 3-4 finish. That is until disaster struck. It began on Lap 41, when Charles Leclerc, cruising in third place, suffered a terminal mechanical issue and had to pull off and retire from the race. Though he was 14 seconds behind Perez, he was a solid nine seconds ahead of his teammate Carlos Sainz for the final podium place.
To make matters worse for Leclerc, he will already face a 10-place grid penalty this weekend in just the second race of the year. The team is fitting the car with its third control electronics component this season, which incurs the penalty and makes for a potentially horrific start to the season to last year's championship runner-up.
Just four laps later, it was Sainz who would lose out on the third place. Fernando Alonso had been charging hard in the final portion of the race, and after a beautiful move on Lewis Hamilton at Turn 10 to move up to fourth, he caught Sainz and took hold of the final podium position. Alonso held on to finish on the podium, while Sainz came home fourth.
Down The Grid
Further behind, Mercedes' Lewis Hamilton and George Russell finished fifth and seventh respectively, though the team is again contemplating their design philosophy for this season. The "zero sidepod" design may be on its way out, as Toto Wolff and the team are seriously considering their options after a disappointing opening race, at least for Mercedes' standards.
Lance Stroll, despite battling a wrist injury from his bike accident before the season, put together a solid sixth-place finish for a double points haul for Aston Martin. Williams also had a fine day, with Alex Albon finishing in the points in 10th and rookie Logan Sargeant not far behind in 12th.
Alpine had an up-and-down day. While Pierre Gasly fought from last place to finish in ninth, Esteban Ocon suffered an almost comical three penalties and eventually retired. Perhaps the only team who fared worse was McLaren. Rookie Oscar Piastri was the race's first retirement, while Lando Norris battled a hydraulic issue all day and finished 17th, last among all finishers.
One of the best battles of the 2022 season happened on the streets of Saudi, between Leclerc and Verstappen! 🤯💪

Will we see a repeat this weekend? 🤞#SaudiArabianGP #F1 pic.twitter.com/TBJkSGh8ZX

— Formula 1 (@F1) March 13, 2023
The Circuit
The Jeddah Corniche Circuit is a 6.17 km (3.83 miles) circuit located in Jeddah, Saudi Arabia. The circuit is one of the newest to join the F1 calendar, with the F1 race in Saudi Arabia taking place in 2021. Lewis Hamilton won that inaugural race, while his rival that weekend, Max Verstappen, came home to win last year's race. Both races featured tight battles for the lead, lots of overtakes, and intense action all the way through.
One feature, or perhaps criticism of the track is its dangerous characteristics. Close walls, fast turns, and challenging sequences are found throughout the track, often resulting in heavy accidents during the race weekend. The circuit and F1 have done some work to address this for this weekend, pushing back some walls at both Turns 14 and 20 to improve visibility and increase safety for the drivers.
As for tire compounds this weekend, the C2 will be the hard tire, the C3 will be the medium tire, and the C4 will be the soft tire. The overall Pirelli tire choices range from C0 (hardest) to C5 (softest), so this weekend's tire selection trends ever so slightly to the soft side of the range. The race will be 50 laps long.
A Lap of Jeddah
The drivers begin the lap by barrelling toward the tight chicane of Turns 1 and 2. This is the spot in which you'll likely see the most overtaking on Sunday. They then take on the challenging rest of Sector 1. It is a series of fast, swooping corners that make up Turns 3 through 12. Though it'll be mostly single-file for the drivers during the race, watching the cars glide through it in qualifying is quite the scene.
Sector 2 begins with a fast 180-degree turn to take drivers to the back section of the track. Coming out of the direction change is the improved sightline at Turn 14 into a challenging series of fast corners from Turns 15-18. Turns 19-21 are mostly straight and really only corners because they technically have small kinks. They also make up the first DRS zone. Turn 22 is a quick flick left where we saw Mick Schumacher go off in 2021, and it is perhaps the most challenging corner on the circuit, though it has been slightly tweaked for this year's race.
After that, it's a few more small kinks and the second DRS zone of the lap that takes the drivers to the final corner at Turn 27. Once that is navigated the drivers go back onto the pit straight where the final DRS zone is located. One important change this year is the detection point for that final DRS zone. In the last two years, the detection point was before the final corner, leading to some shenanigans by drivers looking to cleverly delay overtakes to ensure they get DRS on the main straight. That issue has been resolved as the new detection point comes after the corner, as you can see below.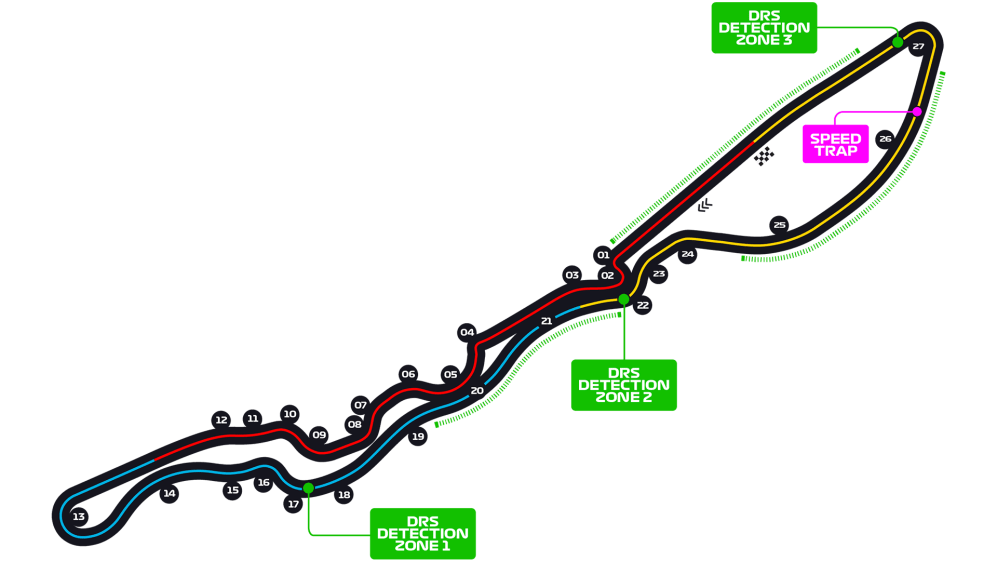 Championship Standings
One race is in the books, so let's look at the standings for both championships so far.
Driver Standings
Max Verstappen, Red Bull Racing – 25 points
Sergio Perez, Red Bull Racing – 18 points
Fernando Alonso, Aston Martin – 15 points
Carlos Sainz, Ferrari – 12 points
Lewis Hamilton, Mercedes – 10 points
Lance Stroll, Aston Martin – 8 points
George Russell, Mercedes – 6 points
Valtteri Bottas, Alfa Romeo – 4 points
Pierre Gasly, Alpine – 2 points
Alex Albon, Williams – 1 point
Constructor Standings
Red Bull Racing – 43 points
Aston Martin – 23 points
Mercedes – 16 points
Ferrari – 12 points
Alfa Romeo – 4 points
Alpine – 2 points
Williams – 1 point
AlphaTauri – 0 points
Haas – 0 points
McLaren – 0 points
Predictions
Every time F1 has come to Saudi Arabia it has been thrilling, but will we see that again with a seemingly distant team out front? I think we may. This track has a penchant for creating chaos, and with a high potential for safety cars, things can get tight in the end. That being said, I still think this is Max Verstappen's race to lose. Nothing from the last race indicates that anyone is within reach of him at the moment.
Max Verstappen, Red Bull Racing
Carlos Sainz, Ferrari
Sergio Perez, Red Bull Racing
How To Watch: The Saudi Arabian Grand Prix (U.S. and U.K. times)
U.S. times listed in ET
Featured Image Credit: Clive Mason/Getty Images