Germany will play hosts to the USMNT's September friendlies, as they take on Japan and Saudi Arabia in World Cup tune-ups. Gregg Berhalter's penultimate roster is here, which sheds some light on the official World Cup roster.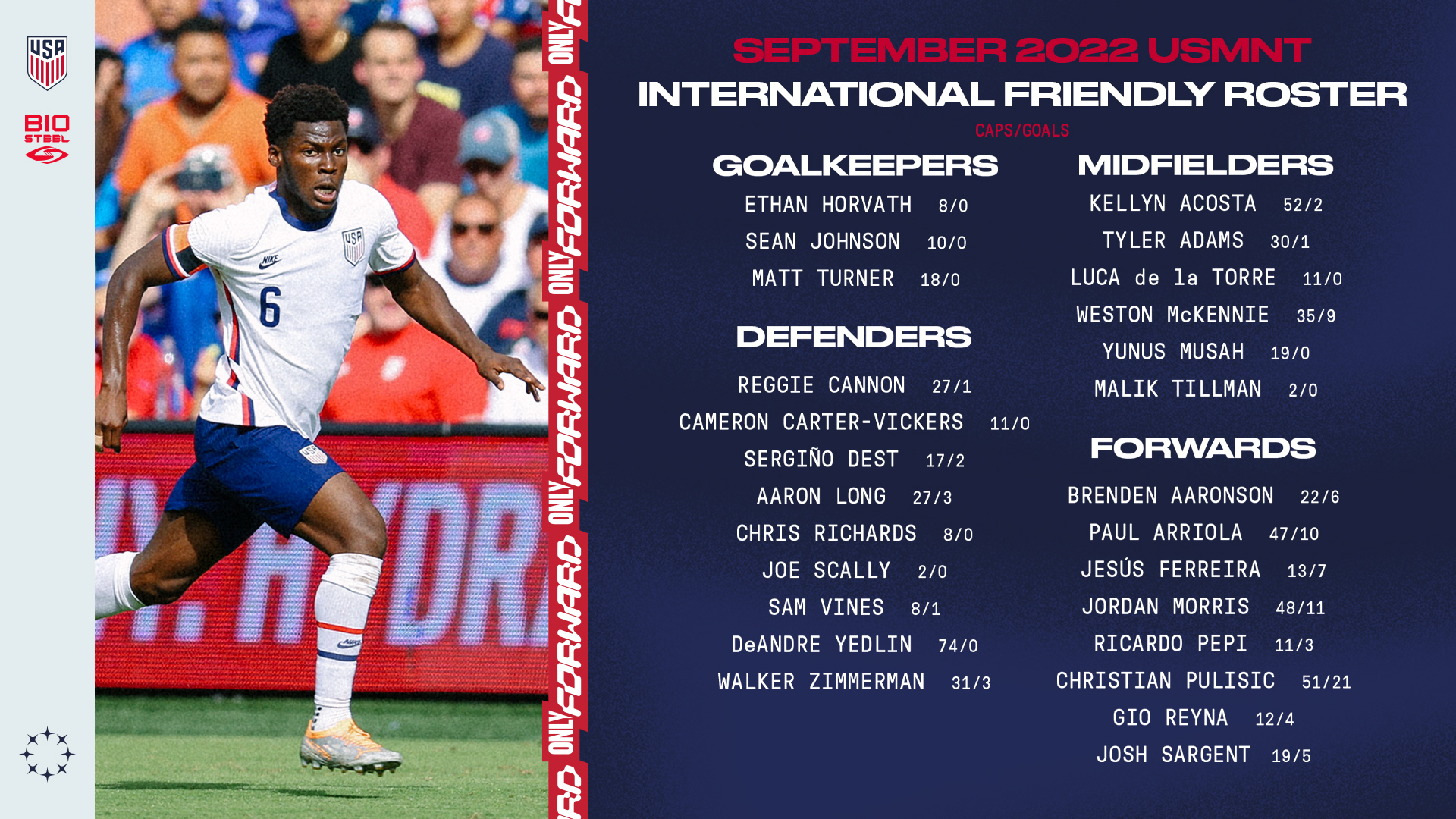 The Breakdown of the USMNT September Roster
Let's start with some of the most notable inclusions.
Josh Sargent
Josh Sargent has been tearing it up in the Championship for Norwich City this season, and he was impossible to ignore. With five goals and an assist in eight games this season, he's almost worked his way into being a lock for Qatar, but a good camp here in September would seal the deal.
Ricardo Pepi
Another notable inclusion is 19-year-old Ricardo Pepi, who burst onto the scene in the World Cup Qualifying campaign. He struggled in the Bundesliga with Augsburg and hopes for a fresh start in the Netherlands with FC Groningen.
Gio Reyna
Even though it was a foregone conclusion, seeing Giovanni Reyna on the roster brings a smile to the faces of all USMNT fans. His injuries have kept him off the field for Borussia Dortmund for a good chunk of this season, but he's finally working his way back into the team. USA fans know, that success in Qatar will be much more difficult if Gio Reyna isn't there.
Now for some omissions that caught my eye.
Players that were left off the USMNT September Roster
Jordan Pefok
After dominating the Swiss League, USMNT fans were eager to see how Pefok's game would translate to the Bundesliga. As I sit here today, Union Berlin is on top of the Bundesliga, and Pefok has two goals and two assists in five games. I interpret him being left off as Gregg maybe knowing that Pefok will be in Qatar, and wanted his spot to go to someone like Pepi or Sargent to give them one last shot at being in the team.
John Brooks
I don't know why, but I had faith. After getting a move to Benfica, I thought Gregg Berhalter would give John Brooks a look here in September. One last shot to prove he's still valuable for the national team. Gregg had other plans, and this seemingly seals John's fate, and he'll be watching the World Cup from home. Though I wouldn't blame him if he didn't even watch.
We're inching closer and closer to the World Cup, and this roster is most likely 80% or so what the Qatar plane will look like. Berhalter even said that the roster is just about sorted:
Gregg Berhalter says his 26-man USMNT World Cup roster for Qatar is 'about 85% settled' which means there are just 4 spots remaining if no one gets hurt 🇺🇸⚽️ pic.twitter.com/NMfZfIkk27

— USMNT Only (@usmntonly) September 9, 2022
If that's the case, and if my math is right, that means there are four spots available for the World Cup. Will Pepi or Sargent claim it? Will Sam Vines or Joe Scally earn the backup left-back spot? A lot of questions should be answered with this camp.