Over the course of Novak Djokovic's career, it's clear he's never received the credit he deserves. All the way from being seen as the rather forgettable fourth man of the so called "Big Four" (which also featured Roger Federer, Rafael Nadal, and Andy Murray) in 2009 and 2010 to recently the British media claiming Andy Murray is the best player in the world, despite Djokovic winning more Slams this very season. If anything out of that so-called Big Four, he's actually been the unluckiest in many ways. Over the course of this article I'll give just some reasons of why Djokovic deserves more respect, why he hasn't been so lucky in his career, and why he's not done.
His Slams
As you all know, Novak Djokovic has 12 slams, and in each and every one he has beaten a top four player–with no exception. Just to point out a notable few, he beat Federer at the 2008 Australian Open, Rafael Nadal at the 2011 US Open, and Andy Murray at this year's Roland Garros.
With all these 12 wins, the top four players he has beaten have been the other three members of the Big Four. With the top four changing all the time right now, which was also the case pre-2008, it would only be fair to compare the Slam wins of the other three guys with the top four players at the time they won the Slam.
Novak Djokovic – 12 Slams – 12/12 wins having played a top 4 player – 100%
Rafael Nadal – 14 Slams  – 13/14 wins having played a top 4 player – 92.9%
Andy Murray – 3 Slams – 2/3 wins having played a top 4 player – 66.7%
Roger Federer – 17 Slams – 10/17 wins having played a top 4 player = 58.8%
Of course, such a statistic also depends on how many chances you get to play top four players. For instance during Federer's dominance (2004-2007), he often didn't have to play any. Or in Andy Murray's case, although 2/3 of his Slam wins have come like that, he's found himself with far more losses against top four players in Slams than wins. This isn't a stat that is being used to diminish the achievements of the other three; it's in fact to get people to realize just how impressive the six-time Australian Open champion's Slam wins are, something he deserves far more credit for.
Despite not winning last year's French Open, he had to beat Rafael Nadal (and Andy Murray) just to make the final. It also makes him the only player to beat Rafael Nadal on the clay in Paris and Roger Federer at Wimbledon, their best Slams, an insane achievement. Whereas if you look at Djokovic's best Slam, the Australian Open, Rafael Nadal and Andy Murray have always come up short against him, with the Spaniard losing their only meeting and the Brit losing all five meetings. Only the Swiss man has beaten Djokovic there out of those men, and even then it was before Djokovic broke into the top 10. Since then, the six-time champion has gone on to win their next three meetings just dropping just a single set. The fact that Djokovic has won five of the last six Australian Open events is dominance in itself and deserves far more recognition than it currently receives.
Either way, the end point is there's no doubt all of Djokovic's Slam wins have all come against the highest possible calibre of players, something that neither any of the other three can say. Roger Federer won a major beating Nicolas Kiefer and Marcos Baghdatis in the semis and final, Rafael Nadal did the same beating Jurgen Melzer and Robin Soderling, and Andy Murray also did with Tomas Berdych and Milos Raonic. With no disrespect to any of these players, they just aren't comparable to the names the Serbian has had to beat.
His First Slam Final
People often forget that Djokovic made his first Slam final as a 20-year-old; sure that's not as amazing as Nadal winning his first Major just a few days after turning 19, but that doesn't change the fact that it's impressive. However, the main thing here is that in that US Open 2007 final he played Roger Federer, the Swiss man who had won 11 Slams prior to that final. Below are a list of the Big Four's first Slam finals.
Roger Federer – 21 years old – Wimbledon 2003 – Mark Phillipousis (Unseeded)
Rafael Nadal – 19 years old – Roland Garros 2005 – Mariano Puerta (Unseeded, only Slam final)
Novak Djokovic – 20 years old – US Open 2007 –  Roger Federer (#1 seed, three-time defending champion)
Andy Murray – 21 years old – US Open 2008 – Roger Federer (#2 seed, four-time defending champion)
Looking at that list there's no doubt alongside Djokovic only Andy Murray had an extremely hard first Slam final. However, back in 2007 Federer had just won two Slams that very same year; in 2008 Federer was going into the US Open with a slamless 2008 and having had just lost the #1 world ranking. When you look at it that way it's obvious Djokovic was about as unlucky as can be with the draw he had been dealt. Although he put up a good fight and had set points in both the first two sets, eventually Federer defended his US Open title in straight sets. Being the great champion he is, however, he recovered well to get his maiden Slam win at the very next major–beating Federer in the semi-finals.
Head to Head
To many, Djokovic, Federer, and Nadal are three of the greatest players ever and what's often eroded is that the current World #1 has a winning H2H against both of his rivals, and Andy Murray. The funny part isn't that it's hardly ever mentioned by tennis analysts and fans; it's that when Rafael Nadal held that very title we couldn't hear the end of it. Shouldn't they do exactly the same for the three-time Wimbledon champion?
(Read the chart vertically, not horizontally.)
| | | | | |
| --- | --- | --- | --- | --- |
| | DJOKOVIC | NADAL | FEDERER | MURRAY |
| DJOKOVIC | – | 23-26 | 22-23 | 10-24 |
| NADAL | 26-23 | – | 11-23 | 7-17 |
| FEDERER | 23-22 | 23-11 | – | 11-14 |
| MURRAY | 24-10 | 17-7 | 14-11 | – |
| Winning % | 57% | 53.8% | 45.2% | 33.7% |
As the table above shows, it's not even close. In fact, this year's Roland Garros champion has beaten Rafael Nadal alone just four times less than Andy Murray's total wins against the other three. It shows pure class; not only has the Serbian been able to take on these great names consistently but he's also been able to get the better of all of them. If that doesn't deserve attention and recognition in tennis then not much else does.
I've given just a few reasons for why the 29-year-old deserves much more credit than he's ever gotten (and probably ever will get), alongside why he's not exactly been lucky too. But for now I want to move onto something which bugs me, and that's how tennis fans and analysts are towards Djokovic right now.
2016
With Roger Federer calling the year quits after his Wimbledon semi-final loss and Rafael Nadal currently a shadow of himself, this year was perhaps left at the mercy of Novak Djokovic and Andy Murray. For the most part that's exactly what's happened; they've won three of the four Slams and six of the eight Masters events too. However, for some strange reason, the media are left with all the focus being on Andy Murray, once again proving how disrespected the Serbian is.
Since winning his first Roland Garros title there's no doubt Djokovic's form and results have regressed; that's clear as daylight. However, alongside the third-round loss at Wimbledon and first-round loss at the Olympics, there's a Toronto Masters title and US Open final, hardly the worst results. Somehow, though, the media act, as if he's constantly losing early in every event and Andy Murray is the real #1. The part which doesn't make sense here is when 17-time Slam champ Roger Federer went into the 2008 US Open Slamless for the year, no one questioned if he was done; or Rafael Nadal in 2012 where he lost early at Wimbledon and missed the US Open. You can even add Andy Murray to that, where in 2014 he didn't win a Masters or even reach a Slam final (with only one semi-final). Yet somehow even when Djokovic wins the Australian Open and Roland Garros, followed up with his fourth Masters title of the year in Toronto and a US Open Final, he's apparently there for the taking for Andy Murray.
There's no doubt Andy Murray has had a great year and his accomplishments have been amazing: a Wimbledon title, two other Slam finals and two Masters titles. If he does get to #1 then it will no doubt be very well deserved, but have a look at the tables below.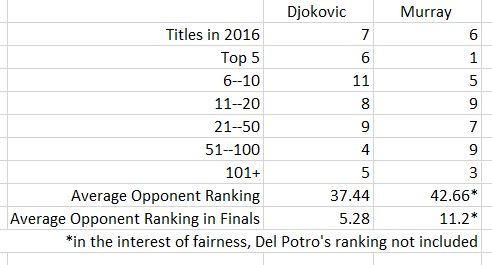 Despite Djokovic's lull since Roland Garros he's still better in almost every department than Murray–Slam count, Masters count, and wins against top players. While Andy Murray's achievements for the year are great, they're misleading when it comes his actual level of play. In all his six titles this year he's beaten just one Top 5 player. To put that into contrast, Djokovic beat more to win this year's Australian Open. You can easily claim it's not his fault the top players didn't make it far in those events and it's not, but the fact is when he has played top five players the last few years–especially at Slams–he's lost a majority of the matches. Just look at his Slam results since winning Wimbledon 2013 to Wimbledon 2016. He's lost to Federer, Nadal, and Djokovic five times without a single win in reply.
Overall there is nothing wrong with Novak Djokovic. Many can make out what they want of his form but he'll be back; it's not as if he's totally terrible with early round losses consistently. Murray might be having great results right now but what will happen when he actually has to play the top guys to win big events? Who knows. Regardless of Murray defending his Olympic Gold (an incredible accomplishment mind you), to say Murray's year is even comparable to Djokovic's perhaps isn't true; one has two Majors while the other doesn't–that's the bottom line given Majors are the pinnacle of tennis. The Brit's consistency this year might well be better than the Serbian's, but what does that matter when Djokovic is still the one with the better more impressive wins? Not much I'll tell you that. If Murray does get to become World #1 soon then congratulations to him and his fans, but regardless of anything Djokovic would have still had the better year.
Special thanks to Cindy Black for the Djokovic Murray comparison stats.
Main Photo: