Jamie Roberts' rugby career; one that spans over a decade, has come to a close – no surprise to the majority, yet it is with fondness that many International and Welsh fans will look back on his stellar time as part of Warren Gatland's Welsh team.
Jamie Roberts' rugby career in numbers
Roberts honed his craft across three different continents professionally. Stop-offs on his rugby journey included Cardiff, followed by: Racing 92 in Paris, Cambridge, the South/West London-based Harlequins, and Bath.
Down to Super Rugby, he played with the Stormers of Cape Town, then back up to the Dragons in South/East Wales, and finally his last full calendar season, at the New South Wales Waratahs, in Sydney. A city where one of Roberts' finest achievements with the British and Irish Lions occurred.
On the international stage, Roberts was capped 91 times by Wales, scoring twelve tries. He's the winner of two Grand Slams (2008 and 2012).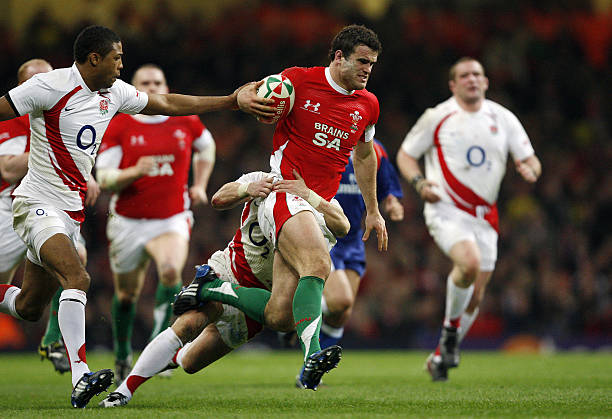 Roberts toured with the British & Irish Lions twice. He played in three tests across two tours in South Africa and Australia, scoring one try in a winning series downunder.
Stellar career – Highs and Lows
At 6 foot 4 inches, and at his heaviest 110 kilograms, Roberts' size meant he stood out from a young age. He would represent Wales at youth-level, and then go on to be recognized as a commanding figure emerging out of the capital city of Cardiff.
Just in case you were in any doubt about the dangers of the oval-ball game, Roberts fractured his skull early on whilst playing for Wales. A big physical presence, he initially played on after colliding with Stirling Mortlock of Australia in a 2008 Autumn international. He was taken off and a hospital would confirm later the extent of Roberts' head injury.
Whilst at Cardiff Blues, Roberts won domestic silverware in a defeat of Gloucester in 2009 in the EDF Energy Cup. In 2010 they tasted European success with an Amlin Challenge Cup victory (Europe's second-tier competition) against Toulon.
As previously stated Roberts was a key component in Wales' second-best ever era of rugby (Only Wales legendary side of the seventies was arguably better and more successful). Gatland moved Roberts to centre (having started out his career at wing or full-back) and the rest as they say is history.
Triple-Crowns and Grand Slams arrived regularly as well as a great showing at the 2011 World Cup in New Zealand.
Critics of Roberts and by association Warrenball would call the centre a crash-ball juggernaut with not enough élan or panache for a demanding Welsh-rugby public. The reality was that his size was a 'big plus' for a nation not normally known for its strength and power.
In a losing battle against South Africa, he was named the British & Irish Lions player of the series in 2009. Four years later, the Lions would go on to defeat Australia. Roberts scored a try in the deciding test and was part of a decisive all-Welsh centre partnership, featuring Jonathan Davies.
Career off the field – Doctor and respected pundit
Notably, Roberts managed to juggle an outstanding rugby career with a knock-out academic career also. He's a qualified doctor who graduated from Cardiff University in medicine in 2013. A Sports and Exercise Science degree was gained, in conjunction with his medicine qualifications.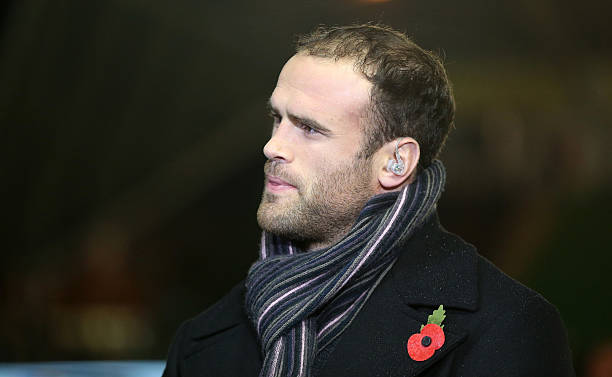 Not content with those accomplishments, Roberts went on to earn a Masters from Cambridge University (Philosophy in Medical Science) and a Masters from Loughborough University (in Business Administration).
On that note, Jamie Roberts is part of a previous @LWOSRugby article on academic intelligence within the game of rugby.
Socials and Autobiography
For more about Roberts, read his autobiography (co-penned with Ross Harries) which was released last year.
Enjoyable morning @WaterstonesCDF

Busy week with the release of the book. Been fun putting my journey on and off the field into words, sharing with you the rollercoaster of emotions that accompany a life in Rugby and academia

I hope you enjoy the read.

— Jamie Roberts (@Jamiehuwroberts) November 13, 2021
Follow Jamie Roberts on Twitter using the handle @Jamiehuwroberts or on Instagram jamiehuwroberts
Present and Future
Roberts has just completed a media stint in South Africa giving his insight into Wales' test matches against the Springboks earlier this month (Click on the link to read @JordieBoy71's thoughts on the series).
He is engaged to his Australian fiancée Nicole Ramson. They have two children together: Thomas Rhys and Elodie May.
Retirement Statement bookends Jamie Roberts' rugby career
To finish, let's leave it to the man himself to sign off in typically distinguished, and respectful Roberts-esque style.
"The time feels right. As I reach the end of my professional playing career, I'm retiring with an immense sense of gratitude for what the sport has provided me.

"Having given everything in body and mind, the game of rugby has given me more than I could have ever dreamt of in return. Our wonderful sport has impacted my life far beyond the white lines of the playing field; I guess its values have defined my attitude and approach to life and certainly shaped who I am today.

"It's difficult to know where to start when it comes to thanking those who've influenced and helped my career. There are too many to mention, but in time, I hope I get the opportunity to share a glass and thank you all individually.

"To my parents Jackie and Norman; taking me to my first rugby session as a six year old lit a fire in me that would eventually inspire me to achieve in the sport. Your support has been unwavering and for that I'm forever grateful. Throughout my youth, my school teachers and age grade coaches were a huge inspiration. Thank you for being my mentors and your commitment to nurturing my talent.

"Much hard work is done beyond the players on the field; from coaches to kitmen, referees to touch judges, S&C to medical staff, chefs to analysts, boardroom staff to groundstaff. There are countless others. So many wonderful people and characters across all the environments I've been fortunate to be involved in. I thank you all.

"To those in the media, thanks for the praise as well as the critique. As a professional sportsman, the scrutiny that accompanies life in the public eye can bring significant pressure at times. I thank you all for being respectful through good and difficult times.

"To the most important people in our sport, the supporters. I can't thank you enough for the love and kindness down the years. From beers in the bar after a game, a selfie in the street, or a conversation in the supermarket, the relationship with the supporters is one I have cherished my whole career and I hope will continue well past my playing days.

"I value dearly the opportunity the sport has given me to travel the world and expand my horizons beyond Wales, whether through touring or moving club. Taking those strides to challenge myself outside my comfort zone, although daunting, provided the pressures I craved.

"Those pressures to challenge myself beyond the game also permeated to the lecture theatres and hospital wards. A sincere thanks to the staff at Cardiff University, UWIC, Loughborough University and lastly Cambridge University, where achieving a Blue ranks among my proudest moments. Thanks for your support and understanding while I pursued success on and off the field.

"I'm extremely grateful my club career has spanned five countries and allowed me to experience several tight-knit club families, as well as enjoy a wonderful lifestyle in some of the worlds best cities outside of Wales; namely Paris, London, Bath, Cape Town and Sydney. The playing experiences at each club were unique in their own way and I'm delighted that each environment provided opportunity to learn, improve and challenge myself; from my first game for Cardiff until my last for the Waratahs 16 years later.

"Representing my country was always a childhood dream. I'm fortunate it became reality. It meant the world to me and forever will. I'll also never forget the immense pride of captaining my country.

"Singing the anthem had the same impact whether at home in Cardiff, away at some of the most iconic stadiums in world rugby, or during two World Cups. I'll remember fondly reaching the pinnacle of representative rugby and touring twice with the British & Irish Lions.

"The joys and despair I experienced on both tours amounted to nothing short of experiences of a lifetime. The rugby experience with the Barbarians, culminating in victory against the All Blacks, also ranks high amongst my favourite weeks in rugby.

"My experiences in the game have indeed taken me to immeasurable highs, as well as desperate lows, eliciting every emotion possible along the way. Above all, the game has provided a sense of belonging, friendship and healthy competition. There's no doubt I'll stay with the sport past retirement. Whilst I figure everything out, that will be predominantly in a broadcasting capacity.

"I'll miss the changing room, the matchday buzz and the aches and pains. I guess most of all I'll miss the lads. I've had the privilege of playing alongside and against many of the modern day greats; not just great players but great men. I'll forever appreciate being able to rub shoulders with some brilliant guys that I've learnt a huge amount from. To all those I've been fortunate to share the field with, it was a pleasure. For a short while, we have the best job in the world. Never forget it.

"I finish with some incredible memories and a heart full. I'm proud to finish knowing I found my calling at number 12. That battle on the advantage line defined me on and off the field. Time to spend some quality time with Nicole and our two wonderful children Tom and Elodie. Signing off from (across) the gainline. JR (Doc)."
Last Word on Rugby wishes Dr Jamie Roberts all the best for his future endeavours.
"Main photo credit"
Embed from Getty Images