In this current cricketing world, there are very few players who are consistent across the formats. One such player is the Indian captain who makes the batting look so easy when he is at the crease. In this era, There are some neverending debates in which Virat Kohli is involved. One debate that started to gain more attention among the fans over the last few years is "Babar Azam vs Virat Kohli".
Babar Azam who hails from Lahore become one of the go-to batsmen for Pakistan over the years. His run-scoring rate and consistency, especially in the limited-overs format, has been upward moving curve over the last few years. Due to this, he has drawn comparisons with the modern-day legend Virat Kohli.
Ramiz Raja said, " Babar has the potential to beat Virat Kohli ". Many Greats have given positive feedback about Babar Azam. But what do numbers say about these two batsmen?. The main obstacle in this comparison is the number of games played. There is a very huge difference. Let's now look at the numbers Across formats.
One Day Internationals (ODI) :

It has been nearly five years in ODI cricket for Babar Azam so far, and he has already established himself as one of the best to grace this form of the game. The emergence of the so-called Babar Azam phenomenon has been a welcome sight for Pakistan who has been struggling a bit in this form of the game. Let's now compare Babar Azam with his idol Virat Kohli who is known to be the ultimate best in this form of the game.
To make the comparison a bit fair let us take the first 74 ODIs. Virat Kohli Struggled a bit during his initial years but he managed to have a healthy average close to 47 and 8 centuries to this name after 74 ODIs. But Babar clearly gets ahead of his idol in this comparison. Babar Azam has 11 centuries to his name with a whopping average just above 54. He is the third quickest to reach the 11 centuries mark. Babar got there in just 71 innings while Virat got there in 82 innings.
According to this graph, both these batsmen initially faced some ups and downs in their ODI careers. For Babar Azam, the curve started to stabilise after His 18th match. He kept his average Over Fifty after that match. Babar Struggled in the year 2018 with an average of 36.36 to his name. But came back stronger than ever in the year 2019 by scoring 1092 runs at an average of nearly 61. He is leading runs scorer for Pakistan in that year's world cup in England.
Babar clearly leads Virat Kohli in this milestone reaching race. But the world saw the real Kohli after he crossed the 3000-run mark. His 133* against Srilanka in 2012 at Hobart was the real turning point in his career. He smashed a well-balanced Srilankan bowling attack to all parts in that breakthrough inning of his career. below are some of the staggering numbers of the modern-day king.
After that Hobart Innings, Virat Kohli became an unstoppable force. He amassed over 8500 runs with a staggering average of 65.4 with 34 tons and 38 scores of 50 or more. His consistency has increased remarkably after that Hobart innings.
Now, Kohli has become the fastest to 11,000 ODI runs, achieving the feat in just his 222nd innings as opposed to Tendulkar's 276th. His average is the best among all active players, with only The Netherland's Ryan ten Doeschate holding a higher career mark (67.00). Kohli has also scored the maximum centuries among active players, as well as the highest number of runs.
T20 internationals: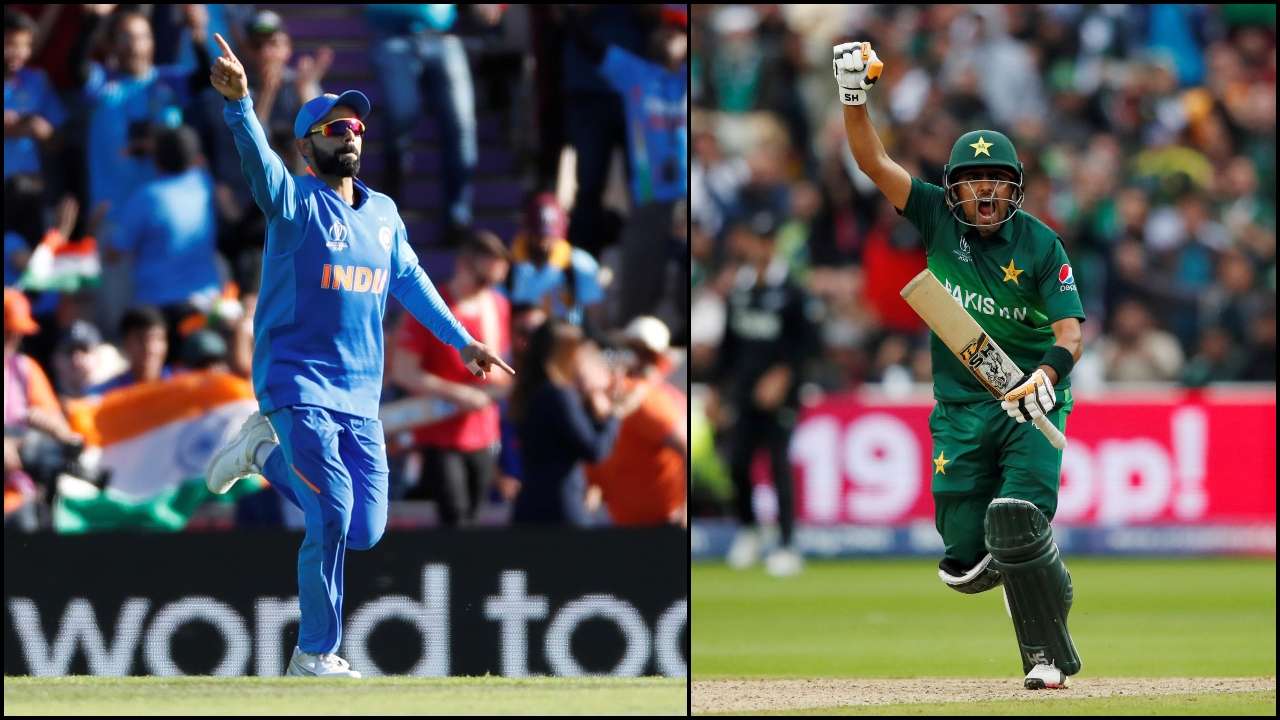 When it comes to T20 cricket big hitters tend to dominate the show most of the times. Though both these players are not the biggest of hitters, their consistency makes them the best in the format. Kohli's performance in 2014 and 2016 edition of Wt20 followed by three consecutive fifties against Aussies was the highlight of this career. But from 2018 Babar Azam emerged as number one ranked batsmen in this form of the game.
Babar's consistency in this form of the game improved a lot over the years which earned him captainship role. Babar is yet to play an Icc t20 tournament. Now let us look at the numbers of these players after the first 38 matches
Among the current active players, these two are the only batsmen to have an average above 50 with at least 1000 runs in this form of the game. Babar became the fastest player to reach the 1000 run mark. He got there in 26 innings. Kohli reached that mark in 27 innings.
Babar Azam has been consistent in maintaining his average above 50 in this form of the game since his debut. There were little Ups and downs for Virat but emerged as the Best. Both of them are yet to score a T20i hundred. Still, there is a long way to go for Babar Azam to be termed as the best in this form of the game. But his consistency has been remarkable over the last few years.
Test Cricket :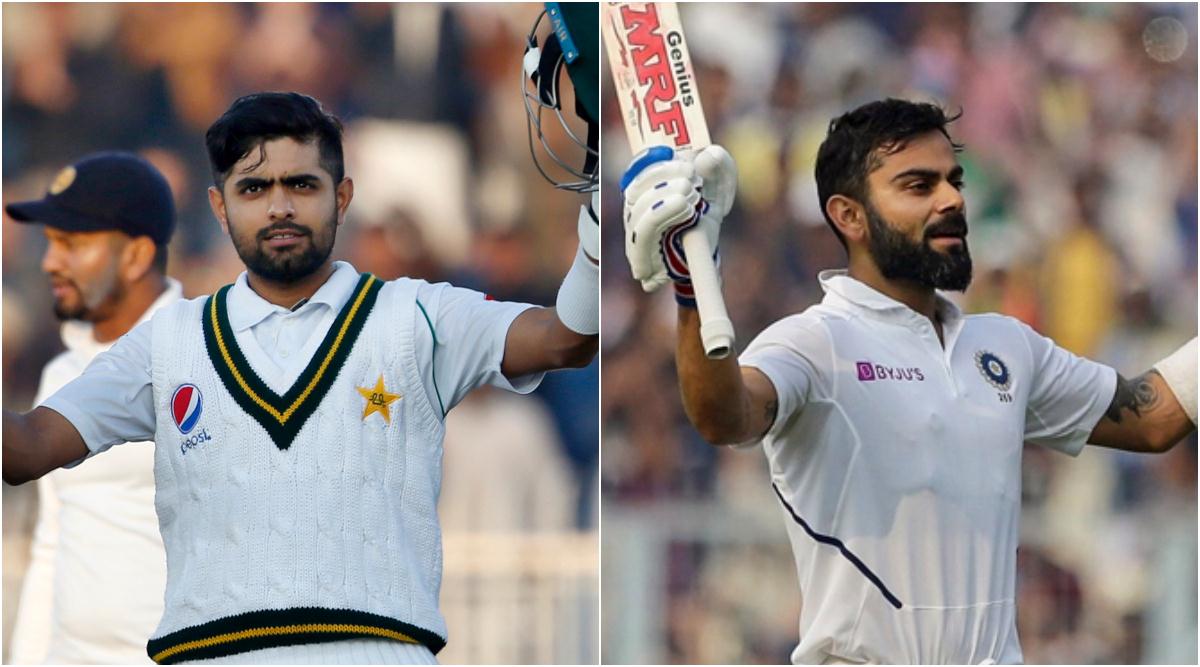 Babar Azam has been a domination force for Pakistan, especially in limited-overs cricket. But the longest form of the game hasn't been kind to this emerging player from Pakistan. The modern-day legend Virat Kohli also faced some struggle in the initial phase of his Test career. Let us take a look at the numbers.
In the initial phase of his Test career, the Indian captain struggled a bit. He has a very modest average of 42.8 after 26 tests. Same struggle prevailed for Babar also. His ton against New Zealand in UAE saw his fortune change and Babar is now a reliable 'Test batsman' as well. He has 1850 runs at an average of 45.12.
For Virat Kohli, the fortune changed after the dreadful tour of England in 2014 where he scored only 134 runs out of 10 innings. After that tour, Virat made some technical adjustments to his batting and improved his fitness a lot and the rest is history. Let us look at that staggering numbers before and after that dreadful tour.
His strike rate and average improved a lot. He has a whopping average of 61.19 after that terrible English tour. He established himself as the best batsmen for India across formats.
These are still early days for Babar Azam. He started well but there are more boxes to be ticked before achieving the Excellence that the Indian captain has achieved. The Number of games played will be an important factor to consider. Generally, Pakistan plays fewer games than India. It requires a massive effort from Babar Azam to surpass his idol. As of now, Virat Kohli is the Best across formats. But Babar is on the right track to repeat what Virat did all these years.
Main image credit:
Embed from Getty Images