After promising signs from Rajkot, England suffered a damaging defeat in the second Test at Visakhapatnam to go one-nil down in the series. Here's how the players fared: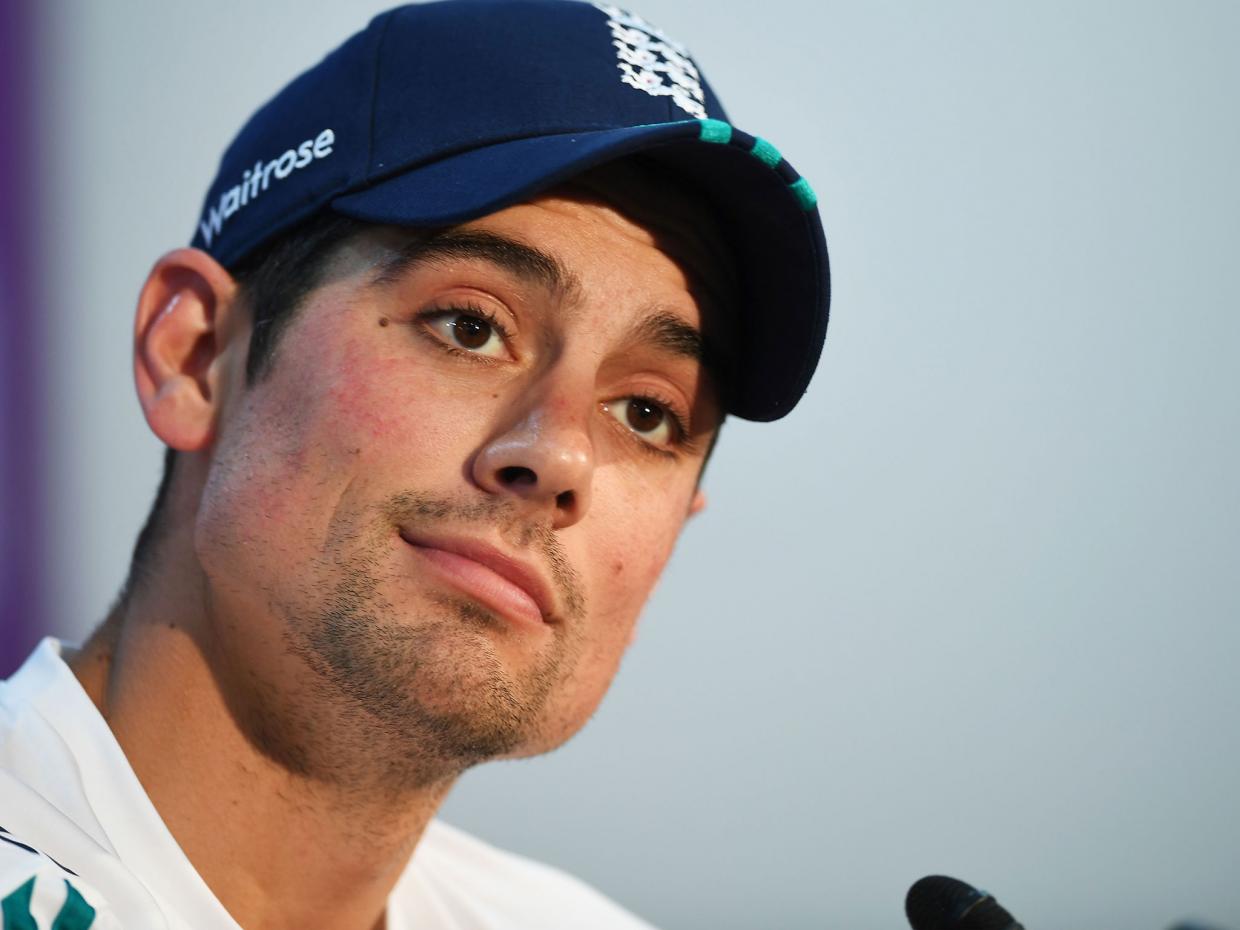 Alastair Cook (c) – 7/10
Was bowled by a beauty from Mohammad Shami early in the first-innings when England needed a big reply to India's 455. However, Cook showed superb application and skill to nullify India's spinners during the second innings. The mental fortitude that the England captain possesses in abundance was perfect for the situation as he batted just shy of sixty overs for his 54. Cook will have been disappointed to be dismissed by Ravindra Jadeja so late on day four but still looks in good touch and his form will be vital to England getting back into the series.
Haseeb Hameed – 6/10
Scores of 13 and 25 in the match, although not game-defining, do not tell the whole story. In the first-innings, Hameed was playing steadily and after seeing off the new ball in a second wicket partnership of 47 with Joe Root, but was subsequently run-out by his partner. The 19-year-old looked his usual compact self at the start of England's quest to save the match on day four and despite being tested out with the short ball frequently by the Indian seamers, Hameed's concentration did not wane. He played out 144 until a grubber from Ashwin proved his undoing. An unfortunate end to another promising Test match for England's new opener.
Joe Root – 6/10
Batted fluently in the first-innings until he threw it away by playing a reckless shot in the circumstances when on 53. In addition, Root also ran out Hameed to jolt England's promising recovery from the early loss of Cook. Root showed his battling capabilities in his second knock however, batting 107 balls for his 25 until he played around a straight delivery from Shami as the England ship sank rapidly on day five. Despite his profligate dismissal on day two, Root was one of the few England players to achieve any rhythm to his batting in this match. However, England need him to go big in Mohali.
Ben Duckett – 2/10
After yet another poor Test match, Duckett's place is now surely under pressure. If scores of zero and five weren't concerning enough, then the manner in which the Northants batsman is being dismissed is perhaps the biggest worry. Duckett's first innings departure to Ashwin, in which he was bowled while planting his front foot well outside the line of leg-stump with the bat coming down at an angle, was the third time he has been dismissed playing in that fashion on this subcontinent tour. Duckett looked to be getting more in line with the ball in the second-innings but eventually succumbed as he gloved an attempted sweep shot. He is now likely to be replaced in Mohali.
Moeen Ali – 4/10
Battting wise, this was a bad Test for Moeen. After his excellent century in Rajkot, albeit on a better surface for batting, the all-rounder just three runs in the match. He was perhaps unfortunate in the first-innings as he was given out lbw on review after being struck a long way down the wicket. On day five, when looking to smother the spin, Moeen received a brute of a delivery from Jadeja that spun and bounced sharply out of the footmarks, leading to an inside edge to leg slip. Nevertheless, with Moeen potentially moving up to number four for the third Test, England will need him to regain his positive momentum from Rajkot.
Despite being under bowled on day one, Moeen picked up three Indian first-innings wickets in quick succession as England attempted to recover from the opposition's daunting start. He also picked up a wicket on day four and with the possibility of England playing just two spinners in Mohali, Moeen's role with the ball will be vital for the rest of the series.
Ben Stokes – 7/10
Played beautifully in the first-innings as he helped England recover from 80-5, scoring 70 and sharing a 110-run stand with Jonny Bairstow. Stokes picked the length of the spinners impeccably and also had an impressive tempo to his play. He seems a much-improved player against spin, combining a more compact defence with his well-known expansive strokeplay. Was bowled by a beauty from Jayant Yadav on day five but the signs are positive with the bat.
Stokes bowled with a lot of heart during India's first innings and took the crucial wicket of Ashwin to break a dangerous eighth wicket partnership. Only bowled seven overs second time around as he was leaking runs and questions still remain as to whether or not he is fully fit to bowl for long periods. England will have to monitor his fitness closely. Took two blinding catches to get rid of Virat Kohli twice, reiterating his status as England's premier fielder.
Jonny Bairstow (wk) – 7/10
Batted well with Stokes in the first-innings when England badly needed a partnership. As well as his impressive defence, Bairstow also looked to score whenever possible – something that was prominent in the vital sixth-wicket partnership. He carried on his good work in the second-innings as well, as he was left stranded on 34 not out from just 40 deliveries. Currently, Bairstow looks one of the most comfortable players of spin in this England side and there is every chance that he could move one or two places up the order in Mohali.
This was another solid keeping display, too from Bairstow, with his sharp take to dismiss Umesh Yadav in India's second-innings a particular stand out. His keeping continues to go from strength.
Zafar Ansari – 3/10
Was perhaps under bowled in the first-innings, sending down just twelve overs as he failed to maintain the consistency he showed in patches at Rajkot. Yet he was not used at all second time around, with his influence with the ball decreasing significantly. Also failed to contribute with the bat, scoring just four and nought. The chances are that Ansari will be replaced in Mohali, as England explore the possibility of playing four seamers on a wicket that is expected to bounce more.
Adil Rashid – 7/10
After another excellent display, Rashid's credentials are rising. Bowled well in the first-innings, and could have been used earlier by Cook, who turned to Ansari before the Yorkshire man. Had more success in the second-innings, however, with his flight and ever increasing consistency causing problems for the Indian batsmen. This was especially the case on day four when England needed wickets to stay in the match. Rashid delivered, picking up four wickets and maintaining his place as the highest wicket-taker in the series. Also, showed his batting credentials with an elegant 32 not out on day three
Stuart Broad – 8/10
If ever there was a Test to demonstrate Broad's fight for the England cause, this was it. After injuring his foot early in the match, Broad bowled with control in the first-innings and then picked up four wickets during India's second knock. In combination with his reliable accuracy, Broad's variations were admirable. His leg-cutters proved effective on an increasingly slow and low surface, as his reputation as a bowler for all conditions increased once more. With a strained tendon in his foot, the Nottinghamshire seamer's fitness is in doubt for Mohali and if he is ruled out, England will surely miss him.
James Anderson – 7/10
This was a positive return to the England side for Anderson. In addition to picking up four wickets in the match – three of which were on day one – Anderson bowled with excellent control. He restricted India's scoring rate, especially in the second-innings with an economy of 2.20, and also used the new ball to good effect as he inflicted early damage in both of India's innings. He has shown once again, like he did in the UAE last year, that he can adapt to even the most unhelpful of conditions for seamers. It's what makes Anderson the champion bowler he is.